While campgrounds offer full hookups and other amenities, increasing prices and overcrowding is leading more people to the backcountry. As many seek wide open spaces and stunning views, overlanding is becoming more popular. With the right vehicle and equipment, people are heading off the beaten path to truly experience nature off the grid.
Quenching the Desire to Get Further Off the Grid
Throughout the last decade, our society has begun reprioritizing spending time outside. As technology advances and the world grows more automated, we find ourselves spending the majority of our waking hours indoors. From working on computers to using our cell phones and engaging in other types of electronic entertainment, we are constantly looking at a screen. Not surprisingly, the average American clocks over 10 hours a day of screen time.
Constantly bombarded with entertainment and the latest news on our mobile devices and televisions, we find ourselves trapped in a vicious cycle of endless screen time and becoming more sedentary. Recognizing the negative effects of this lifestyle, many health experts are urging people to put down their electronics and get outside. For children and adults alike, the benefits of spending more time in nature and connecting with one another are vast. While choosing to spend weekends and evenings playing outdoors can be tremendously beneficial, people are craving more. There has been a major shift, as more people are choosing to go camping.
Although camping has been around for decades, the continuous innovation of recreational vehicles (RVs) is enticing people who normally wouldn't choose to camp. "The increase in camping's popularity shows no signs of slowing down, as more than 15 million Americans went camping for the first time in the last two years." Extensive technological advancements allow you to live in an RV, van, or other vehicle with many of the same modern conveniences you have in a traditional home. "More than half of Americans who camp do so in a vehicle, with over 35 million Americans camping in RVs in 2022."
What is Overlanding?
As camping has become more popular, traditional campgrounds are filling up quickly and struggling to keep up with the demand. Even as more campgrounds expand their campsites and calendar for bookings, "campers say it was five times harder to find an available campsite in 2022 than it was pre-pandemic, making 2022 the most booked year ever." With campgrounds growing more crowded, many campers are beginning to explore more public spaces and national parks, seeking to get further immersed in nature.
While these areas bring stunning views and fewer crowds, they are also much harder to get to and do not offer hookups. This new desire to get off the grid created a gap in the marketplace for rugged and capable recreational vehicles that still offer many of the comforts and conveniences of a traditional RV. Thus, overlanding began, and overland vehicles were created. Overlanding is a method of travel and camping for those who want to head off the beaten path to hard-to-access remote locations and campsites. It focuses on the exploration of remote parts of the map where most don't dare to venture.
In addition to creating an overland vehicle that can handle rough terrain, it is essential that these vehicles are self-sufficient. When going off-grid, it's important to be able to carry everything you need for daily life. Whether you simply need a sleeping bag and a camp stove or prefer a full kitchen and bathroom, being able to stay out for multiple days at a time is the key to overlanding. No matter which style of overlanding you prefer, there is an overland vehicle that will allow you to get off-road and stay self-sustained throughout your trip.
Different Types of Overland Vehicles
Modern overland vehicles don't fit any mold or vehicle type. They simply need to be resilient with the ability to handle any terrain. There are many types of overland vehicles that offer varying degrees of luxury and off-road capabilities. Depending on what is most important for your overland trip will determine which vehicle is right for you.
Overland Camper
An overland camper is a self-sustained camping vehicle that's fit for off-roading. This may look like a standard camper, but it has special features that allow for more off-road capabilities and self-sufficiency. For tackling the trails, overland campers need high clearance and four-wheel drive, plus the suspension and tires to handle rocks, steps, and more. Their self-sufficiency allows them to offer the most luxury as they can house full bathrooms, kitchens, bedrooms, and more. With wastewater storage, freshwater storage, ample fuel supply, food storage, and power supply, these campers allow you to get off the beaten path without sacrificing comfort.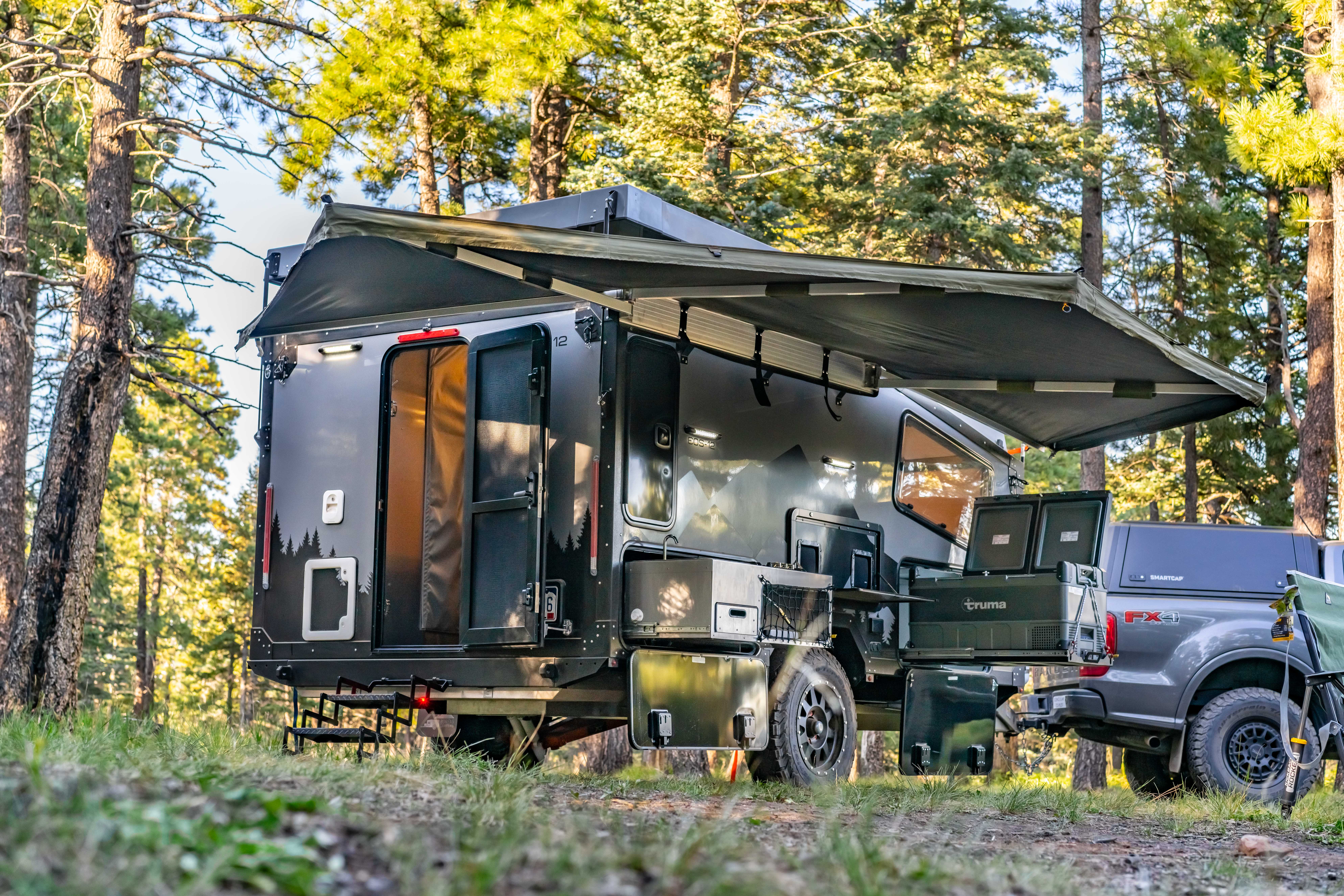 Teardrop Trailers
Similar to a standard overland camper, teardrop trailers are simply smaller and more compact, making them easier to tow. Easily pulled behind smaller trucks and SUVs, these trailers are the perfect way for newbies to ease into overlanding. The body, weight, and maneuverability of teardrop trailers make them user-friendly and perfect for off-roading. These trailers offer the perfect blend of minimalism while still allowing for some of the comforts of home.
Truck Campers
With many of the same amenities as a small RV or trailer, truck campers make the perfect overland vehicle due to their superb off-road capabilities. The combination of higher clearance upgraded suspension, and not having to tow anything allows you even more freedom and maneuverability. While they are more compact, many still offer queen-sized beds, full bathrooms, and multiple kitchen appliances. Truck campers are perfect for those who want to get even further off-grid while still bringing their home on the road.
Camper Vans
Much like a truck camper, camper vans offer an all-in-one vehicle that is compact and doesn't require any towing. Although not all vans offer off-road capabilities, the ones that do have them are the perfect overland vehicles. Adding minor tweaks, such as improved suspension and higher clearance, transforms a typical converted van into a capable overland rig. The blank canvas of a camper van allows for complete customization to build out the perfect home on wheels.
Off-Roading Vehicle
Finally, for those seeking the most off-road capabilities, an off-road vehicle can be converted into the ultimate overland camper. Roof-top tents, outdoor kitchen setups, and portable showers and bathrooms allow people to enjoy some added comfort while exploring remote places. Jeeps, Toyotas, and various other vehicles equipped for rugged terrain let you venture way off the beaten path. If the journey is what excites you most about the overland lifestyle, a converted off-road vehicle is the perfect vessel for your adventures.
Essentials for Overlanding
Gathering the proper gear, equipment, and supplies is essential to having a successful overlanding adventure. Depending on the length of your trip, the type of terrain you will encounter, and the activities on your agenda, which gear is essential for you may vary. A little extra preparation can go a long way in avoiding disaster when you head off-road.
No matter what your next overland trip looks like, there are a few essentials everyone needs when they head off-grid. First and foremost, a first aid kit is a must, especially when you anticipate being without reliable reception. The further off the road you get, the more difficult it will be for emergency responders to reach you. Similarly, bringing along tools, spare parts, deflator kits, air compressors, and recovery treads can get you out of a variety of sticky situations. Even just having enough of a fix to get you back to the pavement can save you a lot of trouble when you're overlanding.
Another essential piece of equipment is a reliable power system. For those interested in multi-day overlanding trips, an efficient and renewable source of power can prolong your trip. In conjunction with solar panels, Battle Born Batteries are the perfect overland power solution. Lithium-ion batteries offer efficiency, lighter weight, and longevity that ensure an overlander will have a constant supply of power, even far from the grid.
While the basic essentials might be enough for some, others are hoping to get off the grid without sacrificing modern conveniences. Starlink is a great way to remain connected for digital nomads still needing the internet. Other luxury items that may be essential for some overlanders include a microwave, hair dryer, and even air conditioning. However you would like to live off-grid, with the right power system, anything is possible.
Adventuring Off the Beaten Path
Even with the best overland vehicle and all the essentials, venturing off the grid can still seem daunting. If you're excited about the possibilities of overlanding but not sure where to start, check out these incredible influencers sharing their lives off the grid.
Chad DeRosa
In his robust, custom-built sprinter van, Chad DeRosa is Living the Van Life to the ultimate max. Whether he's camping in the desert or adventuring in -40-degree weather in the Arctic, Chad is always pushing the boundaries of overlanding. Not satisfied with the mundane, Chad loves testing the limits of life off the grid and has gained an abundance of knowledge that he loves to share on his YouTube channel.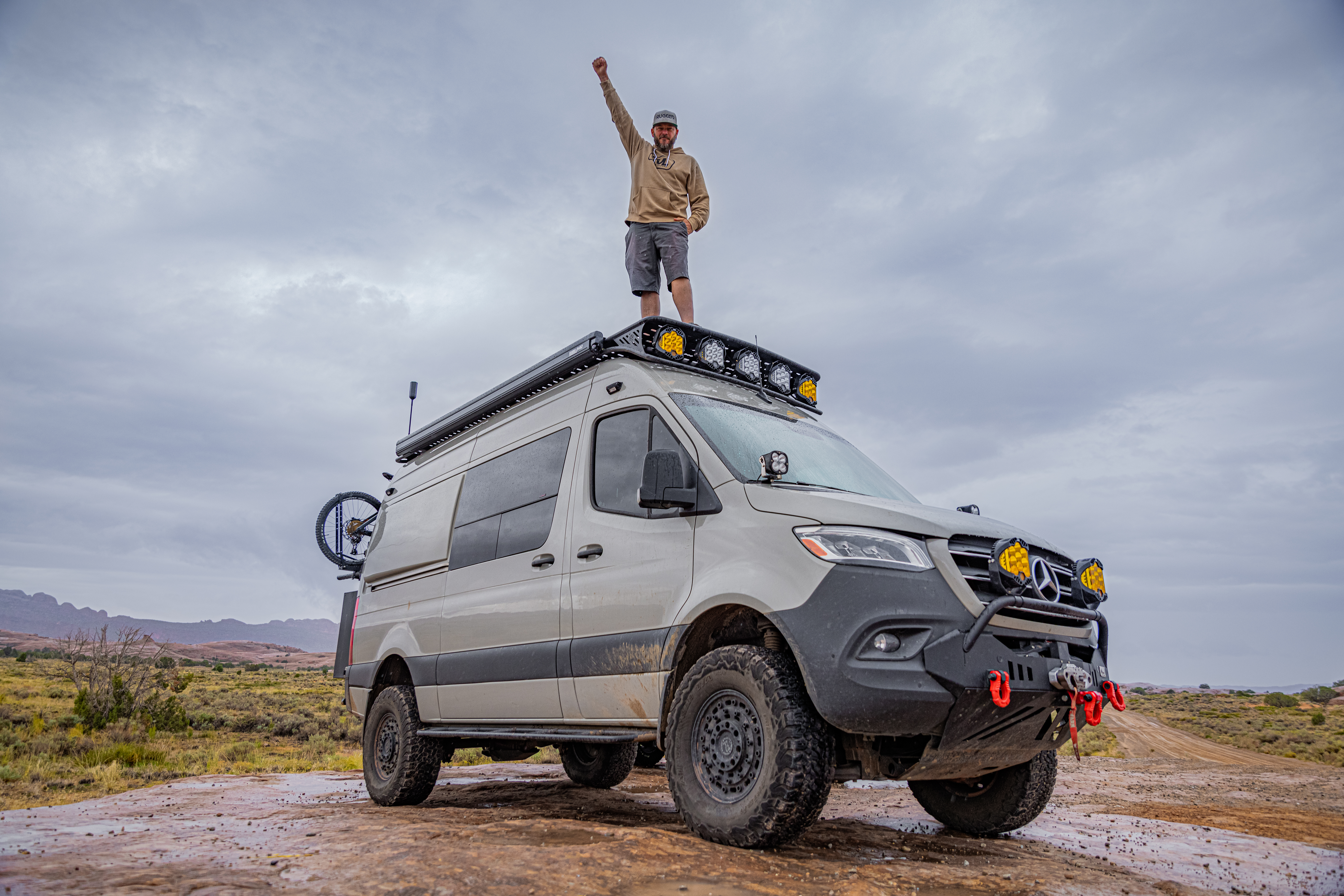 Peter van Stralen
After finding success in the corporate world, Peter van Stralen craved more time with his family. He left his CEO position behind to head out on an Epic Family Road Trip. Peter, his wife Carol, and their three kids turned two Jeep Wranglers with rooftop tents into their home on the road. These capable overland vehicles allowed the van Stralens to explore some of the most beautiful, untouched places in North America.
Go Play Outside
Looking to level up their weekend climbing trips, Mike and Lauren purchased a once-in-a-lifetime Toyota Land Cruiser and spent quarantine converting it. Upon completion, their unique overland rig offers comfort while allowing them to Go Play Outside.  They love going on weekend trips to crags far off the beaten path to climb to their hearts' content.
Chase Gardner
Chase's custom-built Lexus GX is perfect for his weekend adventures. With a rooftop tent, slide-out kitchen, and off-road capabilities, he loves exploring for days at a time. Camera in tow, Chase captures the beauty of star-filled skies far away from the light pollution of cities. As he explores hidden gems and adventures through the desert, Chase loves getting off the grid.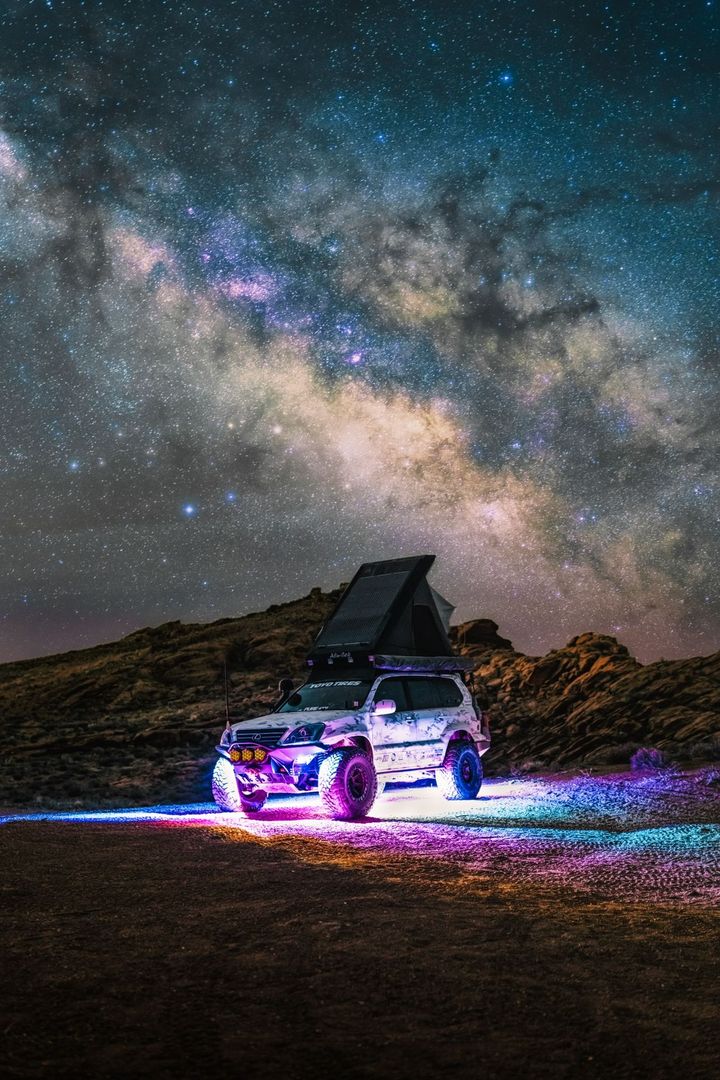 Experience the Difference of Overlanding
Ready to head off the beaten path? Check out the overlanding guide on our website and start prepping for your next adventure. For help configuring the perfect, robust power system, check out our battery calculator. If you have more questions about designing or installing your overland electrical system, our technical sales team would love to help you! You can reach them at (855) 292-2831 (M-F 8:00 am – 4:30 pm (PST)) or by emailing [email protected].