After traveling around the US living out of his RV, Matt Reichel realized that a true overland camper trailer was missing from the market. In search of the perfect rugged, off grid camper, Matt created his own in a one car garage on Boreas Pass Road in Colorado. Thus, Boreas Campers began, and Matt spent the next eight years constantly reworking and recreating the perfect overland camper. Today, Matt is still inspired by innovation and working to create an unparalleled off-grid camping experience.
Meet Matt Reichel
Following his graduation from Minnesota State University with a bachelor's degree in Construction Management, Matt Reichel was already making progress in his field. With nearly 3 years as a foreman and now a degree under his belt, he moved companies to become a field manager. From there, he continued working his way up the ladder to eventually become a lead superintendent for a construction firm that builds and engineers gas and coal-fired power plants across the United States.
Although Matt loved his career in the construction industry, he knew there was something missing from his life. On a mountain biking trip, Matt met a guy who quit his job to go on a cross country road trip and hit as many bike parks as he could along the way. Matt fell in love with the idea and knew he wanted to do the same thing one day. So, late in 2013, he packed his entire life into an RV, quit his job, and went on the road indefinitely. For the next year and a half, he lived in his RV while travelling around the US. He spent winter in Colorado working as a ski instructor at Breckenridge and spent the rest of the year going wherever the wind took him, finding incredible mountain biking and outdoor adventures everywhere he went.
During his time in the RV, Matt realized his camper wasn't quite fit for the lifestyle he was craving. As he began researching other options, he quickly realized there weren't any campers on the market that were well-suited for a rugged, off-road, off-grid lifestyle like he dreamed of. So, he headed back to Colorado and began brainstorming an RV that would allow campers to "access areas that are down rugged, unmaintained forest roads, or mountain passes with beautiful views and serene environments."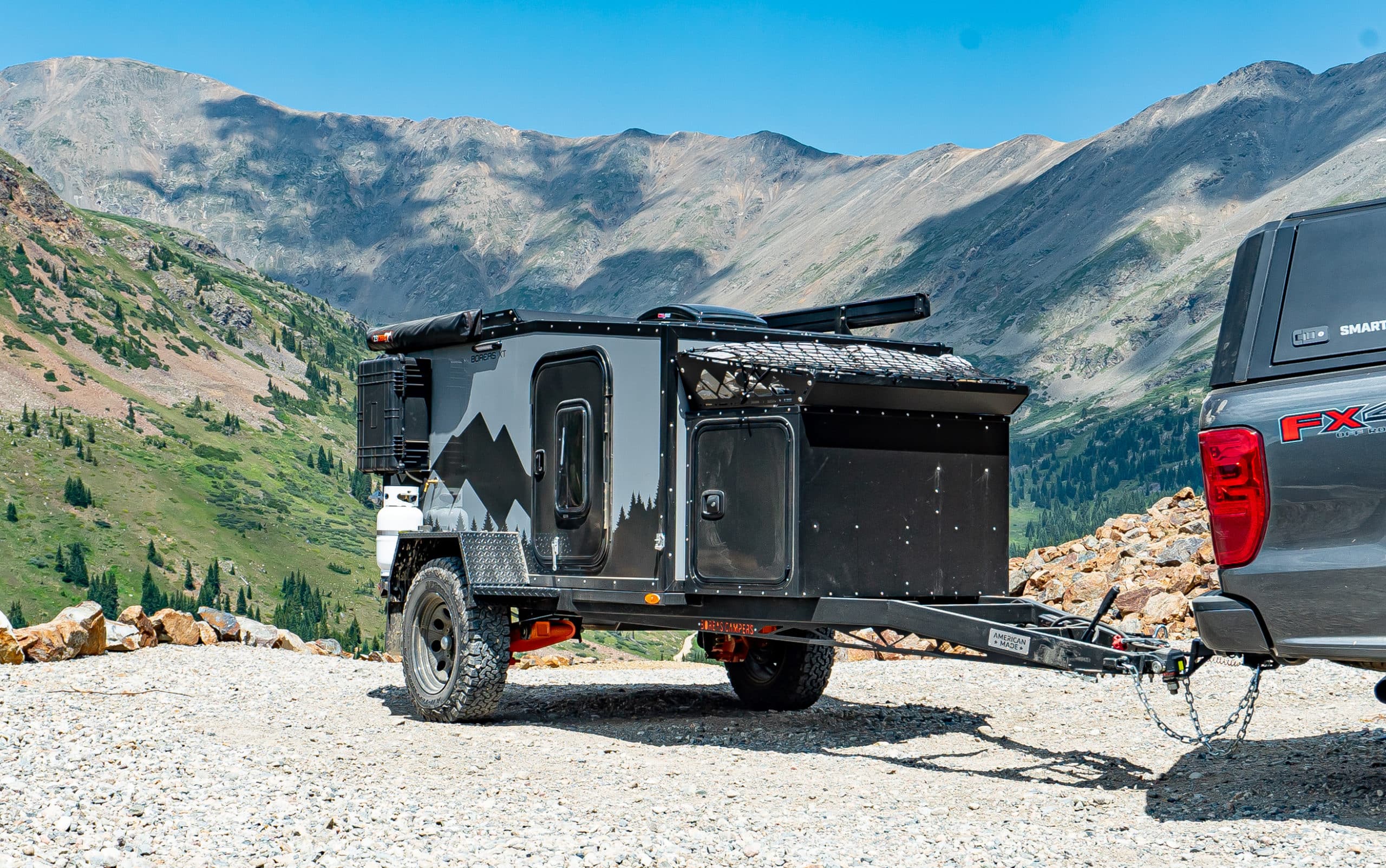 The Humble Beginnings of Boreas Campers
Backtrack to Breckenridge. While Matt was working as a ski instructor at Breckenridge, he met a fellow ski instructor named Maggie who would later become his wife. After meeting Maggie, Matt ended up moving out of the RV and moving into a small house with a on car garage on Boreas Pass Road. It was there, in that small garage that Matt would build the very first Boreas camper. Although the main inspiration for the camper's name was from the road Matt was living on at the time, the fact that Boreas is the Greek god of winter and the north wind made it that much more fitting.
On a mission to create an off-road camper trailer, unlike any other on the market, Matt worked to ensure that each Boreas camper would be able to withstand "even the harshest and coldest weather conditions", allowing campers to travel off-grid both safely and comfortably. Soon after the first camper was built, Matt saw the potential these campers had and moved the business to Denver, CO. From there, Boreas Campers "expanded its manufacturing capabilities exponentially and had broken the mold in both manufacturing processes and retail," even removing all wood products from the camper in 2018. The projects expanded from a built-to-order, direct-to-consumer format to eventually partnering with dealerships around the nation.
Eight years later, Matt is continuing to push the boundaries of the towable RV market by ensuring every camper is built with unparalleled capabilities and industry leading products. "All Boreas Camper models have independent suspension, all terrain tires, a full-size spare, and a heavy-duty powder coated steel chassis." What many other RV and trailer manufacturers consider upgrades come standard on Boreas campers. Each step of creating these revolutionary campers has led Matt to keep pushing for better and to never get complacent with a "good enough" off-road camper, and he doesn't plan on stopping anytime soon.
Every year, Boreas campers comes out with new modifications, upgrades, and build components that take these trailers to the next level.
The XT: A Revolutionary Off-Grid Camper
The Boreas Campers original build eventually became known as the XT Camper trailer which comes turnkey ready for any backcountry adventure. "The off-grid capabilities and mechanics of the camper make Colorado's backcountry easily accessible and ready for new adventures all year round, capable of taking on a huge range of driving conditions including muddy, icy, rocky, and sandy terrains."
Additionally, with all of the amazing features of the XT included, it only ways 2200lbs dry. After factoring in the weight of water, gear, and extra toys, most mid-size SUVs are still able to handle the XT, making it an accessible trailer, regardless of the vehicle available to pull it.
"The utility of the XT is unmatched." Some of the most notable features include a Queen size bed, an outdoor shower unit, an incredible galley in the back, complete with a sink, stove, countertop, and fridge, as well as a fan and furnace for the ultimate comfort, regardless of the weather. Despite the small footprint, the XT has an astounding 38 square-feet of storage, allowing any camper to carry everything they need for an off-grid adventure. Pair these amazing features with a 30-gallon water tank and the XT is perfect for any weekend or extended trip, with plenty of water for drinking, cooking, and showering.
In addition to the features that come standard in the XT, there is always room to customize–to make this overland camper truly feel like home. While a true Queen size (not RV Queen) mattress made with organic cotton comes with the XT, it's possible to fit any other queen size mattress in the trailer to fit a camper's specific preferences. Also, the layout of the XT is perfect for two adults to get off the grid, but if friends or kids happen to tag along, there are options for that too! Many customers end up adding a roof top tent to double the sleeping capacity, turning the XT into the perfect rig for a weekend, overland adventure.
Whether taking the XT camping straight off the lot or adding personal touches, it can be used as anything from "a great adventure basecamp to a remote work setup, a quick getaway rig, or even a long-term overland home on wheels."
The EOS-12: Overlanding in Luxury
Following the success of the XT camper trailer, Boreas Campers announced the next rig in their lineup–the EOS-12. This new build is scheduled to start rolling out of production in the first quarter of 2023.
Keeping with the theme of Boreas, the EOS-12 is named after the Greek goddess of dawn and mother of Boreas. With the same foundation as the XT, the EOS-12 comes standard with a powder coated steel chassis, all-terrain tires, and independent Cruisemaster suspension. In addition, the EOS has a permanent Queen bed, dinette seating for 5, sleeping options for 5, a wet bath with a shower and cassette toilet, and a tall 6'6" of standing room inside of the trailer. With the extra length and additional components, a mid-size truck or large SUV is perfect for towing the EOS-12.
Arguably one of the greatest upgrades that comes standard in the EOS-12 is the fully integrated RV experience that combines Garmin, Fusion, and EmpirBus technology into a completely connected system. This innovative system from Garmin offers "effortless control, superior navigation, and top-of-the-line entertainment to let you have an on-the-road experience like no other." With the touch of a button, a camper in the EOS-12 is able to auto-level the trailer, set highway driving preferences, control the cabin temperature, lights, and speakers, and track water tank and battery levels.
By introducing the EOS-12, Boreas Campers is able to tap into a new part of the market that includes "individuals and families who want to get off the beaten path for their adventures but want the comfort of a vehicle that will allow them to stand up and utilize the indoor wet bath." Whether a single overlander or camping family is looking for more space, better access to amenities, or simply a luxury off-grid camping experience, the EOS-12 is the perfect solution.
Upgrading Boreas Campers with Battle Born Batteries
Boreas Camper's commitment to quality and utilizing the most innovative and industry leading products didn't stop with their additional features and gadgets. They made a commitment early on to build every trailer without wood and created an industry-leading trailer construction. By utilizing "a combination of fiberglass, steel, and aluminum" they were able to "produce a lighter, yet stronger camper that wouldn't succumb to the degradation of wood products." This mindset of using products that were high-tech, high-quality, and low-weight was at the forefront of Matt Reichel's mind as he and his team continued to search for ways to improve their trailers. When it came to the electrical system, Battle Born Batteries checked all of these boxes.
Although the XT Trailer doesn't come standard with a 100Ah 12V LiFePO4 Battle Born Battery, Boreas Campers' offers the option to upgrade, and they highly encourage customers to make the switch. Combined with a solar panel and additional components, Matt has seen a tremendous benefit as customers choose to utilize Battle Born Batteries. With the ability to discharge them farther than AGM's, the fact that they weigh much less, the industry leading 10-year warranty, and the option for a heated battery for those camping in cold weather, it's easy to see why the upgrade is worth it. Customers who make the switch will be able to get out farther, stay out much longer, and truly enjoy their off-grid camping trip without any battery anxiety.
Adding to the standard of luxury that comes included in the EOS-12 are 2 – 12V 270Ah LiFePO4 GC3 Battle Born Batteries. When combined with 300 watts of solar, a Victron MPPT solar charge controller, a Victron Multiplus Inverter Charger, and the option to upgrade with one or two more of the Battle Born GC3 batteries, the off-grid electrical capabilities of the EOS-12 are endless. Matt is excited to launch the EOS-12 standard with Battle Born Batteries as the trailer will offer more resiliency in the cold, less overall weight, and a top-of-the-line model utilizing only the best products on the market.
What's Next for Boreas Campers?
In addition to introducing the new EOS-12 camper trailer in 2022, Matt also made the decision to move Boreas Campers' headquarters and manufacturing facility from Denver to Pueblo, CO. This move offered the opportunity for a larger production facility that would allow them to grow and create new jobs in the area. Matt and his team are excited to utilize the new facility to continue innovating and creating the best, most technologically-advanced off-road campers available.
To allow their products to be more readily available to consumers, Boreas Campers is continuing to increase their network of dealers and start creating options for renting the trailers. They're hoping to help more campers experience the joy of being out in the wilderness miles away from any campsite. While Boreas Campers are equipped for campground use, there is something much more magical about camping nestled in the trees, very far off grid.
The team at Boreas Campers is committed to remaining an industry-leader as a camper manufacturer and utilizing the latest technology to provide the ultimate camping experience.
For more information about Boreas Campers' and to keep up with their exciting innovation check them out on Instagram, Facebook, YouTube, and their website.