Engineer and aspiring Astro- and landscape photographer, Chase Gardner set out on a mission to create the perfect off-road vehicle for remote photography locations. In the process of turning his 2009 Lexus GX470 into this vehicle, Chase fell in love with the overland lifestyle and community. What began as a simple off-road vehicle transformation turned into the ultimate, custom-built overland rig of his dreams. Now, Chase heads out on overland adventures, while still searching for the perfect shot.
Meet Chase Gardner
Minnesota native, Chase Gardner, fell in love with mountainous and diverse landscapes when he moved out west. From the red rocks of Arizona to the tall peaks of the Rockies, and everywhere in between, Chase loves heading off the beaten path to explore hidden areas. His love for finding new and unique places stems from his passion for landscape and astrophotography.
"I was not intending to be so active and interested in the off-roading community. I was simply an aspiring fine art photographer with a passion for astrophotography that needed a vehicle to get me to unique/other-worldly places, reliably." Chase knew he would need a capable vehicle to take him off grid, away from the lights and the noise of cities, to capture the stunning scenery around him and the galaxy of stars above.
Four years ago, Chase found a 2009 Lexus GX470, with less than one hundred thousand miles on it, at a luxury used car dealership in Georgia. The Lexus GX offered Toyota reliability and parts that were easy to find in a pinch, since they were interchangeable with fourth generation 4Runners. At the time, this Lexus GX was cheaper than any comparable options, so Chase purchased it  knowing it would be the perfect base for his dream off-grid adventure rig.  As an engineer by trade, Chase was determined to design and build a custom overland vehicle that was specifically tailored to his needs.
Chase Starts Planning His Perfect Rig
Following his purchase of the Lexus GX, Chase started planning his build. Some of his key considerations were the seasons he would be using it in. Spending much of his time in Arizona and Utah, Chase knew summer camping would be minimal as it can be absolutely brutal in the desert. Aside from a few trips up to higher elevation in the mountains, Chase was planning on doing the majority of his camping in the spring, winter, and fall.
Fall is one of Chase's favorite seasons to camp in with the cool weather and changing colors. He also loves the peace and serenity of winter and early spring camping in the snow. With that in mind, Chase wanted to be sure his overland vehicle was equipped to handle various weather climates and especially the harsh winter conditions.
"I came from the grassroots drifting scene where style and aesthetics are as much a part of the sport as anything else." While the technical capabilities of his rig were of utmost importance, Chase didn't skimp on the aesthetics either. As he was sifting through all the possible options for his rig, his mind was always centered just as much on the technical side as on the curb appeal.
Everything including the wheels, tires, color scheme, logos, final wrap, and light placement was considered from the very beginning stages of the vehicle. In order to get the look he was going for with the functionality he needed, Chase spent many tedious hours doing incremental trimming and fit checks.
The Essential Components in Chase's Overland Vehicle
A major part of the Lexus GX's interior was the custom-built drawer system from Aiden James Customs LLC.  The layout was built with the unique demands of the GX in mind to accommodate for the swing out hatch. It features a unique pull-out kitchen where the induction stove folds down from the fridge maximizing space and still ensuring the fridge is sitting low enough for an efficient center of gravity. With the ability to accommodate up to a 75L fridge, it offered plenty of capacity to suit Chase's needs.
In addition, this drawer system replaces the front, 2nd row seating with dedicated space for the batteries, a water tank, and additional storage. This still leaves a platform that a pup can comfortably ride on which was especially important for Chase, as he loves traveling with his German Shepherd.
The rest of Chase's rig is outfitted with many more unique components including an Alu-Cab roof top tent, solar panels, gullwings, rear interior organization, and front interior organization across the dashboard. His Alu-Cab roof top tent offers the perfect sleeping solution as well as a place to mount the solar panels. Rear and front interior organization systems keep all of Chase's essentials easy to find and easy to access. Another important accessibility feature is the gullwings on the rear windows of the Lexus. These offer quick side access without having to open the back and sift through everything else in the vehicle.
Each of the components of Chase's Lexus GX, from the exterior appearance to the small gadgets and organization systems inside, have been custom designed for his specific overland needs. They allow Chase to get to less-traveled places and capture stunning shots that he otherwise wouldn't be able to capture.
Uncovering a Passion for Overlanding
In the process of building out his Lexus GX, Chase began to uncover a passion for overlanding. While his project started as a means to an end, to get the best photos possible, Chase fell in love with the overland lifestyle. The mystery of always wondering "What's around the next corner?" is one of the fires that lights Chase's passion for the lifestyle.
"When you arrive at the location you spent countless hours looking for on maps and satellite images, that's one of the best feelings for me. Even with satellite images you never really know what you're going to come across." In addition, Chase has loved the people he's been able to meet and getting to be a part of the overland community.
As a self-proclaimed adrenaline junkie, Chase also loves the danger aspect of traveling off grid alone. There is a special feeling that comes from being in solitude and seeing a new place for the first time is unparalleled. "Being alone out there is one of the magical parts of the experience." Chase remembers a solo trip to Idaho where his PS line failed in the middle of nowhere and he was able to take in the most stunning views of the Milky Way. Despite his technical struggles on the trip, it is one of his favorite traveling memories.
Chasing the Stars in a Custom-Built Lexus GX
Another incredible memory was last New Years Eve, Chase drove hours over night to a spot right on the side of a canyon and as he parked, it started to snow. "We awoke, on New Year's Day, at sunrise, to the most magical view I've seen in my entire life. Snow powdered all over canyon walls, the sun rising over cliffs in the distance, peering through lingering clouds. These are the kind of moments that I live for."
Immersing himself in the overland lifestyle, has been so much better than Chase imagined. He loves the challenge of exploring and finding unique places that are so well hidden. "The reward of the view and journey to get there is always worth it."
Along Chase's journey into the overland world, he began developing a brand and channel called Two Track Nation which is focused off-roading and overlanding. He and fellow overlander, Hunter Constantine focus their channel on product reviews, vehicle prep and alterations, and other things related to rock crawling, off-roading, and overlanding. With Hunter's custom-built GMC 1500 Denali and Chase's Lexus GX they share their experiences designing and building overland vehicles and all of the products they've used and tested along the way.

Overland Adventures Powered by Battle Born Batteries
In the beginning stages of his build, Chase's electrical system was powered by a lead acid battery and he quickly new that wasn't going to give him the power and reliability he needed. He initially made the switch to a group 31 deep cycle AGM battery hoping to get more power and greater reliability.
Yet he still found himself paranoid that something would go wrong as he was consumed by battery anxiety. Chase was always double checking that the lights and radio were off and that the heater and fridge weren't consuming too much battery power. He never went on a trip without bring along his fully charged jump pack just in case.
Following his frustrations with his AGM battery, Chase began looking into lithium options and settled on Battle Born Batteries. He started three batteries and recently upgraded to four, for even more power. "The rig now has an incredible 400Ah lithium setup that has me completely worry-free." With 4 – 12V 100Ah Battle Born Batteries and accompanying components in his electrical system, Chase can stay off-grid without worrying he has enough power to cook, run the lights, and run the heater when necessary.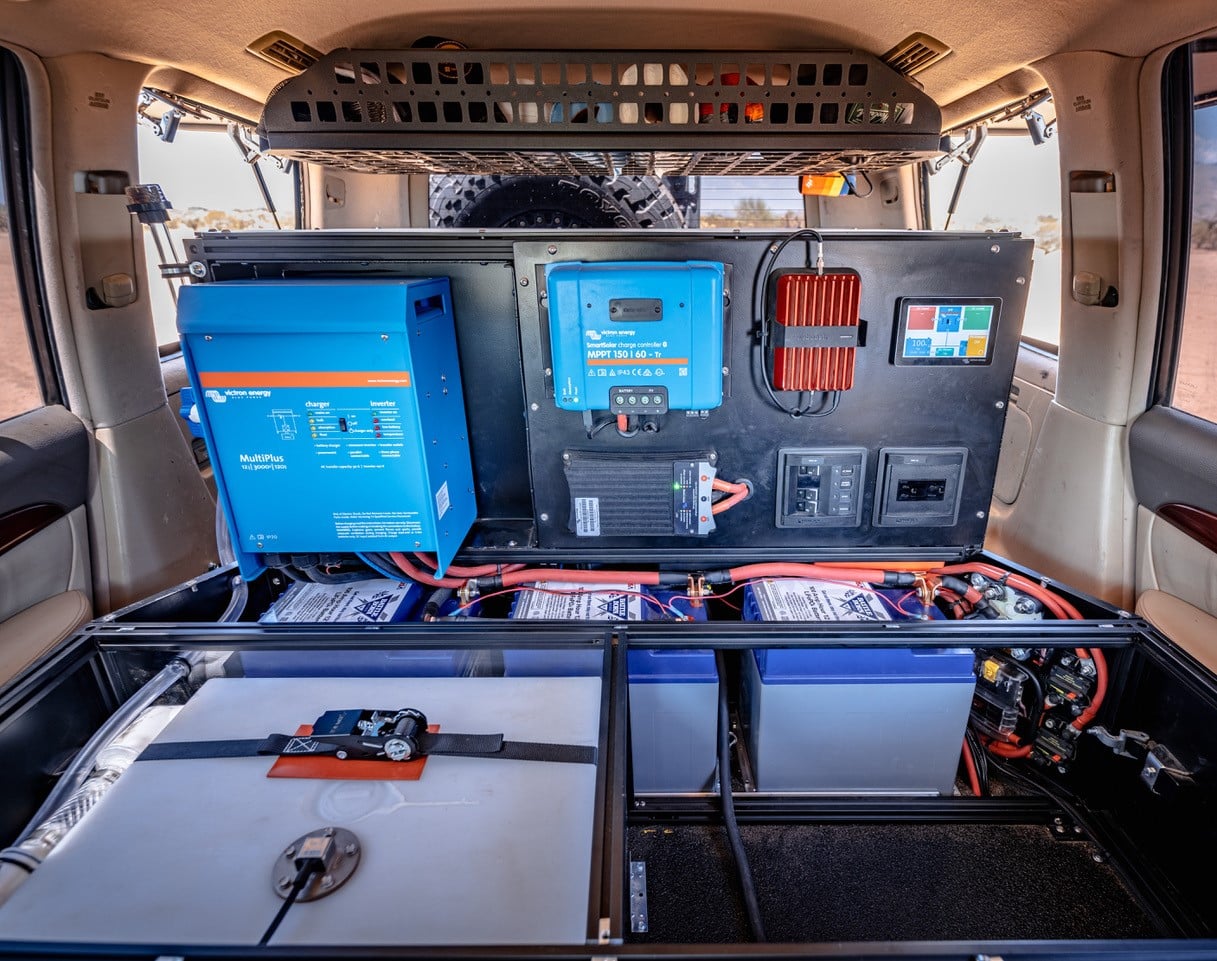 While moving from spot to spot, Chase's alternator charging ensures that the batteries are always 100% charged by the time he reaches his next destination and, if he chooses to stay stationary for a bit, his solar panels help maintain the charge on his batteries. Being able to enjoy his solo overlanding trips without battery anxiety has been a major game changer for Chase.
"My favorite part about the rig is without a doubt the capabilities of the new battery system by Battle Born. These things have completely changed the way I'm able to camp and explore it's incredible." In addition to having more than enough power and camping worry free, Chase's Battle Born Batteries perfectly integrated into his custom drawer system.
Every detail of his rig was designed intentionally, even down to the custom etching in the headlights for each element of the earth. Although it's become a never-ending project, Chase loves constantly finding new ways to improve and customize the Lexus and he wouldn't change a thing if he could do it all over again. "This is kind of the dream setup for me."
What's Next for Chase?
Looking towards his upcoming travel plans, Chase doesn't have anything set in stone at the moment. "I am quite spontaneous in my trips and don't like to plan too far ahead." Although he doesn't have specific agenda, there are many places he's hoping to travel in the near future.
Colorado and Moab are most likely next on the list, in addition to a remote place in northern Arizona he's been hoping to get to, especially now that he has a robust electrical system to sustain him for longer trips. Eventually, Chase would love to travel down the Baja Peninsula, spend some time in northern Alaska, and even head down to South America.
With so many incredible places still out there, Chase isn't planning on slowing down anytime soon. He plans to keep chasing the perfect shot and heading off grid to new and unique places everywhere he visits.
To follow along on Chase' s upcoming adventures and to see his incredible photography be sure to check him out on his personal Instagram and through TwoTrack Nation's Instagram and YouTube Channel.