There are many different RV types out there. How do you know which is best for you and your family? Or you and your partner? Or you and your dog? The possibilities are endless for those you share the road with!
Whatever lifestyle you are looking for, there is most certainly a vehicle for you. This article outlines a comprehensive list of different RV classes and categories to help you better understand what RV type is best for you and your lifestyle. 
And if you're feeling a bit of commitment phobia regarding the idea of purchasing an RV, please don't worry! At the bottom of this article, there is an extensive list of RV rental websites available–rent one before you buy one. 
The Different Types of RV Classes
Class A Motorhome
Class A motorhomes, built with the same sturdy framing and construction as commercial trucks and buses, are some of the road's most imposing and luxurious vehicles. These motorhomes are ideal for those living out of their RV full-time, whether just a couple or a whole family. Because of their large size, they offer expansive sleeping and lounging areas, fully equipped kitchens decked out as well as any home, and luxurious bathrooms that elevate the camping experience to surpass "glamping." Class A motorhomes often come with multiple slide-outs, significantly increasing living and storage space. These motorhomes should be your go-to if you are looking for a luxurious home on the road.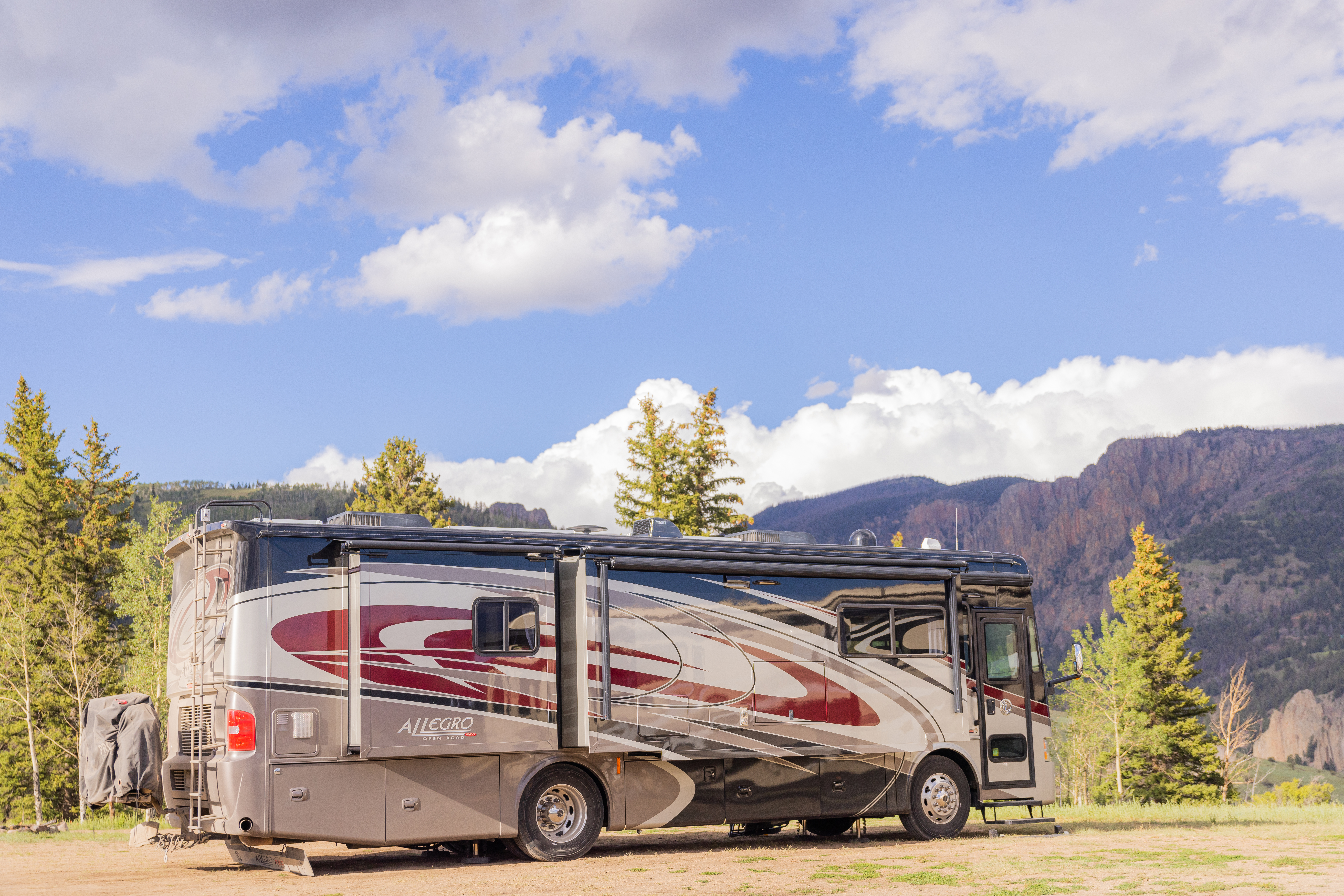 Class B Camper Vans
If you want compact, sleek, and fuel-efficient, look no further than Class B camper vans. Class B motorhomes, or Class B camper vans, do not typically come with slide-outs but offer plenty of upscale features, such as galley kitchens and comfortable beds. They provide the perfect space for two people to work and cohabitate. Their fuel efficiency makes them a top choice for folks looking to save on fuel costs in the long run. 
Class B camper vans' most significant advantages are their easy driving and maneuverability. They are easy to navigate through busy city streets or explore the forest. They are easy to handle and provide a reasonably stress-free driving experience.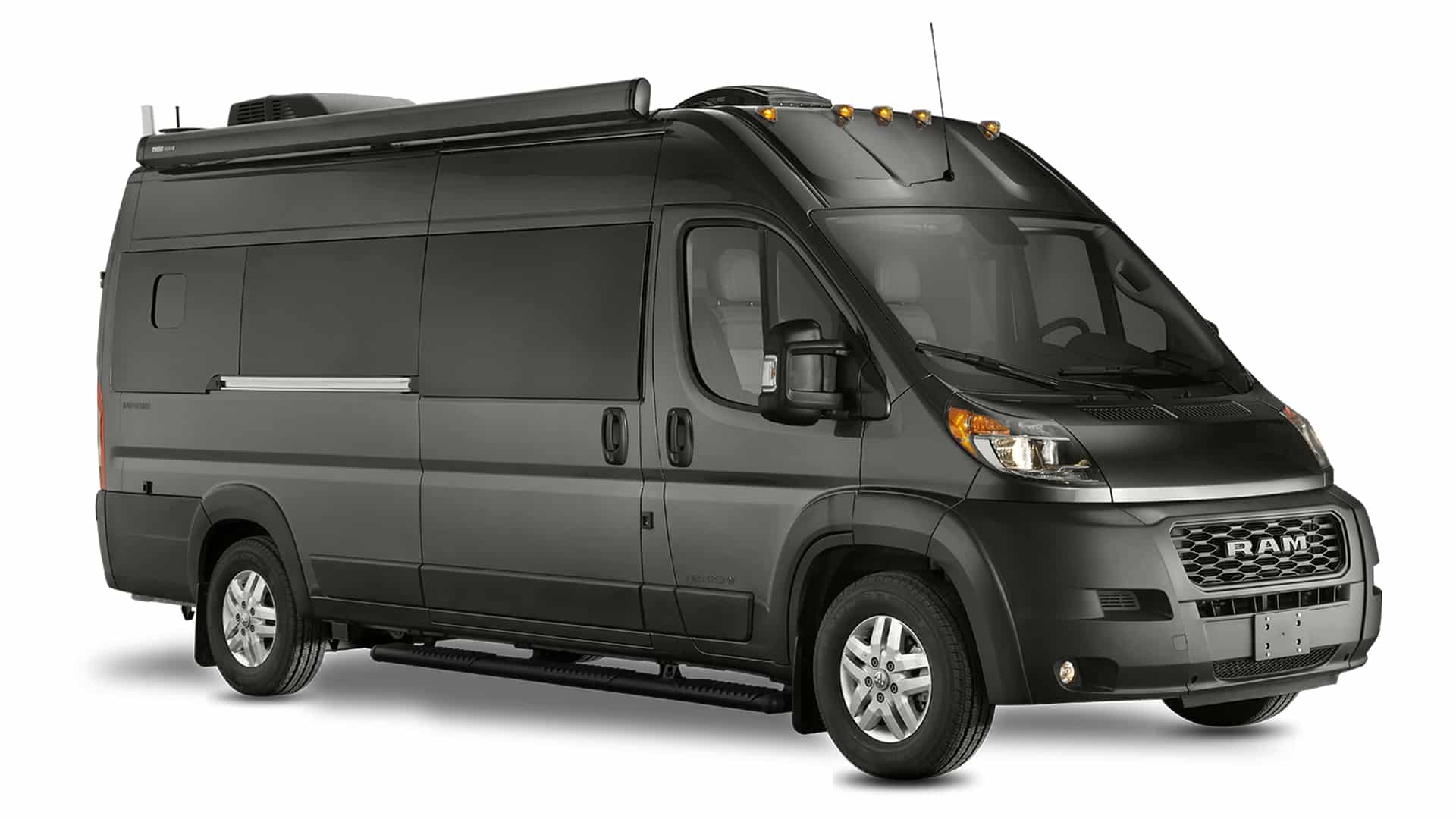 Class C Motorhomes
Class C motorhomes are excellent options for families that want to enjoy the outdoors without breaking the bank. They are ubiquitous vehicles on the road. You'll know you see one when you see rented motorhomes via "Tour America RV" or the iconic "Dolphins" on the road. Even though they are a lower cost point than Class A, they still offer ample and comfortable living space for families. Unlike Class B, Class C motorhomes offer ample slide-outs, significantly expanding your living space. Because they are more compact than Class A, they provide better gas mileage than the latter. 
Class C is your optimal choice if you are looking for a happy medium between Class A and Class B!
The Different Types of RV Styles
Travel Trailers 
If you have spent time on the road, it's next to impossible that you haven't seen a travel trailer on the road. In the 50s, people popularized travel trailers and affectionately nicknamed them "bumper-pulls" because they attached to the car's bumper. Now, most people call them travel trailers. They are now connected to a hitch securely attached to the tow vehicle's frame – a much safer and ideal route. Travel trailers come in all different sizes.
Travel trailers start at tiny-sized models with a throwback kitchen in the rear to complete homes as fanciful as any motor RV. They can weigh anywhere from 2,240-13,920 lbs and stretch 15′ to 42′. The smallest can sleep 2-3, whereas the larger can sleep up to 14! 
Fifth Wheels
Fifth wheels, like travel trailers, are pulled by a vehicle. Fifth wheels provide smoother and more stable towing thanks to their specific design. They are prevalent among full-time RVers. Fifth wheels are affectionately nicknamed "fiver's." They connect in the tow truck bed. The overhang of the RV can be a bedroom suite, living room, or sometimes a kitchen. They can weigh anywhere between 8,860-20,860 lbs. Fiver's are approximately 35′-46′ feet long and can sleep up to 12 people. 
Toy Haulers
If you want the comfort of a fifth wheel but thrive on dirt trails in the backcountry, AND you have many toys, the Toy-Hauler might be your dream unit! Toy haulers have a funny coming-of-age tale. They were initially designed as "man-caves," complete with diamond-plated walls. However, they have evolved a far distance from their shiny existence. 
They offer a comfortable living space and ample storage for all your toys, such as dirt bikes, motorcycles, ATVs, kayaks, crash pads, and more! Today, many families and RV enthusiasts find toy haulers attractive because of their open-concept living areas that offer multi-purpose utility. They have ample storage space and extended wings to turn into a patio.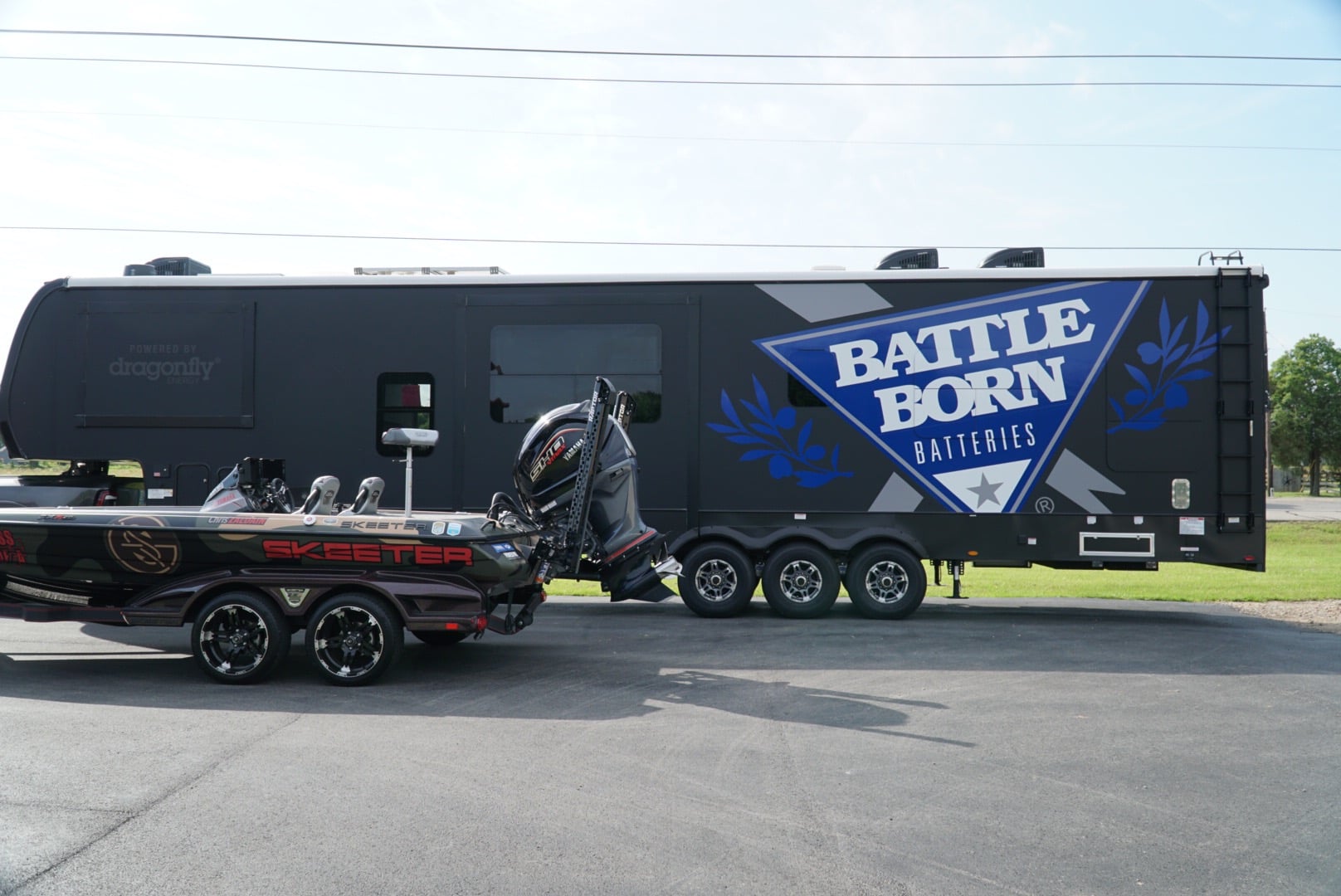 Pop-Up Trailers
Pop-up trailers are similar to exactly what they sound like! They are folding camping or tent trailers and are incredibly versatile. They fold down to be streamlined and compact when you are ready to tow. They provide a comfortable sleeping space and a cozy hangout living area when expanded. They are perfect for those living outside their RVs full-time but enjoy camping and getting outside as much as possible. 
Smaller and lighter than traditional travel trailers, smaller SUVs or trucks can easily tow them. This makes them an excellent option for folks with smaller cars and budget-conscious travelers. They are incredibly user-friendly, as well as fuel-efficient. 
Teardrop Trailers
Teardrop Trailers are easily recognizable because of their distinct shape with a round end and a tapered end. They are popular for their compact and easy towability. The body, weight, and maneuverability of teardrop trailers make them simple and user-friendly. And they are cute as a button! 
Most basic teardrop trailers consist of a simple bedroom, while larger models may have a couple of beds, a kitchen, and sometimes a dining area! It's rare, but some models even have a bathroom. Whether you are a solo traveler living a minimalist lifestyle but still craving some creature comforts or a small family needing a cozy living space on the road, teardrop trailers can provide the perfect blend of home and camping. 
Truck Campers
Truck Campers are super low-key "RVs." Most people don't consider them RVs at all! However, in the basic definition of an RV, they are just that. The compact space is a small home on wheels, equipped with a bed, sometimes a bathroom, and a small kitchen. Although they are considered the smallest RVs, 42 states only classify them as cargo due to their size. Truck campers offer a hassle-free alternative to big RVs and vans, although with some caveats. They require a low level of attention and maintenance. Truck campers are a great option to test out life on the road if you are hesitant to commit to the RV lifestyle fully.
Truck campers are as easy to handle as standard trucks. Truck campers are more affordable than standard RVs. However, the most extensive bar to entry for truck campers is the fact, well, you need a truck to put on! Without a truck, you would be better suited to looking at other RV options, as a truck's price point is steep. 
Vans | Sprinter Style
We've all seen them. The long, tall, sleek white (usually) cargo vans have become so ubiquitous on the road. Sprinter vans are an ideal choice for a camper van conversion due to their square cargo shell, which provides a solid foundation for a completely customized van. Many camper van conversions maximize wall space with wall-mounted cabinetry and high-rise beds, including storage underneath. 
In addition to ample storage and sleeping space, most van conversions include a table and bench and a small kitchen setup. However, sprinter vans come with all sorts of different versions of living! Many people enjoy the DIY build-out of their van so that they can customize them perfectly to their living needs. Sprinter vans attract van lifers because of their superior fuel efficiency compared to those built on a truck chassis. Sprinters can easily reach remote locations with rear-wheel, front-wheel, and four-wheel drive options. 
Skoolies & Other Converted Buses
Skoolies have always been considered the original "tiny home," They continue gaining traction across the United States as people of all ages seek more sustainable and affordable housing opportunities. Skoolies are converted school buses, usually up-cycled from wrecking yards. 
Like Sprinter vans, Skoolies are remodeled in many ways and built by folks with a zest for DIY culture. There are many ways to remodel a Skoolie, and you can find some unique and wild ones on the road! Looking for inspiration? Check out Arbour Season's amazing Skoolie renovation. 
Overland Vehicles
If you want to get straightforward definitions of an "overland vehicle," it's just that – any vehicle that will facilitate your overland adventure. Overland vehicles encompass a range of mechanized off-road capable vehicles, including vans and trucks. Their key characteristics are high ground clearance, significant horsepower and torque, superb traction, and approach and departure angle. One of the main attractions of overland vehicles is their exceptional ability to traverse the terrain. However, overland vehicles are not precisely off-road vehicles. 
So, what's the difference?
Unlike off-road vehicles, overlanding vehicles are homes on wheels. Sprinters are crafted with your comfort in mind to tackle any terrain. Overland vehicles are designed for extended periods of travel based on a vehicle. In essence, they are an RV. It will serve as a means of travel, an adventure, a capable off-road machine, and your haven. Overland vehicles strike a delicate balance between off-roading capabilities and living space, fostering self-reliance. Already the proud owner of an Overland vehicle? Check out this great resource on setting up a battery bank in your vehicle.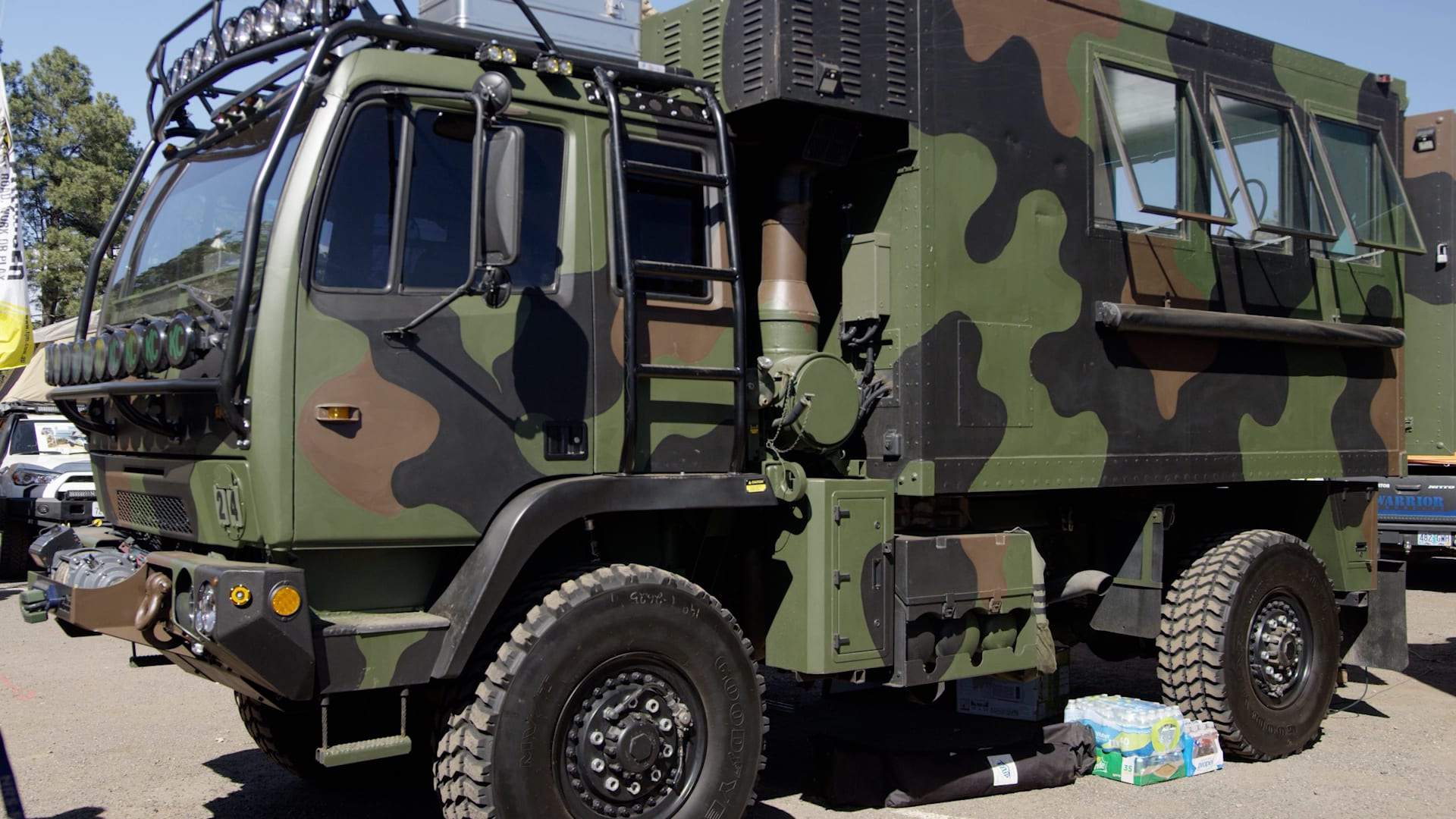 So Many Options! | To Rent an RV or To Not Rent an RV?
That is really the question! If you are one of those folks that have trouble making a decision (this is human, right?), there is a plethora of resources out there for you to rent an RV before committing to purchasing one! 
RV Share website is an incredible resource for renting an RV – any style your heart desires. They even have options for "destination deliver." The RV owner will sometimes deliver the RV to your destination – you won't need to worry about driving it. Go big, or go home, right?
Another great RV rental website is Cruise America. They have options for renting an RV and resources for buying an RV. Cruise America also offers an extensive resource guide on planning your ideal RV trips, from the campground and route ideas to tips for living on the road out of your RV. 
Next up on our list of amazing resources for RV rental is the Outdoorsy website. Like RV Share and Cruise America, Outdoorsy can rent different RV styles and delivery options. 
Outlander is a resource that sources multiple RVs for rent on multiple platforms. This allows you to "search more RV inventory than any other site in North America." 
Finding Community in the RV World
Sifting through all the research on what RV is right for you, how to design your RV, how 
to pack, and how to set up your electrical system can be an overwhelming experience. 
But once you've crossed that hurdle and are ready to hit the road, the (extra) fun part begins! One of the great parts of life on the road, or even on short weekend adventures, is the people you meet!
There are many events and groups to join to help you meet like-minded folks. If you love camping in new places but enjoy spending time at breweries, museums, wineries, and farms, Harvest Hosts is a great community to join. You pay a yearly membership fee that gives you access to hosts all over Northern America, Canada, and Baja for truly unique camping experiences. 
The Escapees RV Club is another great option for finding friends on the road. Every year, they host a five-day event connecting like-minded folks of adventure seekers. RVers and attendees can share their knowledge of RV life and learn through conversation and an extensive list of seminars. 
FMCA is yet another fantastic RV club. Members are covered for things such as FMCA assist, tech connect, RV magazine, FMCA university, advocacy, membership plates, and more! 
Camping Options
If you aren't ready to commit to a yearly membership, Hip Camp is an online resource for fantastic campsites you can pay a nightly fee on all over North America. If you are adventurous and prefer boondocking, Free Campsites and Ioverlander App are excellent resources for off-the-beaten-path camping spots.  
Final Thoughts
A wealth of information exists for choosing the ideal RV for your lifestyle and needs. Whether you are looking for the biggest, baddest, and most bougie home on wheels, or something low-key and fuel-efficient to get you to the next camping spot, the perfect vehicle exists. No matter what RV type you choose or where you travel, the adventure and wanderlust of exploring new places are right at your fingertips.