At Battle Born Batteries, we love camper vans! We have a soft spot for the classic Vanagon and Westfalia, but are also drawn to more modern road warriors like the Sprinter, Transit, and Pro Master. Their ability to handle and maneuver comfortably makes vans the perfect choice for the minimalist traveler, weekend warrior, or seasoned full-timer. A camper van is a more compact package, while still offering many amenities you'd find in a larger RV.
What Is a Camper Van? 
A camper van provides both transportation and sleeping or living accommodations. Essentially, it's a van converted into a camping unit. The van's cargo hold can have a bed, kitchen, bathroom, shower, seating, and workspace. In addition, there are countless floor plans to consider.
A camper van gives the freedom of choice while still fitting in the driveway. You can build a mobile workspace, a base camp for outdoor adventures, or a camper that blends in on the daily commute before hitting the road for the weekend.
You'll find many built on a Ford, Chevy, Ram, or Mercedes-Benz large van chassis, but Sprinter Vans are the most common. There are also minivan camper conversions with tighter spaces that are the same concept.
Camper vans can have black and gray water holding tanks as well as freshwater tanks. Similar to a class B motorhome, the tanks are usually relatively small.
These tiny homes-on-wheels also need a way to get power, whether it's through LP lines or electric hookups. Most will have a camper battery and a generator so that the user can enjoy lights, electrical outlets, water, and other features built into the van.
How Much Does a Camper Van Cost? 
Camper van costs vary pretty widely. Many people do a DIY conversion, purchasing the van separately and then building out the interior. This can reduce costs significantly compared with buying one from a manufacturer.
When doing the work yourself or hiring some of it out, you can manage the budget and timeline. For example, you might purchase a newer-model van for $20K and spend $5K on the build. Professionally built camper vans can cost upwards of $225K. Small companies provide more affordable options, such as Custom Crafted Vans. They do custom builds from $10K-$60K on the van you choose. Other operations offer conversion kits after you purchase the van.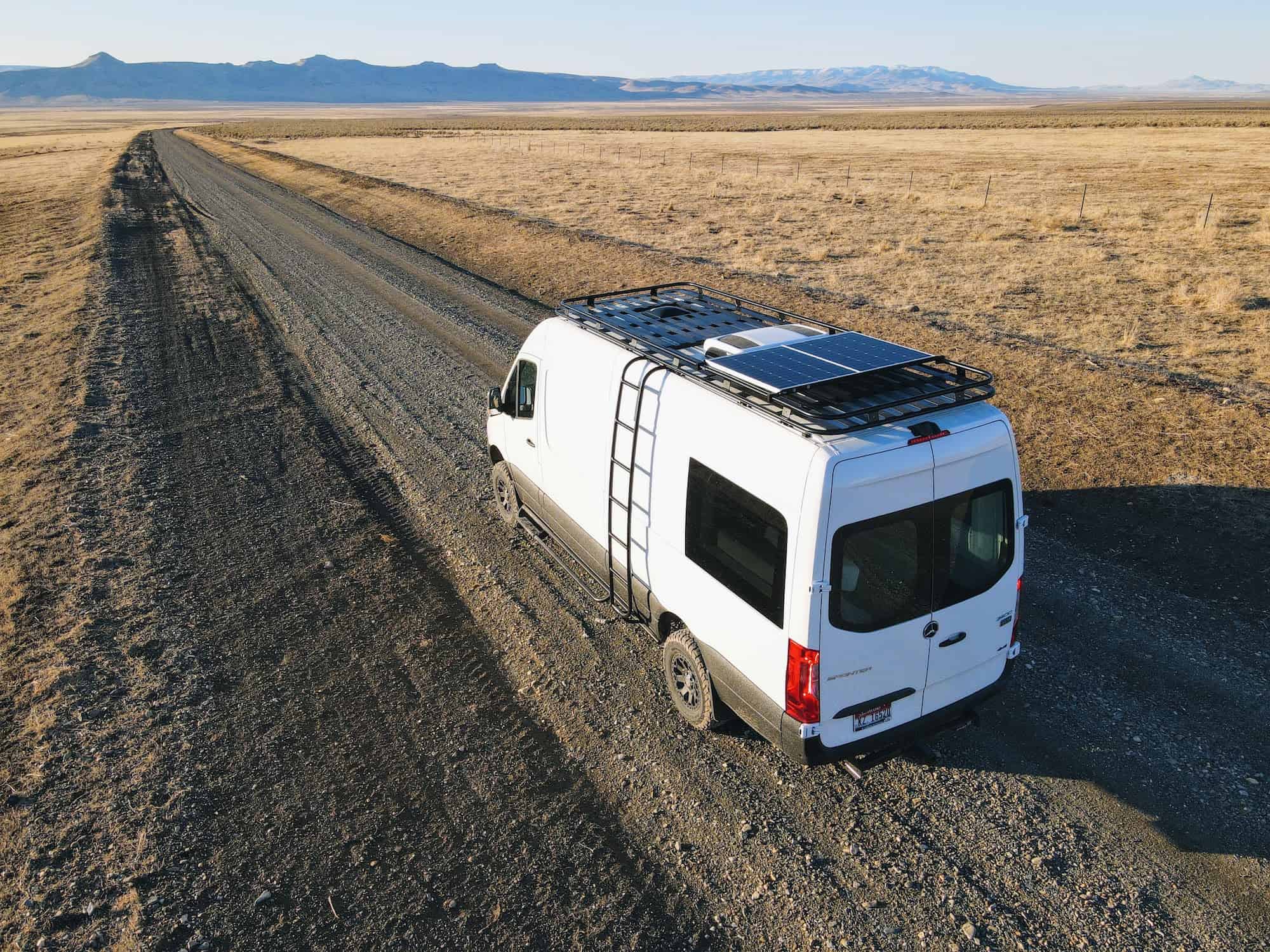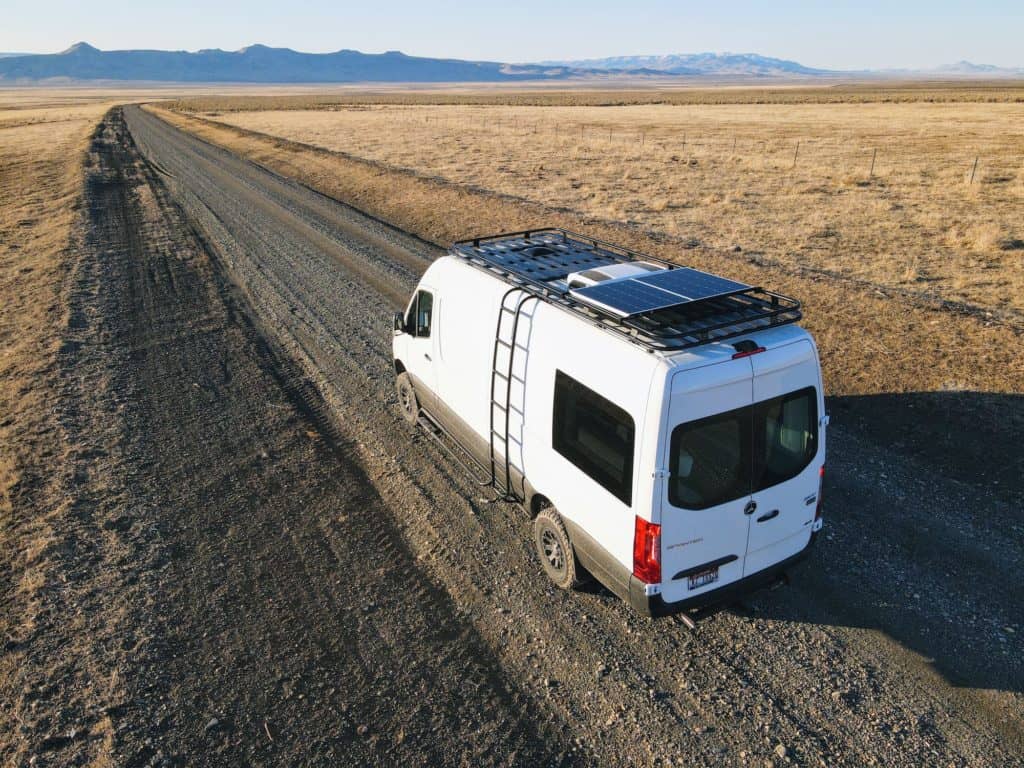 How Much Does a Camper Van Weigh?
A camper van's weight will vary depending on several factors. You must consider the van's dry weight and its cargo-carrying capacity. Builds that exceed the overall vehicle weight, including cargo, can be unsafe.
So how do you figure out how much your van build can weigh? First, find your van's curb weight and GVWR (gross vehicle weight rating). It'll likely be on the same sticker as the VIN. You could also locate it in the owner's manual or look it up online. Then, subtract the curb weight from the GVWR to get the cargo-carrying capacity.
If you're doing a DIY build, don't go over the cargo-carrying capacity, also known as payload capacity. This weight means everything in your van, including passengers, fuel, etc. So if your camper van has a GVWR of 9,000 lbs and a curb weight of 6,000 lbs, you can technically only have 3,000 lbs worth of cargo and passengers. However, the numbers get a little tricky with van conversions. If you take out original van components, you can subtract their weight and add that to your cargo capacity.
What's the Difference Between a Camper Van and a Motorhome?
A camper van and a motorhome are both homes on wheels, and they're technically both RVs (recreational vehicles). Some sleeper vans are categorized as class B motorhomes. To be classed as a motorhome, the unit needs a kitchen, bedroom, and bathroom. But there are some more obvious differences between these two types of motorhomes.
The vehicle's chassis is the most significant divider. Camper vans sit on a van chassis, whereas a motorhome has a specific chassis depending on the model. Class A motorhomes, for example, usually have a solid heavy-duty frame that can withstand the sheer size and weight of a large motorhome. However, similar to commercial trucks, the tires are also more prominent on a class A chassis.
The living space can also differ. Most camper vans have less interior space than a motorhome. Since they're on a smaller chassis, there's less space for the interior build. For example, some have a wet bath, but it's rare to find a camper van with a full bathroom.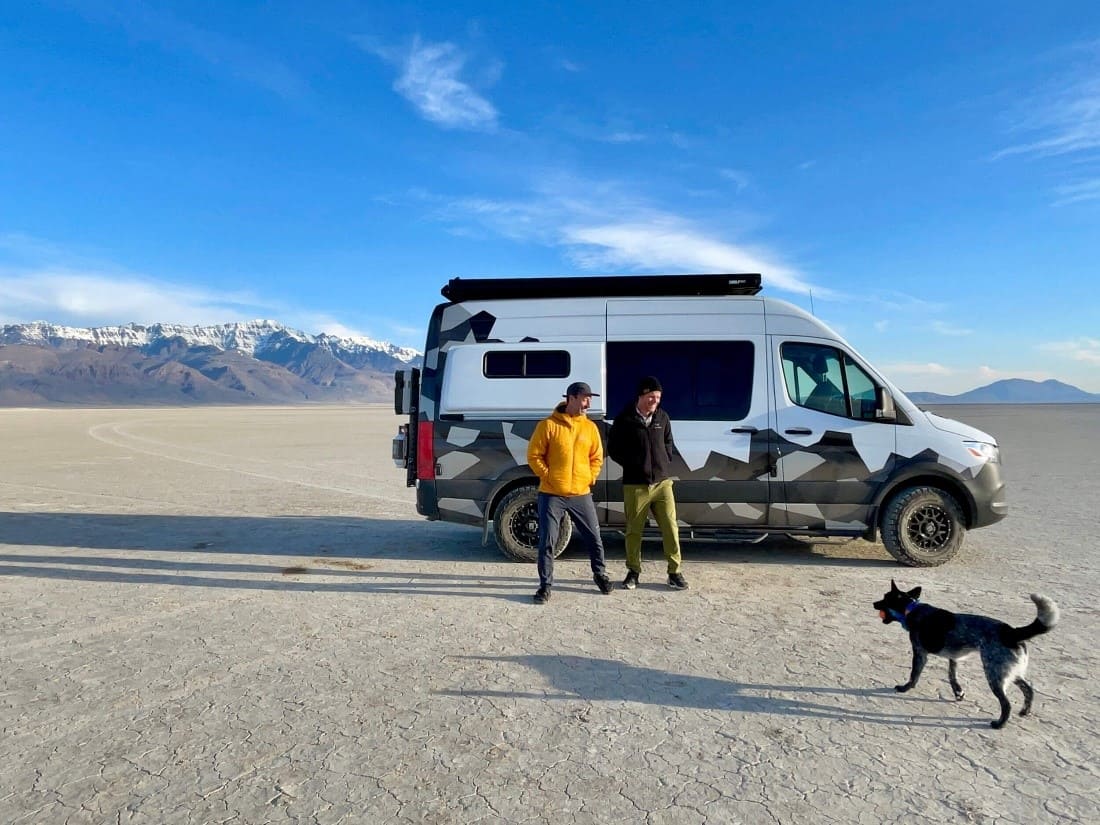 Types of Camper Vans
There are many camper vans on the road today, with creative people customizing different brands and models. Here are three of the most common types.
Pop-Top Camper Vans
A pop-top camper van has a roof that pops up to create more headroom or sleeping space. The pop-top usually has windows or screens in it and lets more natural light into the van. When the camper is not moving and popped-out, you can have an open floor plan on the "main floor" and a separate bedroom up top. As an example, check out the Winnebago Solis that features an extended roof.
High Top Camper Vans
A high-top camper van is higher from floor to ceiling than a regular van. The extra height allows for a person to stand up with enough headroom. It also provides more cargo space. Airstream's Interstate models are examples of a high top on a Mercedes-Benz® Sprinter van chassis.
Vintage Camper Vans
A vintage camper van is more than 50 years old but less than 100 years old. One of the best examples of a vintage model is any Volkswagen van made before 1970. Older models are typically smaller and have fewer amenities than modern ones.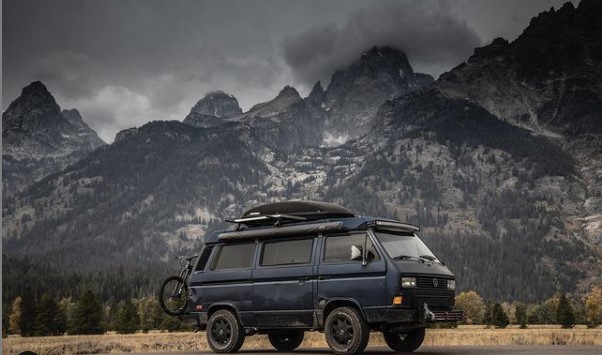 Pros of Camper Vans
While camper vans aren't for everyone, there are many benefits to owning one. We've identified the three pros that we hear the most.
Easy to Park
Camper vans are easy to park. They're less than 24ft long, which means they can fit into a regular parking spot. Ease of navigation in almost any parking lot is a game-changer for RVers. For example, you can park at the grocery store without having to straddle multiple spaces.
Vans are also easy to park in campgrounds. Backing up is similar to a car, and new models tend to have backup cameras. Rather than taking you 30 minutes to get into a campsite with a large motorhome, you can park your van in seconds.
Fuel Friendly
Camper vans are more fuel-friendly than a motorhome or a truck pulling an RV, owing to a van's size and weight. And a lot of vans are diesel, which is more fuel-friendly than gas engines. Saving on fuel means you can explore further if your budget allows it!
Easily Drivable
If you can drive a truck or minivan, you can drive a camper van. They're straightforward to operate, and they handle well. High-top vans are prone to swaying slightly in high winds, but overall their drivability is excellent.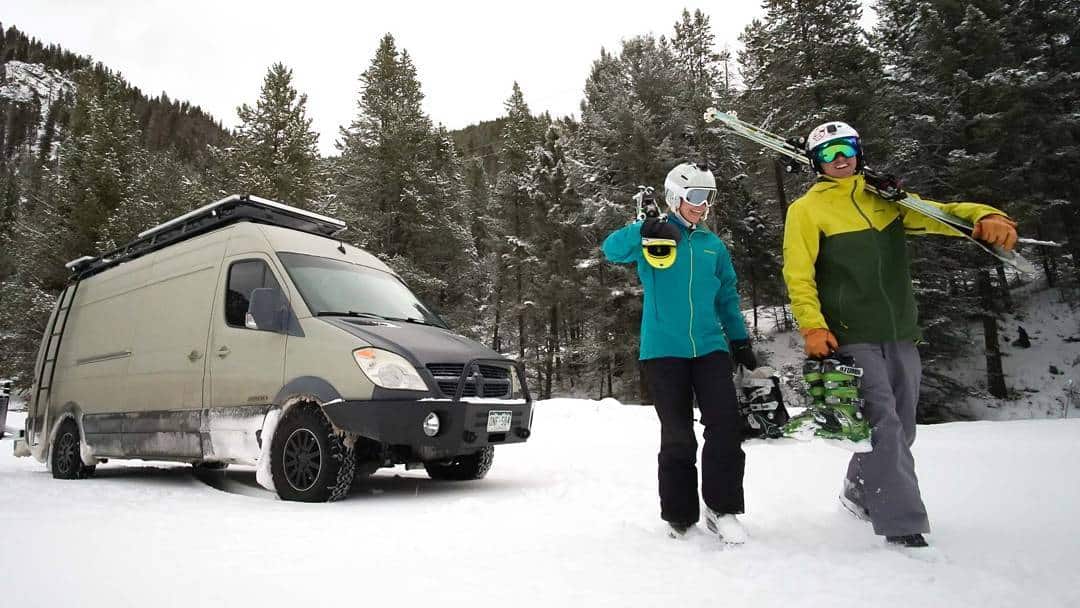 Camper Van Cons
Like with any camping unit, there are some cons. Here are the three most common negatives we hear about camper vans.
Tight Quarters
Living in an 18ft to 24ft van is tight, especially if you travel with more than one person. Camper vans are ideal for one person, but even then, there's little room to spare. It's trendy to DIY or customize van builds to maximize the living space to fit your needs. Of course, if you know you'll spend most of your time outdoors, tight quarters might not be an issue.
Difficult to Bring a Car Along
Some camper vans have a towing capacity high enough to tow a car, but not many. When you don't have a car, it means you must drive your van, which can be particularly annoying if you're at a campground. You'd need to unhook from water, electricity, and sewer every time you wanted to go somewhere.
It's possible to travel in a sleeper van without an additional vehicle–you just have to be creative. You can do things like tow a golf cart or install a bike rack so you can use the bike for errands and activities close by. Electric bikes are becoming more and more popular in the RV community for this very reason.
Luxury Comes with a Cost
As we indicated earlier, the cost of a completed camper van from a manufacturer can be high. It may have all the bells and whistles you want, but luxury comes with a price. Consider what your priorities are to determine if saving money outweighs having a few luxurious features.
Can You Live in a Camper Van Year-Round?
The short answer is yes. However, there are many factors to consider. Depending on what type of climate you're traveling in, features such as heat or air conditioning are likely to play a significant role in livability. If you're in a cold climate, make sure you have adequate heat and a way to power it. Similarly, if you're in a hot environment, an air conditioner will come in handy as long as you have access to electricity or a solar and battery van electrical system set up.
Some people live in a camper van year-round. You can find van lifers with a quick search on social media or Youtube. Irene Iron Travels is an example of a couple that lived in an Airstream van for a few years.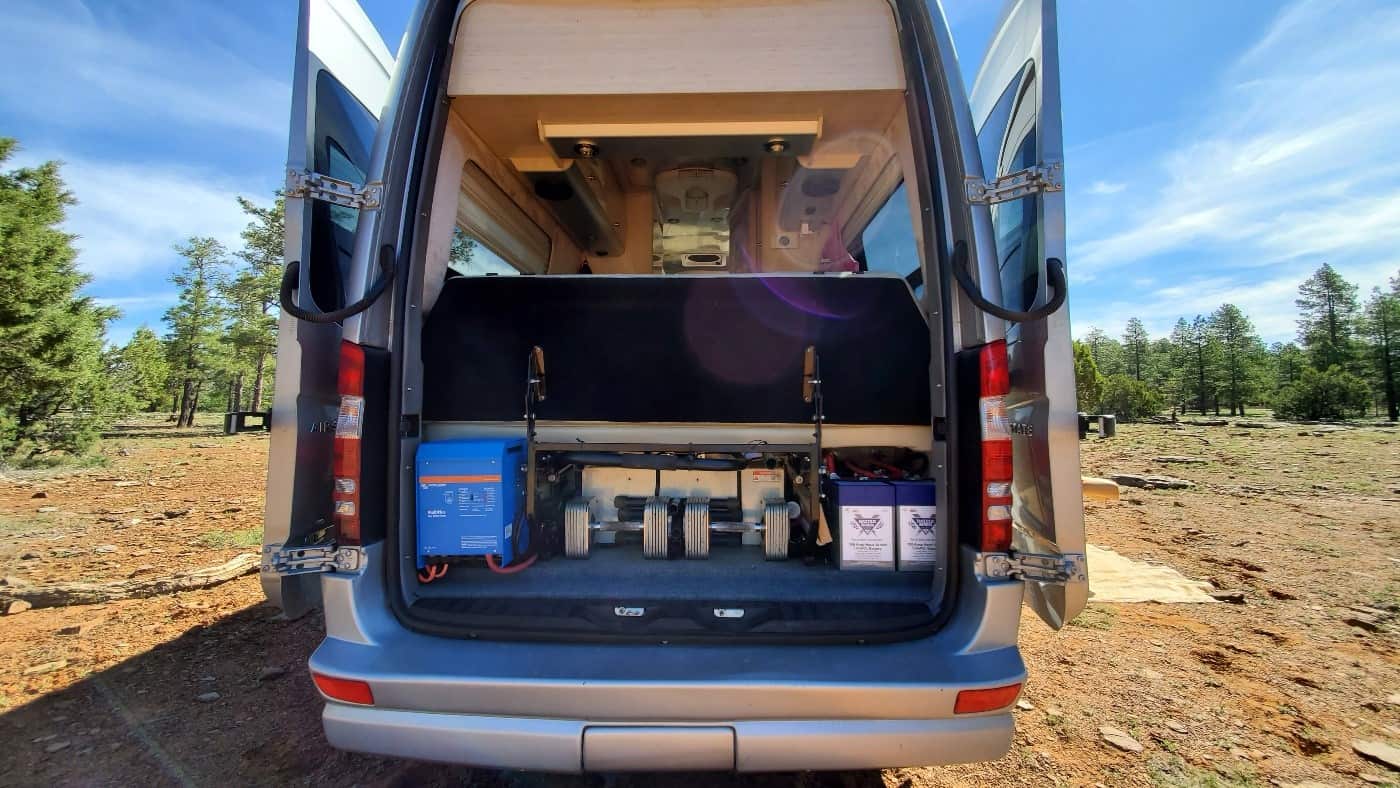 Electrify Your Camper Van Adventures!
A mobile power solution from Battle Born Batteries can add a van electrical system with lithium – new or old. Lithium will eliminate any battery anxiety plaguing your travels.
We offer the highest quality lithium batteries, solar equipment, inverters and accessories to build a system of any size to power your build with a van electrical systems or upgrade your current rig. Our batteries are lightweight, sealed, and don't emit any off-gas, which means they can be housed inside your van safely and securely.
Battle Born has the right products to ensure your comfort doesn't take a backseat to your power and energy management.