Overland campers are vehicles that can take you on and over any road (or lack of a road). That means, with an overland camper, the next adventure is always close by.
These on- or off-road vehicles allow the modern pioneer to venture off the beaten path and focus on their journey. Whether you encounter rough roads, overgrown roads, or no roads at all, an overland camper will be a reliable vehicle with ample clearance for your adventures.
What Is Overlanding?
Overlanding is an off-road travel and camping method that takes you off the beaten path to hard-to-access remote locations and campsites. To enjoy overlanding, you must have a totally self-contained overlanding camper or vehicle. You must also be able to fully provide for yourself including water, power, and food.
Overlanding is all about exploration and the remote parts of the map where most don't dare venture. Modern overland vehicles don't fit any particular mold or vehicle type, rather they need to be resilient vehicles with the ability to handle any terrain.
There are many overlanding routes throughout North America, and this mode of travel is becoming more and more popular.
The Difference Between Overlanding and Camping
Overlanding often involves camping. Not all overland trips involve camping, but they fit naturally together. Camping while overlanding allows for longer and more adventurous trips since you have everything you need with you.
Overlanders usually travel completely self-sufficient. Whether they're traveling in a camper with a bathroom or kitchen or plan to use a portable toilet and a campfire for cooking, they have everything they need to accomplish essential daily tasks.
Camping usually involves campgrounds, often with amenities like RV hookups, bathrooms and showers, nearby stores, and other amenities of comfort. Even boondockers camp on public lands that are usually closer to civilization.
What is an Overland Camper?
An overland camper is a self-sustained camping vehicle that's fit for off-roading. There are many types of overland campers from actual motorized off-roading campers, overlanding trailers, built-out truck campers, and more. Some overlanders choose to live out of a rooftop tent attached to their Jeep or other off-roading vehicles.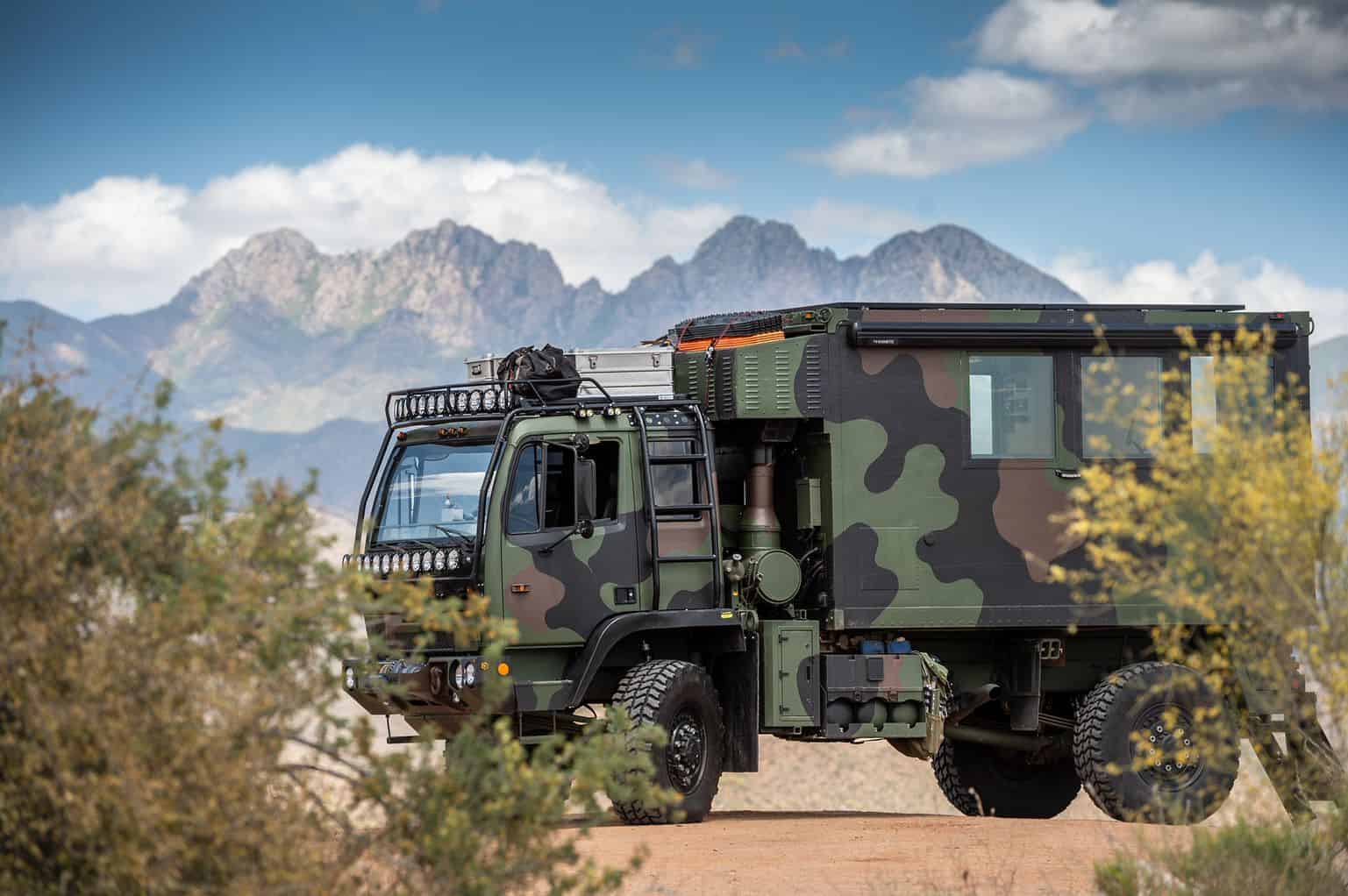 No matter what style you choose, all of these rigs need to be able to handle rough, uneven, and steep terrain as well as support off-grid living.
For tackling the trails, overland campers need high clearance and four-wheel drive, plus the suspension and tires to handle rocks, steps, and more.
To be fully self-sufficient, an overland camper must have wastewater storage, freshwater storage, ample fuel supply, food storage, and power supply.
How Much Does an Overland Camper Cost? 
The price of an overland camper can vary widely. Overland campers can cost anywhere between $20k to $1 million or more. Costs generally fluctuate with the capabilities and luxuries of the vehicles.
Continual upgrades, both in terms of gear and comfort, are very common. To tackle more difficult trails and reach more remote places, you can spend as much as you want to get your overland camper to the next level.
How Do Overland Campers Get Power? | Overland Battery Systems
When you're in the wilderness, overland campers get their power from energy stored in deep cycle batteries. Of course, an overland battery system must start with an original power source for charging.
You can use your vehicle alternator, solar panels, a generator, or a combination of the three to charge your batteries. Due to resources and space, many overland campers charge their batteries with alternators and solar power.
Overland campers can choose from either lead-acid or lithium batteries, but lithium is best for efficiency, light-weightness, and longevity.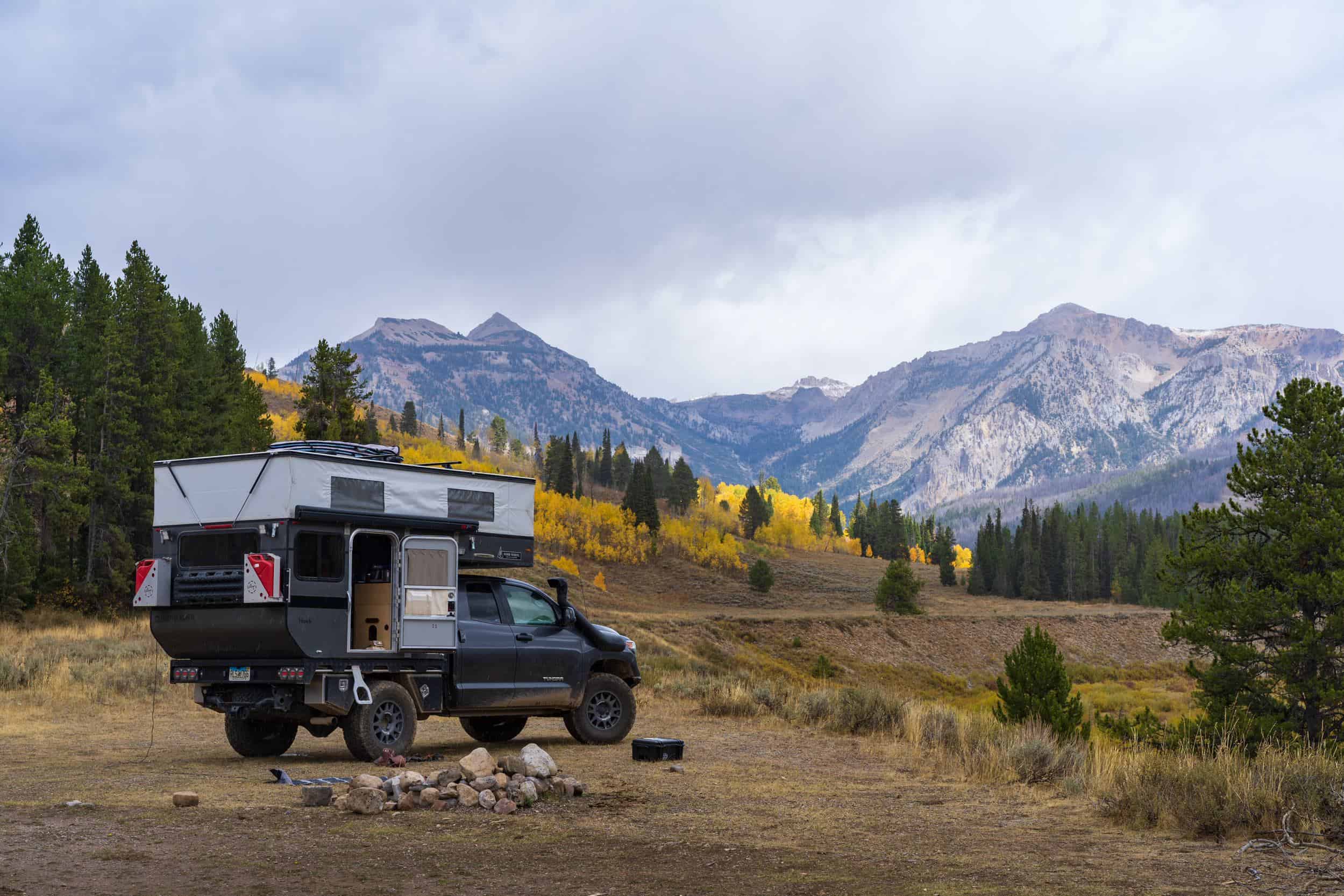 Best Overland Battery System Setup: Lithium
Lithium batteries are hands-down the best choice for overland campers. They weigh less than lead-acid batteries, and you can mount them in any position, making them a versatile option for small spaces.
Best of all, they're easy to take care of. You can only discharge lead-acid batteries down to 50%–any further, and you run the risk of permanent battery damage. But you can completely discharge lithium batteries–they have a failsafe that shuts off power right before the battery reaches 0% capacity. You can use all your battery power without damaging them or shortening their lifespan!
Additionally, lithium batteries charge faster than lead-acid batteries. This is essential for overlanding when you need power quickly. And while you're using them, they deliver steady power from fully charged to fully discharged.
The last reason we think lithium is the best for overland camping: the incredible lifespan. These batteries last up to 10 times longer than lead-acid, which you can expect to last a year or two. Lithium, on the other hand, can last 10-15 years or longer.
At 31 pounds, a Battle Born overland battery setup will keep your overland rig light while still being robust and powerful enough to perform over any rough trip. Our batteries give you the ability to fully discharge 100% without risk of damage or memory and come with a 10-year warranty against manufacturer defects.
Our batteries, components, and accessories will allow you to run your LED lights, navigation equipment, radios, and more over the course of your adventure.