Here at Battle Born Batteries, we are BIG fans of our furry fans! 
According to the Recreational Vehicle Industry Association (RVIA), the popularity of RV travel has been steadily increasing, with around 1 in 12 households in the US owning an RV. Even more inspiring is that most RV owners are accompanied by their four-legged best friends. In fact, approximately 63% of RV owners have pets, and an estimated 6.2 million dogs are traveling alongside their owners in RVs. 
In this blog, we explore the unique lifestyle of dogs living on the road in their owners' RVs and dive into some must-haves for RV camping with your dogs! 
Is Your Dog One for the Road?
Before hitting the road, making short trips is best to ensure Fido is ready for your RV lifestyle. Not all dogs are well-suited for life on the road, so it's essential to be mindful of their personalities. Factors such as temperament and size can affect how much your dog likes to travel. 
Suppose you are looking for a furry friend to adopt. In that case, some dog breeds that tend to excel in the RV lifestyle include the Labrador Retriever, Australian Shepherd, Pomeranian, Beagle, Husky, and Bichon Frise, among others. However, most dogs that love car rides will likely be even happier in an RV or van. 
A Reliable Power Source for Your RV Air Conditioner
While on the road, there may be occasions when you need to leave your dog alone in the RV. If you have a dog, you know not to leave them in the car on warmer weather days. An RV is the same. A great solution to this is ensuring you can run your RV's A/C unit while leaving your dog inside.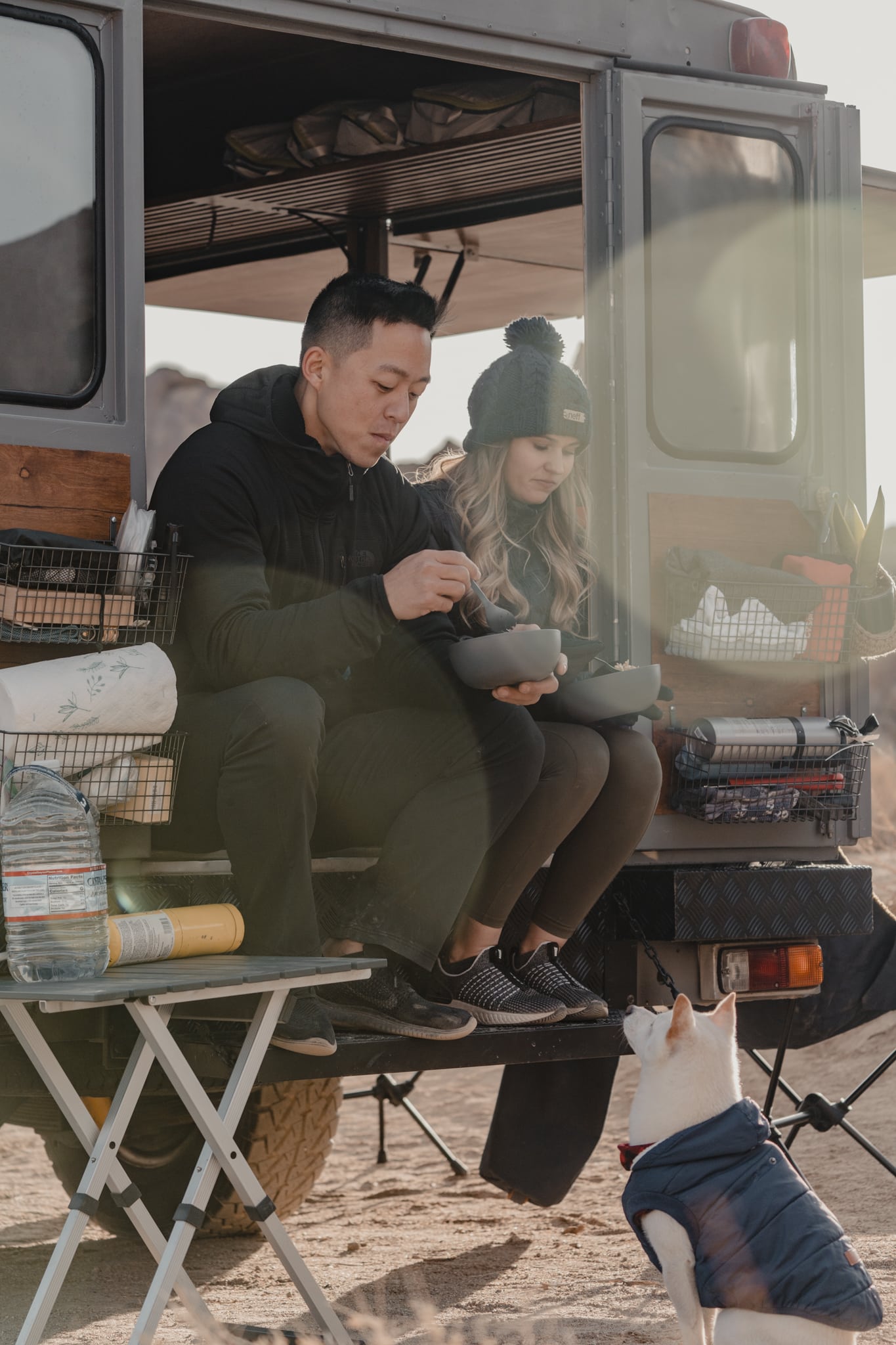 So, what exactly is needed to run an air conditioning unit while your pup stays inside? Investing in a lithium battery bank for your RV is one of the wisest investments you can make for yourself and your dog. Lithium batteries provide reliability and stable power for trust in your setup. On top of that, they are a solid investment with a ten-year warranty. And they don't just benefit your dog! You'll be happy with a lithium battery upgrade yourself. You will no longer have to spend money on gas for a generator while you're out running errands or worry about an unreliable battery bank when visiting areas where your dog isn't allowed. 
One of the best ways to find out the right size of lithium battery you need for your rig is to check out our lithium battery calculator! Just input the appliances you want to run and for how long; this online calculator will help you figure out the capacity you need. Speaking with one of our Battle Born Batteries Technical Specialists is another invaluable resource for determining your ideal battery setup. Call us today at 855.292.2831. 
Dog-Friendly RV Parks and Campgrounds
When planning out your travels, be sure to utilize the wealth of information out there for dog-friendly places to travel! Most RV parks allow dogs, but some have certain limitations. Be sure to find out all the details before booking your RV park. Bring Fido is an excellent resource for traveling with pets. They have resources for dog-friendly hotels, destinations, restaurants, campgrounds, plus much more! One important note is that most National Parks do not allow dogs. However, the State Parks next to them usually do! 
Many campgrounds (and RV parks) have designated pet-friendly areas, trails, and dog parks where your furry companion can stretch their legs and socialize with other dogs. Additionally, boondocking (camping without hookups in remote areas) can allow your dog to enjoy more freedom, as there are usually fewer people and more space.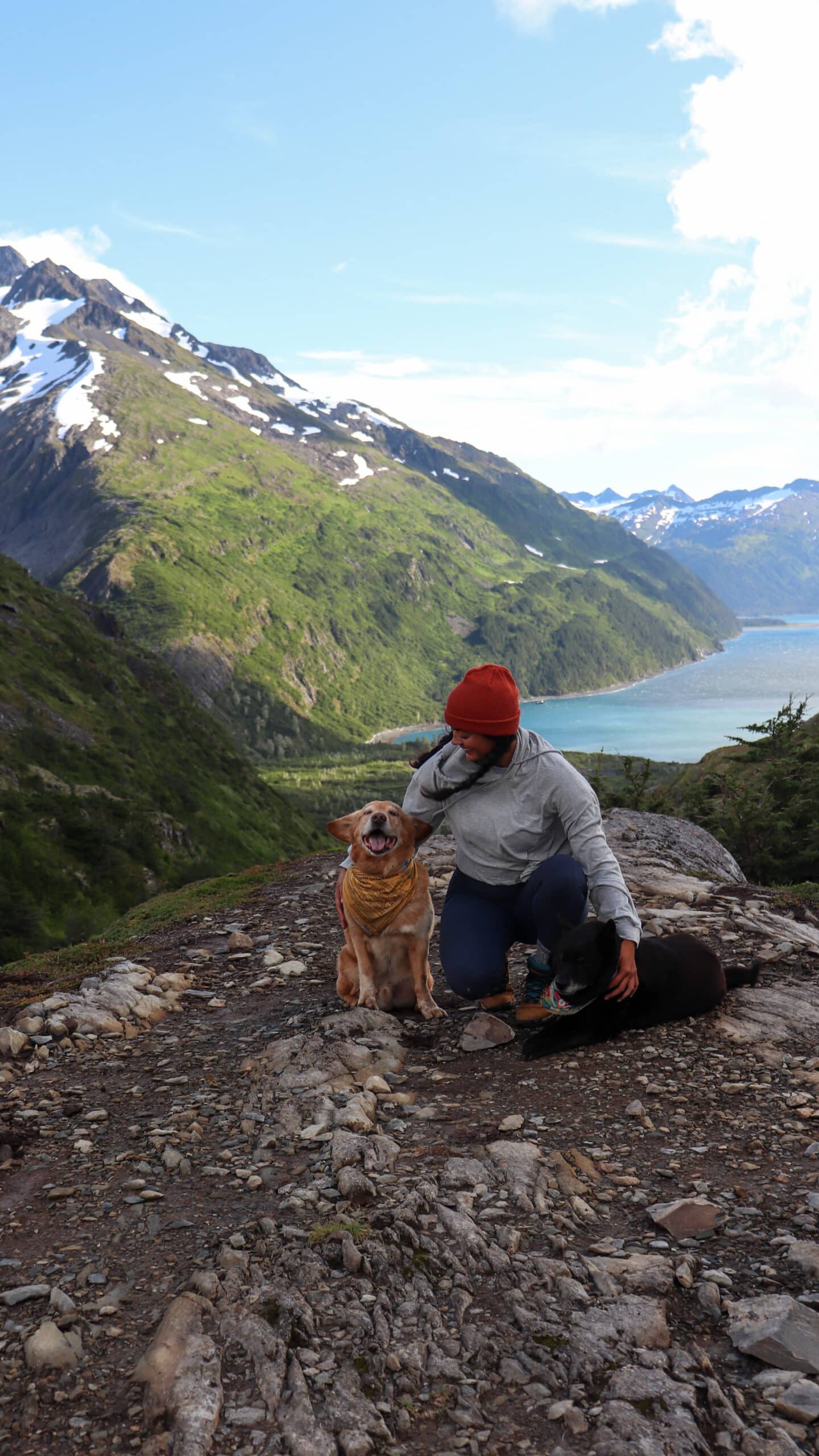 Must Haves for RV Camping with Dogs
As discussed above, having a working A/C is one of the essential aspects of traveling with a dog. 
Another suggestion for a must-have item is an RV fence for your dogs. They provide a safety net and peace of mind so you can easily come in and out of your RV. Some other great suggestions are making sure your dog is microchipped and switching to a dog food brand you know you will be able to find easily. Hipcamp provides an excellent checklist for bringing your dog on the road!
Dress to Impress!
Be sure to check out our line of Battle Born Batteries sustainable dog gear. We work with Cycle Dog, based out of Portland, Oregon, which makes its products from post-consumer recycled products. One of our favorite dog gear products at Battle Born Batteries is the up-cycled tire dog bowl. It's the perfect bowl to take on hikes or on the road. 
Famous Dogs of Battle Born Batteries
If you're still on the fence about taking your dogs on the road or are looking for inspiration, look no further than our brand ambassadors that live life on the road with their four-legged friends! 
Meet Kelly Lund, the owner of the adventurous and Instagram-famous dog Loki the Wolfdog. They are constantly exploring new terrain, living their life on the road. They can extend their adventures and enjoy more time on the road, thanks to Battle Born Batteries. Kelly and Loki have found the perfect power solution that allows them to venture further and stay immersed. Follow along on their adventures on Instagram. 
Linnea is a solo female traveler that lives in her van full-time with her trusty four-legged companion, Akela. Linea devoted 7.5 months to converting her van into a cozy sanctuary. With her van entirely transformed, Linea and Akela embrace a life of constant exploration on the open road. Roaming across the landscapes of North America, they revel in the liberating essence of van life. Follow along on Instagram or Youtube.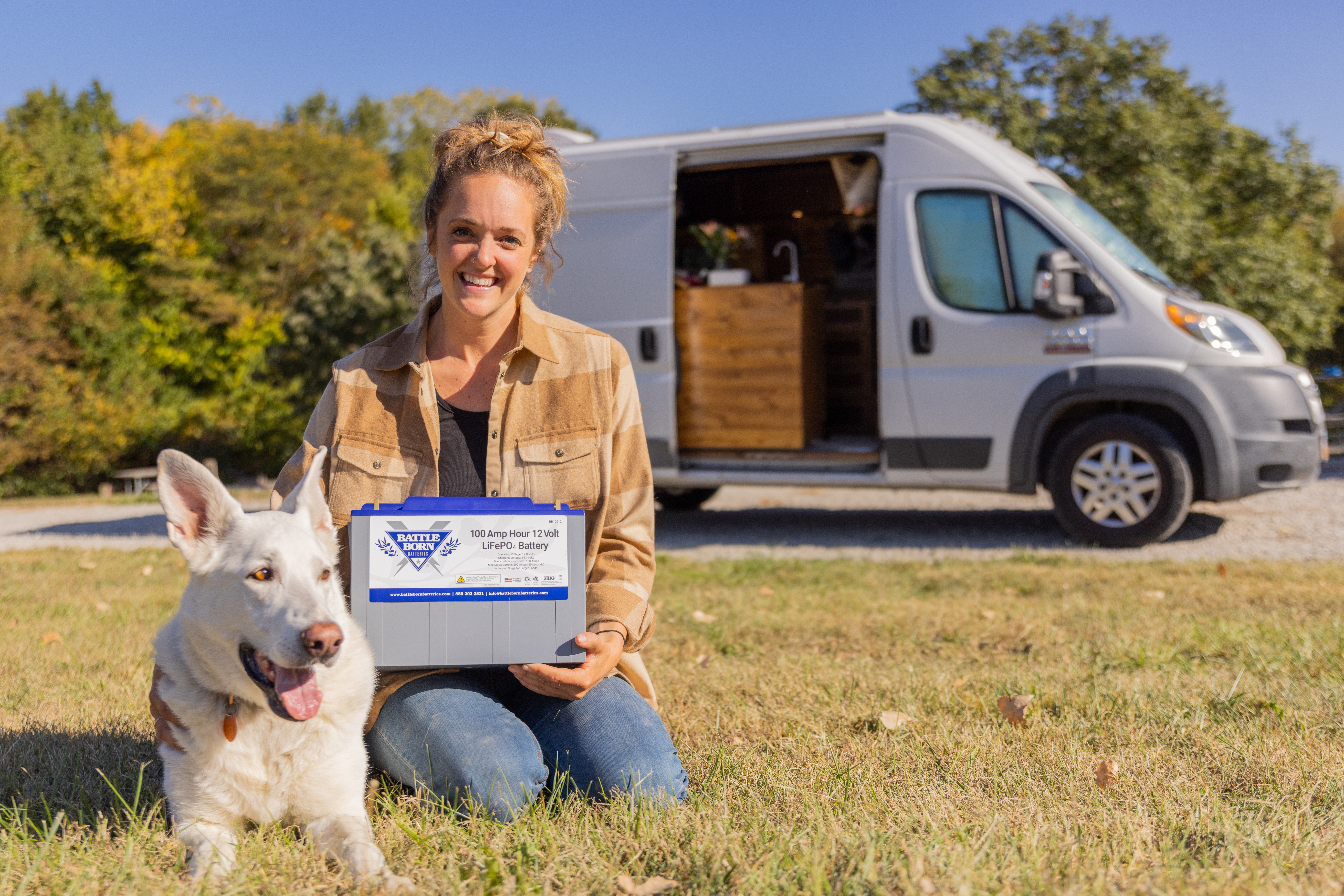 In 2017, Danielle and Tommy boldly decided to leave their life behind and embrace life on the road. They have embarked on a nomadic journey in a compact Toyota RV for three years. They then stumbled on the perfect vintage Airstream they could not live without. Slow Car Fast Home travels to Canada, the United States, and Mexico with their two dogs, Missy and Trip. Learn more about their journey on their website. 
More Battle Born Batteries Pups!
Newfound Adventures with Four-Legged Friends
RVing with your dog offers a unique adventure while on the road. It encourages exploration of the less traveled road, as you must adapt to plans and focus on places you and your furry friend can go. It's also a great way to seek out areas where there are fewer people. 
Unlike traditional travel, there's no need to worry about finding pet-friendly accommodations or the additional costs associated with pet sitters or kennels. Your furry friend gets to stay by your side throughout the journey, making lasting memories together!