Hearing about how our batteries power travels near and far is important to the team, and Kelly Lund is no exception. Kelly and his Instagram famous companion Loki the Wolfdog are always going on new adventures. With the help of Battle Born Batteries, they are now able to get out there and stay out there longer. As the owner of Loki the Wolfdog, an adventurous and Instagram famous dog, Kelly can get out there and stay out there.
Meet Kelly Lund:
Kelly grew up in Crescent City, on the northernmost area of the California coast and is a lover of all things outdoors. His parents owned a Kampgrounds of America (KOA) campground and owned every kind of recreational vehicle imaginable. Kelly and his brother traveled with them in everything from Lance truck campers to trailers during the chillier off-season. With Florida, Alaska and Canada being some of the top trips for the family, Kelly has fond memories of those experiences.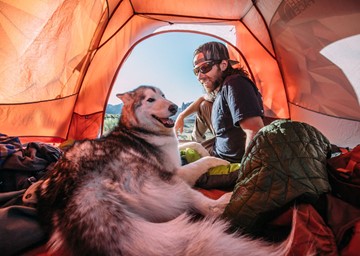 Formerly an outdoor recreation coordinator for the city of Denver, one of his roles was to inspire the inner-city community to explore the nearby mountains. He liked how the job offered him the chance to get kids outside, whether it was on the ropes, skiing, snowboarding, snowshoeing or hiking. Kelly also worked with corporations and college students in this role as well, and while he loved his time working there, he left when they told him he could no longer bring Loki to the office.
Kelly is now a travel photographer which led him to adopting his dog Loki during a snowstorm in 2012. Kelly wanted to make sure to give Loki an everchanging place to explore, and started backcountry snowboarding with the four-month-old pup, and by 2015, the duo had seen most of the West coast. Kelly and Loki are "attached at the hip," and Kelly describes his dog as an extension of him. The only place that he can leave him is in the truck, as it's his favorite place to wait patiently in.
"All other places besides our house in Denver, he'll tear up until he escapes," said Kelly.
He started an Instagram account to document their escapades together which was intended to be a fun side project. Eventually the account, comprised of beautifully composed photos of Loki, gained exposure across many social media pages and news websites. Now at 2 million dedicated followers, Kelly's goal now with the account is to give back, inspire others to get outside, explore the world, and make memories with their dogs too.
Within his role as a vehicle photographer, Kelly strives to make sure that the rigs that he focuses on have a human element to them. He truly enjoys making emotional connections with the projects he works on. His favorite creative projects that he's previously worked on include shooting photos of Tacomas, 4-Runners and other trucks for Toyota's website, in addition to contributing content for Earthroamer.
"I noticed that I take photos of the things I love and am afraid to lose," said Kelly. "I really want my emotions for Loki to come through in my work."
As for advice for anyone looking to get into the nomadic lifestyle, Kelly suggests that people work as hard as they can for as long as they can. Work is oftentimes a hurdle, but as things become more remote, opportunities to do it are possible.
A Truck Camper Powered by Heated LiFePO4

Technology

:
Here's what Kelly uses in his truck camper system, a 2003 Northern Lite 6-10 edition, to live his life on the go:
–3 Battle Born BB10012H Heated Batteries
–1 Victron Multiplus 12V 2000W Inverter Charger
–1 Victron Orion Smart Non-Isolated DC to DC 30 amp charger
–1 Victron SmartSolar MPPT Charge controller 100/30
Our heated batteries can comfortably power his camera equipment, Dometic fridge, LED lights and more. While he admits the system is experiencing some heavy battery usage lately, Kelly loves how well the batteries work with the solar and how the system has never dipped below 80%, even in the coldest weather conditions.
"I love cold weather camping because no one is out, and you can camp in places at the end of plowed roads and nobody cares," he said. "It's the best feeling to be well-equipped for an environment when most would just go home."
He also likes how the rig can go off-roading and test the limits of his travels. Kelly is grateful for the team and his friends at Feather Build in Denver, which specializes in van and truck camper builds.
"I really, really love how it's a home on the truck," Kelly said. "I've got it totally dialed in to what I want and need it to be. It might be small on space, but we make it work! Loki may be a large dog, but he can curl up pretty tight while looking out the back windows."
Truck Camper Travels on the Horizon:
Kelly recently traveled to Mexico for the National Off Road Racing Association's 2021 Mexican 1000 event late last month to photograph some of his friends who are participating. While the trip had to be cut short due to transmission issues, Kelly noted that Baja was a great time and he and his friends won in their racing class. He also recently fostered puppies and is always looking forward to the next creative project to tackle.
Kelly's got three places that he would want to visit, with the first being Alaska as it's so desolate and allows for plenty of exploration. He also would like to revisit his hometown of Crescent City, a smaller town that thrives on tourism and can lead to some fantastic trips to the southern Oregon coast too. Lastly, Kelly is looking to get back to Montana, but admits that it's a challenge because Yellowstone National Park isn't dog friendly. He's had to hike in places around the park with Loki, who he often keeps off leash because of how easy it is to travel with the pup.
Follow Loki on his Instagram page, and check out Kelly's personal Instagram here as well!