As a barista, business owner, ski enthusiast, and mom, Michele Wong loves living life on her toes, always on the cusp of an adventure. Combining her love for the outdoors and her passion for crafting premium lattes, Michele took her café on the road with the Where's Coffee Girl van. Fully off-grid capable and powered by the sun, the Where's Coffee Girl van can serve coffee and spread joy anywhere Michele desires. This mobile cafe serves incredible coffee at weddings, community events, the base of ski resorts, and everywhere in between.
Meet Michele Wong
As a proud Oregon native, Michele Wong has spent most of her life in the city of Portland, which she feels lucky to call home. Portland offers all of the conveniences and fun of living in the city while being within an hour of some incredible outdoor spaces. With world-class waterfalls, countless hiking trails, ski resorts, and endless backcountry all within driving distance, Portland is the perfect mix of city life and outdoor adventure.
Michele loves sharing her passion for the outdoors with her husband, Craig, and their kids. On any given day in the winter, you can find Michele and her family out skiing and enjoying the fresh mountain air. Not far from Portland, Mt. Hood Meadows and Timberline are some of their favorite places to ski and watch the kids compete in alpine ski races.
Along with her passion for the outdoors, Michele fell in love with the idea of owning her own café at a young age and deemed herself the "Coffeegirl". "I am one of those lucky people that have always known what I wanted to do when I grew up," and in 1992, those dreams came true when Michele opened up her first brick-and-mortar café. Over the next 25 years, she would open four more cafés and dedicate her career to perfecting her craft as a barista and restaurateur.
Where's Coffee Girl: A Mobile Café
In 2016, Michele opened her fifth café, Old School Coffee. Despite her love for the café, she was beginning to struggle with the balance of raising her kids while also running a business, managing staff, baking pastries, and making coffee. When the Covid-19 pandemic forced Michele to close Old School Coffee's doors, she welcomed the opportunity to take some time off and be with her family.
While the slower pace of life at home was a needed change, it only took a few months of idleness before Michele was ready to get back to doing what she loved. She fondly remembered all of the things she loved about her cafés and missed making coffee, seeing customers, and meeting new people. Searching for something that would bring all of her passions together, she thought of creating a mobile coffee truck. This would allow her to do the work she loves while still spending time with her family. While looking into her options, Michele saw a world of endless possibilities. As they say, "When one door closes, another opens, well slides open like in a 2020 Sprinter van." And just like that, Where's Coffeegirl was born.
"Where's Coffeegirl is a full-service mobile coffee bar serving premium coffee in the beautiful [Pacific Northwest] PNW."  Michele's mobile coffee bar is thoughtfully built in a Sprinter van and operates off-grid with no emissions as it is fully solar-powered. The capability of the Sprinter van allows Michele to take her café everywhere she goes and serve coffee and baked goods while being immersed in nature. "Rain, shine, or snow, enjoy your latte in the great outdoors!"
Equipping Where's Coffee Girl to Operate Off Grid
Among the many considerations that went into building the Where's Coffee Girl van was ensuring it had the ability to operate off-grid. Michele wanted a truly mobile coffee shop she could take anywhere without worrying about being tied to electricity. She also wanted Where's Coffee Girl to be eco-friendly and sustainable. Being able to run all of her appliances off of her solar-powered electrical system was a number one priority.
In order to power their La Marzocco Linea Mini espresso machine, coffee bean grinder, pitcher rinser, and other appliances, they would need a powerful system capable of running everything on 110V. Following extensive research, with the help of her husband Craig, Michele found that "Battle Born Batteries were hands down what every blogger and builder recommended" So, they reached out to AM Solar in Eugene, OR, who helped them determine the best electrical system for the Where's Coffee Girl van.
With 4 – 12V 100Ah GC2 Battle Born Batteries, accompanying Victron accessories, and rooftop solar, Michele has plenty of power to make drinks for hours on end, simply from the power of the sun. Michele loves the flexibility this electrical system has given her and her business. Whether she's at an event in the city, the base of a mountain, or anywhere in between, Michele can just park the Where's Coffee Girl van and start making delicious coffee without having to worry about running out of power.
Work is Where You Park It
When you run a mobile coffee business, work can truly be wherever you park it. Michele uses her off-grid capabilities to work anywhere, and she especially loves serving at events in her community. "I have served at staff and teacher appreciation, wedding receptions, concerts, kid's fun runs, elite sports events, and festivals, and they have all been fun.  Everyone loves coffee and is so excited to get their caffeine fix in the great outdoors, made to order just for them."
One of Michele's favorite events to work on is the PDX Soapbox Derby which takes place right in her neighborhood. Contestants from all over the world spend the year designing and building intricate soap boxes to enter the race. From the technical, aerodynamic builds to cartoon characters, cars that glow in the dark, and everything in between, this derby has it all! Michele loves serving coffee to patrons and contestants while seeing all of the unique Soapbox cars.
Being able to pick and choose which events she wants to attend has allowed Michele to spend even more time with her family. Instead of being stuck at a brick-and-mortar café and missing important events, she's able to take her work on the road. Michele is able to travel to weekend ski races and baseball tournaments without missing out on key business days. She simply parks the Where's Coffee Girl van in the ski resort parking lot or outside the baseball tournament and starts making coffee.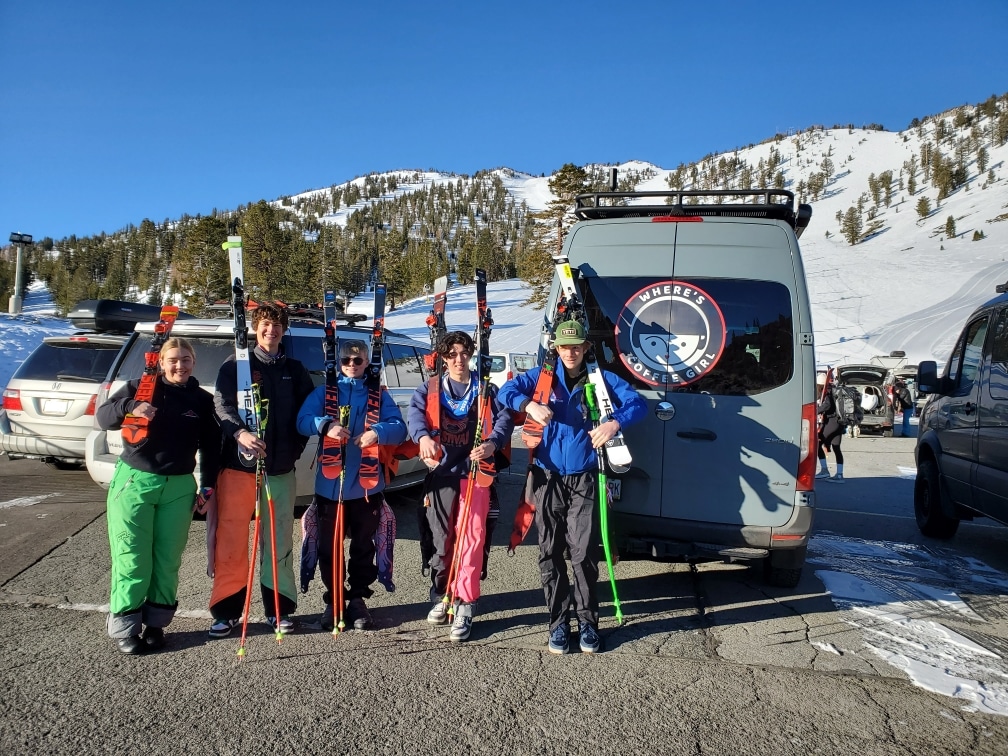 What's Up Next for Where's Coffee Girl?
Looking forward to the upcoming year, Michele can't wait to continue working community events and selling coffee to the people of the Pacific Northwest. She's excited to spend as many days on the mountain as possible and just enjoy the beauty of being out in nature and making coffee in ski resort parking lots. Wherever she goes, she can't wait to experience the simple joy her customers get from being served a fresh, premium cup of coffee on the go.
Additionally, Michele is always searching for avenues to make her business more sustainable and leave no trace behind. She's already switched to biodegradable cups, lids, and straws, and organic, locally sourced cow and oat milk. Eventually, she would love to upgrade to the new Mercedes Sprinter-E van, officially becoming fully battery and solar-operated, with no emissions.
To keep up with the Where's Coffee Girl van, book Michele for your next event, and to stay tuned with Michele's initiatives to create an emission-free, mobile coffee van, check out her Instagram, Facebook, and website.