After individually pursuing their passion for sailing, Woody and Irenka met and fell in love while working as flotilla skippers in Greece. Despite having to leave their sailing life behind when they started a family, they made a commitment to one another, that one day, they would sail around the world together. Three kids and twelve years later, they bought a sailboat and set sail with a goal to circumnavigate the globe. Now, five years into full-time sailing, Irenka, Woody, and their kids, still love their life on the water.
Meet Irenka and Woody
With an educational background in occupational therapy, Irenka spent the early years of her career setting up drama and dance therapy projects, in various prisons and hospitals in the United Kingdom. While Irenka loved the work that she was doing, it didn't take long for her to start facing serious burn out. So, she stepped back from her career and began pursuing her passion for sailing. Irenka became Brighton's first female, beach lifeguard, coxswain and a crew member for the Royal National Lifeboat Institution (RNLI). Also working as a Principal at a Royal Yachting Association (RYA) training center, a yacht center manager, and a flotilla skipper.
Similarly, Woody also had a passion for sailing, but had a prior career that was extremely time intensive. He was working as an interior designer and computer games artist, in addition to teaching 3D graphic design. After getting restless and wanting to spend less time in the office and more time outdoors, Woody left his career behind and became an RYA chief instructor to pursue his passion for sailing. Following his time at the RYA training center, he became a flotilla skipper in Greece and was working seasonal sailing jobs around the Adriatic Sea.
Coincidentally, both Irenka and Woody ended up working on a sailing crew together in Greece where they met, fell in love, and continued enjoying their carefree life together. This lifestyle continued through their early thirties until a test confirmed that Irenka was pregnant. Irenka and Woody knew a lifestyle change was inevitable, but they made a promise to one another that, one day, they would be able to sail around the world together.
Raising a Family While Dreaming About Life at Sea
Life at sea had seemed to be "an unlikely aspiration for a couple of seasonal workers and hopeless dreamers with a child on the way," but Irenka and Woody were determined not to let their dream slip through the cracks, as they spent the next few years working and raising their family.
Much of their income came from various gig jobs such as flipping properties, renting out rooms through Airbnb, and selling handcrafted, recycled furniture that was built by Woody. While this lifestyle required financial discipline, it also gave Irenka and Woody the flexibility to focus on raising their growing family. Over the course of 6 years, they went from a family of two to a family of five after welcoming their daughter Rowan and sons Darroch (Darry) and Yewan into the world.
Surprisingly the birth of their youngest son, Yewan, stoked the fire for their passion to return to sailing. Yewan was born with a caul, which happens when the birth sack is still around the baby's head when they are born. In medieval times, cauls were seen as protection and highly prized by sailors who purchased them and took them out to sea as talismans. Irenka and Woody felt that this was an omen from the sea, calling them back to its waters.
Recommitted to their sailing dream with renewed determination, Irenka and Woody worked hard to save for their future. Although they were tasked with the difficult decision of leaving behind, friends, family, school, work, and their home, Irenka and Woody were confident that the rewards of their new lifestyle would outweigh the struggles. They knew a life at sea would challenge every fiber of their being and put their parenting and sailing skills to the test, but it would all be worth it.
Setting Sail on the SV Mothership
As Irenka and Woody began prepping to head out to sea, they knew good planning would be vital. They worked hard to gather as much knowledge, resources, and skills as they could before setting sail. To stay motivated, Irenka and Woody bought a large map and replaced their living room TV with it. The more time they spent looking at the map and discussing different areas of the world, the more they, "and the kids, began to realize there was a big world out there that was ripe for exploring and they became excited by the idea of an adventure on the high seas."
Following initial preparations, Irenka and Woody began looking for a sailboat. While Irenka was home with the kids, Woody took videos of different sailboats and posted them on a YouTube channel for Irenka to watch and comment on. Initially, they wanted a Catamaran to have more space for the kids, but after putting a deposit on one, they reevaluated their decision. Despite the benefits of choosing a Catamaran, they felt more confident sailing on Monohulls and enjoyed the sailing experience much more. So, they backed out on the Catamaran and went with a 53' Amel Super Maramu Monohull Sailboat instead.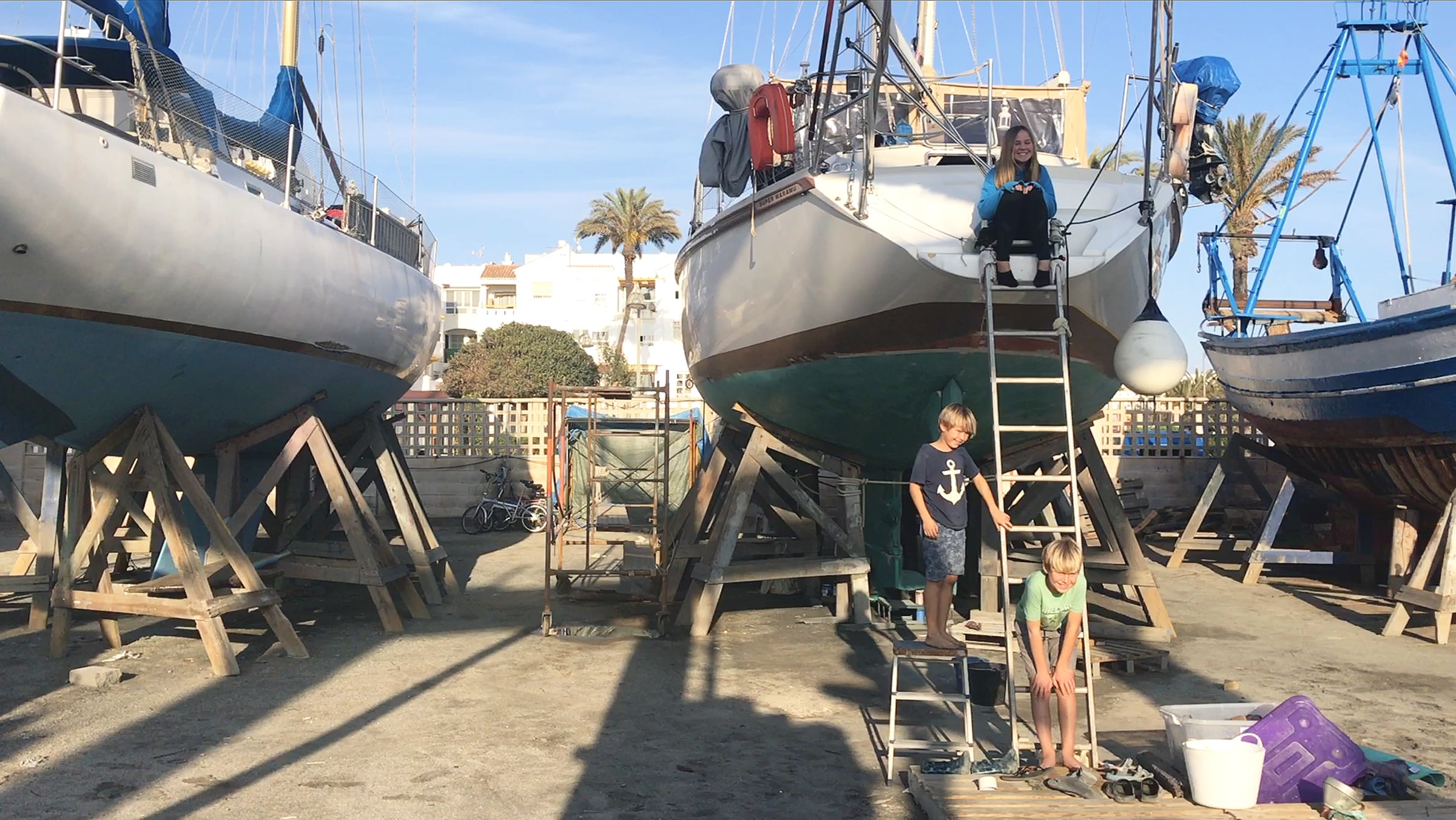 Initially, Irenka and Woody were drawn to the large size of the Monohull's center cockpit. This allowed them more space for socializing and mealtimes, in addition to better communication when anchoring or mooring, as opposed to a stern-positioned cockpit. They also loved that the cockpit floor lifts up to reveal all of the essential mechanical components for easy maintenance access. For Irenka and Woody, their "sailboat is much more than just a vessel to transfer them from adventure to adventure. It's also a playhouse, a school room, and a self-sufficient home."
Sustaining a Life of Full-Time Travel
Following the purchase of their sailboat, Irenka and Woody were ready to fill their life with travel and adventure, "so in 2017 they quit their jobs, took the kids out of school, and set sail around the world!" When choosing what would be most important for their life at sea, they determined that it wasn't 'things' that they needed. The personal characteristics of resourcefulness, resilience, and patience, in addition to their attitudes when taking on challenges, would help them sustain their life at sea. Although, they were quick to mention, that a good supply of tea bags is a good addition to any lifestyle.
While their attitudes and resilience help them persevere through the challenges of full-time sailing, they also have multiple sources of income to sustain their life at sea. Their main source is renting their home in the UK. They have been lucky enough to find good tenants and an online rental agency that help them easily rent their home from afar. In addition to their rental income, Irenka and Woody sell digital downloads that teach people how to build their own DIY recycled furniture and they create travel vlogs on their YouTube Channel.
What started as Woody posting boat tours for Irenka, transformed into video postcards for friends and family to watch back home. Over time other people started watching these 'video postcards' and then subscribing, leading to over 17,000 subscribers on their main channel. Woody and Irenka attribute most of this success to the realness in their videos and the fact that they show all the good and bad sides of full-time life on a boat. "The mission with our main YouTube channel is to inspire other parents not to settle down, but to give their kids a life filled with wonder and adventure."
Mothership Adrift Upgrades to Battle Born Batteries
While living full-time on a sailboat, especially while working remotely, a robust electrical system is of the utmost importance. With their previous AGM batteries, Irenka and Woody constantly had to baby their electrical system and never fully trusted their battery monitor.  To protect their batteries, they were sure to never let their state-of-charge (SOC) go below 80%, which significantly limited their power. In order to minimize their power usage, they had to turn off their freezer at night and run their water maker as little as possible, to avoid dealing with their temperamental generator.
After struggling with their batteries for their first few years of full-time sailing, the entire bank melted while they were hooked up to shore power in Columbia, and Irenka and Woody knew that it was time to upgrade. Following their research, they settled on Battle Born Batteries, "a great product with great customer service from a company who understands not only the technical aspects of their product but the lifestyle of their customers too."
With 10 – 24V 50Ah Battle Born Batteries, solar panels, a Wakespeed WS500, and additional components, Irenka and Woody no longer have to worry about their electrical consumption and can go about their daily lives carefree. In addition to the luxuries of using toasters and waffle makers, they're also able to run their water maker as often as they need to, and they carry less propane onboard as they hardly after have to run their generator. Now, Irenka and Woody can enjoy their days on shore and away from the boat, knowing that they will come back to more than enough power to charge their electronics, do their regular evening activities, and still have plenty left over for the next day.
The Life of a Full-Time Sailing Family
Although Irenka and Woody have enjoyed many parts of the last five years of full-time sailing, the last two years have been full of jumping from one incredible adventure to the next. From crossing the Atlantic, to exploring the Amazon rainforest, trekking through the Columbian jungle, enjoying the natural wonders of the Galapagos Islands, and snorkeling with sharks in Fiji, they've had no shortage of excitement. While it can be difficult doing all of these amazing things on a tight budget, "the reward is exploring the world as a family and seeing our kids develop into self-reliant, responsible, and resilient human beings with a real sense of wonder and curiosity about the world."
Out of all of their adventures, it's nearly impossible for Irenka and Woody to choose a single favorite memory. Whether they're cruising with other boat families, trekking through forests with locals, or witnessing the awe-inspiring wildlife in each place they visit, Irenka and Woody are always making memories with their children.
"Then of course there are the simple pleasures of preparing meals from forged ingredients, watching sunsets over oceans, or just witnessing how simply people live in some parts of the world. It's a really humbling experience that constantly rewards us with a sense of gratitude and appreciation for what we have and reminds us never to take anything for granted."
Enjoying the simple, everyday pleasures of life truly helps Irenka and Woody and their kids take full advantage of their living on the sailboat. Things like visiting a supermarket or getting enough data signal to stream a movie and call family and friends, are some of their favorite things to do. Additionally, the kids love playing instruments, reading, spending time in the water, and helping around the boat to pass time while they're out at sea.
What's Up Next for the Crew of Mothership Adrift?
Currently, Rowan is back in England taking college classes and looking forward to the next time she is able to join her family back on the boat. In the meantime, Irenka, Woody, Darry, and Yewan are on an approximately 1200nm passage from Fiji to New Zealand. While in New Zealand, they're hoping to hike, do sailboat repairs, and catch up on editing.
Following their time in New Zealand, they plan on leaving next spring and heading back to the South Pacific to head west to Northern Australia and then to Southeast Asia. Then, in 2024, if it's safe to do so, they will sail through the Suez Canal and into the Mediterranean where they will officially complete their circumnavigation.
To follow along with Mothership Adrift's upcoming adventures, be sure to check out their Instagram, Facebook, YouTube, and website!