Are you a seasoned RVer who has exhausted the usual RV sites scattered throughout the United States? Or maybe you have been toying with the idea of getting out on the road, but you want something different and unique? Whether you have been traveling for a while or are a newbie seeking community, look no further than Harvest Hosts!
Harvest Hosts offers a membership program that allows RVers to visit and stay overnight at a network of wineries, farms, breweries, museums, and other exceptional attractions. Members can access hundreds of fascinating and beautiful locations throughout North America by paying an annual fee. Each location offers the chance to discover new ways to enjoy the RV lifestyle. Harvest Hosts strives to create meaningful experiences for RVers and Hosts, fostering a mutually beneficial community.
Harvest Hosts presents a distinctive approach for RV enthusiasts to embark on journeys. Members are invited to stay at unique locations across the United States, experiencing something different from the typical RV campsite. Harvest Hosts works symbiotically between Hosts and Campers by adhering to their code of conduct.
Adventures Galore | How Does Harvest Hosts Work?
Joining Harvest Hosts gives you membership to an online program with various benefits. One of the most significant benefits is the online directory of hosts, a resource that provides a list of hosts with access to camping. There are no fees associated with each camping site. However, guests are encouraged to support their hosts by purchasing something at their host gift shops! 
Each host has an information page that includes a description of the host, hours of operation, contact information, website/Facebook locations, amenities, photos, and reviews. The request-a-stay system allows members to view the host calendar and make an online request to stay for those hosts who have opted into this feature. 
The interactive host map also enables members to search hosts by state, location, or route, create trips, and save hosts that interest them. Moreover, members can save over $700 through additional discounts for external partnerships! Exclusive discounts offered through Harvest Hosts give members great deals on RV and travel services, products, and even Battle Born Batteries.
Harvest Hosts also offers a mobile app to keep tabs on your trip at all times. Their monthly newsletter keeps members up-to-date with new hosts and Harvest Host happenings, while the member success seam is readily available to answer any questions. 
Harvest Hosts is an excellent program for those who love to travel and save money. The membership benefits provide a comprehensive range of services to make the travel experience more comfortable and enjoyable.
Host Locations | Better Than Camping
For only $99 each year, Harvest Host members gain access to a network of 4,360+ Hosts spread across the lower 48 US states, Canada, Alaska, and Baja California. In addition to these, there are 435 golf courses available with the + Golf Upgrade. Membership grants access to overnight camping facilities at a vast selection of distinctive destinations encompassing over 4,795 wineries, breweries, distilleries, farms, golf courses, and other notable attractions.
Members of Harvest Hosts can enjoy a diverse range of unique experiences without incurring any extra fees for their overnight stays. Members are urged to support the businesses accommodating them to show their appreciation. This is often a simple task, as members can avoid the expense of traditional campgrounds by purchasing delectable wines from their hosts. Furthermore, many members establish friendly relationships with their hosts and gain insight into their wineries or farms, creating desirable experiences that entice RVers to embark on their journeys.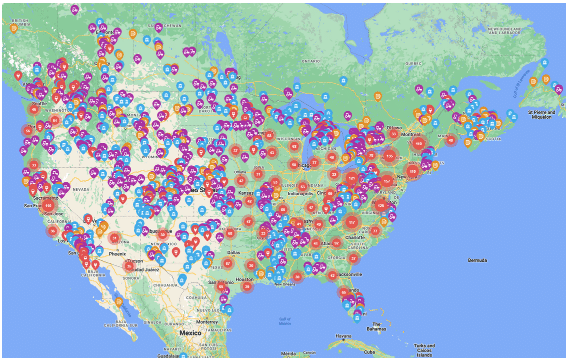 Master the Art of Boondocking
Mapping out your route ahead of time will allow you to make the most of any road trip adventure. Harvests Hosts has the tools to help make this happen, with access to comfortable and convenient camping free of charge. Becoming a member connects you with thousands of like-minded hosts that invite you to stay on their property, and you can show support by supporting their business. You'll be surprised at how much you can learn and how many new friends you can make.
Aside from the host sites, there are plenty of nearby activities to explore, so research and plan accordingly. Whether you enjoy hiking, biking, or sightseeing, there's something for everyone.
If you're wondering whether you need to upgrade your rig to take advantage of Harvest Hosts and its many boondocking locations, the answer is no. First-timers and seasoned pros alike can enjoy the benefits of this membership club.
If you're new to Harvest Hosts, don't worry. They offer many Resources and Guides that cover all the RVing and boondocking basics and answer any questions. And for those serious about boondocking, there's even an entire guide dedicated to best practices and tips for the ultimate off-grid experience.
The Ultimate Adventure | Boondocking The Bourbon Trail 
Harvest Hosts has plenty of adventures, but the Bourbon Trail is a fan favorite! Located in the center of Kentucky, in the heart of the bluegrass region, lies the Bourbon Trail. This area is home to several distilleries that produce most of the world's bourbon.
For over three centuries, Kentucky Bourbon has been a beloved tradition. Now, with over 35 distilleries, the trail welcomes over 1 million visitors annually. The Bourbon Trail was officially established in 1999, marking over two decades of success. Harvest Hosts is proud to work with several distilleries along this trail, giving members access to tasty bourbon and new friends! 
Whether you prefer solo travel, a romantic getaway, or a group adventure, the Kentucky Bourbon Trail has something for everyone. However, it's essential to note that you must be at least 21 years old with valid photo identification to participate in most tours.
Planning your trip is made easy with the Kentucky Bourbon Trail website. You can explore suggested itineraries and choose starting points based on location, experiences, or transportation style. You even have the option to select premade itineraries. If you prefer a more personal touch, call or visit the Welcome Center for expert guidance on crafting your ideal itinerary.
With recommendations from experienced trail-goers, there are plenty of tips and tricks to ensure you have the best possible experience. So, grab your ID and start exploring the rich history and unique flavors of Kentucky Bourbon. Cheers to an unforgettable trip!
Final Thoughts
Harvest Hosts offers a unique way for RV enthusiasts to travel across North America and Baja to experience something different from typical campsites. With access to a diverse range of hosts, including wineries, breweries, museums, farms, and other attractions, members can enjoy free overnight stays and never grow bored. 
Harvest Hosts fosters a mutually beneficial community between hosts and campers. Becoming a member makes planning trips easier with their online directory of hosts, information pages, interactive host map, and mobile app. 
With the resources Harvest Hosts AND Battle Born Batteries offer, boondocking enthusiasts can expect to master boondocking. Overall, Harvest Hosts is an excellent program for those who love to travel, save money, and have a unique and meaningful experience.
Click here to join Harvest Hosts today and save 15% off of your membership.