Do you dream of setting sail onto the open water and never looking back? Are you interested in being a digital nomad with the ability to make money from anywhere? In this article, we cover everything you need to know about working remotely on a sailboat, including what equipment you'll need, how you can power that equipment, and which jobs allow you to work from anywhere. Let's dive in!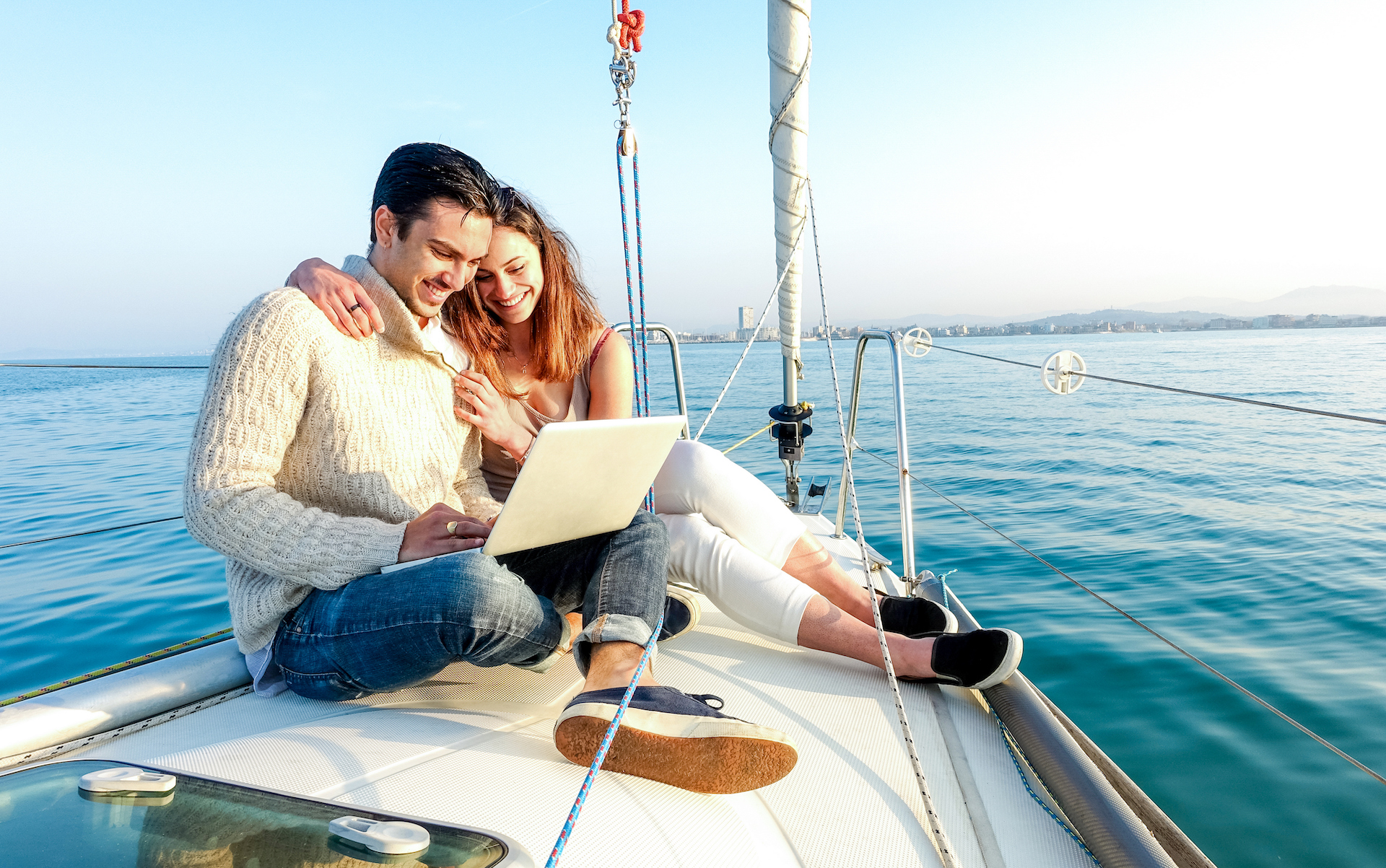 Can You Work Remotely From a Sailboat?
Thankfully, it's completely possible to work on a sailboat. While it might take some creativity, trial and error, and high-quality equipment, there are digital nomads who work from a sailboat all over the world.
Working on the ocean can be much more challenging than working from an RV or van. When you're on four (or six) wheels, you can almost guarantee a cell phone or Wi-Fi connection. And if you happen to find yourself out of range, most of the time, you can drive to a place where you can access the internet.
On a boat, it's not so easy. This is because the ocean is a virtual dead zone. Our modern cell phone antennas are designed for land use. They tend to cover towns and cities. Unless you're within range, you'll be out of luck. Thankfully, there are things you can do to extend your range and access the internet reliably.
This is just one of the Biggest Challenges of Living on A Sailboat. Learn the others!
What Equipment Do I Need to Work Remotely?
Every marine internet setup will look a little different. In general, we recommend a DC-powered router or access point, high-quality outdoor antennas, at least two cellular connections or remote Wi-Fi, and good redundancy technology such as SpeedFusion.
With all of this equipment working together, you should be able to access multiple connection lines so that you're never without Wi-Fi. Of course, there will always be hiccups when working on a boat, but having backups in place should limit those instances as much as possible.
How to Work Remotely on a Sailboat From Paradise
Now that we've reviewed whether or not working from a boat is possible and the equipment you'll need, let's explore what your entire setup will actually entail. Let's also explore how you'll power this equipment out at sea.
New to Marine Electrical Systems? Start here: Boat Electricity Basics
Implement the Technology to Keep You Plugged In
A good Wi-Fi setup is nothing without the electricity to power it. But how can you make this happen while your boat is away from shore power? You may need to look to lithium and solar for this.
Solar power is one of the best ways to generate your own boat electricity while at sea. It allows you to harness energy from the sun and turn it into usable electricity to power all your devices. Fortunately, installing solar panels on your sailboat is relatively simple.
But there's also a major factor that solar itself doesn't provide: your electricity storage. Lithium batteries provide advanced battery technology that allows you to store the energy from your panels as efficiently and seamlessly as possible. Plus, they're virtually maintenance-free.
Learn more about the benefits of lithium over lead-acid batteries in liveaboard sailboats.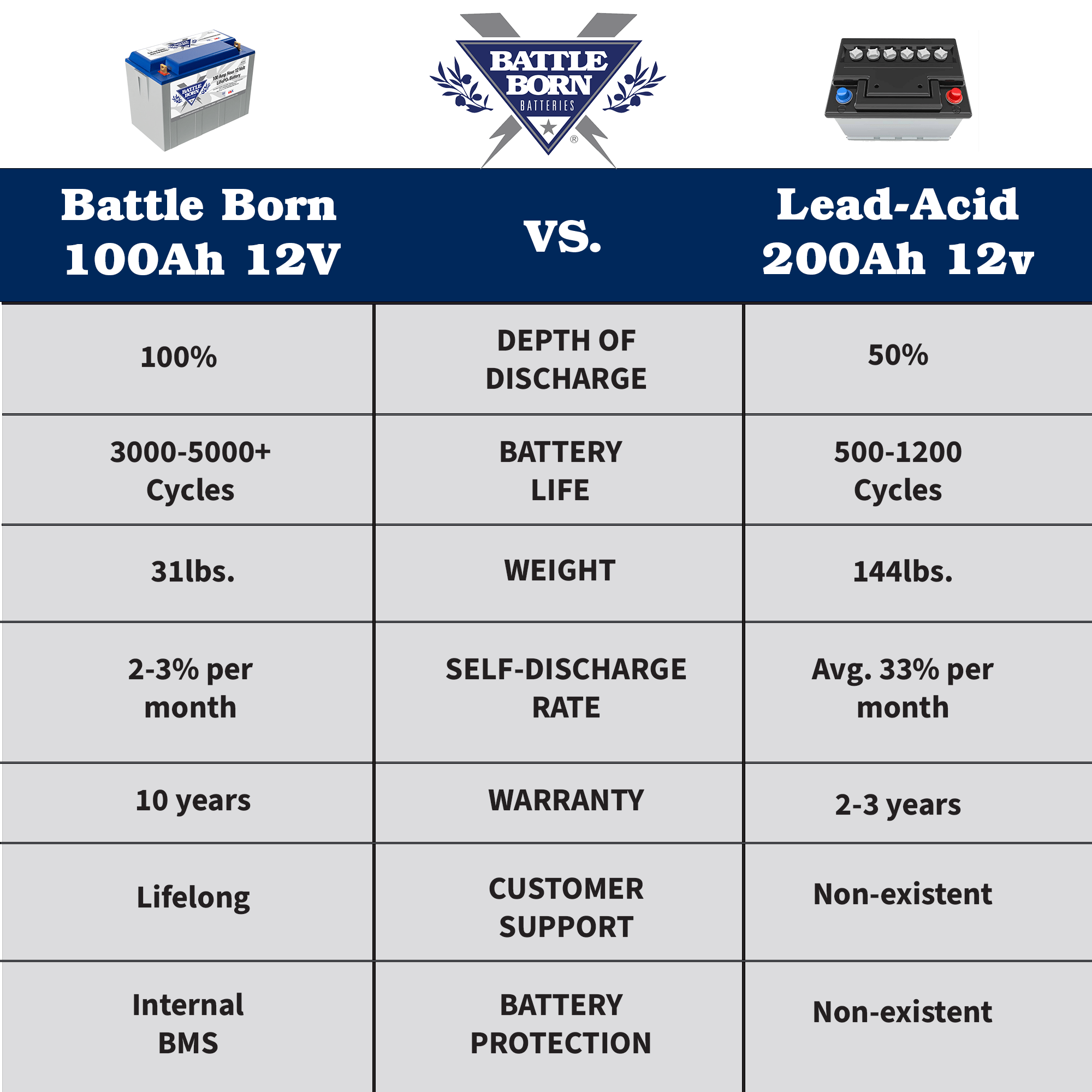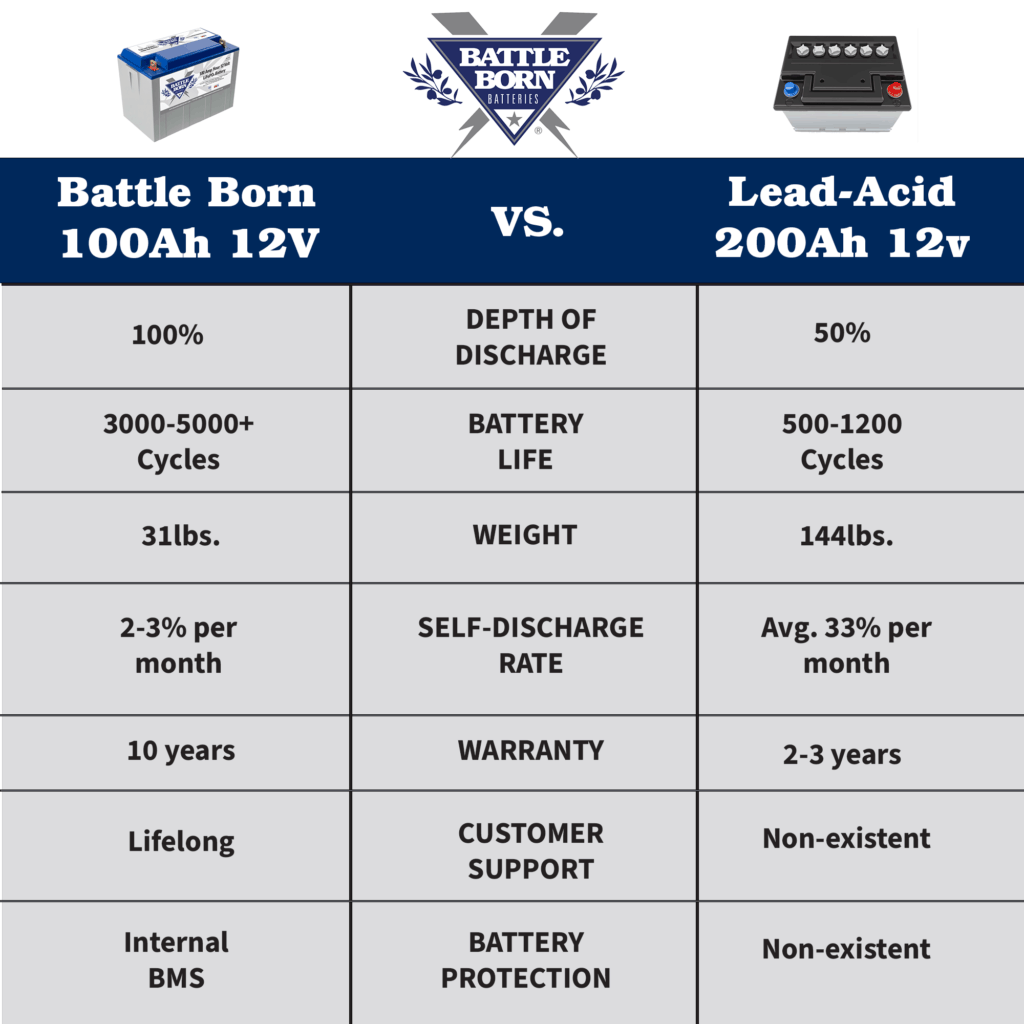 Set Up Wi-Fi and Cellular Connections
Once you have mobile electricity, it's time to set up your internet connection. In order to have reliable internet while sailing, we think it's worth it to invest in a dependable setup. As we mentioned before, having multiple Wi-Fi connections is key. You may want to consider purchasing a high-quality Wi-Fi-as-WAN router such as a Peplink MAX Transit Duo or MBX. These will allow you to access multiple connections at once, as well as outside sources of Wi-Fi.
Moreover, you'll need at least two data plans with the most reliable cellular providers in your area. The biggest providers in the United States include AT&T, Verizon, and T-Mobile. The ones you pick will probably depend on which towers are closest.
Customer Story: Sailing Good, Bad, and Ugly Live Aboard Their Sailboat
Create an Office Space That's Sea-Friendly
Keep in mind that your living space will always be swaying, tilting, or moving in some way while you work on a sailboat. This makes it hard to keep pens on a desk, or even your laptop from sliding off at times.
Not only that, but the space you're working in will most likely be limited. This is why we recommend creating an efficient and organized office environment with items such as your computer, mouse, router, pens, etc. secured to a solid surface. Photos of the sailboat life often depict working on deck, but in reality you'll probably work best in the cabin in a dedicated space.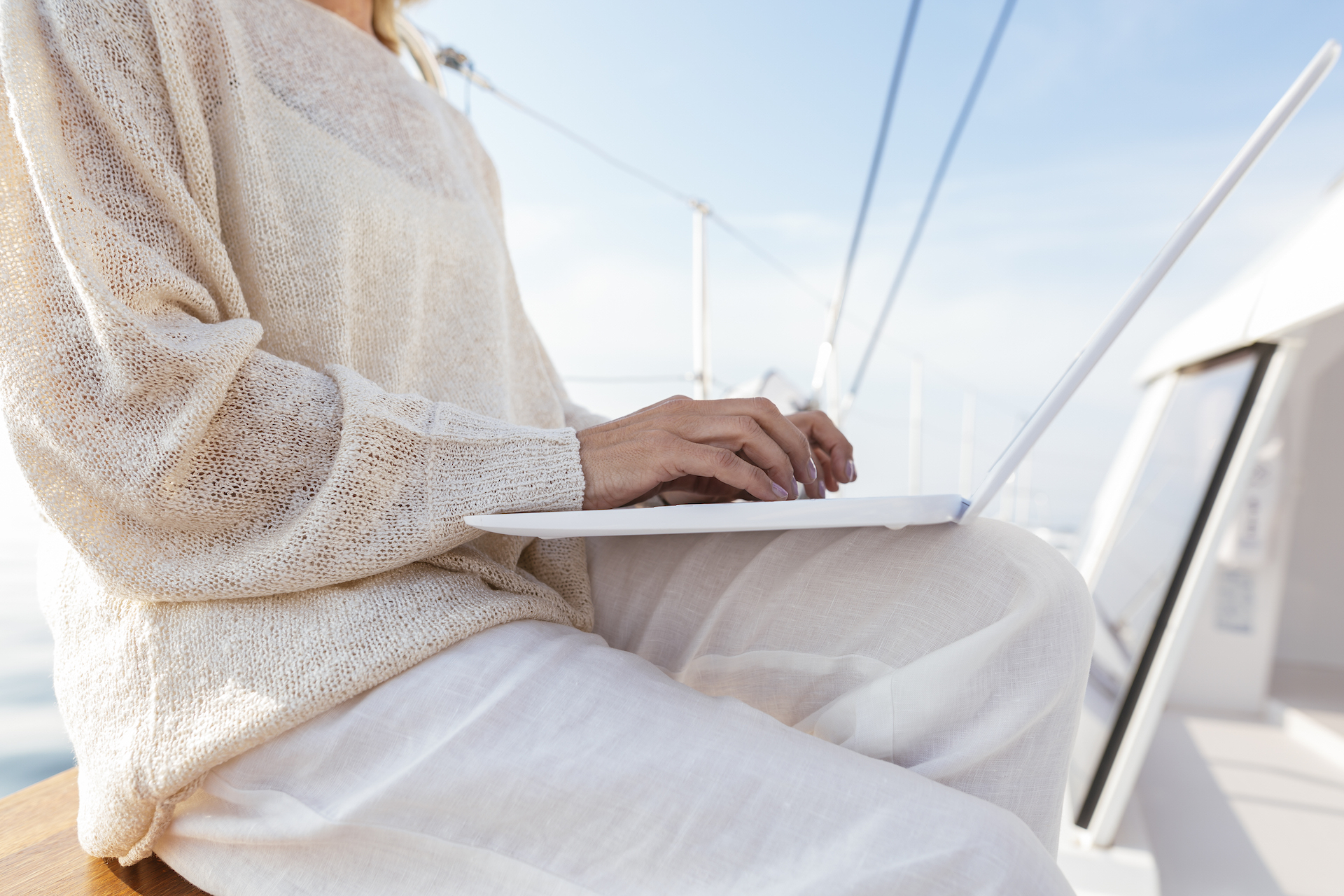 Plan Ahead
You'll have days where you're completely preoccupied with getting to your next destination. Therefore, you'll have to plan your work schedule around passage days. This is why it helps to plan ahead of time, not only for work purposes but also for navigation purposes.
Furthermore, be aware of dead zones. If you know you'll be traveling to an area out of reach from most cellular connections, try not to plan any work while you're there. Better yet, let anyone who might try to contact you know that you'll be out of reach for a little while. This will help you stress less and maintain good work relationships.
Have a Backup Plan in Case Your Technology Fails
Technology is notorious for failing. Of course, this is highly inconvenient if you rely on the internet to make your income. This is why it's so important to have a backup plan in case your setup fails. Maybe it will involve going to a marina for Wi-Fi (or even a local coffee shop), but either way, you'll have peace of mind knowing you can get your work done in an emergency.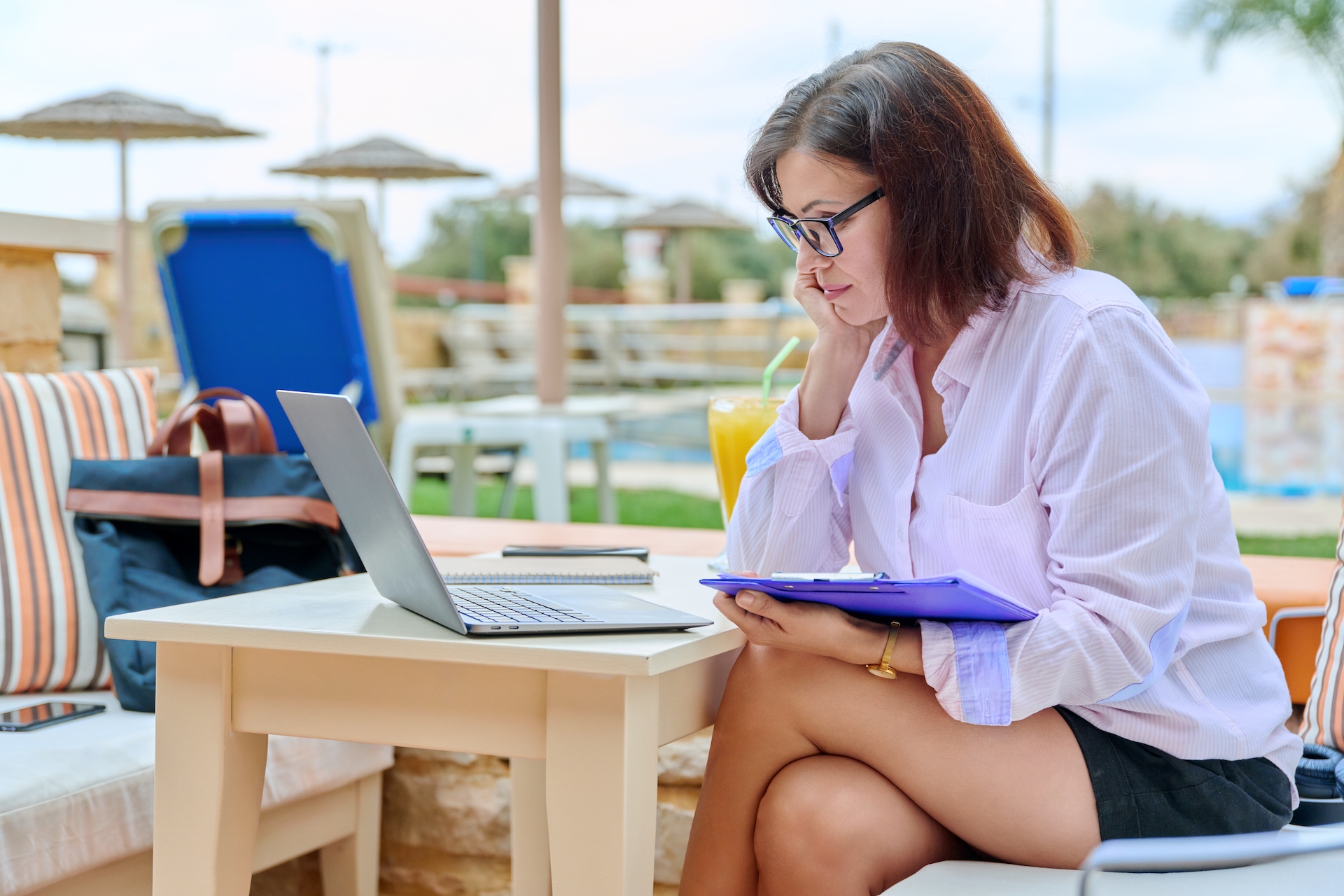 How to Power Your Technology in Paradise
There are multiple ways to power your work setup while working remotely on a sailboat. And while we've already covered how amazing solar panels and lithium batteries are, there are alternatives as well. The first one is shore power. When you're plugged into the electricity at a marina, you'll be able to use all your 110V outlets as you would in a house. This is probably the least complicated way of accessing electricity, but it also means you'll be tethered to shore.
Another option is a generator. Generators have the potential of powering your entire boat as if you were plugged into shore power. Nevertheless, they require fossil fuels and regular maintenance and can be very noisy. In other words, they're really not practical for full-time use. You don't want to relax in paradise with your generator running just so you can do some work unless you absolutely have to.
Sailboat wind generators, on the other hand, don't require fossil fuels and are another popular choice for sailors. However, you run into a similar situation as solar with needing a place to store the energy for when the wind isn't blowing.
Thus, the number one option for working on a sailboat is solar and a reliable battery bank. Solar power produces renewable energy and it's quiet and virtually maintenance-free. And of course, you'll need reliable, energy-dense, and low maintenance electricity storage to go with your solar. That's where lithium batteries come in, and why lithium batteries dominate liveaboard sailboats.
What Jobs Allow You to Travel and Work Remotely?
Luckily, there are countless remote jobs out there that are hiring right now. You just need to find one that works for your lifestyle.
Whether you already have a skill set that allows you to easily find remote work or you're learning something new, there are plenty of opportunities out there. These include virtual assistants, freelance writers, language tutors, online marketers, graphic designers, coders, and more. If you're more of a hands-on worker, you could always make a living teaching sailing and scuba diving, providing boat maintenance, and more. The possibilities are endless!
Customer Story Feature: SV Delos Stays Afloat with Battle Born LiFePO4 Batteries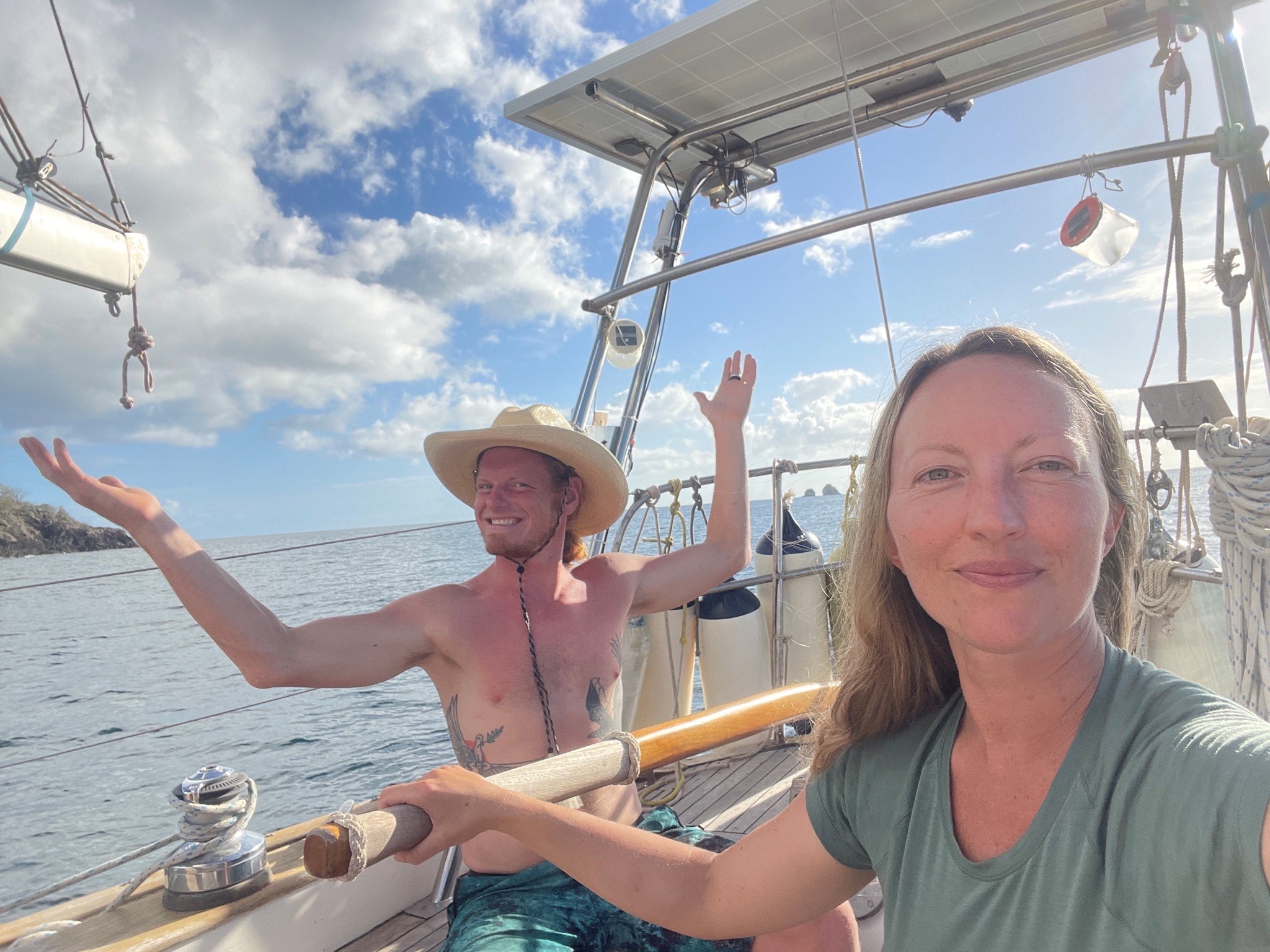 Is It Worth It to Work on a Sailboat?
One thing's for sure: There's a lot of work that goes into simply being able to work on a sailboat. You have to factor in a reliable internet connection, a mobile form of electricity, and a job that will allow you to work from anywhere. Is all of this worth it?
If your heart is calling you to live a life of freedom and adventure, working remotely on a sailboat could be for you. Maybe you find it difficult to think of anything but that pristine water surrounding you. Or perhaps you want to live your life to the fullest and escape the grind. If that's the case, this lifestyle could definitely be worth it for you.
Could you live and work from a sailboat? Let us know in the comments below!
Want To Learn More About Electrical Systems and Lithium Batteries?
We know that building or upgrading an electrical system can be overwhelming, so we're here to help. Our Reno, Nevada-based sales and customer service team is standing by at (855) 292-2831 to take your questions!
Also, join us on Facebook, Instagram, and YouTube to learn more about how lithium battery systems can power your lifestyle, see how others have built their systems, and gain the confidence to get out there and stay out there.
Join Our Contact List
Sign up now for news and updates to your inbox.