Are you about to set sail in your catamaran? Are you worried about how you'll get electricity while you're not plugged into shore power? Solar panels offer a convenient way to harness the energy from the sun that allows you to power your entire boat with virtually no maintenance. Let's dive into everything you need to know about installing sailboat solar panels.
The Benefits of Installing Solar Panels on a Sailboat
There are truly countless benefits to installing solar panels on your sailboat. Number one, you'll have a renewable energy source with you wherever you go. You won't have to rely on fossil fuels or a heavy generator — your panels will capture the sun's energy and turn it into usable electricity that you can rely on (with the help of some deep cycle lithium batteries, of course).
Moreover, they're lightweight and maintenance-free. You can even walk on certain types of panels. And with all that sun exposure on the open water, choosing solar panels for your catamaran is an obvious choice.
What Kind of Solar Panels Are Best for Sailboats?
There are multiple different kinds of solar panels, and each one has its advantages and disadvantages. The first kind falls within the "glass-covered" category. These are typically rigid solar panels with a glass cover and an aluminum frame. This includes most polycrystalline and monocrystalline solar panels. These rigid solar panels are typically best for rail mounts, like on the arch of your stern, because they're so solid.
There are also semi-flexible polycrystalline panels such as the Battle Born Solar semi Flexible Series, perfect for mounting on your deck. These panels have a slight curve and are tough.
Lastly, thin-film panels are extremely popular because of their lightweight and flexibility. You can mount these on the deck, bimini, dodger, and more. If you mount your solar panels on hardtops (away from walkways), remember to leave room on both sides of the boom. This will allow you to maintain access to the mainsail and prevent the panels from accidentally being covered.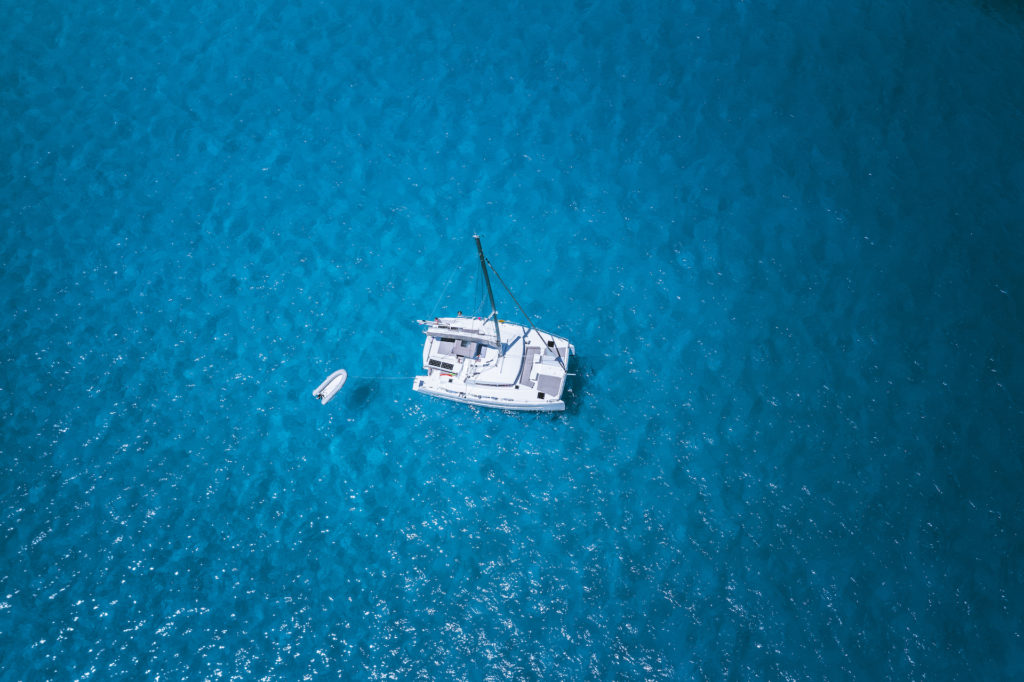 How Many Solar Panels Do You Need for Your Sailboat?
You can take a few approaches to determine how many panels are right for you. Your biggest obstacle will be finding places to put these panels. You'll likely run out of room before meeting all your electricity needs.
This is why you might want to base your electricity usage on the available space on your boat. First, see how many watts of solar you can fit (whether it's two 100-watt panels, one 200-watt panel, etc.). Then, make a list of all your essential electricity needs and determine which devices you'll power.
Another factor you'll need to consider is the size of your boat battery bank. In general, a 100Ah deep cycle battery will need 180 watts of solar to fully charge, assuming you have at least four hours of sunlight a day. Thus, if you have a 200Ah battery bank, you'll need at least 360 watts of solar. In this case, two 200-watt panels would satisfy your electricity needs.
But ultimately, your decision will be based on the room on your boat, the size of your battery bank, and the electronics you can't go without.
Warning! Not all batteries are created equal, and not all of them work well with solar power. By far, lithium iron phosphate batteries are the best solar battery storage out there. Want to learn more? Read Why LiFePO4 Makes the Best Solar Battery Storage.
Mounting Your Solar Panels
Because each boat is unique, mounting your solar panels will inevitably take some creativity. Luckily, there are many mounting options on most catamarans. Two of the most obvious spaces are on the deck and the cabin top space. These are both solid, flat surfaces.
Other options include the various rail mounts throughout the boat. These include the stanchion mount, the davit mount, and the arch mount. Another great choice is to mount your panels on your bimini and dodger. If you choose this method, fully flexible panels will be your best option. Most mounts use magnets in this case, but you could even sew the panels into the fabric.
The biggest challenge with solar on a sailboat is the shading you will get from the lines, boom mast and sail. Partial shading on a panel can seriously impact its output. This is why panels wired is series and located in a few different places around the boat can provide good power generation with less shading impact.
Installing Your Sailboat Solar Panels
Now that we've covered the basics let's look at exactly what you'll need to install your solar panels.
What You Need
Aside from purchasing your actual solar panels, you'll need a 2-conductor wire rated for marine use. Because your wires may span a long way, you'll want a wire sized for no more than a 3-5% voltage drop. You'll also need a deck plug rated for the maximum amount of amperage running through your wires.
Pro Tip: Learn more about Electrical Wiring Basics before you place your order.
In addition, you'll need a charge controller and a circuit breaker properly sized for your electricity usage. When choosing which size, select one big enough for your future energy needs. For example, if you end up expanding your solar or battery bank, you'll want your charge controller and your circuit breaker to be able to handle it.
Lastly, you'll need a solar panel mounting kit specific to your needs and the location of your panels. If you're mounting your panels on a solid, flat surface, always be sure to provide space between the back of the panel and the surface.
The Process
The process of mounting your sailboat solar panels will differ depending on the type of mount kit you have. If you're mounting your solar panels on the deck or another hard surface, you will use two parallel rails (usually made from fiberglass so they don't corrode) for the actual mount. These rails are attached to the deck via screws. The panel itself attaches to the rails with screws or pivoting clips that allow you to take it back off easily.
If you're using a different type of solar panel, such as a fully flexible panel, your process may involve securing your panel to canvas via magnets. These magnets are extremely strong and allow you to securely attach your panel without punching holes in the canvas.
Should You DIY or Hire a Professional for This Job?
While we truly believe that most people can tackle this project, some jobs should be left to a professional. Thus, if you're not comfortable drilling into your deck or dealing with wiring, we recommend that you hire a professional.
This way, you'll have the confidence to know that it's done right. After all, you don't want to spend thousands of dollars on a solar panel setup only to have it fail because of inexperience. Sometimes it's better to ask for help.
Want to give DIY a try but need a little guidance? When you order with us, our Nevada-based Tech Support team is on standby to help! Call us at (855) 292-2831 and one of our experts will assist you.
Are Solar Panels on Your Sailboat Worth It?
Solar is totally and completely worth it. It provides a benign way to harness electricity from the ample amounts of UV rays all around you. Solar panels are also lightweight, they don't require fossil fuels, and once you have them installed, your job is basically done. There's no tedious maintenance or upkeep required. Because of this, we think solar is a no-brainer!
Do you think solar panels on your sailboat are worth it? Let us know in the comments below!
Want To Learn More About Electrical Systems and Lithium Batteries?
We know that building or upgrading an electrical system can be overwhelming, so we're here to help. Our Reno, Nevada-based sales and customer service team is standing by at (855) 292-2831 to take your questions!
Also, join us on Facebook, Instagram, and YouTube to learn more about how lithium battery systems can power your lifestyle, see how others have built their systems, and gain the confidence to get out there and stay out there.
Join Our Contact List
Sign up now for news and updates to your inbox.