Sean Silvera is a yoga instructor and former marine with an unquenchable thirst for adventure. After surviving a 300ft fall, unscathed, in his newly built overland rig, he bounced back resiliently to build a new rig and get back on the road. With some upgrades and a new lease on life, Sean's ready to get out on his next adventure.
Meet Sean Silvera
California native, Sean Silvera, is a former Sergeant of the United States Marine Corps, owner of Baptiste power Yoga San Francisco, and a Baptiste Power Yoga instructor. After discovering the physical and mental health benefits of yoga, he became a member of the Baptiste Core Team, immersing himself in the Baptiste methodology, training, and programs. Specifically, Sean is on the Board of Directors for the Veterans Yoga Project, which helps veterans struggling with PTSD through mindful yoga. He also teaches weekly classes to incarcerated veterans through the Prison Yoga Project at San Quentin Penitentiary.
In addition to his career, Sean loves spending time with his wife, Jennifer, and their daughter, Skylar. The Silvera family loves exploring and traveling to new places together. When they aren't out on an adventure, Sean and Jennifer enjoy being with their Belgian Malinois pup, Freya, who they describe as 'a full-time job and a constant source of entertainment.' Sean also loves being outdoors, whether that be practicing yoga, playing with Freya, learning how to kite board, or hunting deer, boar, and elk.
A passion for being outdoors has inspired Sean to travel to some of the most incredible places in the world. While he hasn't found a favorite yet, Baja, the Redwoods in Northern California, and the cliffs over the ocean in Big Sur are at the top of his list. He even took a trip all the way to Baja and back on a motorcycle, where he and his wife literally slid across the border into Tijuana after slipping on transmission fluid. While that made for a hectic start to the trip, it was also one of Sean's most memorable travel moments and that trip to Baja only increased his hunger to visit new places.
Overcoming the Impossible
Rather than just 'car camping' around the U.S., as he had done in the past, Sean decided to build out a Ram pickup that he could live out of semi-permanently, while on the road. In January 2020, he completed the build with a PCOR4x4 off-road tray, a Four Wheel (4WC) Hawk Ute flatbed camper, a Redarc system, solar panels, 2 – 12V 100Ah Battle Born Batteries, and a 30-gallon water tank with a pump. The rig was perfect for Sean, allowing him to explore to his heart's content and then sleep, cook, and live wherever he chose. "With my rig and how it's set up, I feel like I'm at the "Ritz" every night, but with a better view. The entire world can be our home because we are living in our rigs."
Shortly after the completion of his rig, the world turned upside down at the start of the Covid-19 pandemic in March of 2020. After a few weeks of being stuck at home, Sean grew restless and decided to take the truck up to his remote cabin in Mendocino, CA. While at the cabin, he went on a drive to the top of a nearby hill, in an attempt to get phone service to complete a few tasks for work. On his way up the muddy, dirt road in the pouring rain, Sean steered slightly too far to the left and felt the earth give way beneath him. Before he knew it, he was flipping end-over-end, down a ravine, rolling over 300 feet down the hill.
Disoriented and unsure of what had happened, Sean tried to gain his bearings as he was upside down and surrounded by airbags. With smoke and the smell of gasoline in the air, he knew he had to find a way out. After some quick thinking, he was able to locate his pistol, shoot out the passenger window, climb out of the truck, and then grab his Garmin inReach from the dash to text for help. Shockingly, Sean walked away from the crash unscathed. "I wasn't injured in any way. I wasn't even sore the next day. I never felt the impact." He attributes being unharmed, in a crash that easily could have been deadly, in part to luck and part to the aluminum truck camper that kept the truck from crushing in on him.
A Fresh Start with a New Truck
Following the crash, Sean realized how quickly life can change. He put his heart and soul into building out his truck and it ended up saving his life. While many would be scared to continue overlanding after such a traumatic event, not continuing after the crash was never an option for Sean. From just moments after the crash, Sean was already planning his next build and dreaming about getting back out there. The way the Overland community supported him in the months following the crash solidified these feelings and Sean knew he wanted to be a bigger part of the community.
Quickly getting to work on the new build, Sean's new rig, "Woody" was on the trail within 6 months of the crash. He took what he learned from the first build to carry over his favorite parts and make changes to the rest. After his truck and camper saved his life, Sean decided to stick with a Ram 3500 Laramie 4×4 and a 4WC Hawk Ute Camper for the base of his rig. Amazingly, he was able to salvage a few items from the old truck including his Battle Born Batteries, Redarc charging system, and even his 2 solar panels. These items were recovered from the crash and added into the new rig.
When determining what else to add to his rig, Sean always refers to his essentials for overlanding and heading off-grid. At the top of the list is his Garmin inReach satellite communicator, which was the only way he was able to contact someone for help after the crash. Then he adds a few survival items that could easily save a life in an emergency including a Guzzle H2O Water purification unit, a lighter or fire starter, and a good knife. Finally, Sean always brings coffee and the best local beer that he can get his hands on, both essentials for keeping morale high on an overlanding adventure.
Upgrading with Battle Born Batteries
As Sean continued adding upgrades to his rig, he was moving away from relying on propane and adding a Dometic RTX 2000 air conditioner. Sean realized he would need more power and doubled his battery bank with the addition of two more 12V 100Ah Battle Born Batteries. While he never worried about his power consumption before the upgrade, the additional batteries allow him to use as much power as he wants and still stay out longer.
With 360W of solar on the roof, Sean had plenty of power feeding into his original system, but if he was parked under heavy tree coverage, in the fog, or stuck in bad weather, he had to move every couple of days to charge the batteries with his alternator. Now, with his new system he can stay in one spot as long as he wants and his batteries rarely fall below 70%, even when using the air conditioner. In addition to the air conditioner, his new system powers a heater, hot water, lighting, power tools, an espresso machine, a stovetop, a fridge with ice, Jennifer's hair dryer, their Starlink, and more.
Sean has been loving is new 400Ah Battle Born Battery system and is looking forward to the upcoming overland adventures it will power. He's proud to use batteries that are "at the forefront of lithium technology in the Overland community and have really led the entire industry in power storage. Battle Born Batteries are the only real option for me."
What's Next for Sean?
Despite some health setbacks in recent months, Sean has big travel plans lined up for the next year. He's looking forward to spending time traveling and teaching yoga, meditation, and mindfulness techniques, while venturing through Wyoming, Montana, Idaho, Washington, and Oregon. During these travels he's hoping to spend time in Yellowstone and at Grand Teton National Park. Eventually, he is hoping to achieve one of his long-term overland goals as he drives his rig up to the Arctic and we cannot wait to follow along!
In the meantime, he loves tinkering in his garage. Sean is currently in the process of building a full suspension, tandem, mountain bike with a custom e-motor that can reach speeds up to 40 MPH. This will be hooked up to the back of his rig and charged by his Battle Born Batteries.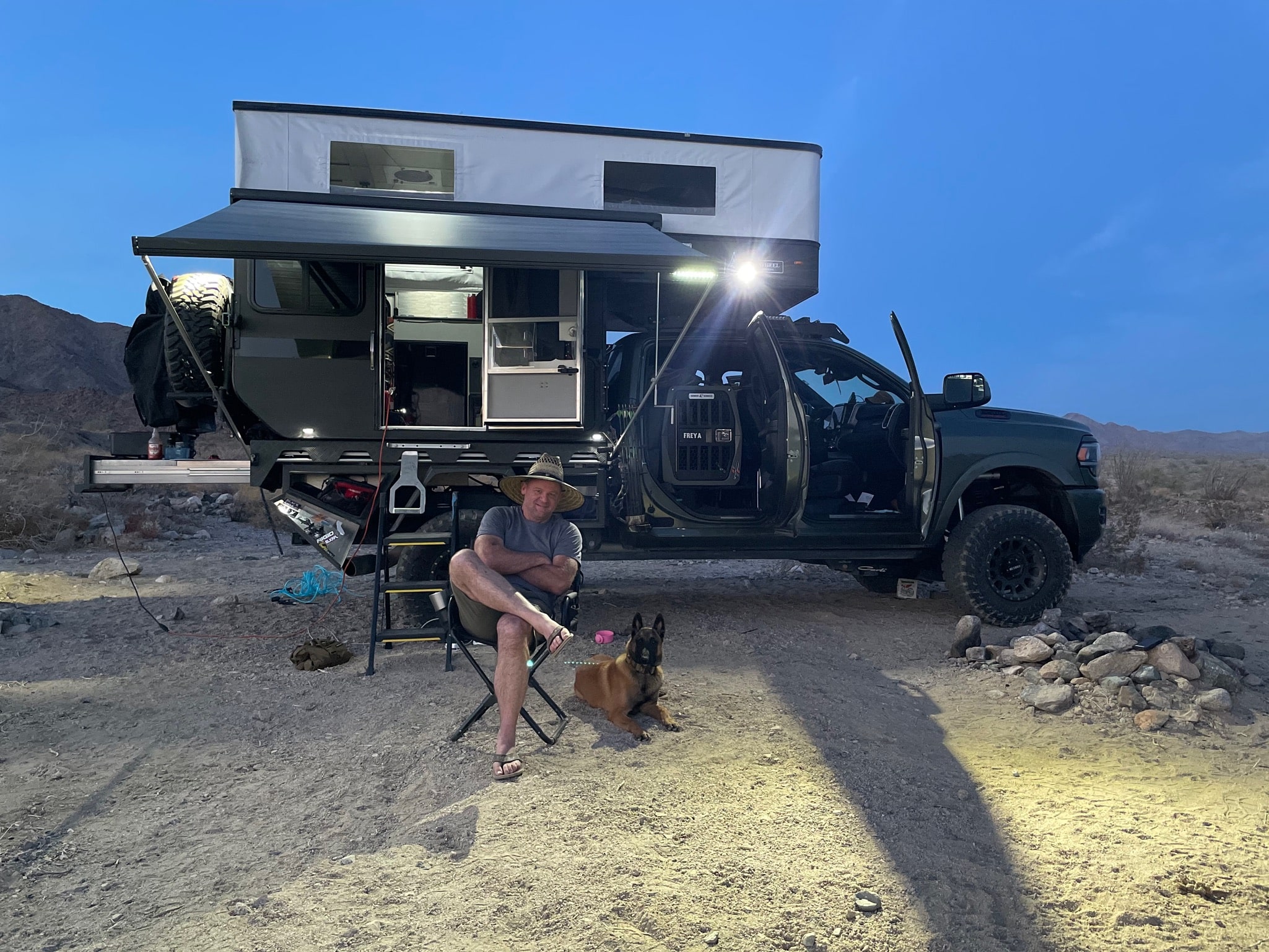 If you want to keep up with Sean's upcoming adventures and the completion of the bike, check him out on Instagram and Facebook.