For professional photographers Linhbergh Nguyen and Karissa Hosek, the top priorities for these travelers are enough power to work anytime, anywhere on the road and creating captivating content. The duo behind Gon Dirtin' first drove up on our radar thanks to fellow Battle Born family members MAK and Owen of Bound for Nowhere. With a unique overlanding build consisting of 200 amp hours of power, Linhbergh and Karissa are adjusting well to life on the road while documenting it all.
Meet Gon Dirtin':
Linhbergh and Karissa are full-time professional automotive photographers based in Los Angeles. Karissa first became interested in vehicles while growing up in her family's car audio shop. She then developed a love of photography and attended college at the Academy of Art San Francisco. As for Linhbergh, a Bay Area native, he enjoys everything food and four-wheel related.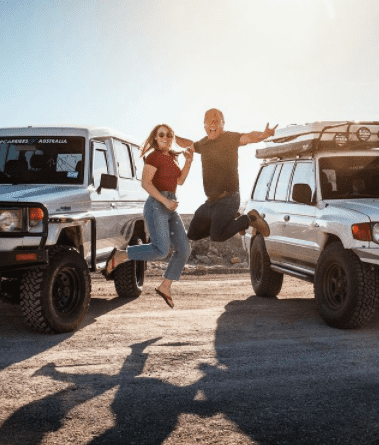 Their first rig was a 1999 Mitsubishi Montero, which they described as "rugged, reliable, cost-effective and so damn cool looking with a bit of dirt flung all over it." They strived to make it minimalistic, lightweight, and reasonably comfortable for a feel that gets as close to nature as they could.
"One thing led to another when we started to modify the truck to suit our needs for living on the road," said Karissa. "What was meant to be a simple 'point A to point B weekend vehicle became a full-fledged adventure mobile to carry us and our dogs out on a trail for weeks or potentially longer."
Now, with their newest purchase, a 1994 Toyota Land Cruiser Troop Carrier, known as a Troopy, Linhbergh and Karissa feel like they have more freedom to not have their travel dictated by the weather and changing seasons. Living part-time on the road allows them the freedom to work remotely without going into cafes or libraries. While they may have gained interior space, Linhbergh jokes that it isn't as speedy as their previous rig, the Troopy proves to be a reliable home base. They love how they were able to also customize their rig with a pop-top instead of a higher roof, simply for aesthetic reasons and ease for shipping their rig to international locations.
"It's also just like driving a farm truck and we joke that it's more like you're riding it, not driving it," Linhbergh said. "Switching over into the left lane while driving an RHD rig is a little nerve-racking, we look over at our mirrors a million times before committing."
As for their system, Linhbergh and Karissa are running two of our flagship model batteries, the BB10012. They've got a front starter battery and use our batteries as their house bank to run everything. Once they had a battery go out on them but were able to troubleshoot it back to life. They also utilize a DC-to-DC charger to make sure it's less stress on their alternator. Overall, Gon Dirtin' says it's plenty of power for them to edit photos and run all the equipment they need. Cooking is also easier, and they've noted how more efficient they are at editing their clients' projects!
Other small power draws onboard include a small fridge, cooking tools like food processors and blenders, and computers for constant editing. Linhbergh enjoys having fun appliances to try out such as their Camp Chef Mountaineer stove for outdoor dinners large and small. Their batteries were easy to install and they're "stoked to try them out even more in the future!" The install was done at Karissa's families car audio shop in Texas where they helped to properly wire up the batteries, take charge, and know that everything was done correctly.
"One thing we were surprised by was how fast the system charges and how smooth it was to replace the old batteries with the new," said Linhbergh. "Having a system that only weighs 30 pounds is something very important to our rig because we need more power and less weight on board."
Their recent blog post details the importance of constantly improving your rig and how a build is never truly "finished."
For a system setup most like Linhbergh and Karissa's, check out our Battle Born Energy 200-amp hour Kit for vans and overland vehicles. It comes pre-programmed with everything you'd need to power your adventures anywhere.
Connecting with Nomads on The Road
The two met fellow Battle Born Family members MAK and Owen of Bound for Nowhere online because of the nomadic and artistic lifestyle intersections. They eventually all met up at SEMA about a year and a half ago.
"Sometimes you can vibe with people in person but not in real life," said Linhbergh. "I run into a lot of industry friends at SEMA, so we'd joke about how if we didn't get along with MAK and Owen we had plenty of exit strategies! Little did we know, Mak & Owen had the same game plan, we all shared and laughed about it later!" It all worked out in the end, and the couples were able to eventually reconnect and travel together. The group frequently meets up with other Battle Born Family members Chase and Aimee of Tight Loops. They spent several months together during the holiday season last year because of the pandemic's travel restrictions and were appreciative of the camaraderie.
As for advantages and disadvantages of working on the road, Linhbergh and Karissa note that staying motivated and not getting distracted by natural beauty is something they must pay extra attention to. Having stable cell phone bandwidth is also a necessity because when uploading 100 gigabytes of photos at a time to clients is incredibly taxing.
Every piece of advice that Linhbergh and Karissa offer to prospective digital nomads is centered around the fact that finding a work-life balance in the outdoors is something to be mindful of. As advocates of taking advantage of public wi-fi zones in cafes and libraries, they firmly believe in making do with what you can.
"Deadlines also help significantly," said Karissa. "And just really balancing your own time is key. I've gotta say that Linhbergh is much better and disciplined than I am at it!"
What's Next for Gon Dirtin'?
As Linhbergh and Karissa begin to smooth out the rest of the Troopy build, necessary trips to the shop are always in order. Also heading to events this fall like the SEMA Expo in Vegas and the Overland Expo West, they're also prioritizing safe travel. Learn more about the adventures of Gon Dirtin' on their blog, Instagram, Facebook, and YouTube!