Boondocking in Maine can be a little tricky. There isn't as much public land as there is out west, and campgrounds can be a bit pricey. Because of this, we've covered everything you need to know about boondocking in Maine, including how you should prepare and the seven best campsites where you can plant your temporary roots. Let's dive in.
What Is Boondocking?
Boondocking (also known as "dry camping") is a form of camping that doesn't rely on electricity, sewage, or freshwater hookups. Typically, it's just a designated area available to the public. Many times, there are no amenities at all.
To boondock, you'll need to be in a self-contained vessel such as a van or RV, and you'll need to pack in and pack out all your provisions. While boondocking may sound difficult or troublesome, many travelers love the experience of parking wherever they'd like with nothing but nature surrounding them.
Why You Should Boondock in Maine
Boondocking is a great way to explore off the beaten path. You're not simply driving from campground to campground. You're exploring the lesser-known parts of Maine that have been largely untouched by human activity.
Everyone knows that Maine is a popular destination (especially in the summer and autumn). Because of this, campgrounds and other tourist attractions can become extremely crowded. Boondocking allows you to both save money and venture where no one else is.
After all, visiting Maine is about immersing yourself in nature and tranquility. What better way to do this than to dry camp?
How to Prepare for Boondocking in Maine
To have a successful boondocking experience in Maine, come prepared with the essentials. Number one, you'll want enough water to drink, shower, and wash dishes at a minimum. If you're not used to having to conserve water while boondocking, we recommend overestimating how much you'll use. Be prepared to trickle-wash your dishes and take five-minute showers.
Also, ensure you have enough room in your holding tanks for gray and black water. There's nothing worse than having to break camp and find a dump station when you're not ready to leave yet.
Moreover, you'll want some form of electricity so you can stay connected and use your essential appliances and devices. Hands down, the best way to store the electricity you'll need while boondocking in Maine is through lithium batteries. You can charge these batteries through RV solar panels, a generator, or your alternator as you're driving.
The 7 Best Campsites for Boondocking in Maine
Without further ado, here are the seven best campsites for boondocking in Maine. These are all stunning in their own way and provide little to no amenities, but we promise they're entirely worth it!
#1. Misty Acres Alpaca Farm
Address: 3071 W River Rd, Sidney, ME 04330
Know Before You Go: Misty Acres Alpaca Farm is a Harvest Host destination. This means that you'll need a Harvest Host membership before making your reservation. A Harvest Host membership costs $99 per year and gives you access to over 2,500 free campsites throughout the United States. In exchange for staying at these farms and local businesses, many travelers purchase something from the host to support their business.
What Makes It Great: Misty Acres Alpaca Farm is a peaceful setting with four RV spaces. While you're there, you'll be able to learn about alpacas, visit the shop, and enjoy the beautiful rolling fields. Located just outside Augusta, Maine, you're not far from the city and Interstate 95, but it will feel like you're hundreds of miles away.
→ Want to find even more free campsites and apps? Check out Your Guide to Free Camping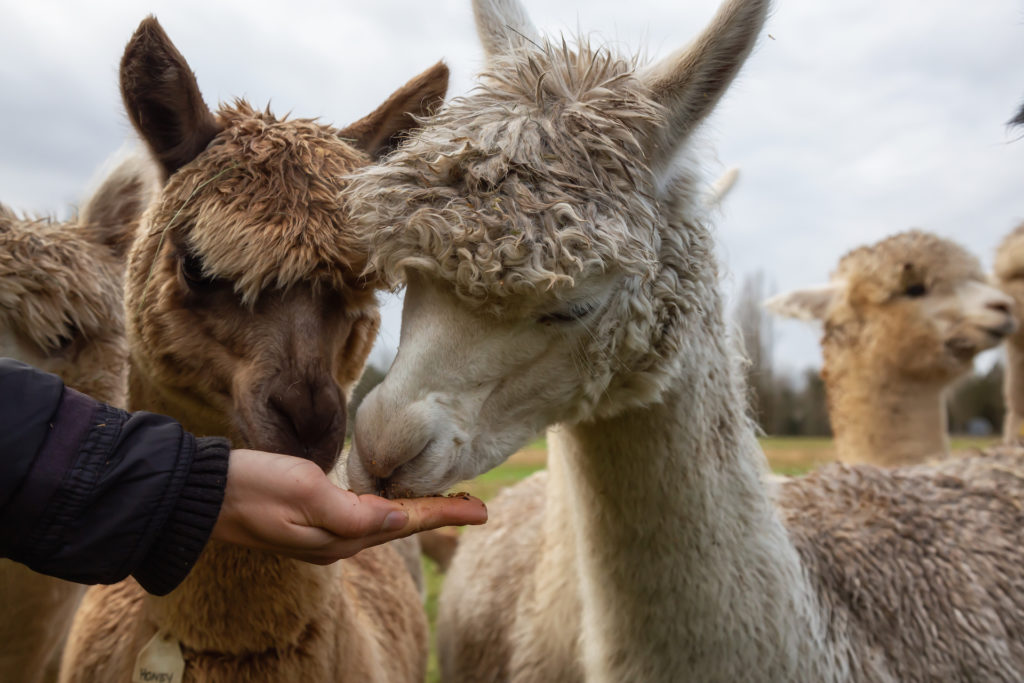 #2. Big Eddy Campground
Address: Golden Rd, Millinocket, ME 04462
Know Before You Go: One of the most important things you should know is that Big Eddy Campground only accommodates rigs of 30 ft or less. Thus, if you're in a big rig, this probably isn't your spot. Big Eddy Campground is also located just north of Millinocket, near Baxter State Park and Mount Katahdin.
Keep in mind that you'll need to travel roughly four hours from the New Hampshire border to get there, much of it through the vast wilderness. To put it plainly, there's not much up there except trees and moose. Make sure you prepare accordingly!
What Makes It Great: Visitors and Mainers alike love this area for boondocking in Maine because it's so wild. You'll be able to fish for salmon while catching a glimpse of eagles flying overhead, loons dipping underwater, and possibly even a moose grazing. It's one of the last areas untouched by humans, and because of this, it's absolutely beautiful.
#3. Airline Rips Campsite
Address: State Route 9, Wesley, ME 04686
Know Before You Go: Airline Rips Campsite is located in the tiny town of Wesley, Maine, along the Machias River. Like Big Eddy Campground, it's truly in the middle of nowhere. Because of this, there's little to no cell phone service. The campground also has few accommodations except a vault toilet, but there are two completely free spots.
What Makes It Great: This is your spot if you truly want to unplug. Relax along the flowing river knowing that you're miles away from civilization. Stargaze without light pollution. Skinnydip without worrying about being spotted. You'll truly be immersed in the wild woods of Maine.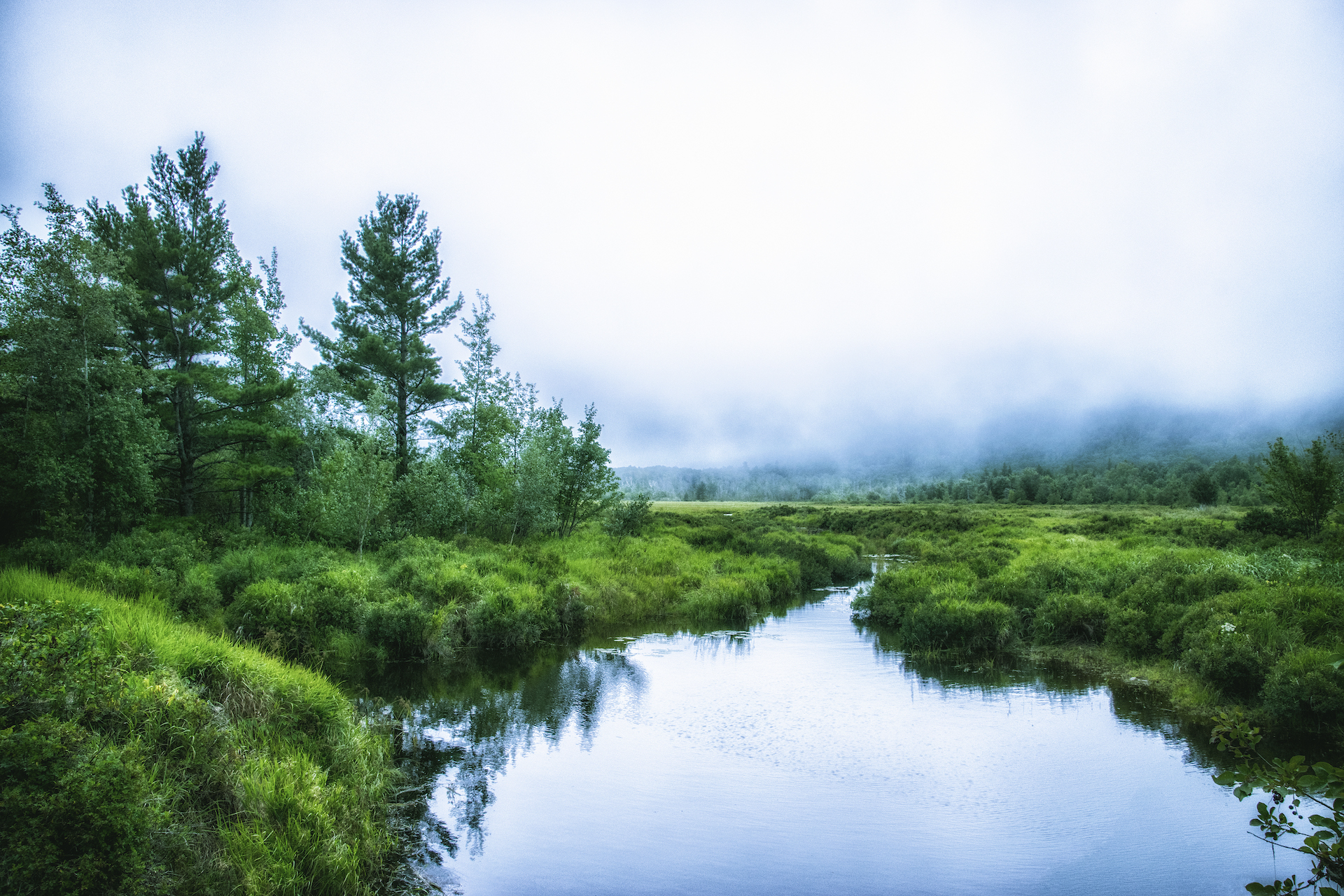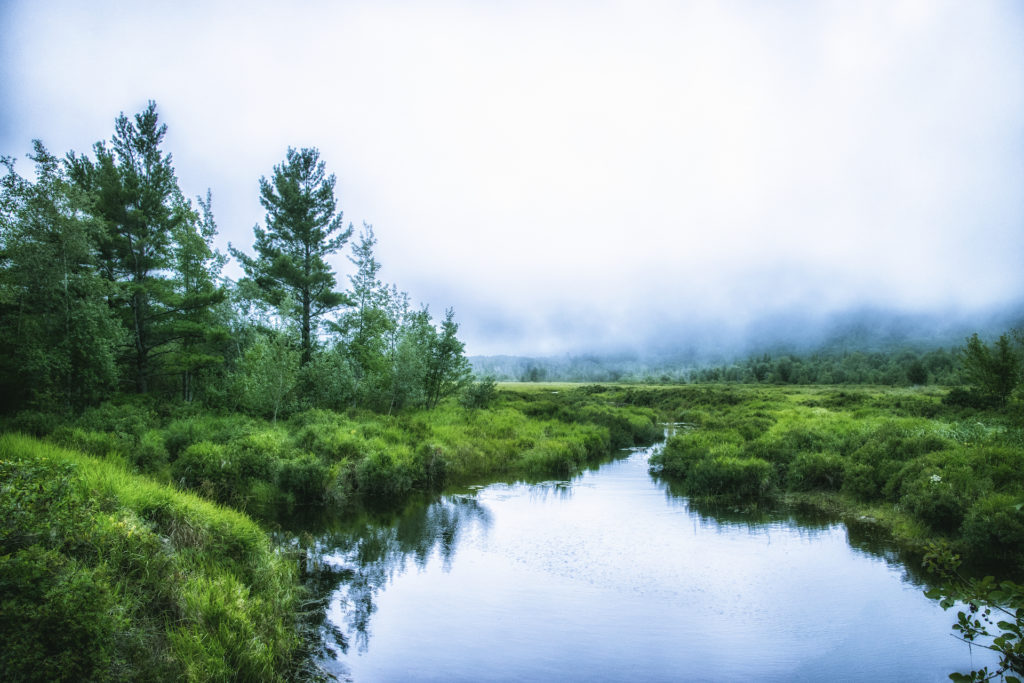 #4. Allagash Gateway Campground
Address: Chesuncook Lake Rd, Millinocket, ME 04462
Know Before You Go: Allagash Gateway Campground is located in Millinocket, Maine, near Baxter State Park. You'll need to drive 44 miles on mostly dirt roads to get there if you're coming from Greenville. Be prepared to go slow and stay aware of logging trucks on your way in.
Because of the location, you probably won't find much cell service at this campground, so if you need to work, you may want to hold off until you can disconnect for a bit.
What Makes It Great: Allagash Gateway Campground is a family-owned campground that aims to give you the best experience rural Maine has to offer. They have cabins, tent sites, and RV sites available. Water/electricity sites are $40 per night, but primitive sites are also available. They also specialize in guided hunting excursions, so this is your place if you're interested in hunting bears, moose, grouse, coyotes, or deer.
→ Looking for more awesome off-grid campsites across the country? These RV Experts Share their Favorite Boondocking Sites
#5. Fifth Stream Campsite
Address: 42-00-0 Rd, Grand Lake Stream, ME 04637
Know Before You Go: Are you ready to really go off the beaten path while boondocking in Maine? The Fifth Stream Campsite is completely free with no amenities and no cell phone service. There are thousands of logging roads in the area and not much else. Make sure you have a reliable vehicle that can handle dirt roads and a way of communicating with civilization via satellite. There is truly nothing but woods in the Machias River Corridor.
What Makes It Great: If you want to be truly surrounded by wilderness and nothing else, Fifth Stream Campsite is for you. You'll be located on the Machias River, which is amazing for salmon fishing. You'll be able to stargaze to your heart's content on clear nights, too. This spot is truly a solitude lover's dream.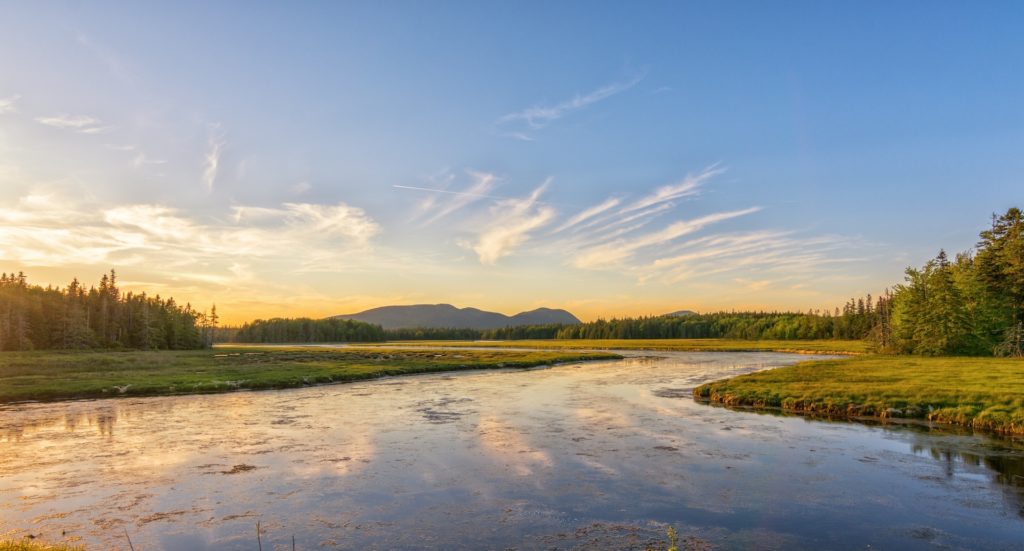 #6. Log Landing
Address: CCC Rd, Wesley, ME 04686
Know Before You Go: Much like Fifth Stream Campsite, Log Landing is truly in the middle of nowhere. You'll have to navigate unpaved and unmaintained roads to get there with little cell phone service.
Because of this, we have similar recommendations when traveling to this location. Ensure you have a reliable vehicle, plenty of provisions, and a way of contacting civilization that doesn't rely on cell phone service. You'll find dispersed camping with no amenities along the river.
What Makes It Great: First and foremost, Log Landing is completely free. It's one of those amazing spots you can just show up to and find a place to park among the beautiful wilderness. Be sure to bring your fishing gear to this boondocking spot in Maine, as you'll be situated along a flowing river filled with salmon. This is a birdwatcher's paradise, as there are over 180 species of birds along the Machias River Corridor.
Pro Tip: Maine is great for off-grid camping in the summer, but in the winter, you might want to head south to these 10 Best Boondocking Sites in Arizona where the solar power is great!
#7. Jewett Cove, Moosehead Lake Public Land
Address: Unnamed Rd, Greenville, ME 04441
Know Before You Go: Jewett Cove on Moosehead Lake is located in northwestern Maine, and anyone who knows anything about this area knows that it is remote. There are actually countless campsites surrounding Moosehead Lake, so if you're tent camping.
Nevertheless, if you're in an RV and need a large patch of ground for your rig, you're in luck. Jewett Cove is actually a boat launch where you can park and stay the night, and there are other boat launches in this area as well. Like the previous campsites, cell phone service will probably be nonexistent.
What Makes It Great: Moosehead lake is the largest body of fresh water in New England. This spot provides a tranquil place to rest your head as you explore this amazing area. Whether you choose to camp lakeside, in the woods, or at a boat launch, you can count on a peaceful stay surrounded by nature and wildlife. This part of Maine is truly an unforgettable boondocking experience.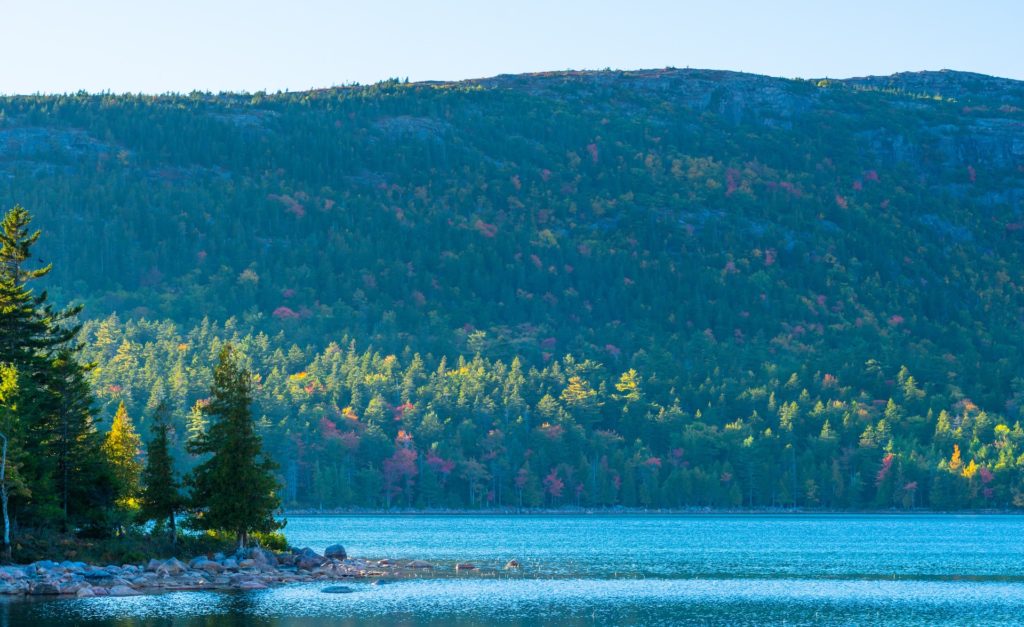 Leave No Trace and Enjoy While Boondocking in Maine
Maine has a stunning wilderness that remains unharmed by human activity. You won't see pollution or trash lining the sides of these roads, and we should all do our part to keep it that way. This is why it's so important to bring your garbage with you upon leaving. This way, we can all enjoy boondocking in Maine for years to come.
Have you ever boondocked in Maine? Tell us about it in the comments below!
Want To Learn More About Electrical Systems and Lithium Batteries?
We know that building or upgrading an electrical system can be overwhelming, so we're here to help. Our Reno, Nevada-based sales and customer service team is standing by at (855) 292-2831 to take your questions!
Also, join us on Facebook, Instagram, and YouTube to learn more about how lithium battery systems can power your lifestyle, see how others have built their systems, and gain the confidence to get out there and stay out there.
Join Our Contact List
Sign up now for news and updates to your inbox.