It often feels like free camping locations are the best for outdoor exploring. However, because they're free, managing organizations have spent no advertising or marketing dollars on them. As a result, finding free camping can be tricky.
This problem becomes even more complicated with weak batteries. Free camping spots usually have no hookups, so you're dependent on battery power, along with portable power sources, to get you through your stay.
Today, we want to give you a guide to free camping with lithium batteries and how they can greatly enhance your camping adventures.
What Is Free Camping?
Free camping is exactly what the name implies: camping at no cost. It often means camping with limited or no amenities, as well.
These sites also tend to be bare bones. You likely won't find things like electrical connections, water, and restroom facilities at a free campsite. You might need to carry out your trash as well. Sometimes, people call it boondocking or dry camping because you must be self-sustaining to camp in these places.
Despite the lack of amenities, free camping is often an incredible way to camp. It also might surprise you how many places there are to camp for free.
Where Can You Go Free Camping?
The Bureau of Land Management (BLM) and other government agencies manage thousands of campsites across the country. They're scattered all over the U.S., and you can find lists and maps of public lands online.
Free camping comes in handy if you're having trouble reserving a campsite in a campground. You can even find free camping near popular spots like Yellowstone National Park, Grand Teton National Park, and other national and state parks.
You always want to confirm that you're camping in an approved camping location. When in doubt, look for a phone number or other way to contact the appropriate authorities. You don't want authorities knocking on your door in the middle of the night, asking you to move on.
→We love our home state of Nevada, so we've found the 5 best boondocking campsites in Nevada for you!
Why Lithium Batteries Are Great for Free Camping
One of the best tools while free camping is a lithium battery bank because it can significantly enhance your free camping experience over lead-acid batteries. Let's go over some of the biggest benefits of using them while camping.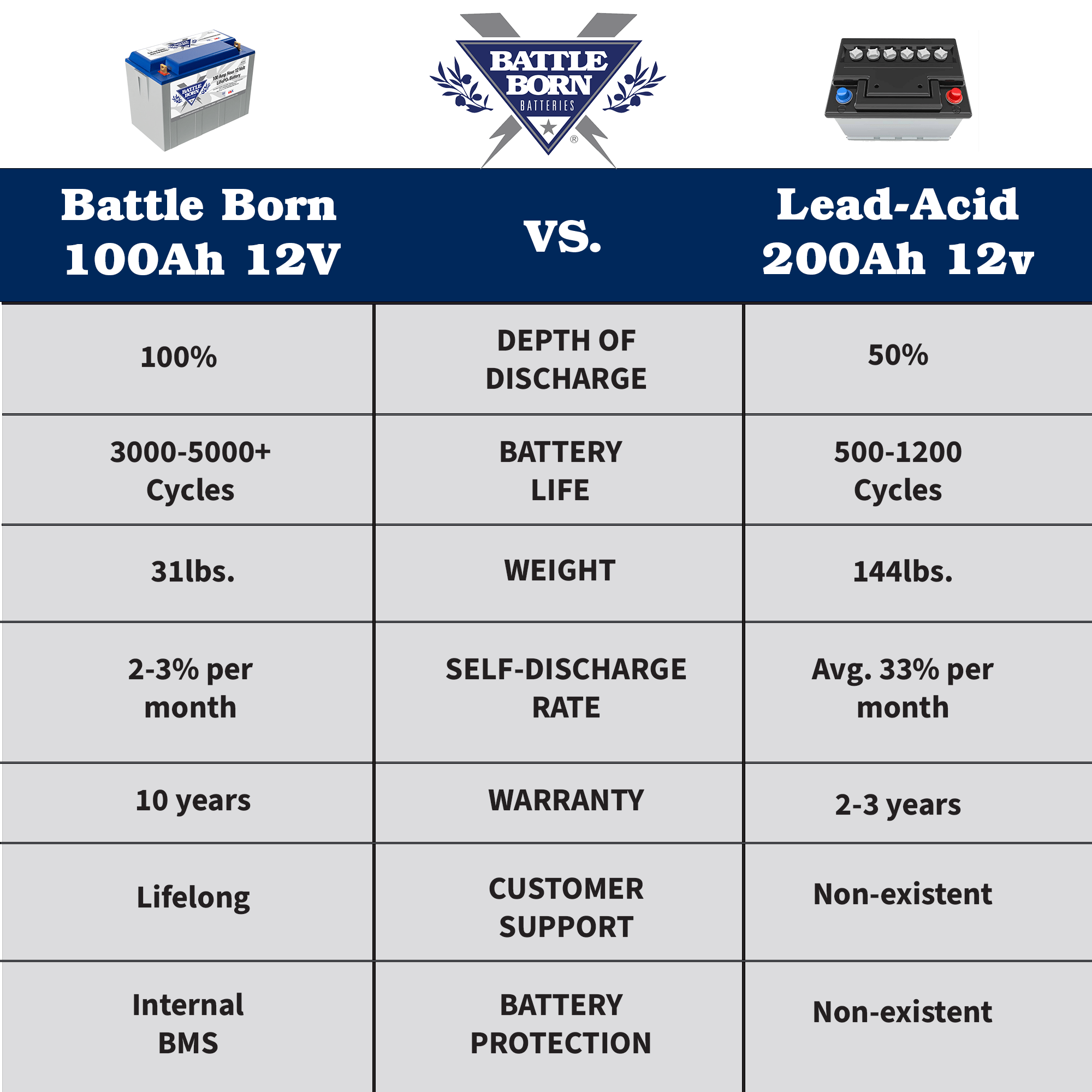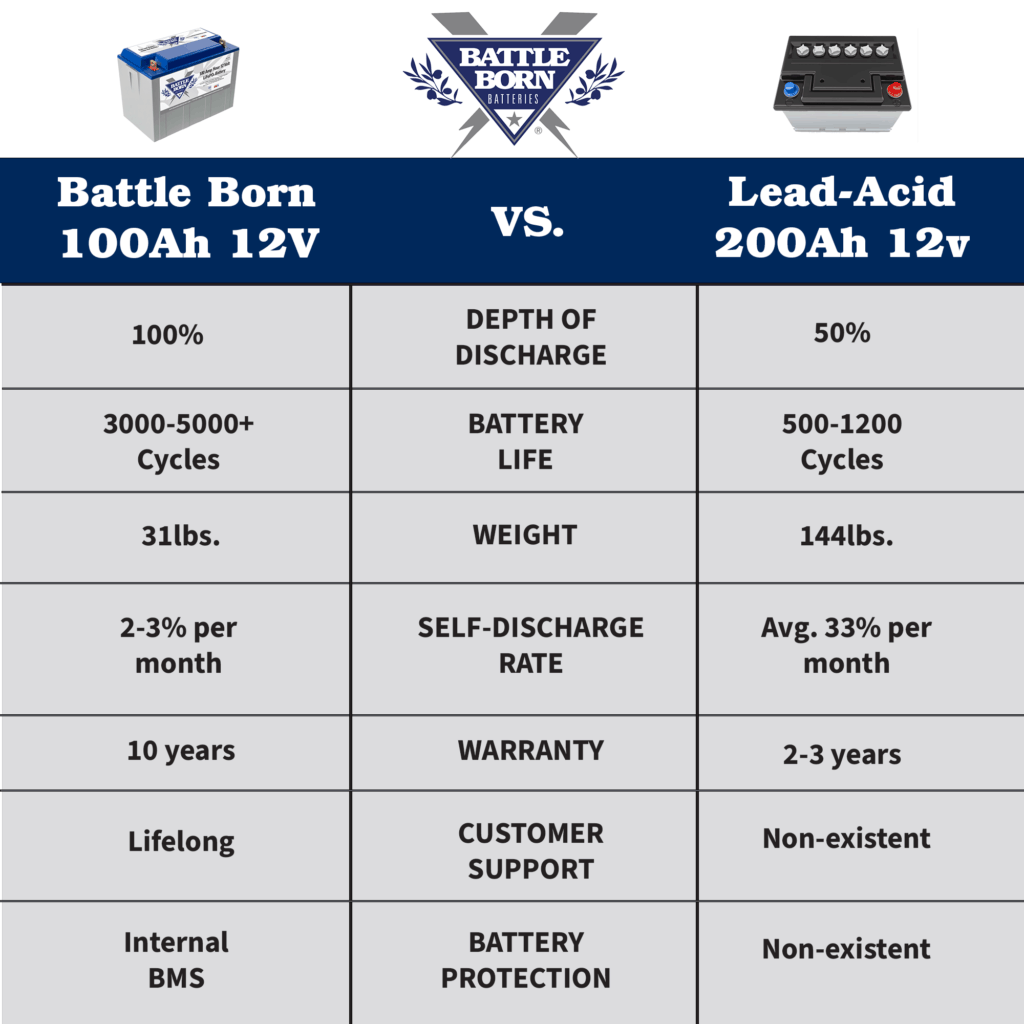 Can Be Discharged 100%
Lithium batteries are a great choice because of their sizable discharge depth. You can fully discharge these batteries without damaging the units. For comparison, a typical lead-acid battery experiences permanent damage when discharged below 50%.
Furthermore, lithium batteries like Battle Born can last 5,000 cycles, and most will last the life of the RV with a full 10-year warranty. Lead-acid, on the other hand, can only handle 500-800 cycles and can degrade quickly leaving you stranded. The cycle volume decreases significantly each time you discharge the battery below 50% as well.
By replacing a standard lead-acid battery with a comparable lithium battery, you can get up to 10 times the battery use with lithium.
Faster Charging
Not only do they have a deeper discharge, but they can also charge insanely fast. A typical lead-acid battery can take up to 10 hours to fully charge, while a comparable lithium battery can fully charge in three hours.
The faster the charge, the more time you can spend using your battery. This means less time running a noisy generator or worrying about getting enough sun. Some RVers even install a DC to DC charger with their battery bank to charge their lithium batteries while towing to and from their campsite.
No Maintenance
Lithium batteries require no maintenance. No more topping off your battery fluid or checking electrolyte levels, like you do for your lead-acid unit.
You'll want to ensure the positive and negative connections remain tight and free of corrosion, but other than that, they're maintenance-free. Once you set your batteries in place, it's improbable that you'll pay much attention to them for another 10-15 years.
Lightweight
Not only do lithium batteries pack 10 times the punch of lead-acid batteries, but they're also half the weight. A typical 100 Ah lead-acid battery for an RV weighs around 65-70lbs, while a similar lithium battery will weigh around 30lbs.
This is incredibly helpful when dealing with larger battery banks. When looking at 600 usable amp-hours of batteries, you're talking 800+ pounds of savings by using lithium batteries instead of lead-acid batteries. It's no secret in the RV community that weight management is important to monitor.
How to Recharge Your Lithium Batteries While Free Camping
There are two popular ways for recharging lithium batteries while camping–solar and a portable generator. Either option is a great choice, but a solar system is more expensive and complex than a portable generator.
Depending on the system, a solar system for an RV can cost $2,000-$20,000+, depending on your needs. As its name implies, this setup relies on the sun for energy. Solar panels are often mounted on top of an RV's roof and collect sun rays to help fill the battery bank.
A portable generator is the second popular option for charging RV battery banks. Portable generators are a popular choice because they're relatively cheap and capable of producing tons of power. These generators provide a reliable amount of power while they're running, which allows you to eventually learn how long to expect it will take your generator to fill your batteries. Even larger lithium battery banks can be fully charged in a few hours from a portable generator.
→ Learn more about how to charge your RV battery to get optimum performance.
How to Find the Best Free Camping Spots
Finding free camping spots can be difficult at times, but we want to share several resources to help you find the best free options. Let's take a look.
Campendium
If you're looking for a free camping spot, Campendium is a great place to start your search! It's one of the most popular resources for finding the best free camping spots. 
Users can submit reviews, pictures, and essential information regarding a free camping location. Many users provide helpful information like the nearest dump station, tips for navigating access roads, and even the quality of cell coverage.
You can also use Campendium to search for other vital resources, like a dump station. If you're camping for free, you'll likely need a source for filling up and dumping your tanks.
As its name implies, this is a resource full of free camping and boondocking locations. This resource's creators believe that free campsites are often some of the most peaceful and most beautiful locations you can enjoy.
This is a desktop tool and will require you to use a computer or an internet browser on your phone. You can use the trip planning software to help arrange an entire adventure using nothing but dispersed camping and other free spots.
iOverlander
If you want an easy-to-use mapping program to find free camping locations, iOverlander might just be it. There are many filters to help you find whatever you want. Whether it's freshwater, a dumping station, or public-access land, iOverlander has it all.
We love that iOverlander is available on both iOS and Android devices. This app can be a tremendous resource for making your no-cost camping adventures incredibly easy, no matter what type of phone you have.
The Dyrt
The Dyrt has over 500,000 user-submitted locations and is one of the largest collections for researching campgrounds on the internet. Having access to previous camper reviews is a handy tool that lets you learn from others' experiences. The Dyrt is great for finding sites for tent camping, trailers, RVs, and even cabins.
A simple click can help you search for campgrounds in a specific location or even campgrounds near your current location. The listing typically has photographs, the cost, and extra information regarding amenities and features. It also provides information for making a reservation.
Free Roam
Free Roam is another fantastic resource that wants to help you find the best free camping spots. This app-based software lets you search for campgrounds by filtering results. You can also plan your trip, including stops along your route while helping to build the RVing community in groups, forums, and even meetups.
While searching for campsites, you can use various layers to see cell phone coverage, elevation, and even public-use land maps. Free campers we have chatted with love the satellite map to easily plan road navigation and other potential obstacles in unfamiliar free camping areas.
What Do You Need for Free Camping?
When it comes to free camping, there are a handful of things you'll want to have at your disposal. Let's make sure you're ready.
Power Source
You can make your free camping experience as primitive as you'd like by choosing what electronic items you bring with you. But you'll still probably need power at some point.
Since these sites will most likely mean no power access, you'll need to provide your power source. This might look different depending on what you're planning to run. You'll need a sizable power source relative to the number of applications.
A generator is a cost-effective option for powering your electronics or charging a battery bank. Solar panels are also a great option. Many people use propane to keep things running as well.
Using your house battery to handle your electronic needs is a fabulous solution if you're in an RV. You'll need a high-quality, long-lasting solution, though, so we recommend lithium batteries, which charge faster, last longer, and deliver steadier power.
Wastewater Management
Having a sanitary way to dispose of your wastewater is incredibly important. Dumping gray or black water onto the ground is not sanitary and is typically illegal. Improperly disposing of wastewater is one of the leading causes of free camping sites shutting down.
The previously mentioned resources can help you locate dump stations for your RV tanks. You can typically find local campgrounds, rest stops, and even gas stations with dump stations, too. It may cost you $5 to $20, but you're still saving money because the campground is free.
Garbage Management
You likely won't have dumpster access where you're camping, and you could end up with a decent pile of trash to pack out. While trying to conserve water, you'll likely use more paper products which result in more trash.
You need to use the least amount of trash as possible and take it with you when you leave. Gas stations and other big-box retailers often have trash cans where you can dispose of your trash for free. These are convenient for those that travel full time or make regular use of free camping locations.
Fresh Water
Keep freshwater management in mind, too. You likely won't have a water connection at your free camping site, which means you'll need to arrive at your campsite with all the water you'll use during your trip.
The resources we previously mentioned are, yet again, valuable for finding freshwater fill-up locations that are free or have minimal cost. You can quickly fill up your tanks on the way to your campsite.
As a quick reminder, make wise use of your freshwater. It's not an unlimited supply, and it could be a hassle to get more water into your tanks.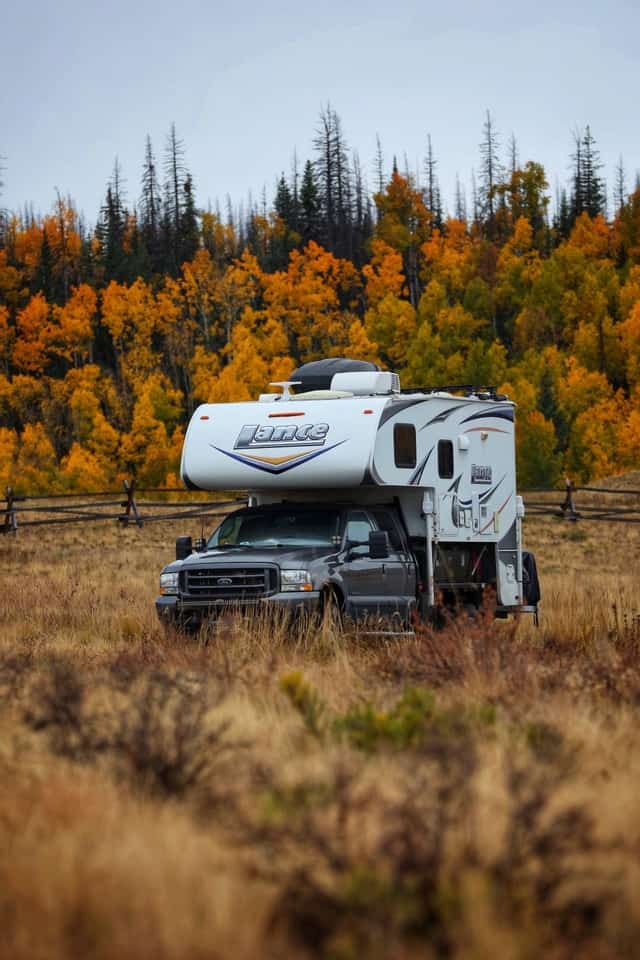 Lithium Batteries Can Make Free Camping Easier
While RV parks can be expensive, it doesn't have to be. We hope that our guide to free camping with lithium batteries will help you make the most out of your free camping experience. We truly believe lithium batteries are helping people experience nature like never before, and we hope you'll investigate to see if they're worth the investment for your future adventures.
What are your best free camping tips?
Want To Learn More About Electrical Systems and Lithium Batteries?
We know that building or upgrading an electrical system can be overwhelming, so we're here to help. Our Reno, Nevada-based sales and customer service team is standing by at (855) 292-2831 to take your questions!
Also, join us on Facebook, Instagram, and YouTube to learn more about how lithium battery systems can power your lifestyle, see how others have built their systems, and gain the confidence to get out there and stay out there.
Join Our Contact List
Sign up now for news and updates to your inbox.