Boondocking off the grid offers magnificent experiences that you might not find in a typical campground setting. You'll create memorable experiences with this style of solo camping– some incredible and some you'll chalk up to learning experiences. You'll probably talk to many RVers who swear it's the best way to camp. Are they right?
What Is Boondocking?
Boondocking describes camping off the grid. It's just you, nature, and your tent or self-contained RV or camper. You rely on only what you bring with you, and you're not tethered to a power service, running water, sewer, or other amenities of comfortable living.
Where Can You Go Boondocking?
Boondocking is a wide-open concept. You can boondock in the field behind your grandmother's farm or on any other private land with permission.
Some commercial landowners and campground owners will designate private lands for boondocking, too, usually for a fee. These spots are typically campgrounds without facilities and hookups, although there might be toilets available.
When many people think of boondocking they think of the expanse of nature and getting out and away from it all. This is usually done on national or state public lands. You can boondock on Bureau of Land Management (BLM) land for a designated period (usually two weeks) and on grounds that the United States Forest Service defines explicitly as national forests and grasslands.
Benefits of Boondocking
We highly recommend that everyone tries boondocking at least once because the natural surrounding and overall freedom are indescribable.
There are so many benefits of boondocking that it would be difficult to share them all in a single article, but we'll acknowledge a few of our favorites!
It's Free!
The cost is among the most obvious benefits. There are no campground or RV park fees and no extra charges for services or amenities. Indeed, some refer to boondocking as free camping.
We'd be remiss not to mention some of the upfront costs of longer-term boondocking such as expanding your battery bank or installing solar. But once installed, you can enjoy boondocking for many years!
You Get to Experience the Most Beautiful Places
This is the real treat, and it's challenging to describe in words!
Whether you're camping near an ocean, lake, river, or mountain stream or nestling in a forest of trees for a few days, you'll encounter beauty as you've never seen. When untouched by humans, mother nature is utterly awe-inspiring.
You Can Stay for 14 Days at a Time
The Bureau of Land Management allows campers to boondock for up to 14 days on their property, after which you must move along. After two weeks, you can simply move to another piece of BLM land.
All in all, you have relatively unlimited time boondocking on BLM land. In between two-week sessions, you can run to nearby towns to replenish water, shop for groceries, do laundry, and purchase other provisions.
All the Privacy You Want
If you desire complete privacy, you can have it when you're boondocking. You can design the degree of privacy or community that suits you, in fact. Many boondockers go days or weeks without seeing another soul.
What You Need for Boondocking
There are a few things that will make your boondocking experiences more comfortable. Let's look at a few amenities that may enhance your stay in nature.
A Way to Create Power
There are various ways to bring power into your RV, camper, van, or tent. Here we will focus on amenities primarily designed for RVs of all sizes.
Generators
A generator stores energy to power your RV when you're off electricity. Depending on the capacity, generators can power gadgets, appliances, and even air conditioners.
A generator may be on board and built into your RV's electrical system, or it might be a portable unit that you use only when necessary. Many onboard generators use fuel from your RV's gas tank. (Please note that most onboard generators won't start if your vehicle's gas tank is less than a quarter full, so fill up before heading out!)
Portable generators require gasoline or propane. If you intend to boondock for an extended period, carry sufficient gas or propane for your generator.
Solar Power
Many boondockers harness sun power to replenish their battery banks. Rooftop or portable panels can keep your battery bank topped off as long as the sun is shining.
Solar power isn't always reliable, of course, since you can't collect energy during rainy and cloudy days. However, it's a great option to extend your gas and propane stores!
Click here to shop our Battle Born Solar Bundles.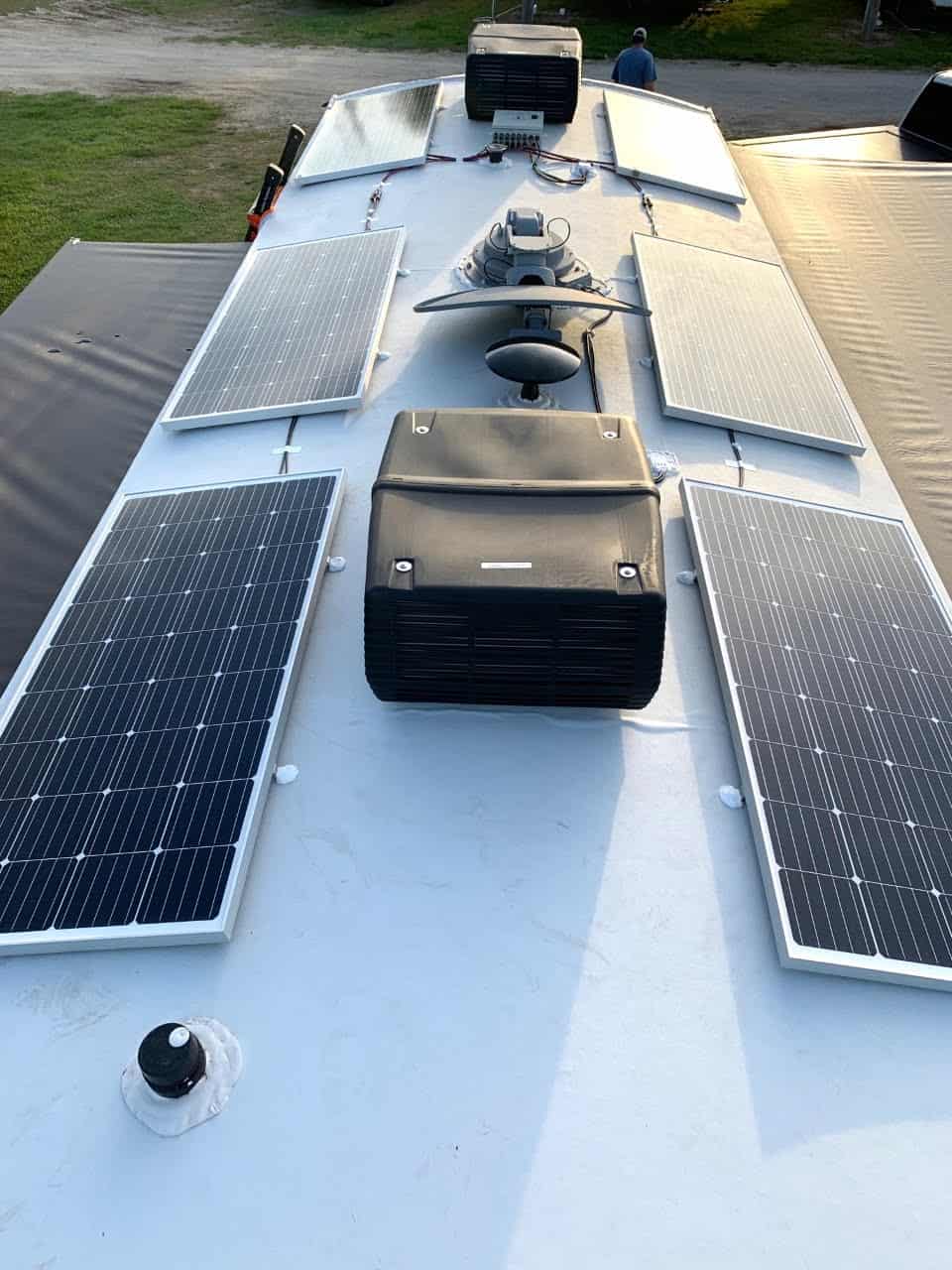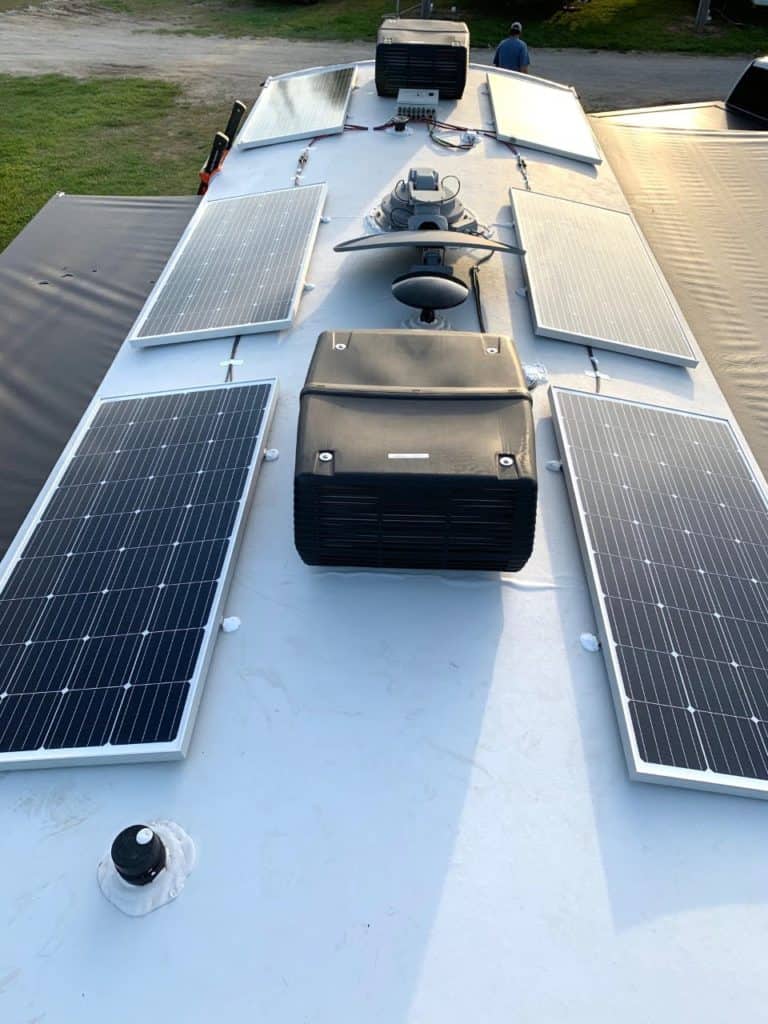 A Way To Store Energy
Most campers come with one or two 12V lead-acid batteries for their house battery bank. These batteries can work for short boondocking stays, little to no power usage, and/or nearly constant generator running. But who wants to listen to their generator when they're out enjoying nature?
These lead-acid batteries also don't do well with the inconsistent charging cycles from solar panels. They take a long time to charge, and if they don't get through their absorption charge the battery can be damaged, leading to a shorter life and poorer performance.
Because of these reasons and more, lithium-ion batteries are considered the best camper battery for boondocking. With their fast, flexible charging cycles, superior energy density, and full power availability, lithium-ion batteries are a worthwhile upgrade to your camper if you're planning on boondocking!
Find out more about The Truth About Lead-Acid vs. Lithium-ion Batteries in RVs.
Shop our 12V camper drop-in replacement lithium-ion batteries.
Fresh Water Conservation
This one can be tricky, depending on your RV's freshwater tank size and how you use water. If you have a 100-gallon freshwater tank, your water use will be less critical than for a 25-gallon container.
Conserving water while boondocking allows you to stay out longer. Here are a few tips you can use to save water:
Take Navy showers in which you get yourself wet, and then shut off the water supply. While the water is off, lather hair and body, and then turn the shower back on to rinse yourself off. Congratulations! You just saved several gallons of water by not letting it run in the background.
When washing dishes while boondocking, use a paper towel to wipe food particles from dishes, pots, pans, and utensils. When you wash them, use minimal soap, so you need less for washing and rinsing.
On the flip side, you could use disposable paper products, but remember that you have to collect and store your trash. Leaving trash (even in covered bins) outside your vehicle will attract critters.
While your conservation techniques should help you get through your boondocking excursion, bring extra drinking water if possible. If your water supply runs out unexpectedly and you're not near a town, that emergency water supply could save your life.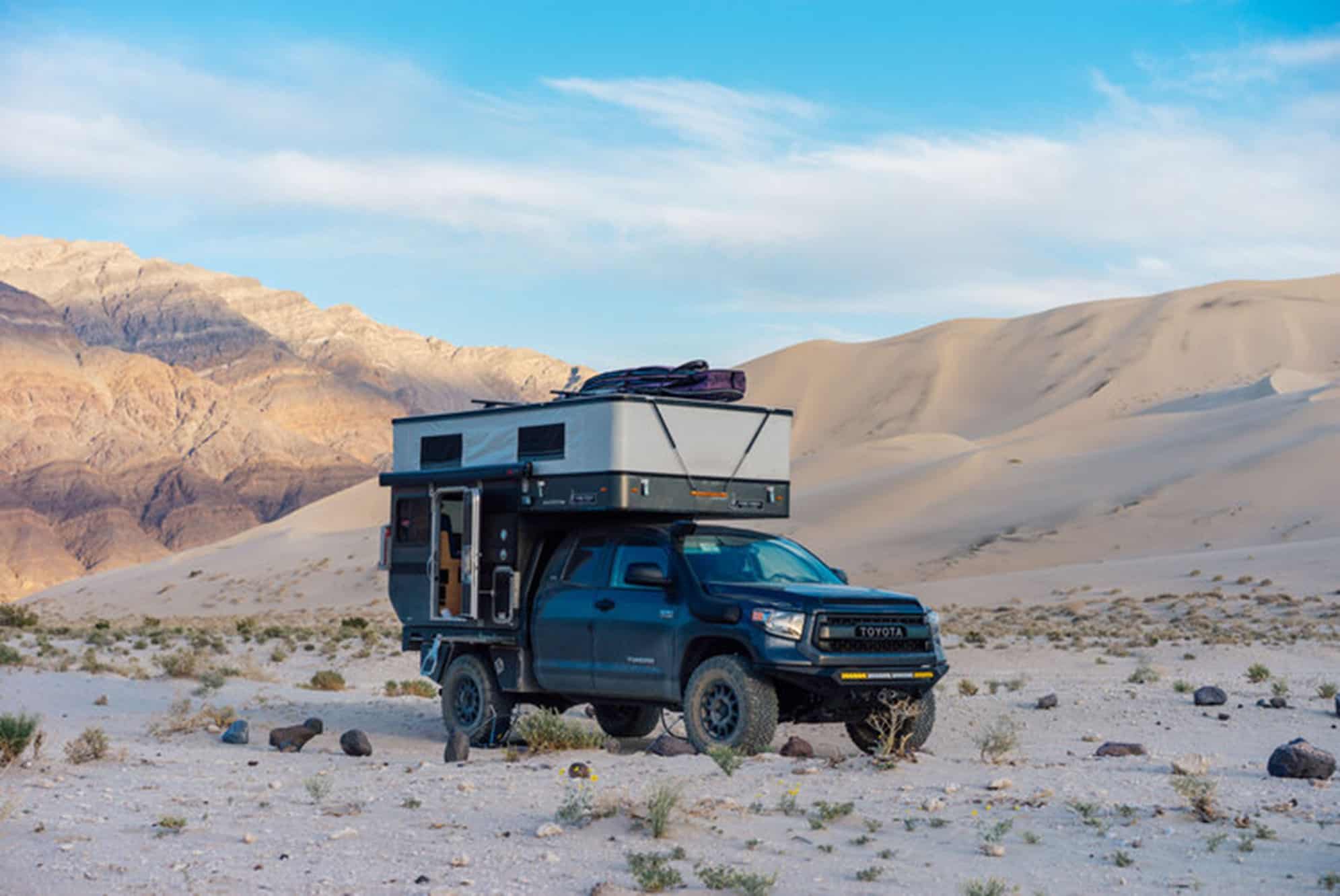 Conserve Black and Gray Water Storage
Conserving water will save you gray water storage too. In many camping areas (even some BLM spots), it's illegal to dump gray water on the ground, in a water source, or other natural environments. So you don't want to risk running out of storage while boondocking.
More importantly, remember that it's always illegal to dump black water outside of dump stations and restrooms. Under no circumstances should you dump wastewater on the ground or in a body of water.
So, conserve your wastewater tank by flushing only when necessary–usually just for number two–and use as little water as possible. Don't hold the flush pedal to release tons of water when doing so.
If you're running really low on water and black/wastewater tank space, you can line your toilet with a thick plastic bag and some pine pellets or kitty litter (for the smell). You'll collect and store the used bags in a covered bin or another thick, secure container until you can safely dispose of them.
A permanent solution for die-hard boondockers is installing a composting toilet. These commodes conserve water and tank space because the waste turns into compost that you can scatter anywhere it's legal. It also eliminates the need for dump station visits.
A Way to Dispose of Your Trash
Respectful boondockers strive to leave no trace, so you must collect and later dispose of your trash. Whether you keep a covered and lockable trash bin in your site that you'll carry out or store your trash bags in the underbelly of your rig, have a plan for your waste.
Please never leave trash in the wild. It greatly disrespects nature, and a continued disrespectful pattern can lead to the Bureau of Land Management closing down dispersed camping sites. We don't want to bring harm to the environment or any creature who lives within it, and we certainly don't want to ruin these free campsites for everyone.
Best RV Battery for Boondocking
If you're going to boondock even semi-regularly, it's time to say goodbye to your lead-acid batteries. They simply won't cut it.
Lithium LiFePO4 batteries are hands down the best batteries for boondocking. "LiFePO4" stands for lithium-ion phosphate. LiFePO4 batteries are not only safer, but they also offer clear advantages, especially for high-power applications.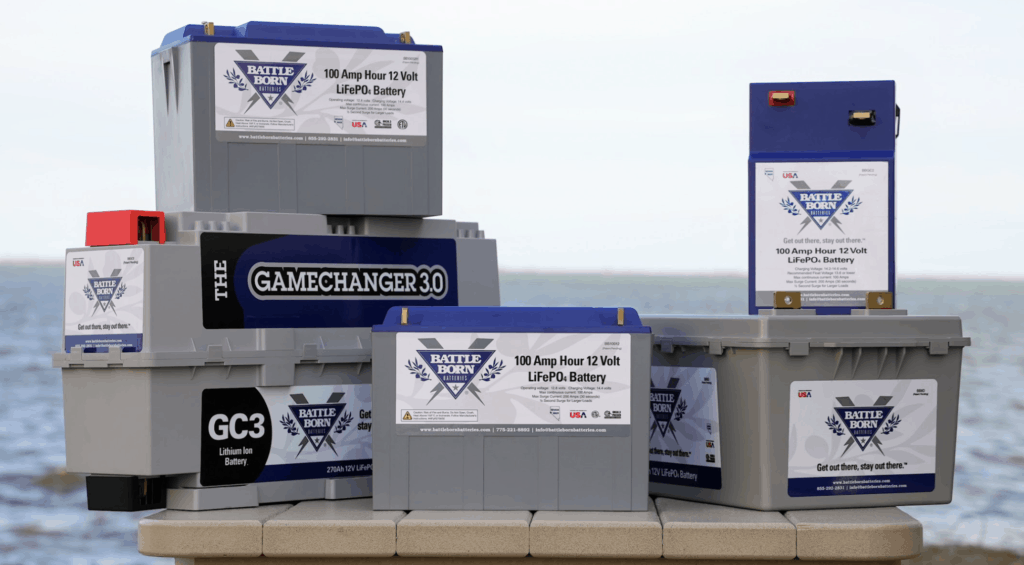 This technology allows you to discharge the batteries by ~80 percent (Battle Born Batteries can discharge 100 percent!) without harm–a far cry from the ~50 percent that your lead-acid counterparts can safely handle. They also charge much faster and more efficiently, so you're not left high and dry when your battery hits the point of no return.
Those who like to boondock in hot and cold climates will appreciate their weather rating. These lithium power banks can withstand extreme temperature differentials, which is a chief disadvantage with other batteries.
Check out our Lead is Dead: Cold Weather Study to learn more about lithium's performance over lead-acid batteries in cold temperatures.
And finally, LiFePO4 batteries are the safest and most durable. The chemistry and installation of lithium batteries are safer and more reliable for RVs, despite the constant movement.
Best RV Boondocking Apps and Websites
Finally, we offer you a few good boondocking apps and websites designed to help anyone find the best boondocking sites.
Campendium
Campendium shows you free camping and boondocking spots, while many other trip-planning apps and websites only show paid locations. It also shows nearby dump stations, places to park your rig based on size, and other customized filters. With thousands of users, you'll find many campground and station reviews to help you plan your trip.
Campendium is free to use, but you can sign up for additional features with a $20 annual subscription.
Allstays
Allstays is one of our go-to apps. For a one-time fee of $9.99, you'll have all the information you need right at your fingertips. Boondocking or not, you can research camping spots, overnight parking, dump stations, points of interest along your route, rest areas, and more.
You'll find thousands of reviews from other campers as well as photos, including interesting boondocking spots. You can filter for specific amenities that interest you.
Freecampsites.net
Freecampsites.net is a detailed source on free campgrounds and boondocking locations. Using a map-based interface, you can search for free and cheap camping locations. Then, you can share your favorite boondocking spots with photos for other campers' benefits.
A fantastic feature is that it focuses on public lands, primarily BLM and Forest Service lands. It also includes searches for Wildlife Management Areas as well as city and county parks.
Freecampsites.net is a camper-contributed site, so please share your boondocking experience with others.
iOverlander
iOverlander is an excellent website and app offering a database for travelers all over the world. Information such as camping, hotels, restaurants, service stations, mechanics, water sources, propane sources, and much more is available through iOverlander. You can find details, including GPS coordinates and photos, when searching via the listings or using their map interface.
Campers can donate time or money to iOverlander to keep it running for all travelers.
We Think Boondocking Off-Grid Is The Best Way To Camp. Do You Agree?
Hopefully, as we conclude this article, you understand why we think boondocking off-grid is the best way to camp, and you have some idea of how to prepare. If you value solitude, privacy, and quiet natural communion with nature, chances are you'll want to do more boondocking and much fewer crowded campgrounds!
Do you enjoy boondocking? Are you nervous to try it? Leave us your thoughts in the comments below!
And give us a call if you think boondocking and lithium-ion batteries might be in your future!
Want To Learn More About Electrical Systems and Lithium Batteries?
We know that building or upgrading an electrical system can be overwhelming, so we're here to help. Our Reno, Nevada-based sales and customer service team is standing by at (855) 292-2831 to take your questions!
Also, join us on Facebook, Instagram, and YouTube to learn more about how lithium battery systems can power your lifestyle, see how others have built their systems, and gain the confidence to get out there and stay out there.
Join Our Contact List
Sign up now for news and updates to your inbox.