As technology advances, more are choosing to enjoy the independence of off-grid living without having to sacrifice modern conveniences. The draw to live a more sustainable life is pushing people to release their reliance on fossil fuels and pursue self-sufficiency. This includes many celebrities and influencers who want to enjoy the simpler, slower pace of life that off-grid living offers. While these high-profile individuals continue to venture off-grid, they're inspiring others to take the leap as well.  
What Does it Mean to Live Off the Grid?
Although people have been living "off the grid" for centuries, what it means to live off the grid has evolved over the years.  Decades ago, living off the grid was far from glamorous. As people in cities got to enjoy electricity, plumbing, and other modern conveniences, those living off the grid were "roughing it." Living by candlelight and oil lanterns, washing in large buckets of water they trekked in, and getting by without a reliable heating or cooling source. This lifestyle was one that many lived out of necessity and rarely ever by choice.  
In recent years, the narrative has begun to shift. As technology progresses at a rapid pace, many have discovered their ability to enjoy modern conveniences, even while living off the grid.  While some who live off-grid still choose to disconnect by being without internet and phone service, that's no longer the only option. Current technology allows many people to live completely normally while off the grid without sacrificing the luxuries of being grid-tied.  
By most modern definitions, "living off the grid means to subsist outside of the confines of traditional utility structures—including municipal electricity, water, gas, and sewer systems. Off-the-grid homes are completely autonomous and include their own means of providing essential services, such as solar-powered electricity and private wells. In many cases, those who are living off the grid simply go without, particularly when it comes to things like home internet services and phone lines." 
An Off-Grid Home to Match Every Lifestyle
Within this definition of off-grid living, there are countless homes and lifestyles to explore. Some people move off-grid simply to get away from crowded cities. Preferring to spend more time in nature and less time fighting traffic. Others move off the grid in search of a more sustainable lifestyle. Trying to reduce their carbon footprint and get away from reliance on fossil fuels, these individuals seek out the power of renewable resources. Then, there are those who want full independence, not wanting to rely on anything or anyone to sustain life. They move off the grid, produce their own food and energy, and live fully self-sustained.  
For those desiring to live in a more remote area but want to continue enjoying much of the same lifestyle they had previously, an off-grid cabin or residential home is the perfect place to reside. The only difference between these homes and those found in standard neighborhoods is the lack of grid and municipality connections. Looking for a more minimalistic lifestyle? Living off the grid in a tiny home, such as a geodesic dome or repurposed shipping container, provides a simpler lifestyle while still enjoying some modern luxuries.  
Another type of tiny home, but from a more sustainable approach, is an Earthship. They're designed to behave as passive solar earth shelters made of both natural and upcycled materials. Finally, for a fully self-sustained off-grid lifestyle, an off-grid homestead takes this to the next level. In addition to producing your own food and household items, an off-grid homestead also has its own power and sources its water and sewage. 
Celebrities and Influencers Who Have Moved Off the Grid
People from every walk of life are beginning to make the move towards off-the-grid living. Whether they're looking for a more affordable, sustainable, or peaceful way of life, living off-grid checks all the boxes. Additionally, many celebrities and influencers are jumping on the bandwagon. Desiring to get out of the limelight and spend time reconnecting with family and nature, they move off the grid.  
Tom Green 
After traveling the country in a Boho Camper Van, comedian and actor Tom Green left Hollywood behind to embrace the simplicity of off-grid farm life. On his remote, 100-acre property in eastern Canada, Tom's enjoying life away from the city with his beloved animals. With the help of reliable, off-grid power from Battle Born Batteries, Tom can continue his illustrious career while enjoying the serenity of being surrounded by nature.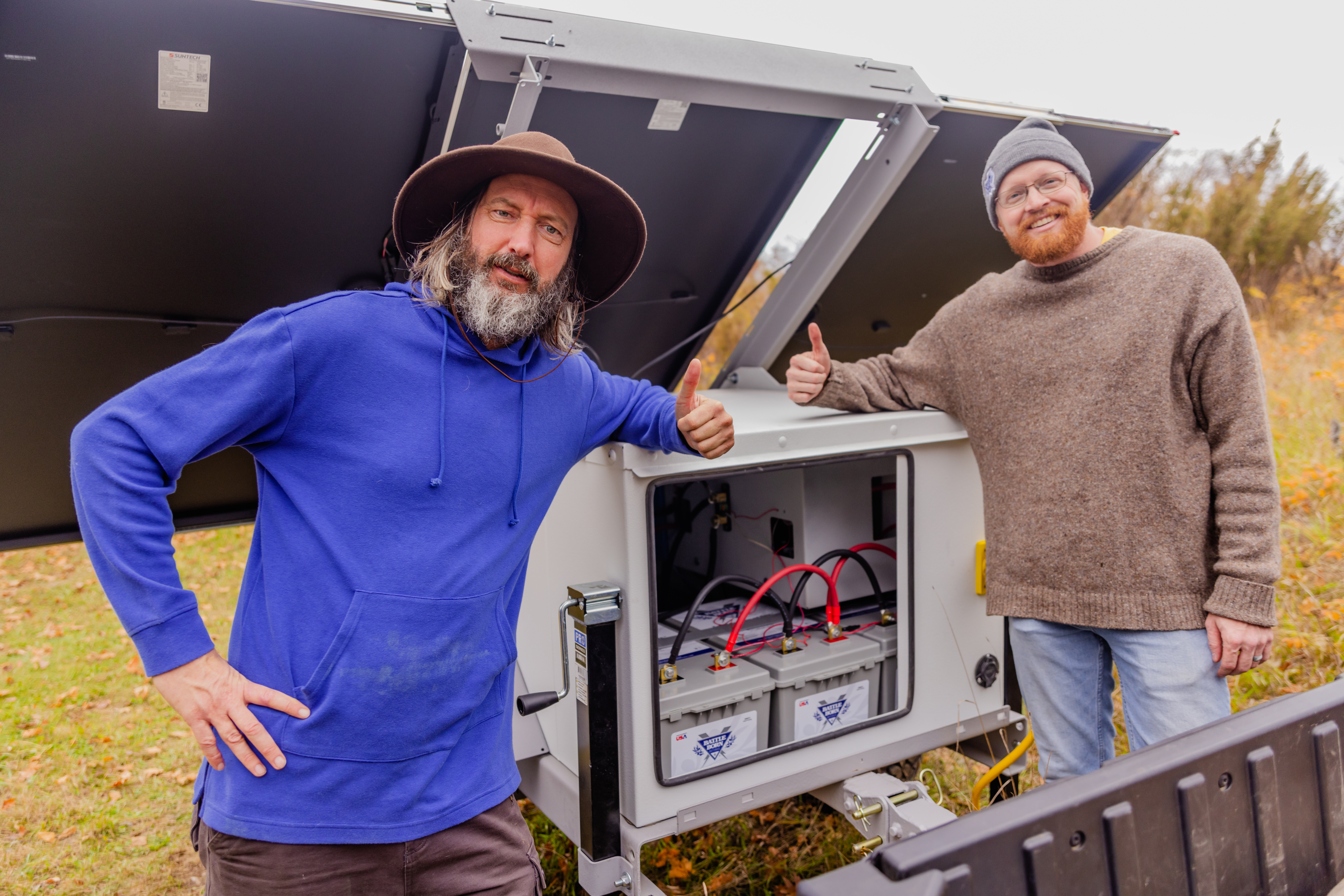 By harnessing the power of the sun through solar panels, Tom can generate his own energy off-grid. Between his custom trailer with 8D Battle Born Batteries, a custom "Tom Green" power box, and our first Lithium Power Pack 6500, Tom has an abundance of power. Whether he's recording his podcast, hosting off-grid concerts, or simply living life on the farm, Tom makes the most out of his renewable energy resources.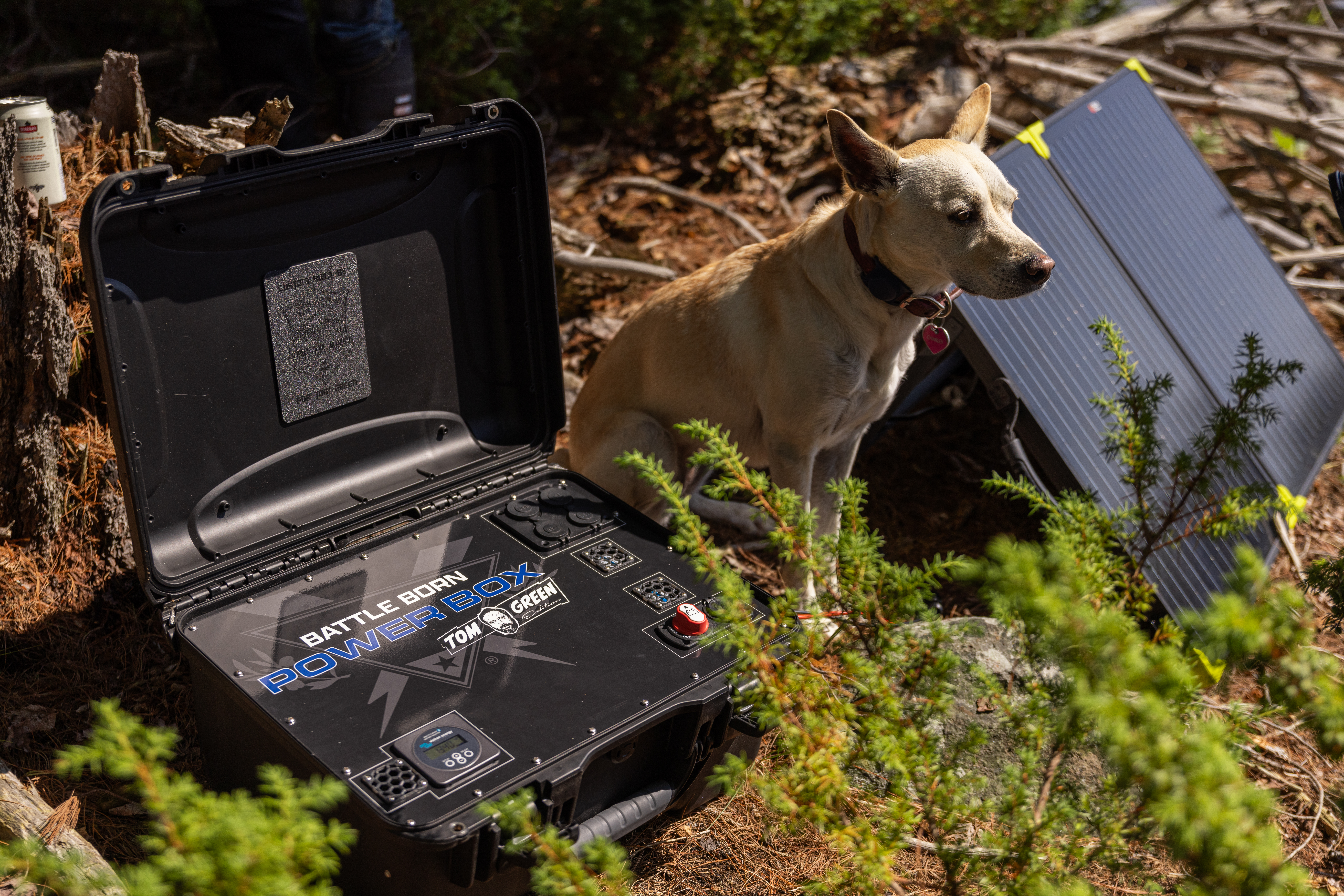 Rachel McAdams 
"Along with riding around in her electric car, Rachel McAdams has also made the choice to power her home completely with solar panels. She's one of the many celebrities that has chosen a more sustainable lifestyle and encourages others to lower their carbon footprint." The Notebook and Mean Girls star enjoys not relying on an overstressed grid while maximizing her use of renewable energy.  
Ronda Rousey
Rhonda Rousey has taken her commitment to sustainability to the next level. The WWE professional wrestler and actress loves her family's off-grid ranch in Texas. With rainwater catchment systems and solar panels stacked across their roof, Rhonda and her husband Travis are working their way to being a fully self-sustained homestead. Between raising animals, using renewable energy, and maximizing their natural fresh water, the couple is more than 80% of the way to their goal. They can't wait to keep pursuing a sustainable lifestyle as they complete their fully off-grid home.  
Jo Wood
"Jo Wood used to live a rock 'n' roll life as the wife of a Rolling Stone, but these days the 68-year-old prefers living in a farmhouse in the countryside which is completely off-grid. "The former wife of guitarist Ronnie Wood "– is doing her part to help save the planet from climate change. She has said one of the ways she's doing that is by living in a sustainable house where she generates her "own energy" and grows her own food." Through solar panels, Jo transforms the sun's rays into usable energy, powering her off-grid home and reducing fossil fuel usage. 
Rick Harrison
When he's not running Gold & Silver Pawn in Las Vegas or starring in "Pawn Stars," Rick Harrison enjoys spending nearly half the year on his off-grid property in Oregon. Far from the hustle and bustle of the city and grid-tied power lines, Rick lives in a serene, lush landscape. Enjoying modern luxuries without still living sustainably is one of the best parts of off-grid life. Rick has created an energy-efficient system that powers his entire off-grid property without using fossil fuels or grid energy. He successfully powers his three houses, two garages, and a complete machine shop from microhydropower and over 50 – 12V 100Ah Battle Born Batteries.  
These "traditional" celebrities aren't the only ones moving off the grid. It's 2023, and celebrities aren't just on screen in theaters. As social media influencers have taken the world by storm, many YouTubers have gained massive followings as they share their lives online. Even those who choose to live off-grid enjoy sharing their sustainable lifestyles.  
Shawn James 
With over 2 million followers on YouTube, Shawn James has built a following around survival skills, woodworking, and off-grid living. Shawn built a log cabin that he calls home in the midst of the Canadian wilderness.  Surrounded by nothing but trees and the sounds of the forest, Shawn loves living a life of simplicity. He's captivated people by his raw footage that simply shows the sights and sounds of truly being off the grid. Powered by the sun and living off the land, Shawn pursues self-reliance and sustainability. 
EFRT/Peter Van Stralen
Business leader and motivational speaker Peter Van Stralen left his corporate life behind to spend more time with his family. So, Peter, his wife Carol, and their three children set out on an Epic Family Road Trip. Living out of two converted, overland jeeps, they fell in love with living off-grid. The family began sharing their travels on their YouTube channel and quickly amassed 250,000 followers. Seven years, fifty states, and several provinces and territories later, the van Stralens decided to settle down for a while.  
On a remote island in Canada, the van Stralens rebuilt a cabin and created an enchanting off-grid oasis. With their solar panel away and 6 – 12V 270AH Battle Born GC3 Batteries, they have all the power they need. Even to supplement their off-grid editing studio. While on the island, Peter and his family can relax and enjoy quality time with one another.  
Martin Johnson
Seeking a more self-sufficient and sustainable lifestyle, Martin and Julie Johnson purchased an off-grid property in northern Idaho. With no sign of civilization, the Johnsons built everything from the ground up. They lived in tents for months on the property while they worked on building their home. Before the home was finished, they moved in to escape the harsh weather of the oncoming winter. Throughout the process, they began sharing on YouTube and now have over 450,000 followers tuning in for all things off-grid living. 
Over the last year, the Johnsons have made major progress as they still work to perfect their off-grid paradise. With the power of more than 10 – 12V 100Ah Battle Born Batteries and 10 – 300w solar panels, their home is fully powered by the sun. They no longer have to rely on the grid that continuously loses power in their area, especially in the winter. In addition, they raise chickens and have an onsite well that pumps their water. Pursuing sustainability has always been a priority, and the Johnsons look forward to growing in their self-sufficiency.  
Vanwives
Tired of stationary life, Jaz and Crystal packed up their lives and hit the road in their converted Sprinter van. With pups Izzy and Bella along for the ride, the couple began documenting their lives on YouTube for their nearly 400,000 followers. After a few years on the road, they were ready to settle down. Following the purchase of 15 acres of land in Nova Scotia, Jaz and Crystal began building their dream home. The installation of 10.8 kWh of solar panels and 24 – 12V 100Ah Battle Born Batteries allows them to power their home as if it was grid-tied. With seemingly endless power, the Vanwives are still hard at work finishing their off-grid home. 
Tyler and Todd
Just like their friends Jaz and Crystal, Tyler and Todd began their off-grid life in Canada, living in an RV. Quickly gaining nearly 250,000 followers on YouTube, they shared their travels until they decided to build a stationary home. With 10 acres in Nova Scotia, Canada, they began creating an incredible off-grid wonderland. 
Living on the property in their RV, Tyler and Todd built a beautiful geodesic dome for their temporary home. Following its completion, they installed two massive 24-panel solar arrays and 12 – 12V 270AH Battle Born GC3 Batteries to power their entire property. Now, they're building their dream home out of recycled shipping containers. This allows them to prioritize sustainability while they grow their garden and begin building a greenhouse.  
Ways to Power an Off-Grid Home
Celebrity or not, those who prefer not to be grid-tied need to find an alternate source of power. Striving towards sustainability, many people who move off the grid use a renewable energy source. This allows them to minimize their carbon footprint while maximizing their available power. While the intermittency of renewable energy is a major challenge, the addition of LiFePO4 batteries for energy storage creates a reliable, powerful system for any off-grid home.  
Solar power is one of the most common types of renewable energy used in off-grid homes. "Off-grid solar panels are ideal for modern-day homesteaders. They're comprised of larger, fixed installations and can be used as a primary source of electricity for residences. Typically, you would fix the panels to your roof or another structure and connect them to additional storage infrastructure, such as batteries, charge controllers, and inverters." 
Another renewable energy option for off-grid living is wind power. "Wind power or wind energy  describes the process by which the wind is used to generate mechanical power or electricity. Wind turbines convert the kinetic energy in the wind into mechanical power. This mechanical power can be used for specific tasks (such as grinding grain or pumping water) or can be converted into electricity." Usually, smaller turbines can be used for residential applications creating just enough energy to power the off-grid home.  
Finally, hydropower is another option for off-grid energy. Though more installation logistics are required, it is prone to far less intermittency than the other types of renewable energy. Microhydropower is a smaller-scale version of traditional hydroelectric power systems. Typically, a trench diverts some of the water flow from the main waterway to a turbine or powerhouse, creating electricity. 
Ready to Enjoy the Independence of the Off Grid Lifestyle?
Through technology, more people are able to enjoy the independence of off-grid living without having to sacrifice modern conveniences. Many celebrities and influencers enjoy the simpler life off-grid living offers them, and they inspire others to pursue it.  Additionally, the draw towards sustainable living is pushing others to take the leap as well. 
If you're interested in pursuing a life off the grid, our team would love to help you out! Our talented technical sales specialists will help you design the off-grid power system of your dreams. You can reach them at (855) 292-2831 (M-F 8:00 am – 4:30 pm (PST)) or by emailing [email protected].