At Battle Born Batteries we strive to provide our customers with long-lasting power no matter where their travels take them. Whether it be from coast to coast or going overseas, Battle Born provides customers like Christine and Aaron Willers of Irene Iron Fitness with the reliable and strong LiFePO4 batteries to power their Class B van.
Meet Chris and Aaron
Irene Iron Fitness is an online fitness and training program created by Christine "Chris" Willers, a nutrition and sports aficionado. She runs her business while on the road full-time with her husband Aaron.  They've been on the road since 2019 and love to boondock in their 2014 Airstream Interstate Sprinter Motor home.
In 2017, they decided to really sit down and explore the possibility of hitting the road. The sale of their house in 2014 started a downsizing frenzy which ultimately led them to quit their corporate jobs in 2019 and hit the road. Chris was tired of commuting three hours a day after doing so for ten years! The couple really liked the idea of living on the road and being able to finally live the minimalist lifestyle they were working towards.
Their initial van came with the standard AGM lead acid batteries, and they disliked the idea of having to check their power before turning on a light or charging their phones. Chris and Aaron wanted to feel like they were still living in a home, not camping in a van.
"I was sick of being at a Cracker Barrel and using my phone flashlight to cook," said Chris. "I just wanted to have lights on, and now I do."
Their lack of power added to Aaron's battery anxiety. If one of them accidentally left the lights on it was a big power draw and might have left them stranded! He said it was stressful to be constantly monitoring and maintaining their power with their lead acid batteries. Now, Chris and Aaron aren't as stressed out after making the switch to LiFePO4 batteries in their rig.
Boondocking for 60 Straight Days
They recently finished up their 60-day boondocking challenge, avoiding plug-in setups entirely. Check out a recent video where they were able to boondock in the area of Badlands National Park. Chris said that the area "made [her] feel happy" and that it was calm and tranquil there.
On this trip, they encountered curious cows and soaked up a ton of rays to power their solar panels. They were able to drive out deep into nature on the outskirts of the park and didn't worry about camping too closely to others.
The Setup
Getting connected with Battle Born Batteries happened naturally at an RV show in Quartzsite, Arizona, where Chris and Aaron met some of our sales team: Roni, Jesse, and Kayln.  The following month they connected with  our CEO Denis and COO Sean at another outdoor living convention in Tucson, Arizona.
"Battle Born and lithium batteries popped up a few times [during our research], and we weren't sure if we needed it, but about a year into RVing we started to meet more and more people who already had Battle Born systems in their rigs," said Aaron. "They absolutely loved it and said nothing but good things." After careful consideration and much planning with our team, we are proud to say that Irene Iron Fitness is powered by our LiFePO4 batteries!
Their setup consists of:
–4 100 Ah 12V GC2 Battle Born Batteries
– Victron Multiplus Inverter Charger 3000 Watt 12V
–Victron BMV-712 Battery Monitor with Bluetooth built in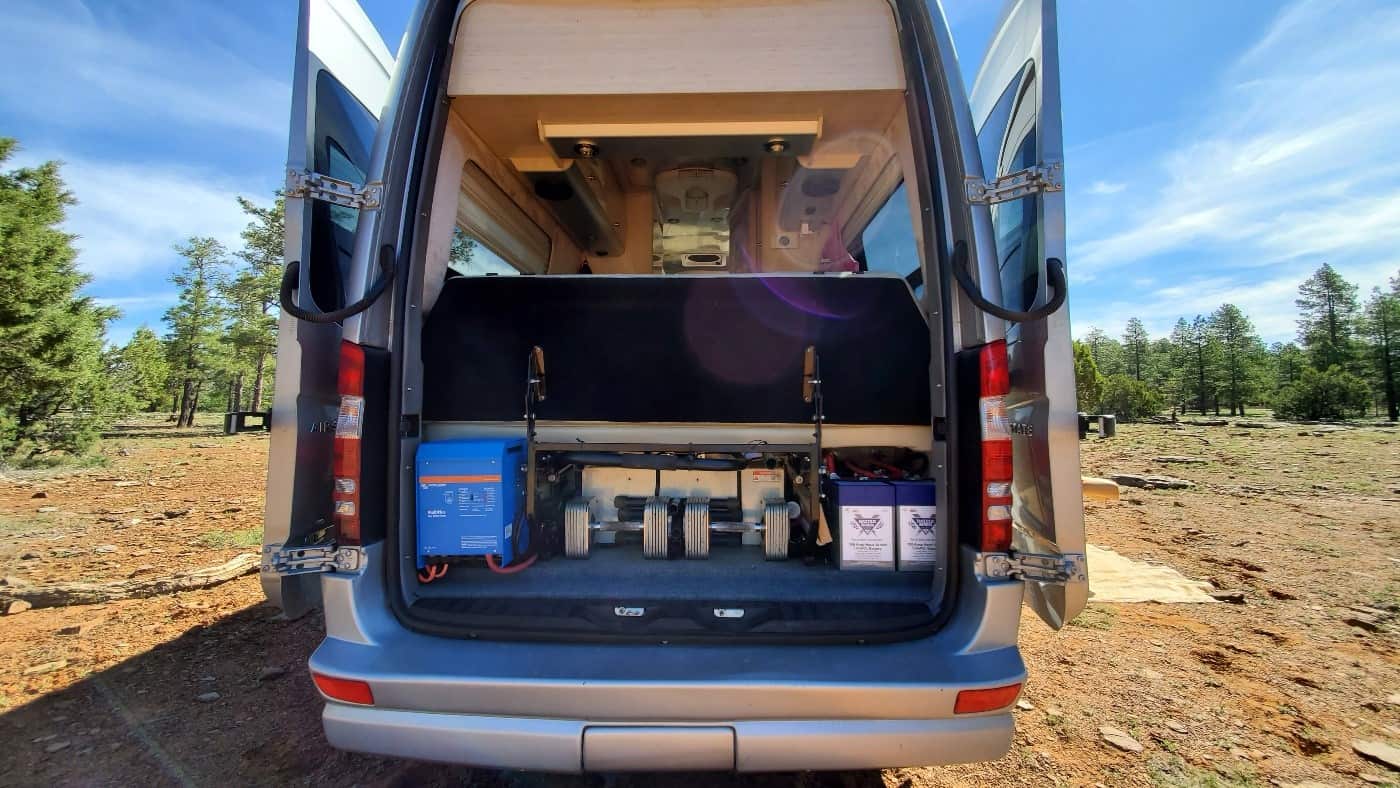 Living in a Class B van does come with its fair share of challenges. Chris and Aaron still consider their power consumption and monitor the water tanks and are learning every step of the way.
When you have to rely on campsites and plug-ins, it takes away the freedom people who live this life are looking for. Chris and Aaron aren't constantly checking their reservations or sticking to a schedule, so they have the flexibility to do whatever and go wherever. Battle Born Batteries allow them the freedom and empowers them to do that. Their business is situated online, which aids in the spontaneity they crave in their everyday lives. It turns out that LiFePO4 was the perfect power solution for Irene Iron Fitness. Not having to worry about their battery power has freed up time for the things that matter.
"It's so different to live life on our terms and to help other people live happier lives," said Chris.
What's Next
What's Plan B for Irene Iron Fitness? In fifteen years, if everything were to bust, they joke about selling the van, moving to Costa Rica and becoming bartenders or coconut vendors!
As for the couple's current plans, they're rolling with the punches. They haven't decided whether they'll go north, south, east or west next. The Willers try to seek out places that are 75 degrees and sunny year-round. As Midwesterners, they wanted to miss the cold and miserable weather that comes with winter.
An outdoorsy pair, they mostly let events and networking opportunities guide where they'll be. Chris and Aaron both love big cities and nature. As city people, they also enjoyed visiting Utah and the national parks in that area, including Moab and Zion. Thanks to their van, they have the ability to go wherever they want, whenever, due to the freedom and flexibility of the on the road lifestyle. They were even able to spend a couple of nights sleeping in the heart of Manhattan!
Their advice for people looking to also get out there and stay out there?
"Take your time in the research stage, or as we called it the 'dreaming stage,'" said Aaron. "We had that for about 18 months, and we got to watch YouTube videos, shop online for vans and just really learn about boondocking and lithium batteries."
Chris agrees, noting that it was the most exciting part. Transitioning was easy for them because they didn't change up their rig. She says that it feels really good to pull things off after lots of planning and executing.
"We're so happy that we made the switch. The most fulfilling thing for us – besides having the freedom to live our lives and spend our time together while in our prime – is that we quit our corporate jobs and are helping other people with our new business," Chris said. "It's extremely rewarding for us because we had zero intrinsic reward with our last jobs. Now we are helping not only other RVers live healthier, but everybody else too.
Give Irene Iron Fitness a follow on their Facebook and Instagram, and watch their YouTube channel! For more information, check out their website!