To honor the 4th of July, Battle Born Batteries is celebrating some of our American partners and businesses who make products and provide services here in the U.S.A. From woodworkers to installers, these people work hard to make their country and communities a better place, each striving to achieve their own version of the American dream.
Andy Rawls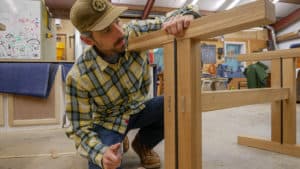 Since he was young, Andy Rawls has had a gift for making things. From skateboard ramps to taking apart whatever he could find, Andy always loved working with his hands. He cut his teeth working in his father's small garage workshop as a teenager, and that passion has grown into a thriving business.
Living in Boerne, TX, Andy specializes in making furniture pieces such as tables, bed frames, benches, and other finely crafted woodworks. He also shows off his skills on his YouTube channel along with documenting his journey restoring his Argosy Airstream trailer powered by Battle Born Batteries.
Andy describes himself as a one-man show who has been building custom, one-off projects for clients for the last ten years. But in the last five years, he has been having fun challenging himself with different projects on his channel. There you can see him making wooden bowie knives, toy airplanes, and replicas of ancient wooden locks. You can also buy digital plans for his projects on his website.
He is currently working on a commission for The Alamo to create a pattern for a period-accurate Spanish cannon. The wooden cannon will create the cast for the final metal product, which he will also make the carriage for.
As an American craftsman, he loves meeting his clients and seeing the people who will appreciate his work. He also likes the idea of his business having a generational theme. His pieces have a lifetime warranty, and Andy crafts his furniture as heirlooms to be handed down. But also, three generations of his family are involved in his business: his father helps Andy out in his shop, and his kids spend time there as well.
Be sure to check out Andy's YouTube channel and head to his site, andyrawls.com, to see his furniture and other woodcrafts.
BFixie
Francisco and Lulu of BFixie use Battle Born batteries to power their sewing machines to create bike accessories while on the road. Originally hailing from Venezuela, the couple currently lives in New York City. They believe owning a business and seeing the world helped them achieve their American dreams. Crafting accessories like bags, face masks, and water bottle holders for bike messengers has never been easier due to our LiFePO4 technology on board. The two have been on the road for more than a year and a half and certainly notice a difference in the quality of life for their system.
"With batteries and the solar system, we don't have to worry about if we have enough power or not," said Francisco. "We used to be able to work only on sunny days, not at night or when it rained."
The couple frequently fields questions from their international and Spanish-speaking audience about all aspects of van life, and their electrical system and its capabilities are a hot topic.
"With the old power system, we'd always worry about how to use it without draining the batteries completely," said Lulu. "If they were at 50 percent, we had to stop using them because we wouldn't have enough. Now that we have Battle Born Batteries, everything from editing to running the sewing machine is so smooth."
A less sluggish power system also allows for more productivity with the online content they create, so catch the couple on their YouTube channel, blog, and Instagram.
Boho Camper Vans
Boho takes vans and transforms them into conversions that feel alive thanks to their natural wood-lined interiors. Each van brims with its own personality, containing interiors that are as breathtaking as some of the magnificent places these vans can go.
Boho offers Battle Born Batteries as an upgrade option, placing them into some of their top-of-the-line vans– they recommend them as the #1 upgrade in their conversions. Their shop is in Tempe, AZ, where they build out their custom vans and rent them out so people can explore the American Southwest.
Founders Brett Ellenson and David Sodemann describe their vans as tiny cabins on wheels. The two infuse "Boho Chic" into each build, combining a natural rustic look with clean, modern lines. But, they said a top priority for each van is to make them function as well as they look.
"If quality is a style, that is how I would describe our vans," David said.
They want to create an inviting space that people can form a connection with. That is why they encourage clients to name their vans. People have picked monikers that include Lost Hotel, Sierra, and Golden Egg.
David and Brett want their business to feel like a family. That includes customers as well as employees. That means using Boho's experience to guide clients through the van-building process without pressuring or upselling them. David said their customers put a lot of trust into Boho when they put a deposit down and patiently wait for the build to be completed. They want people to feel good about giving Boho that trust, and so far, customers have been happy with that decision.
If you are interested in the highest quality van conversions on the market or taking a trip in one of Boho Van's rentals, go to boho.life.
Sixgun Twelvevolt
KP Pawley installs electrical systems in Battle Born's hometown of Reno, NV. We work a lot with KP as he installs our batteries in most of his projects.
KP is a 12-volt expert. He started his career working in an auto shop in high school, then worked on a farm in college, then ran a fabrication shop for five years after that. Many of his co-workers avoided doing 12-volt wiring, so he ended up with those sorts of jobs a lot. But K.P. loves working in this voltage and says 12-volt DC systems feel like magic to him.
Just like us, KP loves living in Reno. He enjoys living close to the mountains and having access to outdoor actives like mountain biking, skiing, and Lake Tahoe. He said it is the perfect balance of size and access: Reno has a small-town feel but is still big enough to where you can find sushi at 2 am and jump on a direct flight to Hawaii. It's also a great place to run his business. As a hub town, it's easy for him to find parts. He also gets a lot of customers from over the hill in California.
He works on a lot of small-to-medium-sized, off-grid adventure rigs and popup campers.
"That is our real specialty, people who are off driving around in the middle of nowhere for weeks at a time because that is where I got my start," KP said.
In his business, KP enjoys having the time to design each system individually for his customers. He gets to pay attention to the details of each project and give every rig his personal touch making sure it fits his clients need precisely.
Judging by his beer fridge, KP's customers love his attention to detail as well. He hasn't had to buy beer for the shop for months, and a recent client even brought a pie as well!
If you are interested in hiring KP and his crew, check out his website sixguntwelvevolt.com.