Adventure-seekers of all ages are outfitting their rigs to be as self-reliant as possible so they can go wherever their heart desires. But what are overland vehicles and how much do they cost? This article covers everything you need to know about this venture, including five epic overland vehicle tours. Let's get started!
What Is Overlanding?
Overlanding is an ever-growing trend in the United States that has actually been around for centuries. It's a method of self-contained, independent travel over complex landscapes. It can often last days, months, or even years. The primary method of travel is a vehicle outfitted for off-grid travel, camping, and self-sufficient living. Overlanders are typically people with a thirst for adventure and freedom, and who understand that the journey is as just as important as the destination.
What Are Overland Vehicles?
Overland vehicles come in every shape and form: 4×4 trucks, customized campervans, Jeeps, and even motorcycles. In fact, what defines a rig as an "overland vehicle" isn't necessarily the type of vehicle, but rather its purpose. Does it have a sleeping area (tents included)? Does it hold enough water for at least a few days? Is it equipped to hold the gear and provisions you need for an extended camping trip? Can it handle going off the pavement? If a vehicle fits all of these criteria, it's an overlanding vehicle.
How Much Do Overland Vehicles Cost?
Thankfully, you don't have to purchase a $700,000 EarthRoamer to begin overlanding. There are overlanding vehicles that fit every budget. You might even be able to use a vehicle you already own. It could be as simple as adding a truck camper and extra water storage to your pickup truck, or maybe you're looking to purchase a used van to customize.
There are options at every price point. You could spend as little as $1,000 improving an existing vehicle or drop $100,000+ on a brand new, customized 4×4 Sprinter van. It's up to you! Once you hit the dirt roads, though, you'll likely find that you'll continually want to upgrade your machine for even bigger adventures.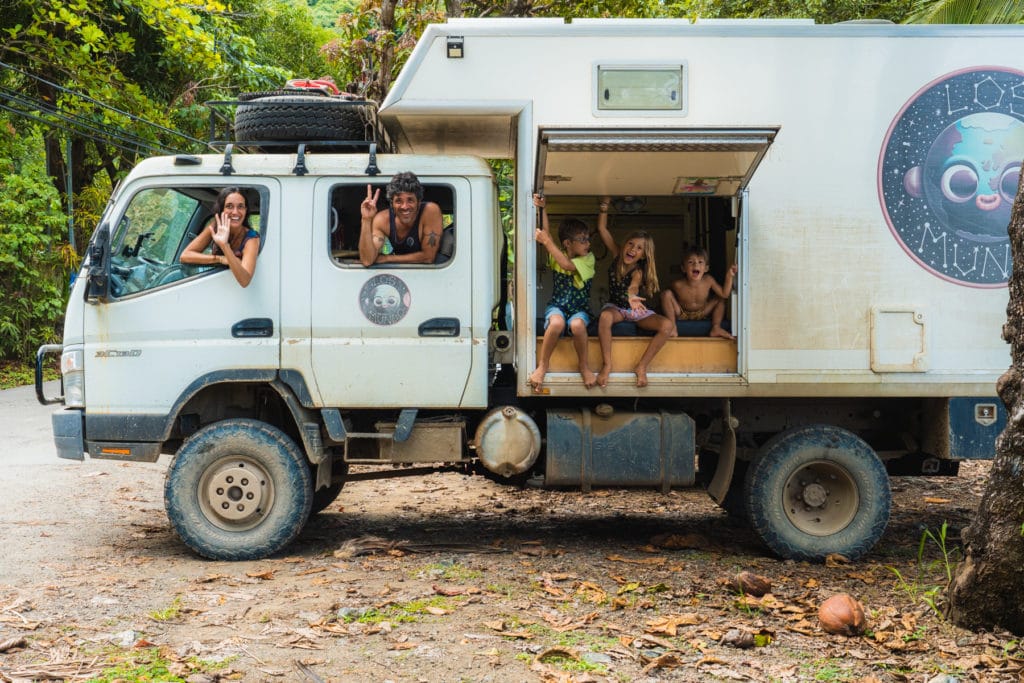 What Are the Benefits of Traveling in an Overland Vehicle?
One of the top advantages of overlanding is that you don't need to be rich to get into it. Overlanding is accessible to people from all walks of life. All you need is a reliable vehicle capable of handling off-roading.
Moreover, overlanding will allow you to truly explore the road less taken. Overlanding provides an excellent way of escaping the hustle and bustle and bringing you closer to nature simply because you have the resources to get there.
Lastly, it provides a more "up-close-and-personal" way of traveling compared to air travel or even a typical road trip. You can go as slow or as fast as you want, all while spending your nights immersed in the wild.
5 Walk-Through Tours of Awesome Overland Vehicles
Are you ready to see five amazing vehicle tours? We thought so! Keep scrolling for some epic overlanding inspiration.
About the Overland Build: Chad from Living The Van Life is no stranger to overlanding. He once lived in a 1999 Westfalia, but recently upgraded to a 2020 4×4 Mercedes Sprinter van that can quite literally take him anywhere he wants to go.
Chad's rig sits on BFGoodrich KO2 all-terrain tires and has a Hammerhead bumper, extra exterior lighting through Baja Designs, a swing-away bicycle rack, and plenty of storage. Chad's also equipped with six 100Ah Battle Born GC2 LiFePo4 batteries, which he describes as the "heart" of his van build. He also has a Victron inverter/charger, Victron distributor, and Victron solar controller, which are also essential in powering all of his camera equipment.
Our Favorite Feature: Hands down, Chad's "garage" space is our favorite feature. Located under his bed and accessible from the back of his van, it provides ample storage with pull-out trays, plenty of space for his power system, and even a fully functional kitchen. It's clear that Chad has put a lot of thought into his overlanding vehicle and has made excellent use of every square inch.
About the Overland Build: Owen and MAK of Bound For Nowhere have truly created the perfect overlanding vehicle. They live full-time in a Hawk flatbed camper perched atop a Norweld bed tray, all of which is hauled by an AWD Toyota Tundra.
To optimize its overlanding potential, Owen and MAK added a high clearance Addictive Desert Design front bumper with extra lighting and a come-up winch, an ARB Safari Snorkel that feeds fresh air into their cab, and all-terrain K02 tires.
They also upgraded their truck's suspension to provide more load support and installed 320 watts of solar, 200Ah of Battle Born GC2 LiFePo4 batteries, and an inverter to power all their gear. Inside, they have everything they need at an arm's reach: a comfortable bed, a functional kitchen, a seating space, a shower, and plenty of storage.
Our Favorite Feature: Our favorite feature of Owen and MAK's ingenious build is definitely the multi-use dinette. It functions as a dining table, desk, bed, and even shower!
About the Overland Build: Tom and Cait from Mortons on the Move have lived in a variety of different rigs, however, this overlanding vehicle is perhaps the most rugged. Tom and Cait renovated a 20-year-old Bigfoot 3000 Series truck camper for their RAM 5500 flatbed truck.
To make their home-on-wheels more overlanding-friendly, they've added extra lighting. They also added Centramatic automatic bouncing tire rings to keep the tires steady, a backup camera system that includes a rear mirror screen, a tire pressure monitoring system, extra storage boxes, and a Roadmaster spare tire rack. And of course, their rig wouldn't be complete without Gamechanger Battle Born GC3 LiFePo4 batteries and a Victron inverter/charger.
Our Favorite Feature: We're in love with Cait and Tom's 12V DC air conditioner. They can run it entirely from Battle Born Batteries. Talk about a game-changer for boondocking in hot weather!
About the Overland Build: Candace and Jordan from "Be Old Later" live in their 1997 Mitsubishi Delica. They've outfitted it into an epic off-grid home on wheels. It's a 4×4 2.8L turbo diesel van equipped with BFGoodrich All-Terrain T/A KO2 tires, Coastal Offroad front and rear bumpers, a custom Delica L400 Offroad snorkel kit, and a gorgeous cedar tongue and groove interior.
Their home is powered by 130W of solar. It also has a Victron Energy MPPT and battery monitor, and a 100AH Battle Born GC2 LiFePo4 battery.
Our Favorite Feature: The cedar tongue and groove ceiling win for us. We can't get over how well it brings the small space together and makes it feel like a home.
About the Overland Build: Are you ready to see one of the coolest overlanding vehicles on the internet? Check out this Mitsubishi Fuso Canter 4×4 that Los Mundo has outfitted into an amazing overlanding rig.
It has off-road BFGoodrich tires, and freshwater, gray water, and blackwater storage under the rig. It also contains 400Ahs of Battle Born Batteries (that recently replaced their old AGM batteries) and 450 watts of solar. This is one of the most functional overlanding rigs we've seen so far. You truly have to see it to believe it!
Our Favorite Feature: We love the versatility of the beds, including the customizable cushions, and the storage underneath. If you're a large family looking for downsizing ideas, definitely check out Los Mundo's home on wheels.
Overland Vehicles: Go Anywhere Adventure Rigs
Overlanding vehicles come in many different forms, but they all have one thing in common: they provide limitless possibilities. Whether you want to drive across the country and boondock on BLM land or take it off-road and travel the remote desert of the southwest, you can do it all in one of these off-grid RVs. Just make sure you have the supplies, power system, and vehicle capabilities to get out and stay out!
Want to build out your own Overland Machine? Don't forget your power system! Find out the best overland battery setup for your adventures.
Want To Learn More About Electrical Systems and Lithium Batteries?
We know that building or upgrading an electrical system can be overwhelming, so we're here to help. Our Reno, Nevada-based sales and customer service team is standing by at (855) 292-2831 to take your questions!
Also, join us on Facebook, Instagram, and YouTube to learn more about how lithium battery systems can power your lifestyle, see how others have built their systems, and gain the confidence to get out there and stay out there.
Join Our Contact List
Sign up now for news and updates to your inbox.