Andres Rossi and his family have lived full-time on the road in their RV since June 2019. He's able to boondock for so much longer with his family now that our LiFePO4 technology is installed inside his vehicle. Andres' goal is to be positive and accurate in their content when showcasing their life on the road. Their audience is primarily international and Spanish speakers with a curiosity for a nomadic lifestyle, so the Totally Lost crew is getting creative with their journey.  
This article has been translated to Spanish by Andres himself. 
Meet Totally Lost: 
Andres, a sound engineer, immigrated from Argentina to the United States in hopes of living the American Dream and traveling the world. He said he spent the past 20 years living a materialistic lifestyle, a factor in their decision to hit the road and live minimally. Andres didn't want to wait for retirement. Figuring they are young and healthy now, it is the best time to do so. 
Talking about lithium, Andres knows he can trust our ever-available technical sales team, in addition to our friends Tom and Cait of Mortons on the Move, for any questions he may have. With Spanish speakers on the team, Andres knows that he can communicate efficiently with our team in either language. 
It took five weeks from start to finish to complete their install, and you can watch the process here.  The batteries live in a "dead zone" area near the foot of the bed and enjoyed building out a system in that small space.  
"We call it our electric bed, and despite that name it's very safe," Andres joked.  
The Totally Lost crew is also able to power so much more in their 5th wheel, whether it's online coding programs for their son Matthias or games of Minecraft for daughter Sofia and her friends. Andres notes that they also can keep the lights on, making life more comfortable.  
They were able to boondock a good majority of the days during the spring immediately after installing our batteries. In addition to having extra power to do what they want, when they want, the Rossis can meet their recent goal of wanting to visit the five National Parks in Utah, which they have nicknamed "the Fantastic Five".   
Here's what Totally Lost is running in their rig, a 2018 Keystone Cougar 32DBH 5th wheel: 
-6 BB10012 Battle Born Batteries 
-3000W Magnum 3012RV 
-ME-RC-L Remote Panel 
–Victron SmartSolar MPPT Solar Charge Controller 150/100 
For a bundle similar to the system Andres and his family are running, check out our motorized and RV options at our online store.
Their battery system is able to charge more than 75 percent in half a day whenever they recharge, thanks to our superior LiFePO4 technology. While they've gotten a lot of questions about why they chose lithium and if it's safe, Andres recently made a video that debunks a lot of these myths. You can watch it here (with English-translated closed captions!)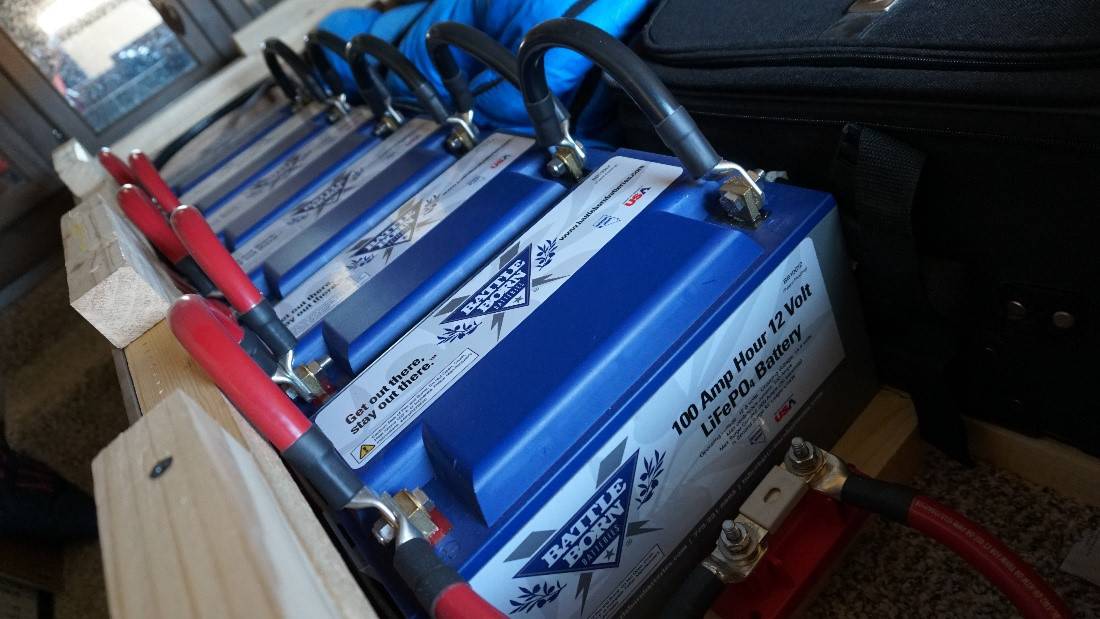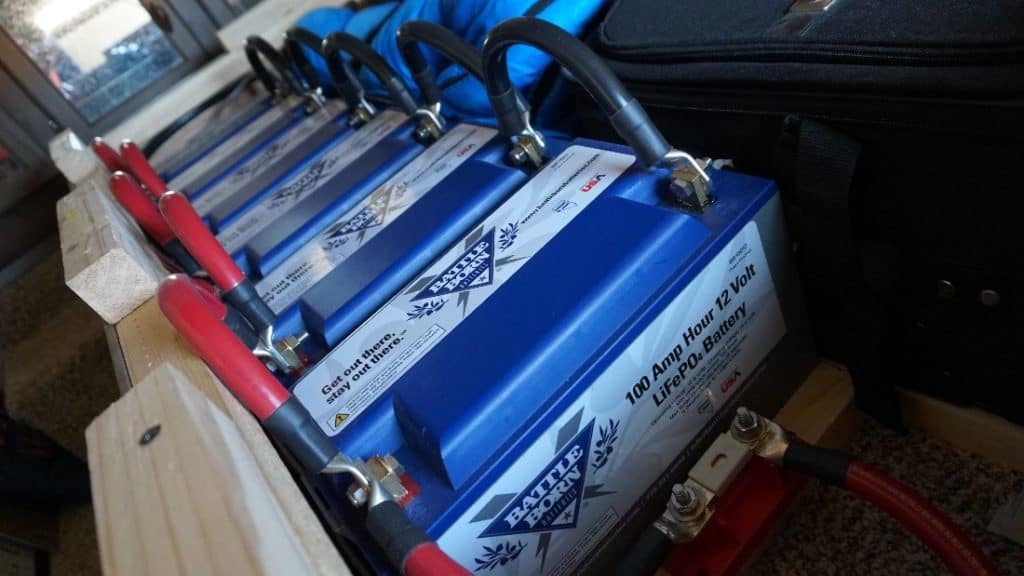 As for advantages and disadvantages to living on the road in a 5th wheel, giving teenagers enough space is often difficult for them. Also being on the road during a pandemic is tough as well because, before COVID, the family often met up with their followers and viewers in person. It makes socializing hard to do and with teenagers onboard, it's important for them to be social.  
"RVs with three rooms aren't made yet, so privacy is a challenge," Andres said. "We do like to keep it real and showcase all of the aspects of RV living that are not so great." 
However, the advantages far outweigh the disadvantages:  Andres notes they were recently able to see the darkest skies possible without any light pollution in a remote part of Utah and could easily see the Starlink satellites passing over them. The Rossis also loved seeing buffalos and bear cubs walk right in front of their home on wheels when visiting National Parks, and overall feel very connected to nature.  
"It's those magic moments that supersede any of the bad things that happen," Andres said.  
As for advice, Andres wants people to understand that being on the road will be uncomfortable for many people at first, and it'll take time to find your footing. Right now, one of the biggest struggles for them is having enough water, since they've got a big rig and big responsibilities. 
The Rossis know that some people view their lifestyle as one big vacation, but it involves a lot more planning.  Whether you pursue the route of also documenting it all on a YouTube channel or not, they believe it's worth it a thousand percent. Many people also ask them if they'll be on the road forever, but Andres and his family note that they'll only stop when they come back to their senses.  
"It's like the scene in the Matrix where Morpheus offers the red or the blue pill," joked Andres. "It'll be really, really hard to go back to a normal lifestyle." He said that while his kids have a long way to go in their lives and growing up overall, Andres wants them to understand that there are more things to lose if you don't take the initiative to do something you really want to do.    
If you're interested in learning more about Andres and his family, visit their YouTube channel, Instagram and website. 
Totalmente Perdidos usan Baterías Battle Born para energizar su travesía por los Estados Unidos
Desde Junio de 2019, Andres Rossi y su familia viven viajando en su casa sobre ruedas. Ahora que nuestra tecnología LiFePO4 está instalada dentro de su vehículo, pueden pasar mucho más tiempo desconectados disfrutando al máximo del tiempo juntos. Su objetivo es difundir el estilo de vida de manera positiva pero realista a la vez. Su audiencia es principalmente de habla hispana en todo el mundo con curiosidad por un estilo de vida nómada, por lo que el equipo de Totalmente Perdidos se ha vuelto creativo con su viaje.
Te presentamos a Totalmente Perdidos:
Andrés, ingeniero de sonido, emigró de Argentina a Estados Unidos en 2002 con la esperanza de vivir el Sueño Americano y viajar por el mundo. Pasó los últimos 20 años viviendo un estilo de vida "de ciudad", pero no quería esperar a jubilarse para disfrutar del fruto de su trabajo, así que decidió emprender esta aventura junto con su familia.
Hablando de litio, Andrés sabe que puede confiar en nuestro equipo técnico de ventas siempre disponible, además de en nuestros amigos Tom y Cait de Mortons on the Move, para cualquier pregunta que pueda tener. Por esto, Andrés sabe que puede comunicarse de manera eficiente con nuestro equipo en cualquier idioma.
Se necesitaron cinco semanas de principio a fin para completar la instalación en su casa rodante. Las baterías están alojadas en una zona libre cerca del pie de la cama, fue un desafío a resolver, pero al final se lograron resolver los problemas que surgían.
"La llamamos nuestra cama eléctrica y, a pesar del nombre, es muy segura", bromeó Andrés.
El equipo de Totalmente Perdidos puede funcionar mejor ya que usan computadoras, cámaras, drone, y los niños hacen la escuela online y hablan con sus amigos. Andrés señala que también pueden mantener las luces encendidas por más tiempo, el aire acondicionado, y usar electrodomésticos lo que hace la vida mucho más cómoda.
Además de tener más flexibilidad para hacer lo que quieran, cuando quieran, los Rossis pudieron cumplir su reciente objetivo de visitar los cinco Parques Nacionales del sur de Utah, a los que han re-apodado "los Cinco Fantásticos".
Este es el equipo base que instalaron en su quinta rueda Keystone Cougar 32DBH:
-6 baterías BB10012 Battle Born
-3000W Magnum 3012RV
-Panel remoto ME-RC-L
–Controlador de carga solar Victron SmartSolar MPPT 150/100
Para obtener un paquete similar al sistema que están usando Andrés y su familia, consulte nuestras opciones de vehículos recreativos y motorizados en nuestra tienda en línea.
Su sistema de batería puede cargar más del 75 por ciento en medio día cada vez que se recargan, gracias a nuestra tecnología superior LiFePO4. Si bien han recibido muchas preguntas sobre por qué eligieron el litio y si es seguro instalarlo en RVs, Andrés recientemente hizo un video que desmitifica las 5 mitos más comunes. Puedes verlo aquí (¡con subtítulos traducidos al inglés!)
En cuanto a las ventajas y desventajas de vivir en la carretera en una casa rodante, darles a los adolescentes suficiente espacio suele ser el desafío más grande. Además, estar en la carretera durante una pandemia también es difícil porque, antes de COVID, la familia a menudo se reunía con sus seguidores en persona. Es muy importante mantener las relaciones y crear vínculos nuevos.
"Las casas rodantes con tres habitaciones aún no están diseñadas, por lo que la privacidad es un desafío", dijo Andrés. "Nos gusta mantenerlo real y mostrar todos los aspectos de la vida en RV que no son tan buenos".
Sin embargo, las ventajas superan con creces las desventajas: Andrés señala que recientemente pudieron ver los cielos más oscuros sin contaminación lumínica en una parte remota de Utah y pudieron ver fácilmente los satélites Starlink pasando sobre ellos. A los Rossis también les encantó ver la vida silvestre, incluyendo búfalos y cachorros de oso caminar frente a su casa cuando visitaron los Parques Nacionales y se han sentido muy conectados con la naturaleza.
"Son esos momentos mágicos los que se superponen cualquiera de las cosas malas que suceden", dijo Andrés.
Andrés quiere que la gente entienda que estar de viaje será incómodo para muchas personas al principio, y tomará tiempo encontrar un equilibrio. En este momento, una de las mayores luchas para ellos es tener suficiente agua, ya que la energía ha pasado a un segundo plano.
Los Rossis saben que algunas personas ven su estilo de vida como unas grandes vacaciones, pero además de estar trabajando y estudiando, implica mucha más planificación.
Ya sea que sigas la ruta de documentarlo todo en un canal de YouTube o no, ellos creen que vale la pena al mil por ciento. Muchas personas también les preguntan si estarán en la carretera para siempre, pero Andrés y su familia señalan que solo se detendrán cuando recuperen la cordura.
"Es como la escena en Matrix donde Morfeo ofrece a Neo la pastilla roja o azul", bromeó Andrés. "Será muy, muy difícil volver a un estilo de vida tradicional". Dijo que aunque sus hijos tienen un largo camino por recorrer en sus vidas y en su crecimiento en general, Andrés quiere que comprendan que hay más cosas que perder si no tomas la iniciativa de hacer algo que realmente quieres hacer.
Si te interesa obtener más información sobre Andrés y su familia, visita su canal de YouTube, Instagram y sitio web.