Be Old Later's Overland Van goes further with Battle Born Batteries
Our partners and seasoned travelers Candice and Jordan of Be Old Later are no strangers to all the challenges and delights that come with living the van life. Their 1997 Mitsubishi Delica L400 Chamonix 4×4 they have named "Bagheera" is not your traditional rig. Bagheera is a right-hand drive overland van that has allowed them to travel to many different places standard vans would not allow for. The pair have traveled all over the world from the Rocky Mountains of Patagonia to the freezing waters of the Arctic Ocean in Northern Canada, and view their vehicle less as a home, and more of a tool to get them to the places they want to see. Powered by Battle Born Batteries, their great travels have made for even greater stories, and their advice for future travelers is invaluable. You can check out some of their previous adventures in our blog here.
"Be Old Later" is the motto Candice Ciesla and Jordan Schilling chose to try and live by. They only work to support their travel addiction and try to remind themselves that as they get older, they should not let their age decide how they live their lives. If you want to do something, make it happen, and make it happen now, or as soon as possible.
Because of their unique rig the couple has been able to go on an abundance of travels in areas all over the world. The freedom their overland van has granted them comes with some great stories that the well-travelled trio (the third is their dog Nugget) have been more than enthusiastic to share with us.
Where has their Overland Van taken them? 
Currently the couple is taking some time away from overlanding, staying stationary just north of Vancouver. The pair recapped some of their most recent South American travels prior to the shutdown, a couple of their favorites on the trip were when they visited Bolivia and Peru. The couple spent the last two and a half years traveling the Pan-American Highway. 
"We drove to the highest tunnel in the world, with amazing views of the Cordillera Blanca — it was gorgeous. The loop then led us to a small village with an underground labyrinth of an older civilization. There with statues and stone carvings showing people turning into jaguars during their rituals. The next day, we drove to the Pastoruri Glacier, which was super cold, but at night we had the whole place to ourselves which was nice because we didn't have to worry about the crowds," Jordan said about the journey. "We boiled some tea, put on all our layers, and strolled out to the glacier viewpoint just as the rain stopped and the sun was setting, all with no other humans around, it was amazing," Candice added.
Many of the places the couple went were harder to reach than what the average traveler may be used to, and with the help of their Battle Born Batteries, their overlanding van, "Bagheera" was able to stay out there longer in these harder to reach more remote areas. They have been running just one 100 Ah 12V LiFePO4 Deep Cycle Battery since 2018, and that has been more than sufficient in powering them on their travels. This comes as no surprise though; the couple have always lived a very modest lifestyle, had a minimalist mindset, and have never needed much to enjoy themselves on their travels!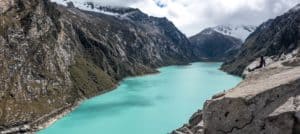 Like many others, their journey had ups and downs. As they travelled the Southwest Circuit (Lagunas Route) from Bolivia to Chile they parked their van behind a rock to protect them from the severe wind they experienced the night before, their panels got caught in the shadows and prevented them from getting a full charge, and worse off, their diesel gelled, and they couldn't get the van to crank up till about 1pm when the sun finally rose above the rock! At that point they did the only reasonable thing possible to stay warm, burpees while waiting for the sun at 15,000ft of elevation.
Just how cold did it get exactly? It got so cold that at -18 degrees Fahrenheit their onions became completely frozen! It is no wonder they took to some athletic endeavors just to keep warm.  
Another highlight of their trip was the Bolivian Salt Flats. Candice described their experience with them stating, "The salt flats were so vast, we spent ages just following tracks as there is no actual road. We could see little islands in the distance that after two hours of driving didn't seem to move any closer."
Working While on the Road
While on the road the two did a lot of freelancing using their illustration and graphic design skills to make their dream of travelling a consistent reality. Candice could pick up illustration and design jobs from clients all over the world, and with a fully charged computer battery from the Battle Born onboard battery, she could work during the evenings, swing by a café for some WIFI to send artwork, and be off to their next adventure with some smart balancing of time.
It was not all work; however, Candice and Jordan also spent a lot of time volunteering. As a former volunteer for SIBS camp, the Vancouver Food Bank, participating in numerous beach cleanups and trail work on several continents, philanthropy is something they are extremely passionate about. In a lot of their travels, Candice used her illustration background to create drawing lessons and demos (in English and Spanish) for the local kids, and sometimes adults, in the communities they would pass through.
They were extremely lucky to make it from the top of the world to the bottom, and even during the beginnings of the Covid crisis, they only had to cut their journey about two weeks short. After spending 2 years traveling down the Pan American Highway, it was time for them to make the journey back home.
On the way back to Canada, after finally getting Bagheera back from the shipping container, the pair made a detour to Wyoming, Colorado, and Montana, where they briefly worked as subcontractors for the Bureau of Land Management, mapping roads alongside their friends from the Pan-American trip, Tim and Kelsey (of Dirt Sunrise), as they planned what their next adventure would be.
With most of their savings going towards maintenance on their overland van, the couple hopes to repair all the things that were neglected on the trip and subtly redesign their setup to optimize comfortable living in a small space. 
"The van has been holding on with mostly just oil changes and the occasional boot fix for the last 40,000km, and it is often tough to get new parts outside Canada," explained Jordan. "Covid just made sourcing parts worse, we were in Jackson Hole and had a front tire wearing through, after calling around to a couple shops, we found a replacement — they only had 3 left due to shipping slowness from overseas." This comes as no surprise since Jordan and Candice have been travelling full time for a little over two years in places no one has ever seen a Right-Hand Drive vehicle, let alone knows where to source the parts. 
With that much time on the road it makes sense that keeping up on maintenance can be such a pivotal part of the couples' goal to keep their current overland van, doing short and longer trips as often as possible. After travelling full time it will be an adjustment for them being back on grid as they look to start saving up for future changes they make to their rig and future trips.
Their current overland van setup consists of: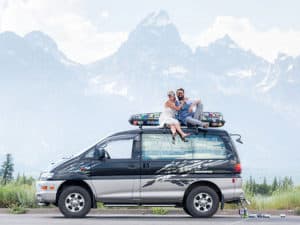 Where will their Overland Van take them next?
For those on the outside looking in, Candice and Jordan have been to an abundance of places but they realize the more you travel the more you realize there is so much more to see and explore. Their next adventure, however, will be looking for an off-grid place to call home, dreaming of finding some mountain acreage to hand build an off-grid cabin as a base to return to after a long trip, or future trips. As they work to save up toward an off-grid setup and a possibly better equipped off-road build, Jordan has been doing visual effects for movies, while Candice is an Illustrator and designer for children's shows.
Candice and Jordan are always thinking about the next big trip, but also trying to appreciate the Pan-American Drive as much as possible with stories and images they love. They hope to get as much of the feeling of that trip into a book of compiled stories and share experiences through their website and social media. They continue to dream of the next big drive — possibly a trip from Europe through Russia, stopping in Poland, Lithuania, Romania, and Germany to see the places where both of their families are from.
"My Nani has a book of photos with my Great Grandpa's old farm locations, and I would love to visit them,." explained Candice.
With their vast experience in travelling and living a more nomadic lifestyle, the couple have a lot of great wisdom to endow on future travelers and believe that "the biggest thing is to set goals and have an actual date in mind of when you want to make this happen. Understand that things may prevent you from going, but you must try to stick to the timeline to make it happen, you'll never be fully ready, but when you get out on the road, you'll figure the rest out." 
The day they set to be on the road for their Pan-American trip was the last day of their apartment lease, so they had no choice but to move into the van that night, everything they couldn't fit in the van or sell had to be hastily shoved into a storage locker. "We found putting post-it notes all over the walls with all the little tasks we needed to complete and achieve the end goal was super helpful,." Candice explained. 
Living on the road is simple for them, but it's definitely not for everyone. As  Jordan said, "There are so many different levels of vehicle capability and comfort, all of which have trade-offs, that you can choose when planning an overland trip, you just need to figure out what 'van life' is for you and what you are looking to get out of the experience." 
To keep up with Be Old Later and all their adventures, check them out on Instagram, Facebook, and their Website.