You can spot a Victron inverter and its bright blue casing from a mile away. When you see an off-grid system with Victron products, you know the installer used some of the finest products on the market. However, Victron makes a few different inverters that are worth checking out. So which one is right for you and your build? Let's take a look and see!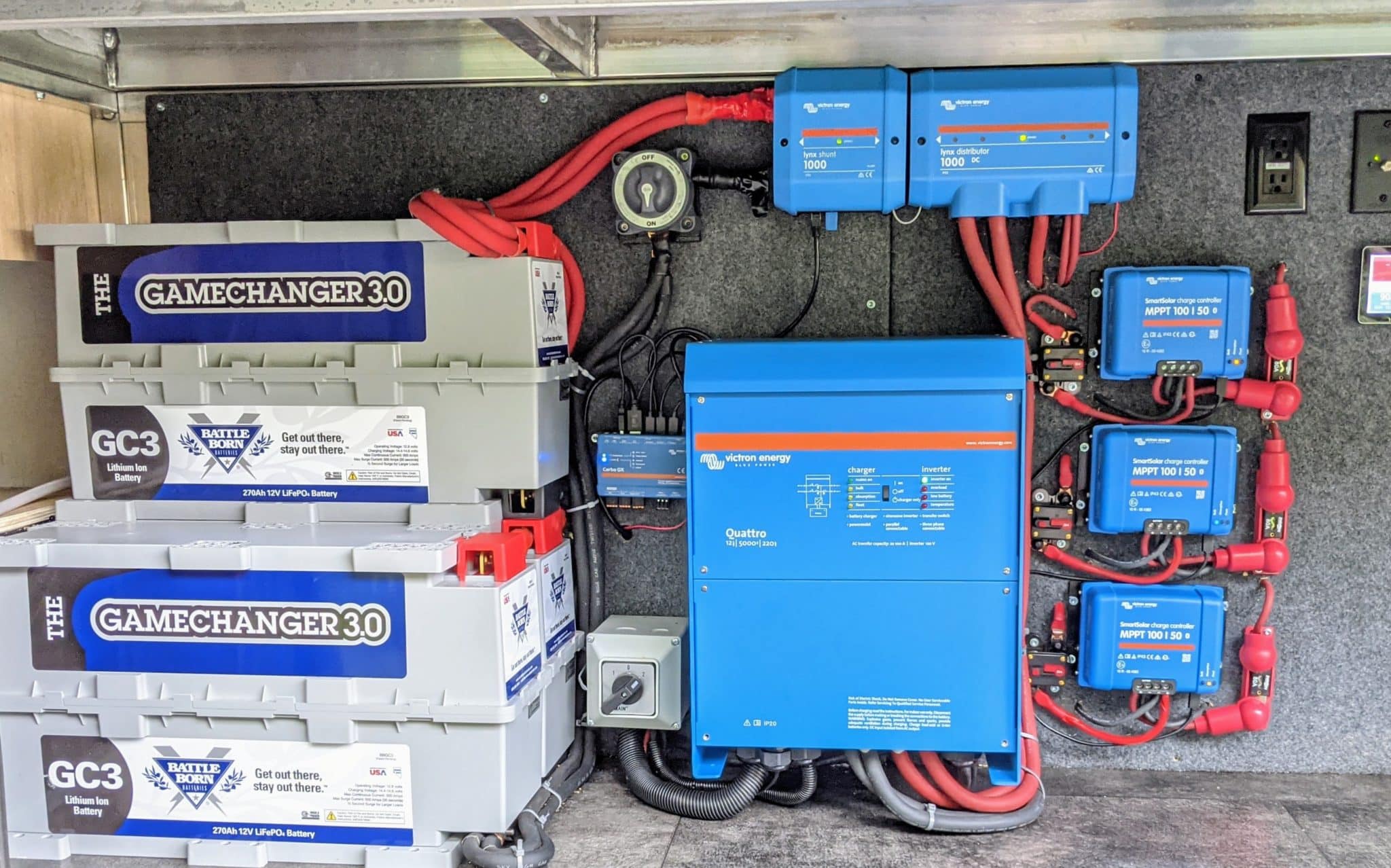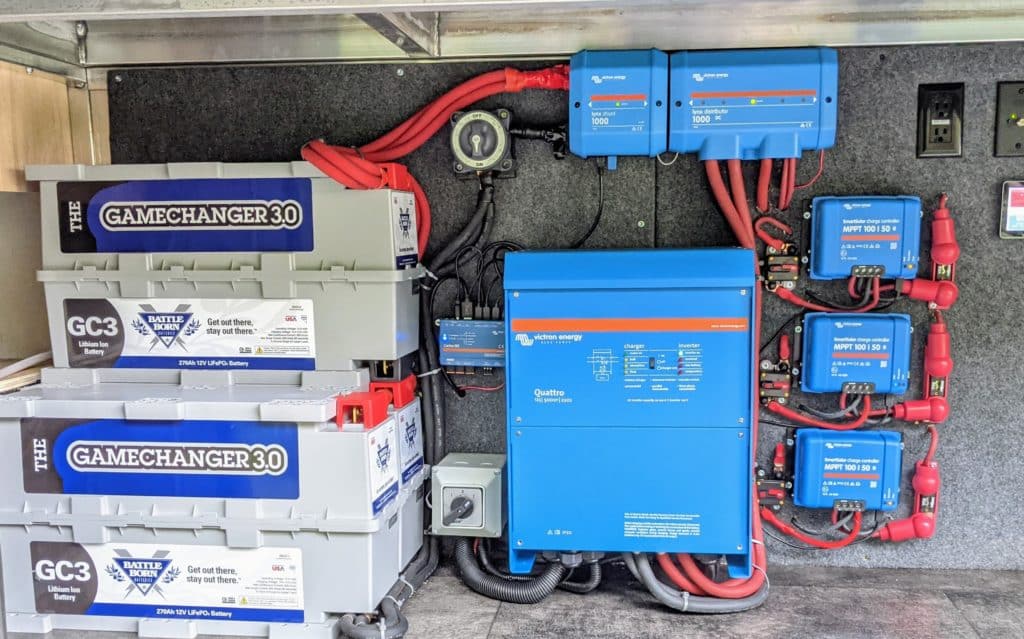 About Victron Energy 
Victron Energy has been in business since 1975 and operates out of the Netherlands. They manufacture a variety of products that revolve around battery-based energy systems. While all of their products get great user reviews, their inverters are especially highly praised. 
Originally starting in the marine space, they have branched out to touch almost all off-grid power needs. Their products have risen to become one the most professional and reliable choices for independent power systems.
They now sell everything from inverters to alternator regulators to isolation transformers. Victron is quite literally a one-stop shop for RV, van, and boat electrical systems. 
While other brands may only work with specific batteries, solar panels, or charge controllers, you'll struggle to find any of these electronics that aren't compatible with a Victron inverter. You can also find Victron inverters with marine capabilities.
Where Can You Buy Victron Inverters?
The Victron Energy headquarters is in the Netherlands. Unfortunately, not all Victron Energy products are available in the United States as many of them cater to 230V of Europe. However, you can find their primary inverters in the Battle Born Batteries shop. We sell a wide range of inverters and converters and can assist in designing your system to your specifications.
What Are Victron Inverters Primarily Used For?
Victron inverters work in battery-based energy systems as backup power sources or for living off the grid full-time. It's common to find Victron inverters in residential homes, boats, RVs, and conversion vans. Whether the project is large or small, those who want a battery-based energy system often look to these inverters to achieve that. 
Inverters convert 12V DC energy stored in batteries into AC power to be used in common electronics and appliances. Victron also offers hybrid inverters to manage power from multiple sources at once. Given this range of capabilities, there is a Victron inverter for nearly every application.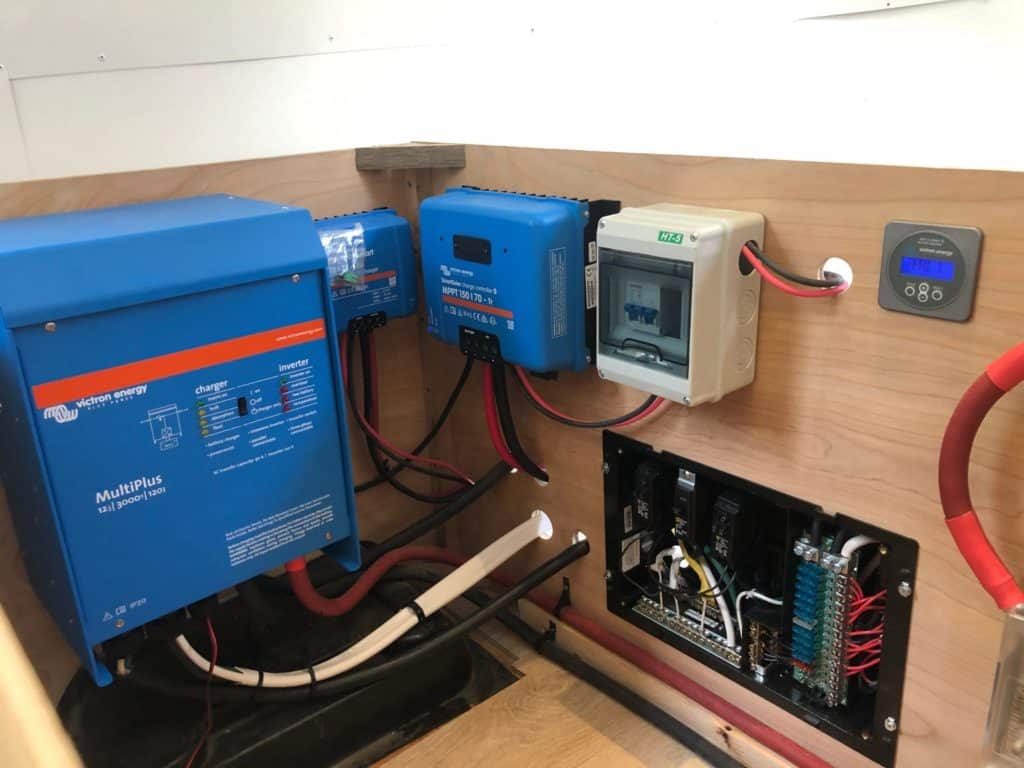 Victron Inverters Versus Inverter/Chargers
Victron offers both inverters and inverters/chargers. An inverter will invert the battery's DC power to AC power, which will then go to any appliances connected to the power system. 
On the other hand, an inverter/charger will not only invert the power but also detect a connection to an AC power source. In this situation, it sends power to the batteries to charge them. The inverter/charger is the preferred option for marine applications, as it will allow full off-grid capabilities.
Top 3 Victron Inverters You Need to Check Out
While Victron offers a wide variety of inverters, only three are available in North America. Let's walk through the various Victron inverters and see which might be best for your specific project or situation.
About: The Phoenix VE.Direct Inverter is strictly an inverter and doesn't offer charging capabilities. However, it can power your onboard AC loads. It's compatible with many other Victron products, including the Bluetooth Smart Dongle. This allows users to access the inverter via the Victron Connect app. True sine wave technology produces a very clean AC waveform that mimics household power and helps your AC loads operate safely and without damage.
Variations: The inverter comes in a variety of sizes, but the two most popular versions are the 12|250 and the 12|1200. However, the increased price of the 1200 model provides enough peak power for appliances like computers, TVs, and many other low-power electrical devices. 
Features: The communication port lets users configure levels for alarms and resets, output voltages, and activate the ECO mode. Turning the unit on and off or transferring loads remotely is also a very convenient feature. Pair this with the Victron battery alarm, BMV battery monitor, or the VE.Direct smart dongle, and it's an incredibly capable device.
#2 Multiplus Inverters
About: The Victron Multiplus Inverter is a hybrid inverter that does everything you need to enjoy off-grid living. It's one of the most popular choices for those looking to enjoy off-grid camping in their RV, truck camper, or van conversion.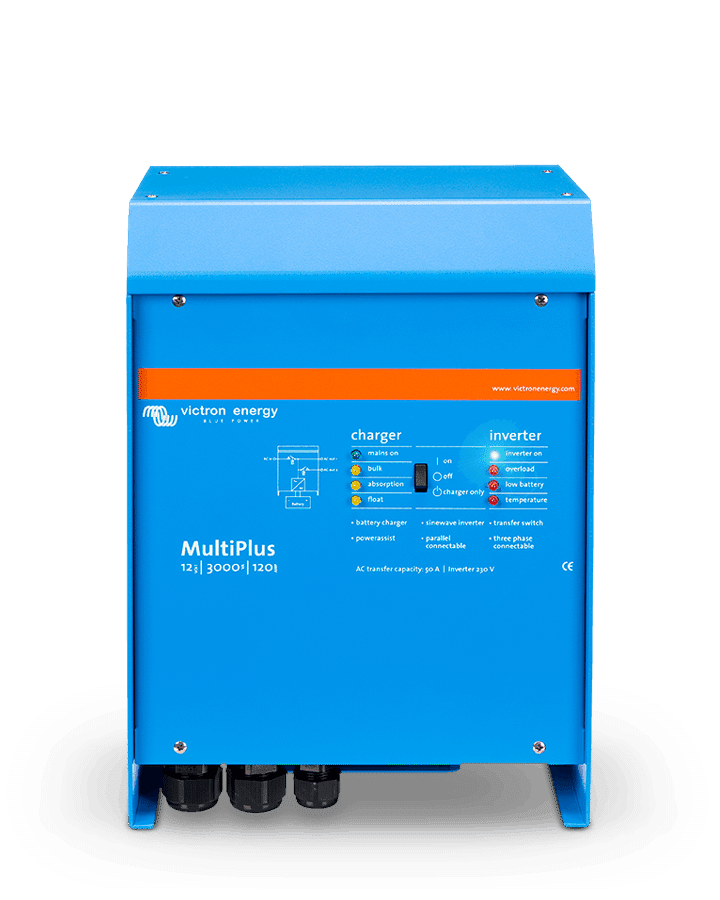 However, it's also commonly used in marine applications for those building a battery-based power system. Since the Multiplus inverters are both inverters and chargers, you can use and charge your batteries without thinking about it.
Variations: There are a few different options in Victron's Multiplus lineup: the Multiplus, Multiplus-II, and Multiplus C. Deciding which version is suitable for your build will depend on what you'll need to power and your battery voltage.
The Multiplus C (compact) is a 1,600-watt inverter and provides 1,000 watts of continuous power. This is an excellent option for smaller 12-volt systems that don't require much power but need to charge batteries. However, if you're looking for a beefier setup, consider the Multiplus or the Multiplus-II.
→ Learn how to set up a Victron Multiplus Compact with Battle Born Batteries.
The original Multiplus was the highlight of the Victron Multiplus lineup until the Multiplus-II came on the scene in early 2021. The Multiplus comes in 12-volt and 24-volt and inverts up to 3,000 watts. This is one of the most common inverters in RVs and other average-sized battery systems. It can invert enough power to run microwaves, coffee makers, and even an air conditioner with a modification or two.
Features: The Multiplus lineup is loaded with some incredible and convenient features. The power assist feature allows your battery bank to provide your shore power connection with some help. This is extremely convenient when trying to power a 50-amp power system with a 30-amp electrical source. 
The Multiplus will recognize when more power is necessary and pull the required power from your battery bank as needed. Like many other Victron products, the Multiplus is compatible with just about every Victron product, which allows you to quickly and easily adjust power settings.
→ Now that you've been introduced, let's take an even closer look at the Victron Multiplus inverter.
#3 Quattro
About: If you're looking at a more complex battery-based power system, the Quattro will likely be the inverter for you. Like the Multiplus, it's both an inverter and a charger.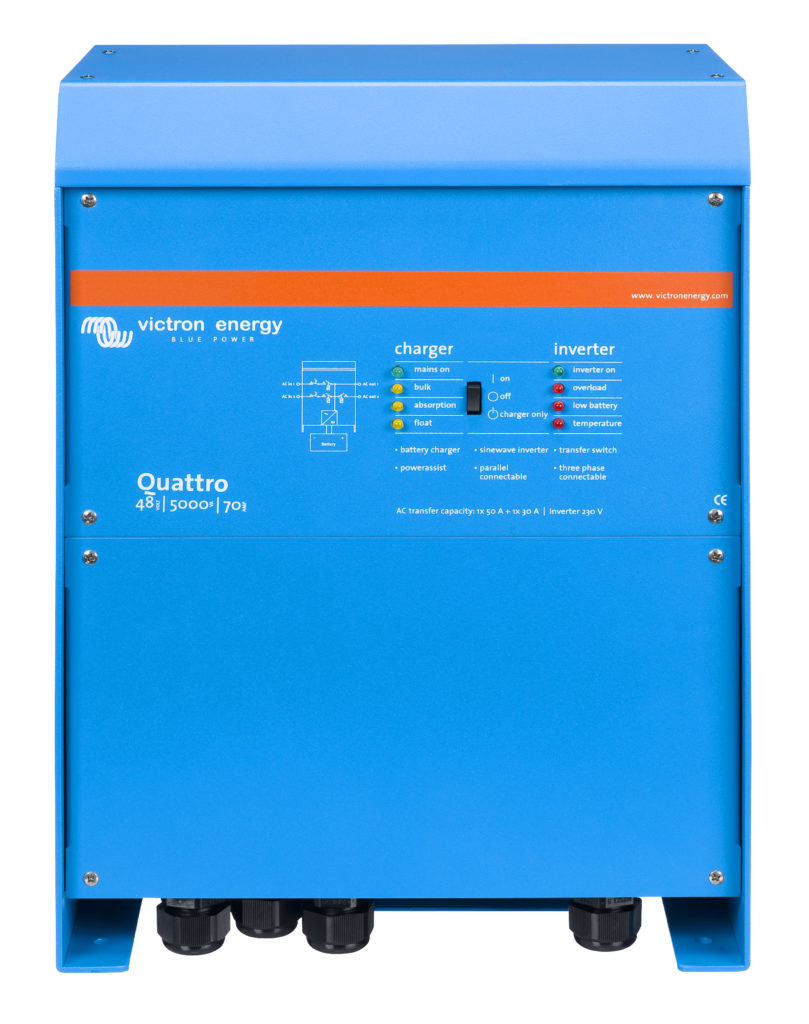 However, the Quattro is the beefiest one. The Quattro comes in 12-volt, 24-volt, and 48-volt varieties, as well as 3,000- to 15,000-watt inverting power. If that's not enough, you can run up to six Quattros in parallel for seemingly infinite power. The Quattro also offers an additional power input for those with multiple power connections, like a generator.
Variations: The Quattro lineup features both the Quattro and the Quattro-II.
You can't go wrong with either option if you're looking for a powerful inverter and charger. The Quattro-II enables grid tie-in without any additional equipment. However, the Quattro-II comes in 24-volt and 48-volt options that both provide 5,000 watts of inverting power. The original Quattro provides a wider variety of power-inverting models.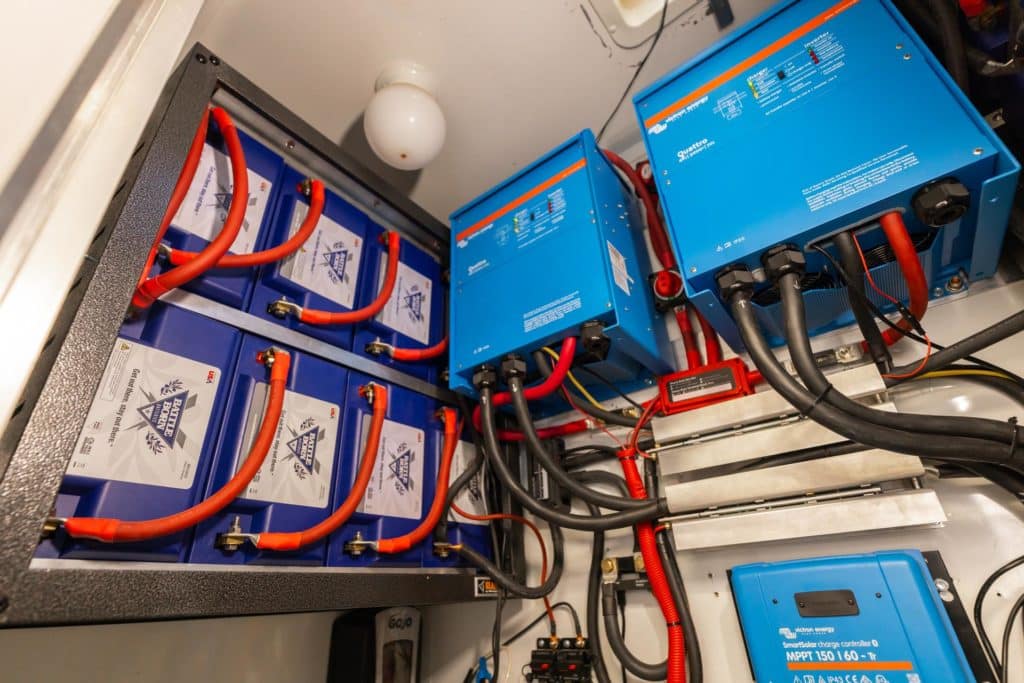 Features: Aside from its ability to invert, the Quattro's dual AC inputs and outputs appeal to consumers. Seamlessly switch from shore to generator power without interrupting computers and other sensitive components. As with many Victron components, you can remotely access settings to monitor and adjust as needed.
Always Stay Connected With a Reliable Victron Inverter 
There's a reason Victron has earned a solid reputation in the battery-based power systems sector. They're reliable and consistent when it comes to power electronics. They stand by their products and offer resources to help ensure users can get their systems to work as efficiently as possible. Very few brands and manufacturers have the reputation that Victron inverters do in the community.
Want To Learn More About Electrical Systems and Lithium Batteries?
We know that building or upgrading an electrical system can be overwhelming, so we're here to help. Our Reno, Nevada-based sales and customer service team is standing by at (855) 292-2831 to take your questions!
Also, join us on Facebook, Instagram, and YouTube to learn more about how lithium battery systems can power your lifestyle, see how others have built their systems, and gain the confidence to get out there and stay out there.