Are you looking for an off-grid inverter than can do it all? If so, you'll want to know about the Victron MultiPlus Inverter. Essentially, it's both a high-wattage hybrid inverter and a sophisticated battery charger all in one. Raved about by off-grid enthusiasts who just want to "set it and forget it," the Victron MultiPlus is a fantastic option if you want to be prepared for both shore power and off-grid excursions. But which MultiPlus is right for your setup? Let's take a closer look to find out.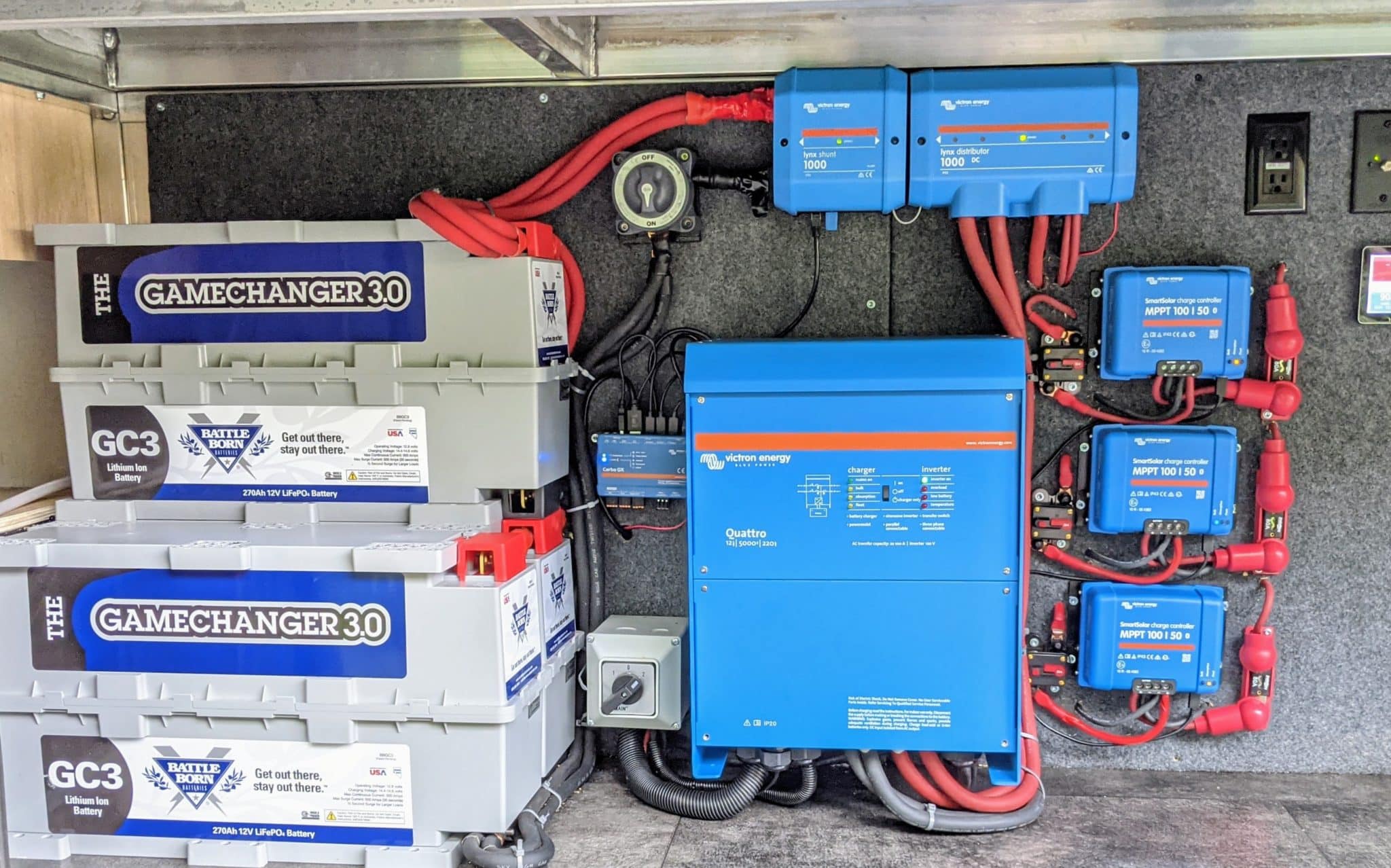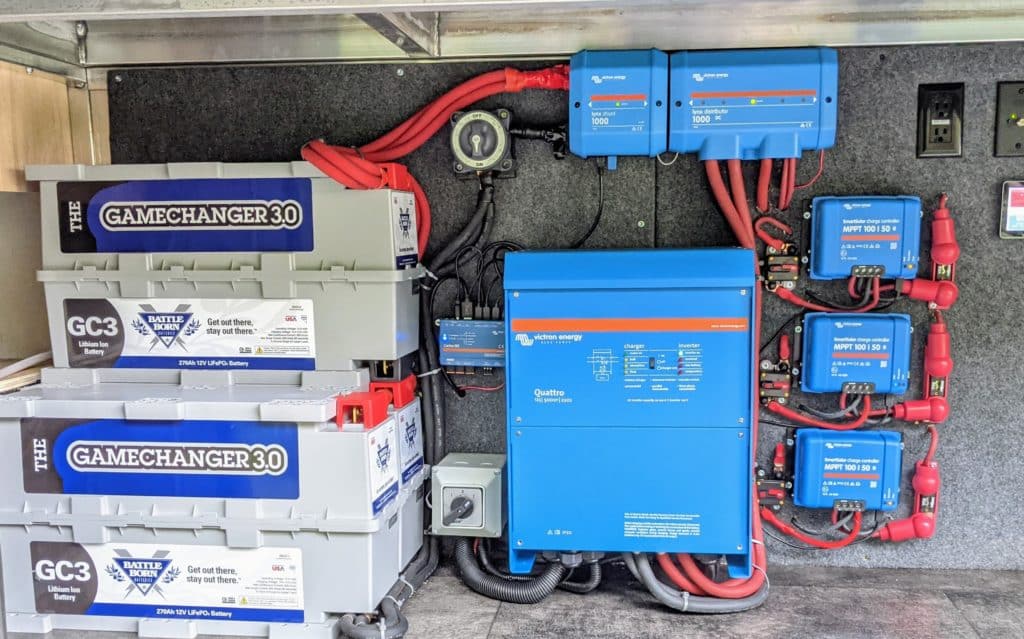 Who Is Victron Energy?
Victron Energy has been around since the 1970's and is based in the Netherlands. They became well known in the marine electronics space providing some of the best and most innovative chargers and inverters available. Today Victron has become known as one of the highest quality manufacturers with s some of the most advanced capabilities in their off-grid power management products.
What Does a Victron MultiPlus Do?
The Victron MultiPlus Inverter was designed to be a one-stop shop when it comes to switching from shore power to off-grid power. It contains an internal inverter that seamlessly converts DC power to AC power. This lets you power your AC outlets off battery power. It also serves as a battery charger with adaptive charging. In addition, the Multiplus offers hybrid functions (called Power Assist) that allow you to mix power sources from shore and battery or solar.
Essentially, the Multiplus can automatically manage your power needs based on different inputs and output requirements. Each one is fully programmable to allow you to configure it directly to your needs as well as being able to change some settings on the fly as conditions change.
What Can You Connect to With Your Victron MultiPlus?
When hooking up your Victron MultiPlus, there are three main components you'll need to connect to. Number one is your batteries. This will involve both negative and positive wires running to and from your inverter. Remember, the MultiPlus is both an inverter and a charger, so this will be the only device your batteries need to connect to.
The second component is your shore power. This line will go directly from a shore power breaker to the AC power "In" terminal on your inverter. Next to it is the third component — the AC power "Out" cord, which plugs into your circuit breaker. The beauty of the MultiPlus is that this one line will provide power from both your batteries and shore power without having to switch back and forth.
Some Multiplus models offer additional inputs and outputs for options like generators or programmable outputs like switching loads based on battery state of charge.
Can a Victron MultiPlus Charge Lithium Batteries?
Yes! In fact, because the MultiPlus is one of the most programmable inverters available so it can be one of the best ways to get the most out of your lithium batteries. And luckily for people who aren't ready to upgrade to lithium yet, the Victon MultiPlus is also compatible with lead-acid batteries. However, there's an extra temperature sensor you'll want to hook up.
Many Battle Born customers choose to use the Multiplus as an inverter-charger with our batteries.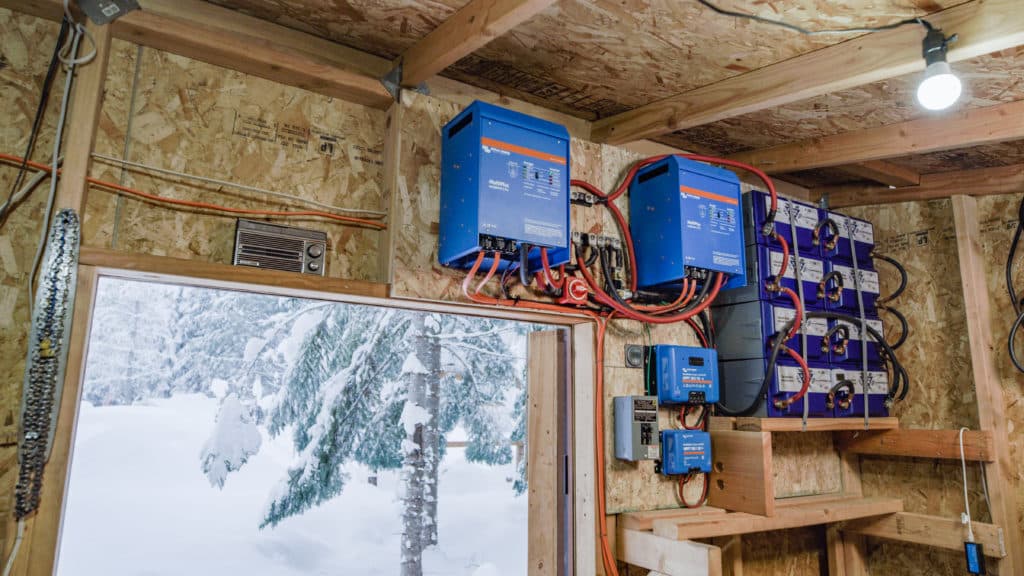 What Do the Numbers Mean in the Victron MultiPlus Name?
You'll see three different numbers on your Victron MultiPlus Inverter. The first refers to the battery voltage that it's compatible with. For example, 12-volts, 24-volts, or 48-volts. You'll need to match this number to the voltage of your batteries.
The second number refers to the volt-amps of the inverter, which is the inverter size capability. Volt amps are similar to watts but include reactive losses to give you a more realistic load capability. A 3000 VA unit will operate a 3000-watt resistive load, but this will decrease when running motors. This rating further goes to show that Victron knows its stuff, as this is how actual power grids are rated.
And the third number refers to the amperage of the battery charger. In order to determine the wattage of your MultiPlus, simply multiply the amps by the volts. For example the MultiPlus Compact, 12 volts x 80 amps = 1,040 watts. Therefore, this particular MultiPlus will be able to charge with 1,000 watts into your batteries.
5 Most Common MultiPlus Inverters
Are you still wondering which Victron MultiPlus Inverter is best for you? Let's break it down.
Keep in mind that all Multiplus models have their own amazing power assist technology, but the larger ones can provide more assistance.
Best For: Small 12-volt systems with limited space.
About: The MultiPlus Compact is the lightest and most affordable out of the entire Victron lineup. It weighs only 25 pounds. It contains a 1,600-watt internal inverter and a battery charger that will provide 1,000 continuous watts. Plus, it's compatible with a 12-volt battery system.
Best For: 12-volt battery systems with slightly larger energy loads than the MultiPlus Compact. This is one of the most common Victron inverters installed.
About: At 40 pounds, the MultiPlus 12/3000 is a bit heavier than the compact. It's also a bit more expensive. The major difference between the two is the size of the inverter and the wattage it will provide for your batteries. The 12/3000 houses a 2,500-watt inverter (3000 resistive) and will provide about 1,500 continuous watts for your batteries. Like the Compact, it's also compatible with a 12-volt system.
The power assist setting has the lowest shore limit of 7.5 amps for this model.
Best For: 24-volt systems with energy loads similar to the 12/3000.
About: This version of the Victron MultiPlus is relatively similar to the MultiPlus 12/3000 in both weight and price, except that it's compatible with 24-volt batteries. It has a 4,000-watt inverter and puts out about 1,600 continuous watts into your batteries. It also weighs approximately 40 lbs and has a shore power assist limit of 7.5 amps.
Best For: 2,500-watt loads with a need for an external current transformer.
About: The MultiPlus-II has all the features of the regular MultiPlus but with added MultiGrid technology. This means that in addition to its inverter and charger capabilities, it also has an external current sensor transformer to comply with grid interconnect requirements.
While this is not required for many off-grid builds the MultiPlus II Dual 120V offers expanded functionality for split phase systems. In the case of a 50 Amp RV or boat, the input is a dual 120V split phase. This is the first Victron product that can natively pass the 240V split phase when not inverting and automatically switch to dual 120V when no shore is available.
Overall this means that this is the best option when connecting a Multiplus to a 50 amp service.
Best For: 48-volt systems with large energy loads and a need for an external current transformer.
About: The MultiPlus-II 48/3000 has the most power out of all the MultiPluses combined with the MultiGrid technology. It's compatible with a 48-volt system, contains a 3,000-watt inverter, and will put over 1,600 watts into your batteries.
Operating at higher voltages requires much smaller cables and the inverter operates much more efficiently compared to 12V models.
Pair Your Victron MultiPlus Inverter With Battle Born Batteries
In short, the Victron Multiplus inverter is a favorite among RVers, boaters, and off-grid enthusiasts because it does literally everything. From charging your batteries safely to making it possible to use your AC outlets off-grid, it takes the "thinking" out of the equation and allows you to enjoy your travels without worry.
But, of course, a MultiPlus inverter would be completely useless without an epic battery setup. This is why we recommend pairing it with Lithium Iron Phosphate Batteries (LiFePO4), which will allow you to get the most out of both your MultiPlus inverter. 
Our Battle Born Batteries have been proven time and again to work extremely well with Victron products and it's one of the reasons we highly recommend them. If you are looking to build a reliable, robust off-grid system a set of our batteries at the heart with Victron equipment to mediate the power is about the best you can build.
Interested in an epic off-grid setup? Visit our shop.
Want To Learn More About Electrical Systems and Lithium Batteries?
We know that building or upgrading an electrical system can be overwhelming, so we're here to help. Our Reno, Nevada-based sales and customer service team is standing by at (855) 292-2831 to take your questions!
Also, join us on Facebook, Instagram, and YouTube to learn more about how lithium battery systems can power your lifestyle, see how others have built their systems, and gain the confidence to get out there and stay out there.