At Battle Born Batteries, we provide reliable and high-quality lithium for a wide variety of uses. From full-time RVers to weekend warriors on the water, Battle Born Batteries will help you get out there and stay out there. Sworn LiFePO4 users like RV Lifestyle have seen the difference lithium makes in their rig and in their everyday life. We caught up with Mike Wendland to see how the RV Lifestyle has been treating him! 
Meet Mike and Jennifer Wendland
:
The Wendlands, along with their beloved pup Bo have been living mostly on the road for nine years.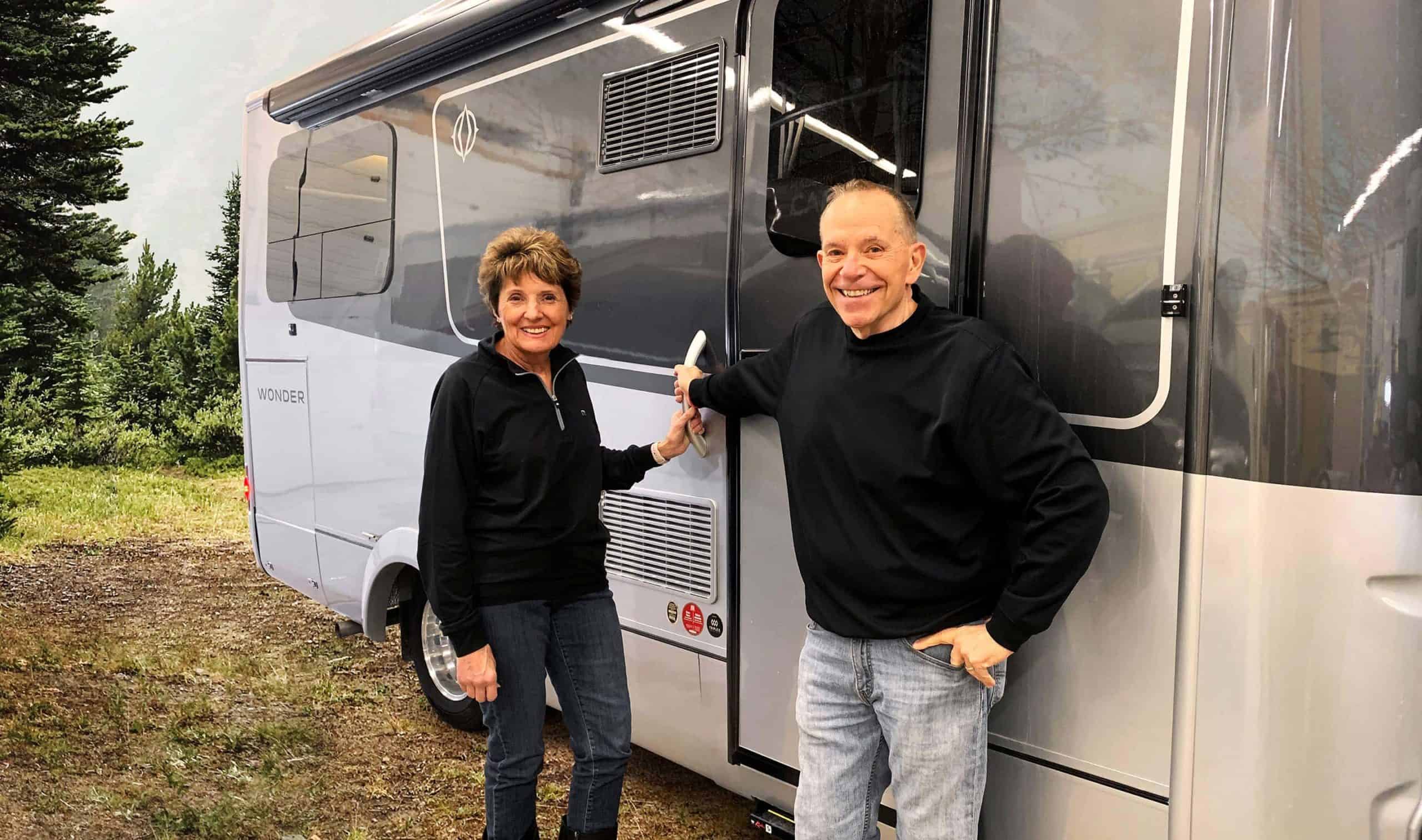 As a world-renowned journalist, Mike has been in the industry for over 40 years working for major newspapers. He still works from the road (thanks in part to our lithium batteries!) and films a tech segment for NBC every week. And it doesn't stop there! RV Lifestyle may have started as a way to take in the scenery while going from gig to gig, but it has become a powerhouse of sharing information and telling stories, Mike and Jennifer's specialty.  
The Wendlands are cruising around the United States, putting out informative content almost every day!  Check out their latest podcast, featuring an in-depth interview with our CEO Denis and COO Sean, all about the performance difference between lead acid and Battle Born LiFePO4 batteries.
Starting the RV Lifestyle
Originally thinking he was going to retire from journalism entirely, the couple bought a Class B van. But as Mike told us, he and Jennifer "have to tell stories, it's in our DNA."  Realizing that the van fit in perfectly with their freelancing lifestyle, they decided to run with it.  Mike and Jennifer, along with their dog, set out to enjoy life to the fullest. Jennifer suggested they take their time instead of flying, and the rest is history.  
Some of his industry friends caught on and started writing stories on the traveling journalist.  
Soon enough, they had sponsors calling up and asking about their setup! It quickly grew into a business they never thought would happen. RV Lifestyle started off as a blog and has grown into a weekly podcast and YouTube channel, along with ten e-books! These 7–day adventure guides cover a variety of locations across the United States and offer helpful tips and tricks. 
Lithium 
Trailblazers
The Wendlands were one of the earliest adapters of lithium, but the technology wasn't where it is now. In their very first rig, they utilized AGM batteries and found that there still wasn't enough power for them and the lifestyle they wanted to live.  
The couple had one of the first lithium equipped e-vans – complete with 1200Ah of power! While this powerful rig was one-of-a-kind, the technology and support weren't matching up. Mike searched far and wide for the right rig and lithium power to match. And that's when Dragonfly Energy and Battle Born Batteries come in.  
Mike first upgraded his rig with 2 Battle Born Batteries. You can watch the video detailing his install here. This system helped them boondock and go off–grid for days at a time. 
After some time on the road, they were able to hone in on what they wanted out of their rig and decided to switch it up again. They saw the continued appeal of lithium's technology and lighter weight and knew it was the right choice for them and their lifestyle. 
"We've had Battle Borns in our last two RVs for going on three years now. What we like about the Battle Born system is that we have so much is its reliability. It works. There's no maintenance," said Mike. "My 400 watts of solar usually top the batteries off every day, allowing me to fully power everything in the RV at night. That's energy independence. We don't have to rely on campgrounds and commercial power and can boondock pretty much anywhere and not worry about energy." 
Making Connections
While Battle Born Batteries is our consumer brand, Dragonfly Energy is our manufacturer brand. Both companies offer same long-lasting and maintenance-free batteries. Dragonfly Energy packages are perfect for those who aren't interested in installing themselves. The all-inclusive lithium powered rigs are ready to drive off the lot. Mike and Jennifer had done their research and knew now that they wanted a Leisure Travel rig, but with the power of lithium. 
Mike forged a relationship between Leisure Van and Dragonfly Energy, and we now supply LiFePO4 technology in these ready-to-go rigs! 
After making their most recent switch, they journeyed across North America, all powered by lithium. "There is no other system that an RV should have other than lithium, because it is so efficient. It weighs half – half!- that of the other batteries." Mike continues, "and you can use it all the way down to nothing instead of having to stop at 60 like with AGMs."  
Not having to think twice about where your power is coming from opens up more time for adventures – and writing about those adventures.  
Living mostly on the road, the duo still has a home base and condo in Florida. The freedom to be able to leave when they want and also come home is something that the Wendlands prioritize.  
What's Next:
When asked about his favorite trip, Mike said, "some things you don't tell, like a good fishing hole. There isn't a part of North America that we don't like."   
Mike's advice for anyone wanting to switch to the RV lifestyle? "Just try it." He continues, "do your research and you can find out so much online." Mike recommends this lifestyle, saying, "everyone is bound together by the love of the outdoors and the love of the RV lifestyle. But my advice is to just try it."  
When we asked Mike what is next, he told us, "I've always been telling stories and even at this stage in life we can't wait to do the next one." And we can't wait to hear it! 
For more information, check out the RV Lifestyle website, as well as their RV podcast, YouTube channel, and Instagram and Facebook.