Typically, when the weather starts to turn cold, campgrounds begin to close up for the season. However, cold weather camping can often be an incredibly unique experience. It can bring on a new set of challenges to staying warm, but that doesn't mean it's not fun.
Today, we'll share seven tips for helping you enjoy cold weather camping in your RV or van. Let's get started!
Cold Weather Camping Can Be Fun
Summer is the peak time for experiencing nature. Campgrounds often fill up as many look to lakes and other swimming holes to keep them cool. You likely have many fond memories of enjoying the great outdoors under the summer heat.
But summer isn't the only time you can enjoy camping. Camping in cold weather can be enjoyable as well.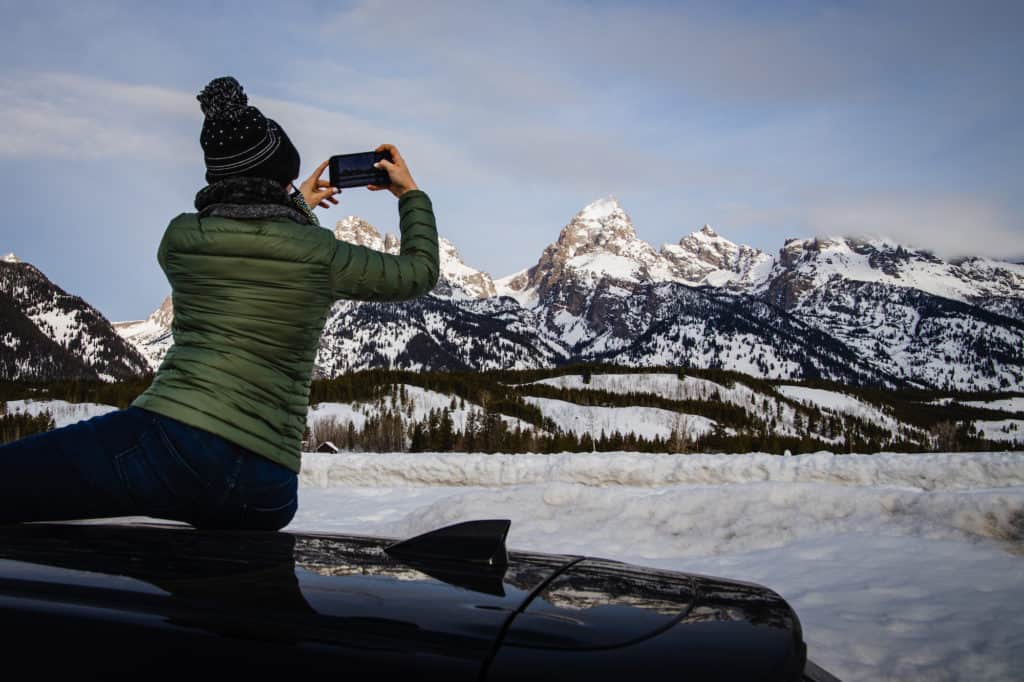 You may not realize it, but your favorite campground or camping location likely looks and feels completely different during the cooler months. While you may have had to listen to the noise of other campers around you, dropping temperatures often means fewer neighbors and a more peaceful camping experience.
It also gives you a chance to experience trails and other fun adventures in a whole new atmosphere.
8 Tips for Cold Weather Camping in Your RV or Van
We wouldn't want to send you out into the cold weather without some direction. Let's look at some of our best tips for camping in your RV or van while in cold weather.
1. Insulate!
While your RV or van has some insulation from the factory, it likely won't cut it when temperatures dip, especially when below freezing. You'll probably feel the cold air seeping into your rig in obvious locations like your windows and roof vents.
One of the best ways to insulate your RV is to use Reflectix on your windows. This will help keep the cold air from blowing straight through the glass in your windows on those cold, windy nights.
You'll also want to insulate the roof vents by cutting a piece of foam to fit snugly inside the roof vent cavity so air can't exit out your roof and cold outside air can't enter.
Stacy Farley from You, Me, and the RV also recommends adding RV skirting if you can as it makes a huge difference. RV skirting encloses the bottom of your RV or van to prevent wind from blowing underneath. This creates an insulative pocket of air that helps keep your floors and pipes warmer. Skirting can be made from canvas, hay bales, or even mounded up snow!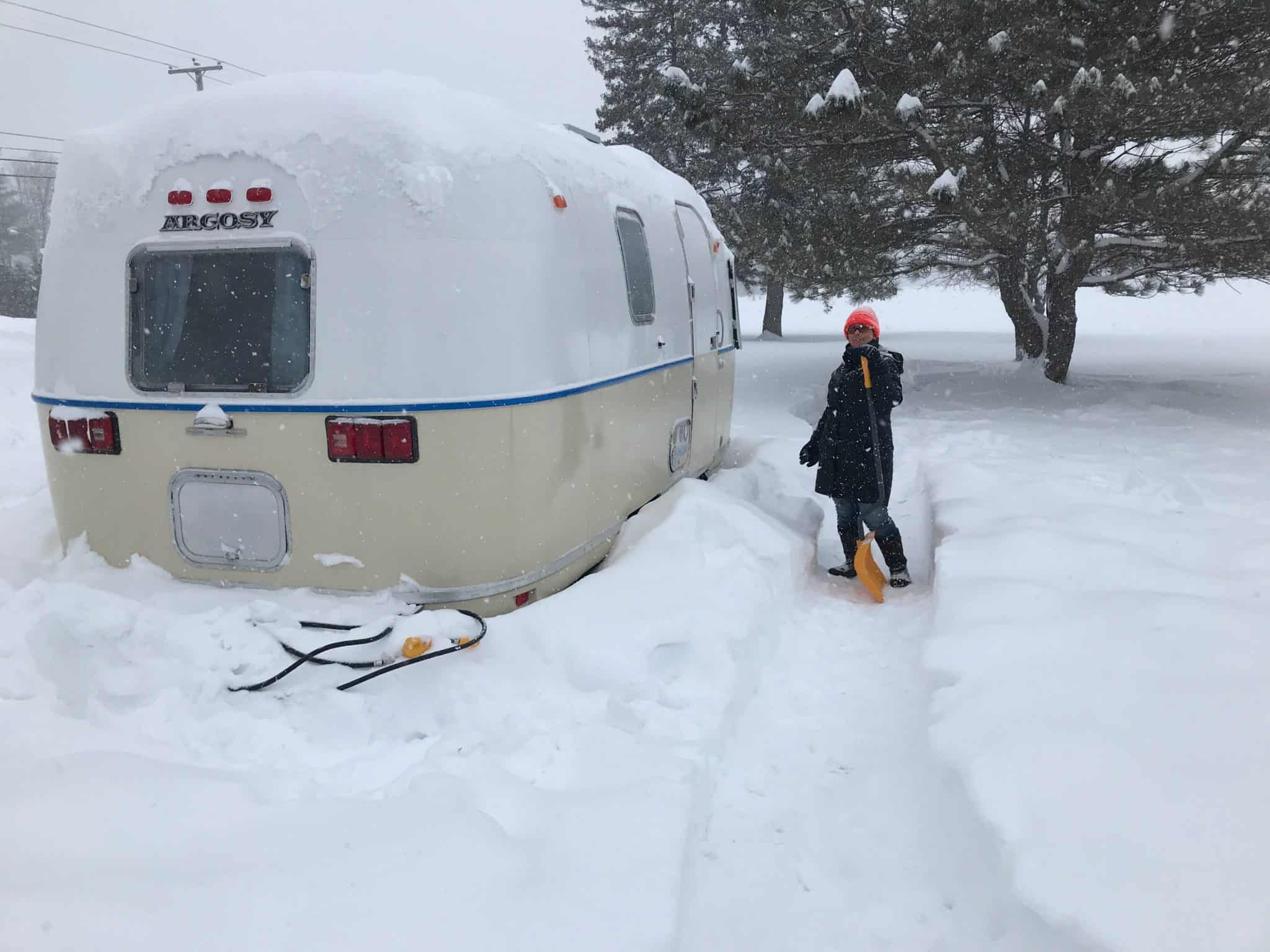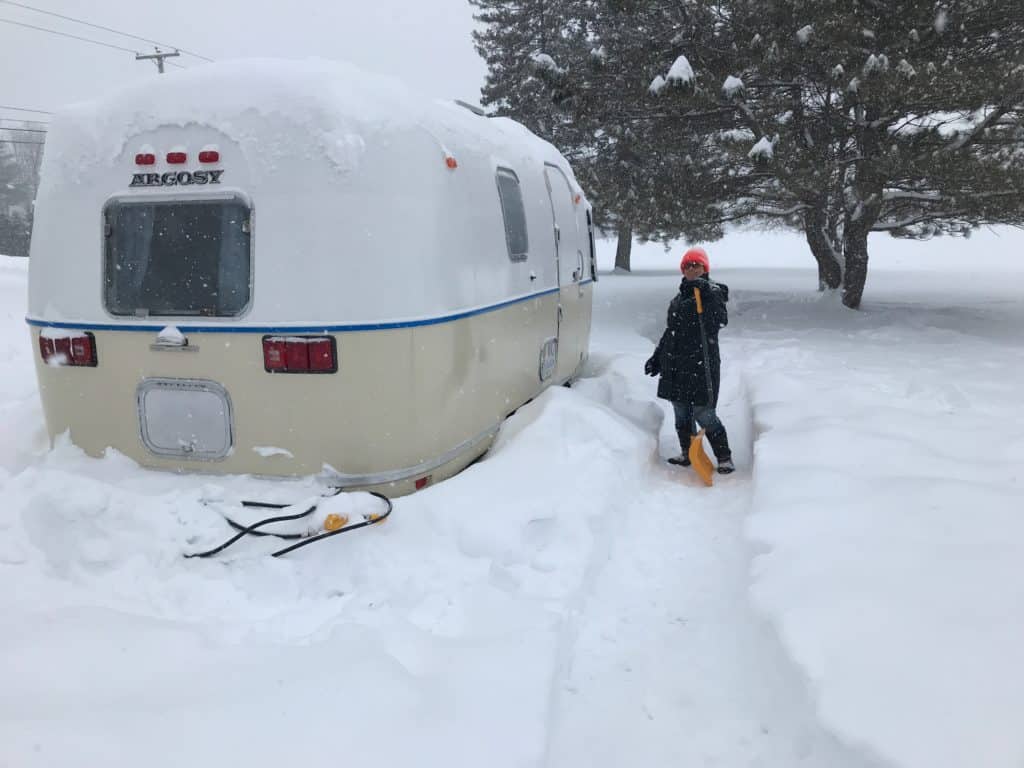 2. Use a Heated Battery or Battery Heat Pad to Keep Batteries Operating Optimally
Cold weather camping can be brutal on your batteries. Your RV or van's lead-acid batteries can suffer incredible damage when exposed to freezing temperatures. Verify the safe operating parameters for your battery bank.
Lithium batteries also experience poorer performance in cold temperatures, but they far exceed the capabilities of lead-acid. Read our Cold Temperature Study on how these two battery types did.
To solve this problem, we created our lithium heated battery technology. Using a heated battery or battery heat pad will help your battery bank last through cold temperatures with ease.
Whether you choose a heated battery or a battery heat pad, your batteries will stay within the safe operating range. These systems use an adhesive pad that surrounds the battery and uses the 12V system to keep the temperatures up for your battery bank.
The great thing about these units is that they kick on when the temperatures fall below 35 degrees Fahrenheit and go off when the temperatures rise above 45 degrees Fahrenheit. It's a small investment in protecting your lithium batteries.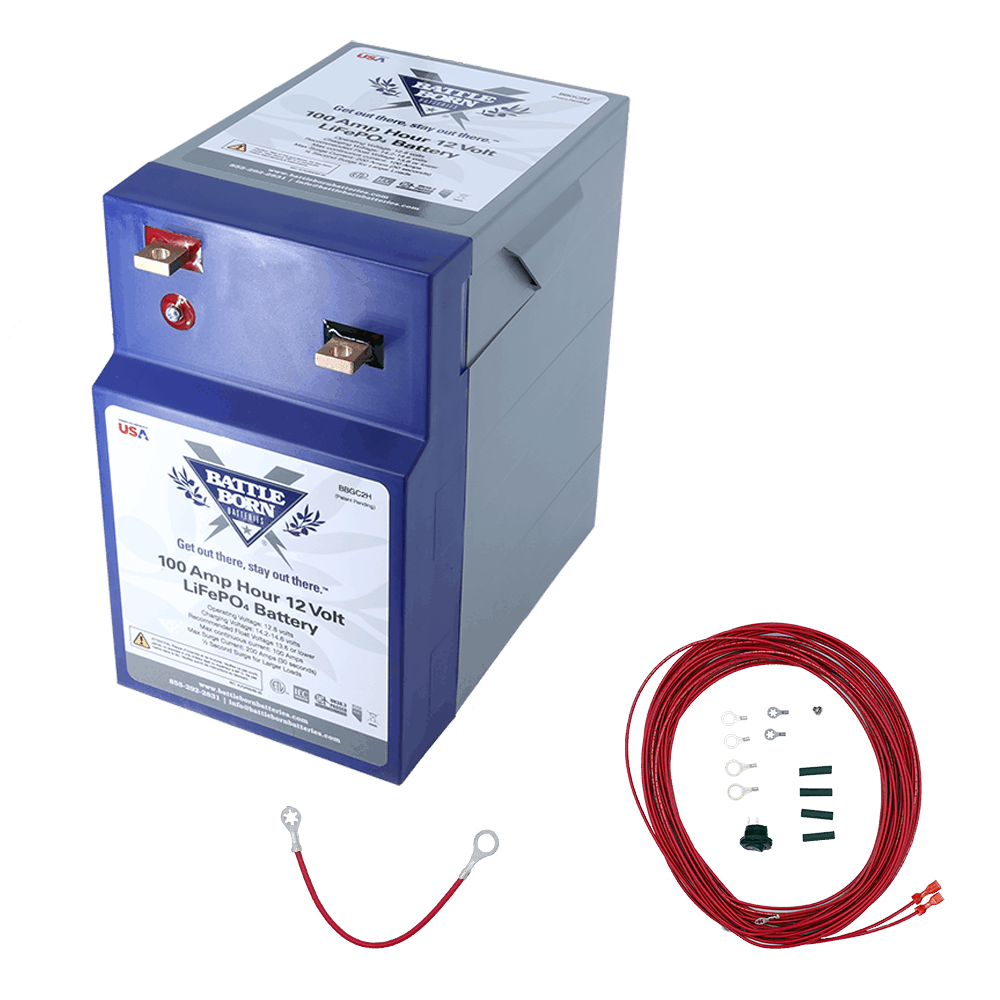 3. Use a Portable Propane Heater
A portable propane heater can quickly generate a lot of heat. Depending on the size of your RV or van, you might find that it's too much heat, and you could end up sweating through the night. It's a great option if you want a lot of heat with little fuel.
If you plan to use propane as a heat source, consider that you'll need a functioning carbon monoxide detector. Carbon monoxide can be fatal. Test yours to make sure it's in working order before each trip.
Rock climbers and van travelers Paige Claassen and Arjan de Kock advise folks to "Invest in a nice Diesel/Petrol/Propane heater that is externally combusting." External combustion exchanges air from outside and you don't end up with exhaust in the RV.
4. Use a Heated Water Hose
Heated water hoses are a great way to avoid a frozen tank hose while cold weather camping. If your hose freezes, you won't be able to access water in your RV. If you haven't filled your freshwater tank, you could try thawing the hose with a hairdryer (if you have a power source), or you might need to wait for warmer temperatures. A backup hose is always an option if you have one available.
However, it's important to note that if the water in your hose freezes, you'll likely experience a frozen city water connection or water spigot.
It can be dangerous and scary to have your water hose freeze, especially if it's for several days and it's your only source of water. If you plan to camp in below-freezing temperatures, a heated water hose is a must.
5. Insulate Pipes to Prevent Freezing
Many adventurers that enjoy using their RV or van for cold weather camping will also insulate the pipes on their rig. Wrapping heat tape around the pipes and then covering them with pipe insulation can help prevent frozen pipes.
Frozen pipes in an RV or van can not only be frustrating, but they can also cause extensive damage to the rig. A busted pipe or leaky fitting will cause quite a mess when the water thaws back out. If you're connecting your RV using the city water connection, you might not even realize there's a leak until the expensive damage reveals itself.
6. Use an Electric Space Heater
An electric space heater is a great way to take the chill out of your rig. These heaters use tons of power, so don't overload your RV's electrical system.
Using tons of power means that you'll be sucking a lot of energy from your RV's battery bank or generator while boondocking. You don't want to find yourself with dead batteries! And, if you're moochdocking in a friend or family member's driveway, you don't want to leave someone with a pretty hefty electric bill from running your space heater too long.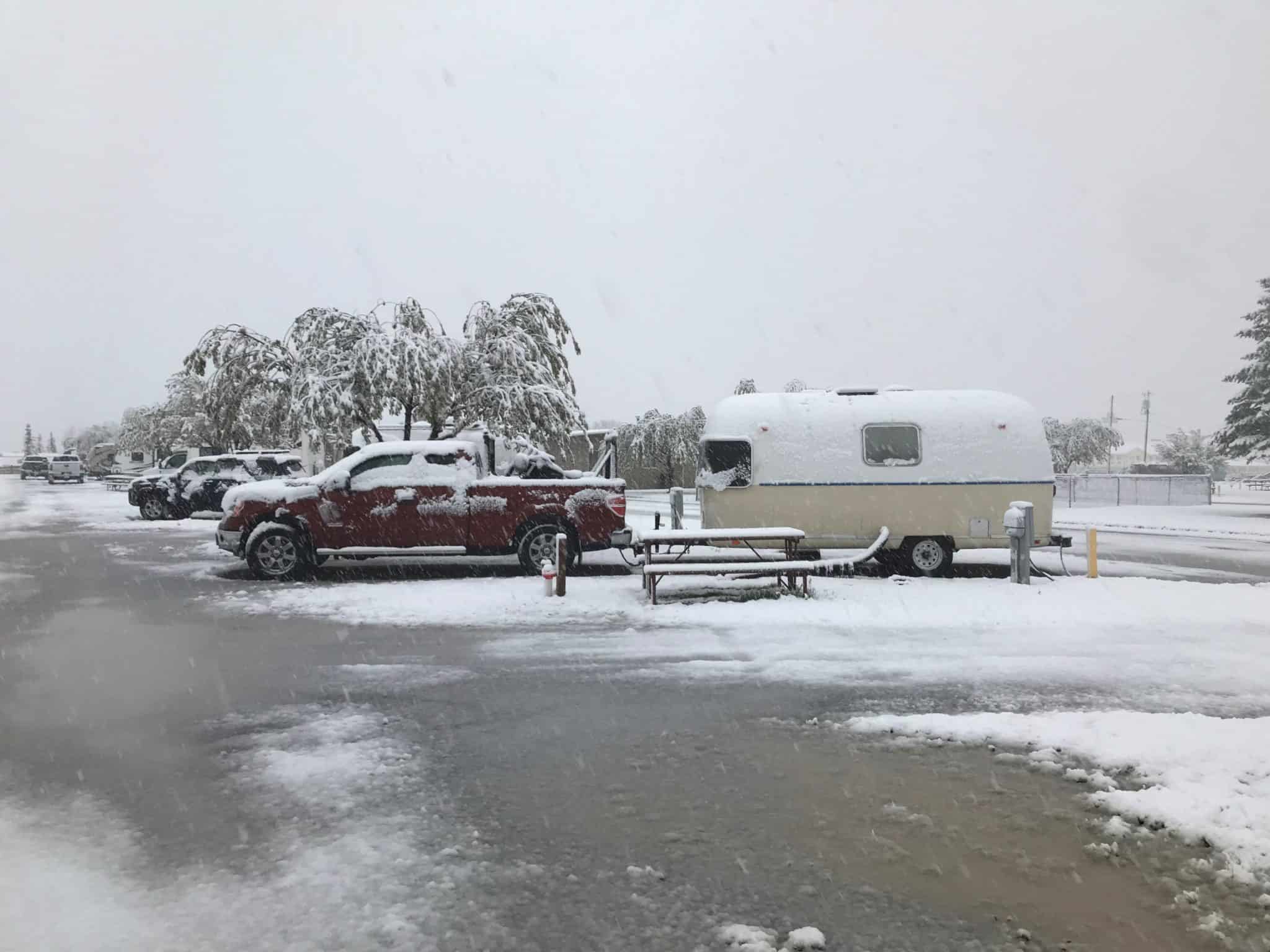 However, running your furnace to heat your entire RV also uses a lot of power. Understand your power draws to make informed decisions on what the most efficient use of power is.
Also, remember that while an electric space heater will keep the inside of your RV warm, it won't heat your under-storage compartment. Many four-season-rated RVs have heat ducting in the under-storage compartment to prevent pipes and tanks from freezing. You'll want to give your electric space heater a break now and then and run your furnace to keep the temperature above freezing in your under-storage compartments.
7. Layer Up
It doesn't matter if you're in an RV, van, or even a house: layers are one of the best ways to keep warm during a cold weather camping trip. Dressing in layers lets you stay warm without additional cost.
It's far easier to put a sweatshirt and sweatpants on than to up the thermostat and use more propane. Just pack some extra long winter clothing, and you'll be set.
However, as Adventures with Tucknae notes, "Don't skimp on heat too much. Yes, you can use a lot of blankets to stay warm, but you don't want to risk your water pipes bursting."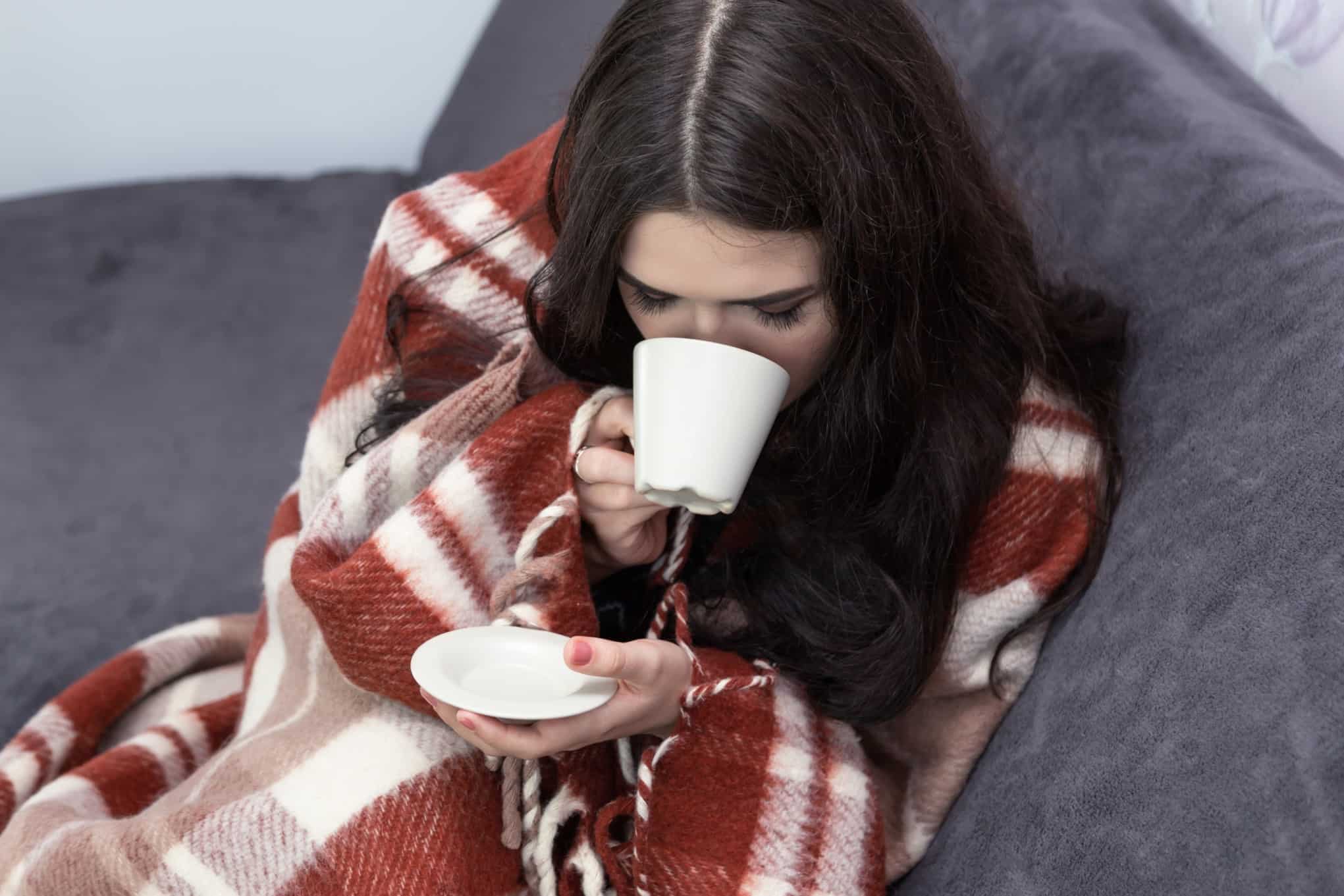 8. Use Electric Blankets
Electric blankets use a small draw of power to heat. Some even run off the 12V DC power readily available in RVs and vans. While they don't heat the room, they can easily make the user roasty-toasty without much power.
Chris and Aaron of Irene Iron Travels recently camped in Colorado and used a Battle Born Battery to power a heated blanket. They shared their story with us: "…We are boondocking in the Colorado mountains and it gets down the upper 30's at night. Brrrrrrrrr! So we have a 12 volt heated blanket in our tent that keeps us nice and toasty! Would never be able to do this without you guys!"
They went on to note that "[The heated blanket] is so much safer and easier than a propane heater and it is such a crazy luxury while out in the cold!"
Stay Warm While Cold Weather Camping
Camping in your RV or van in cold weather can be a fantastic experience. Fewer crowds and a much more peaceful experience will likely be your reward.
By combining these seven tips, you'll stay warm and make incredible memories while in the great outdoors.
How have you stayed warm while cold-weather camping?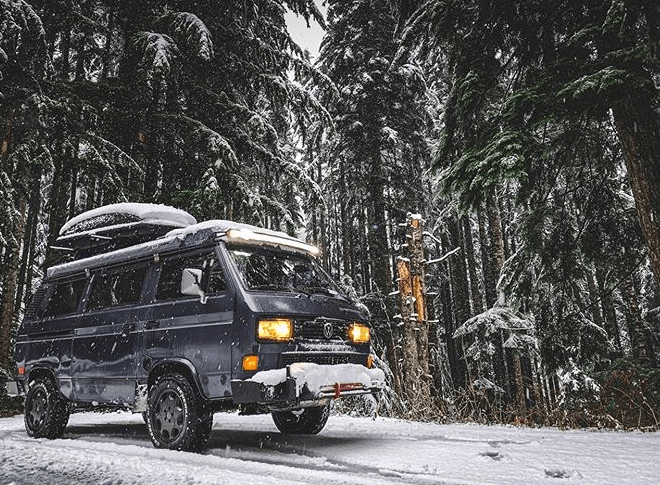 Want To Learn More About Electrical Systems and Lithium Batteries?
We know that building or upgrading an electrical system can be overwhelming, so we're here to help. Our Reno, Nevada-based sales and customer service team is standing by at (855) 292-2831 to take your questions!
Also, join us on Facebook, Instagram, and YouTube to learn more about how lithium battery systems can power your lifestyle, see how others have built their systems, and gain the confidence to get out there and stay out there.
Join Our Contact List
Sign up now for news and updates to your inbox.