Houseboats take tiny living to a whole new level. Instead of living in a stationary tiny home or an RV, you'll be able to move simply by pulling up your anchor and setting sail (or turning on your motor). So what does it take to live on a houseboat? And where are the best places to take the plunge? In this article, we answer these questions and more as we explore everything you need to know about living on a houseboat. Let's dive in!
Can You Live Permenantly on a Houseboat?
Thankfully, it's entirely possible. Nevertheless, there are a few things you should know.
In most places, it's completely legal to live aboard a boat, but you may find trouble in marinas within city limits. Some cities have established regulations to prevent people from living in their boats for a certain period of time. You should be just fine if you're outside the city where those laws exist. Of course, local ordinances are different in every location, so it's best to check before making any permanent arrangements.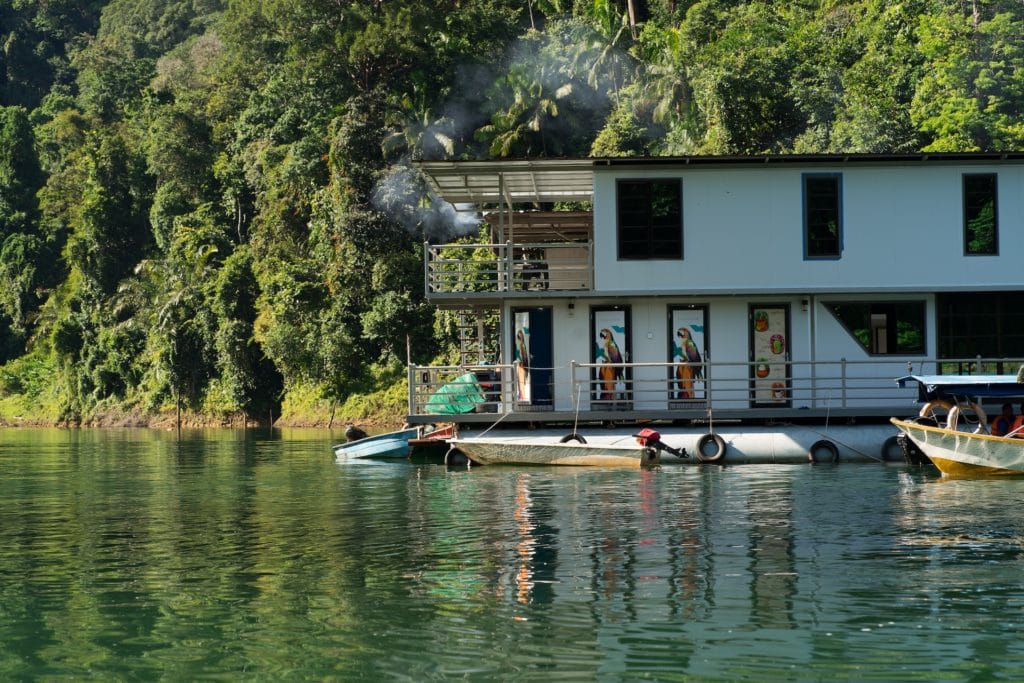 Do Houseboats Have Electricity?
Most houseboats will be wired for shore power, meaning they'll have electrical wiring ready for an AC power source. Thus, you'll be able to use your outlets and appliances just as you would in a stationary home, as long as you're plugged into shore power. That being said, we highly recommend having access to some form of off-grid electricity. This can be solar power or even a generator, but it's equally important to have a way to store that power in the event of an outage or simply while you're away from your home marina.
This is where lithium comes in. Lithium batteries work great on houseboats to provide a maintenance-free, reliable way to store electricity. They're also much more energy-dense than traditional lead-acid batteries, making them lighter, more powerful, and longer-lasting.
In cutting the cord, you can unlock a whole new world of houseboating where you can anchor where you please without concern for power.
The Best Places to Live on a Houseboat
So, where should you put your floating tiny home? Keep reading to learn about the 10 best places to live on a houseboat in the United States.
Miami, Fla.
About: Miami, Fla., is one of the world's best vacation spots. It has 35 miles of beaches, plenty of restaurants, a vibrant nightlife scene, and activities for just about everyone. Not only that, but Miami's boating community is prospering. Because of that, plenty of marinas allow residents to live aboard their boats.
What Makes It Ideal for Houseboat Living: Hands down, the weather is one of the best reasons to move to Miami. The temperatures rarely drop below 63 degrees in the winter. You'll also have everything you need, just a stone's throw away from your marina, and plenty of amazing deep-sea fishing opportunities!
→ Suggested Reading: Why Boaters are Choosing Lithium for Their Marine Batteries
Lake Havasu City, Ariz.
About: If you've ever been to Lake Havasu City, you know it's a special gem in the desert of Arizona. Located near the border of Arizona and California, halfway up the state, Lake Havasu is a unique and artistic town that features "London Bridge" (quite literally a bridge from London), which spans a small strip of water that empties into Lake Havasu. It also has plenty of grocery stores, restaurants, marinas, and boater-friendly shops and suppliers.
What Makes It Ideal for Houseboat Living: Once again, the weather in Lake Havasu City is reason enough to move there. Yes, it does tend to get hot in the summer (up to 106 degrees), but you'll be on the water. There's also a marina with fantastic reviews and plenty of boat rentals in the area in case you want to "try before you buy."
Did You Know?: Arizona also has plenty of sunshine for solar power (of which we are a fan). This also makes it popular for off-grid Arizona boondocking.
San Francisco Bay, Sausalito, Calif.
About: Are you looking for a thriving houseboat community? If so, you might want to consider moving to the colorful town of houseboats located close to the Golden Gate Bridge. There, you'll find a flourishing art scene with a history dating back to the 1920s. Greek artist Jean Varda lived on a ferry boat here for 20 years. Since then, the community has only grown; and there are currently over 400 houseboats floating in San Francisco Bay.
What Makes It Ideal for Houseboat Living: There's already an established community, including septic hookups, electricity, and water. The weather rarely dips below 45 degrees or exceeds 83, and San Francisco is your giant backyard.
Potomac River, Fort Washington, Md.
About: Did you know that there's a flourishing houseboat community on the Potomac River? Gangplank Marina is home to people from all walks of life, including retired politicians who want to leave their careers behind and focus on a simpler life. There are also restaurants, rooftop bars, and houseboat rentals in the area.
What Makes It Ideal for Houseboat Living: There's an established community, meaning you'll instantly be surrounded by like-minded people and have access to all the essentials. And while Fort Washington does dip below freezing in January, you won't see extremely cold temperatures like in the Midwest or New England.
Duwamish River, Seattle, Wash.
About: If given the choice, would you opt for moody forests and good coffee over margaritas in Miami? If so, you may want to consider moving to the houseboat community located on the Duwamish River Waterway. For over 100 years, boaters have lived on this channel just outside of Seattle, Wash., and it's now an eclectic hotspot.
What Makes It Ideal for Houseboat Living: Once again, the community is already here. Just bring your boat and pay your marina fees, and you'll have everything you need. Moreover, the location is just about perfect, a stone's throw away from Seattle but separated enough to enjoy your own little slice of heaven.
Portland, Ore.
About: Believe it or not, the Pacific Northwest is home to another popular houseboat community located near Portland, Ore. One trip down the Columbia and Willamette rivers, and you'll see a variety of floating houses, businesses, and restaurants anchored along the shore. It's so popular that there's a real estate business entirely dedicated to Portland's floating homes.
What Makes It Ideal for Houseboat Living: This location is especially great for those interested in the houseboat lifestyle but who might not want to make the commitment of buying a boat. There are plenty of houseboat rentals in the area. Many times the landlords will offer to sell their boats to interested renters. These houseboats are true homes, as well. You'll have access to electricity, water, and sewer hookups just a hop, skip, and a jump from quirky downtown Portland.
→ Do northern locations have you concerned about Boating in Cold Weather? Check out our top 10 tips.
Hot Springs, Ark.
About: Did you know that Hot Springs, Ark., is actually a national park? Yes, the entire town is the smallest national park in America and there's no shortage of things to do in the area. Whether you want to hike through the beautiful Ouachita Mountains, bathe in the famous hot springs, or explore the shops downtown, Hot Springs is an amazing place to live on a houseboat.
What Makes It Ideal for Houseboat Living: You'll find a variety of marinas to choose from on Ouachita Lake and several with developed houseboat communities. Brady Mountain Resort & Marina has over 650 boat slips and can accommodate boats up to 100 feet long. The weather is perfect, too: not too hot and not too cold.
Shasta Lake, Calif.
About: Lake Shasta is one of the top houseboat-friendly lakes in America, with many people living full-time in their boats along the shore. It's also the third-largest body of water in California, following the Salton Sea and Lake Tahoe, and covers a whopping 30,000 acres. Like most places in Northern California, the scenery is stunning. Lake Shasta is surrounded by towering mountains, waterfalls, caverns, and plenty of wildlife. It's truly a nature lover's dream.
What Makes It Ideal for Houseboat Living: There are countless houseboating opportunities on Lake Shasta, including houseboat rentals and places to moor your own. Bridge Bay Marina alone has over 700 slips, and there are plenty of restaurants and bars to accommodate the growing houseboat community.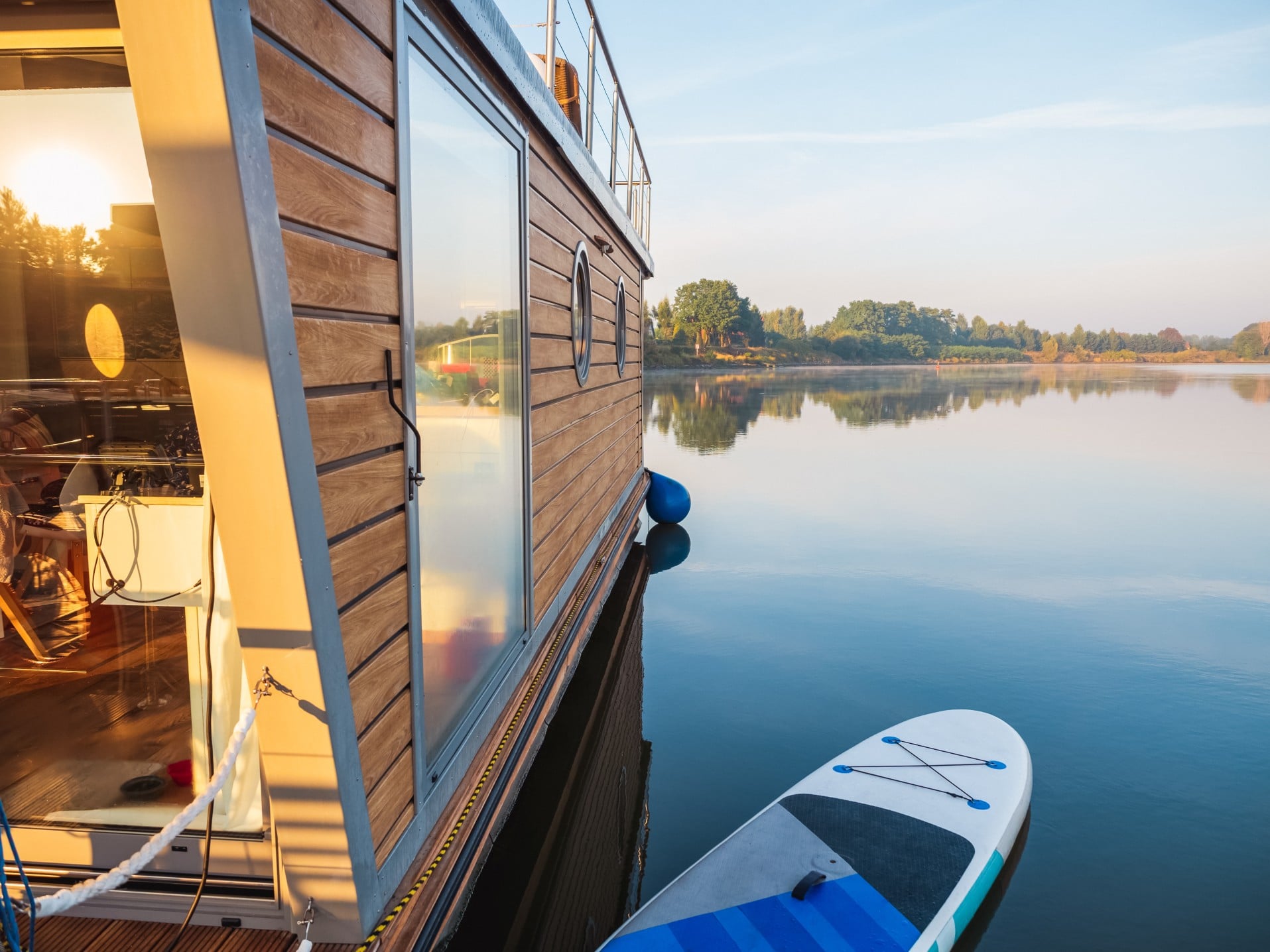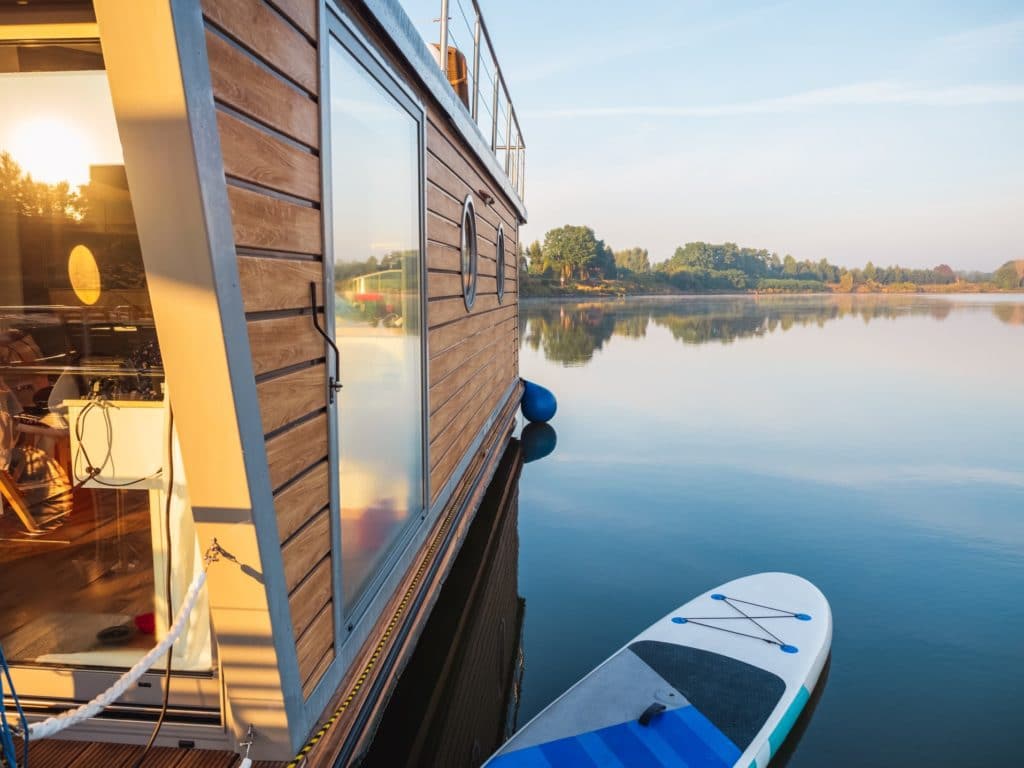 Lake Cumberland, Ky.
About: Lake Cumberland is known as the "Houseboat Capital of the World," so naturally, it had to be on the list. The lake covers 50,250 acres and is home to plenty of largemouth, smallmouth, white, and Kentucky bass, as well as bluegill, crappie, rockfish, and walleye. This makes it a fisher's paradise. The surrounding area is gorgeous, with plenty of hiking, camping, and swimming opportunities.
What Makes It Ideal for Houseboat Living: Why is Lake Cumberland the Houseboat Capital of the World? There are five marinas on Lake Cumberland, all of which provide houseboat rentals. Couple that with gorgeous weather in the spring, summer, and fall, ample fishing opportunities, and gorgeous surroundings, and you have the perfect spot for living on a houseboat.
Regional Lakes, Fort Worth, Texas
About: The Fort Worth area has almost 60 lakes and reservoirs. These offer everything from fishing to swimming, and yes — houseboats. These include Lake Ray Hubbard, which is home to Rockwell Harbor with its thriving restaurant and nightlight. There's also Grapevine Lake, Lavon Lake, and Lake Arlington, all of which have marinas that offer wet slips and boat rentals.
What Makes It Ideal for Houseboat Living: Northern Texas can get chilly, but it's nothing like New England. The Fort Worth area only averages 1 in. of snow every year. The weather warms up nicely as soon as spring arrives. Thus, you won't have to worry about snowstorms or freezing weather for months on end. It's almost the perfect climate to live on a boat: warm and dry!
Is Living on a Houseboat Cheaper Than a House?
Many people choose to live on a houseboat to escape expensive housing prices. This lifestyle can provide relief from renting an apartment or paying high real estate taxes. However, you'll still have to factor in marina fees, the cost of your boat, and other factors like parking fees, maintenance costs, etc.
Will you save money if you sell your house to move into your paid-for houseboat in a budget-friendly marina? Probably! But in some cases, living on a boat can be even more expensive than renting or paying a mortgage. It all depends on how you approach this lifestyle.
→ Still planning to work and/or stay connected from your houseboat? Find out what gear you need for mobile internet.
Is It Worth It to Live on a Houseboat?
Is your soul calling you to live this lifestyle? Do you want to wake up to a sunrise over the water every day? Then yes, it's absolutely worth it to live on a houseboat. If living on a boat sounds like a dream come true, you should do everything possible to make it happen!
However, if you're interested in living on the water to save money, it may not work out how you plan. You need to have a true passion for this lifestyle to make it worth it. Luckily, there are thousands of other like-minded people out there!
Is your dream to live on a houseboat? Let us know in the comments below!
Want To Learn More About Electrical Systems and Lithium Batteries?
We know that building or upgrading an electrical system can be overwhelming, so we're here to help. Our Reno, Nevada-based sales and customer service team is standing by at (855) 292-2831 to take your questions!
Also, join us on Facebook, Instagram, and YouTube to learn more about how lithium battery systems can power your lifestyle, see how others have built their systems, and gain the confidence to get out there and stay out there.
Join Our Contact List
Sign up now for news and updates to your inbox.