At Battle Born Batteries, we strive to offer the best service and add value to each of our customer's outdoor experience with our LiFePO4 batteries. Whether it be traveling from coast to coast or venturing overseas, Battle Born provides customers like Tom and Cait Morton with LiFePO4 batteries that are lightweight and strong. They choose Battle Born Batteries time and time again because they are high-quality, safe and reliable. And now they put their trust in Battle Born Solar to power them too.
More about the 

Mortons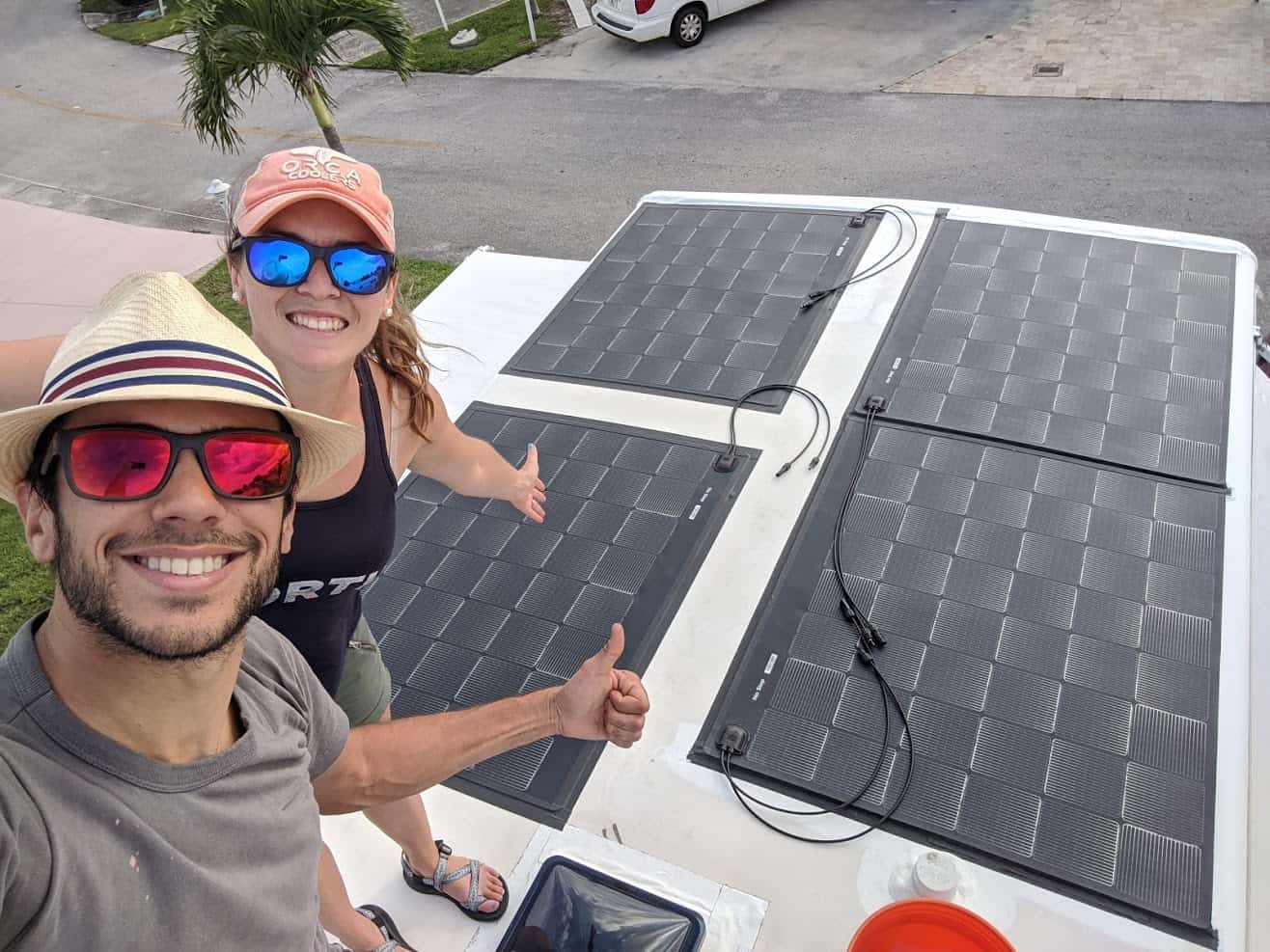 Tom and Cait Morton's love of being on the road began in 2015. In September of 2015 the couple left their jobs, sold their house and possessions, and hit the road in a DRV Mobile Suites 32TK3 fifth wheel, a rig they still call home today. Tom and Cait have been full-time travelers ever since. 
Their most recent adventure began in April 2019 when they took on the last frontier in their loaned custom 1172 Lance Truck Camper. Driving nearly 15,000 miles, their favorite sights along the way included Denali and Banff National Parks. The Mortons knew they needed a constant supply of energy for this trip north and wanted to eliminate their battery anxiety, so Battle Born teamed up with them to provide them with all the power they would need. You can read more about their previous set up for their journey last year here.
With the Go North vehicle, the intention was always to remove the electrical and power system once the journey came to end. To find more about their adventures north, check out their blog here. 
Tom and Cait really enjoyed the Go North system, and upon returning from Alaska they started dreaming up their ideal solar and lithium system.   
Excited to be back in their permanent rig, they installed their five GC2 batteries from the Lance camper and added three more for a total of eight 100Ah 12V GC2 batteries. Their previous solar system setup was a DIY build with a Tesla battery module and custom BMS with 1100 watts of residential glass panels on the roof. With all the newly added power from their battery bank, they knew their solar system needed to match.
Battle Born Solar
Battle Born Batteries has been working with the Mortons since 2018. As an electrical engineer, Tom connected with Denis and Sean over the technology and got to know the products even more when he and Cait helped with an Argosy Airstream renovation for Drivin and Vibin. When the Mortons were done with their journey North, their dream solar system came up again. As Battle Born continues to grow, so do the products we offer. The next logical step was to offer solar power. 
Using Battle Born Battery's new 230-watt BB230 flexible solar panels, Tom described the installation process as "easy." They wired them in a 24-volt configuration because with the amount of solar installed, it needed a higher voltage system to handle the current. 
The ten panels installed on their RV roof can create up to 2,300 watts! The two additional 230w panels on the front half of the RV isn't exactly ideal for performance, but the Mortons consider it to be a part of their dream install and wanted to utilize as much space on the exterior of their rig as possible. For a grand total of 2760w of solar, they can run appliances, their computers, and even the air conditioner or heater. Running the Instant Pot and the microwave at the same time is even possible! 
System Specs:
–12 x 230w Flexible Solar Panels, both models BBS230A and BBS230B (Check out the Battle Born Solar Bundles here.) 
–8 Battle Born 100Ah 12V GC2 batteries for 11.2Kwh storage capacity @ 24 volts 
–3 x 100/50 Victron SmartSolar MPPT Solar Charge Controllers  
–Victron BMV–712 Monitor with built–in Bluetooth 
–Victron Quattro 12V 5000W Inverter Charger
"It really feels like we are living with the RV hooked up to shore power all the time.  We are also loving having the system connected online so we can monitor its performance," the Mortons said in their latest blog post. 
The couple recently traveled 1,700 miles and noted that the panels showed no signs of budging. They are fans of solar because it quietly generates power, allowing them to live wherever they want on their own "power plant." Both Tom and Cait believe that being able to harness the sunlight that naturally shines on their RV roof is important! 
While we do not sell panels individually, you can check out our awesome solar bundle kits here that include the solar panels, a Battle Born Battery and the solar charge controller. These bundles are a great way for beginners to get their solar systems up and running.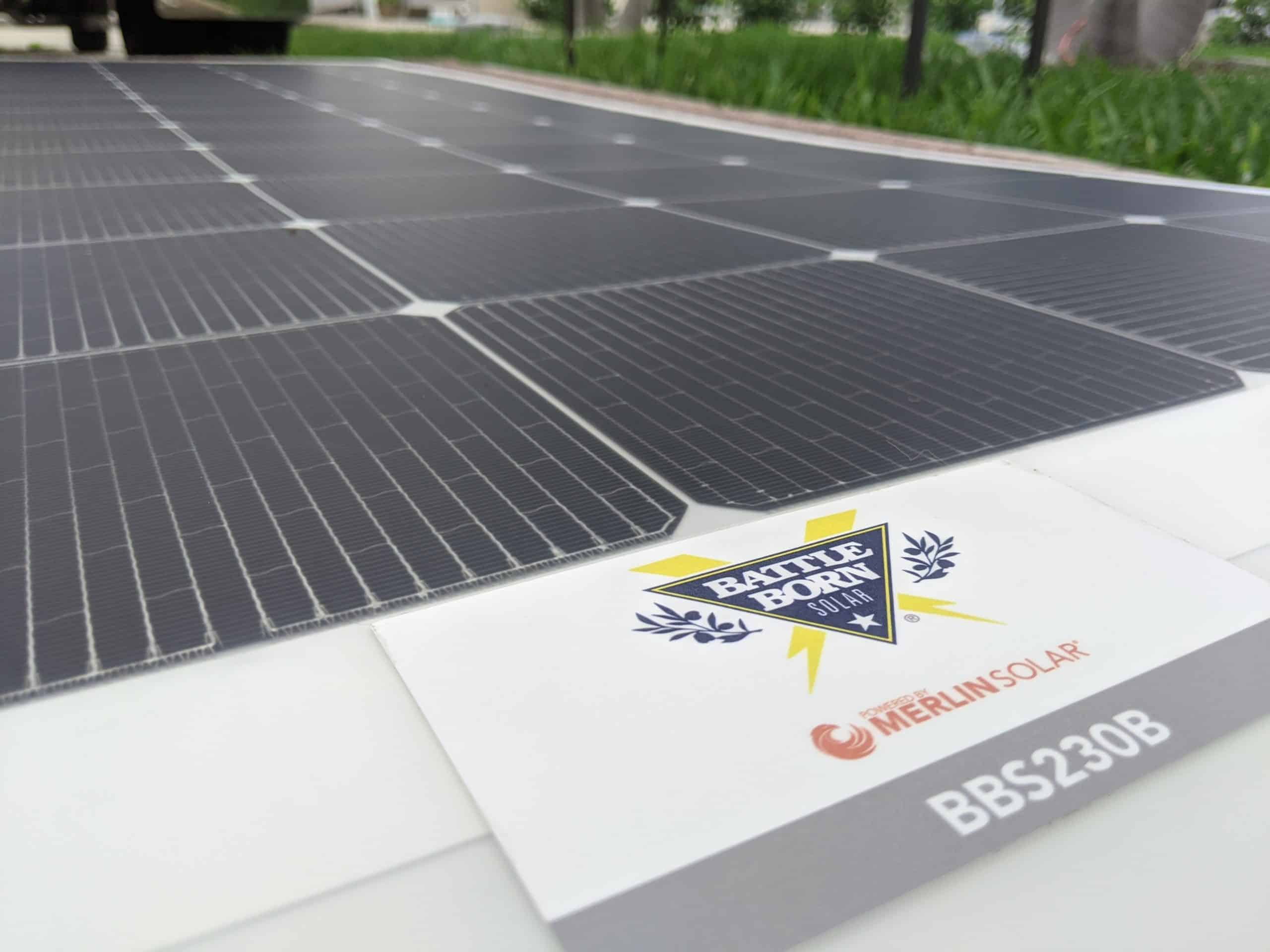 In the first part of their series, Tom walks through the installation process where you can check out the all the nitty gritty details. Their setup generates 14 to 15,000 watt hours of energy a day. Tom notes that while that might be overkill for the average RVer, they live off-grid for the majority of their time, so it's perfect for them. 
The Mortons just released Part Two of their build, where they will explore how they optimize their system and use all that extra power. The Morton's wheels are always turning, so stay tuned as we keep up with them and their latest projects!  
If you want to follow the Mortons on their adventures, follow them on Facebook, Instagram, and Twitter! Also subscribe to their  YouTube Channel!