Here at Battle Born Batteries, we enjoy seeing our brand partners create compelling content while traveling and helping provide them with products that will help them get out there and stay out there. YogaSlackers Sam and Raquel have big plans on the horizon and now their 1988 Mitsubishi Delica is complete with 4 Battle Born Batteries, they can see the world and be powered by lithium.
Meet the YogaSlackers: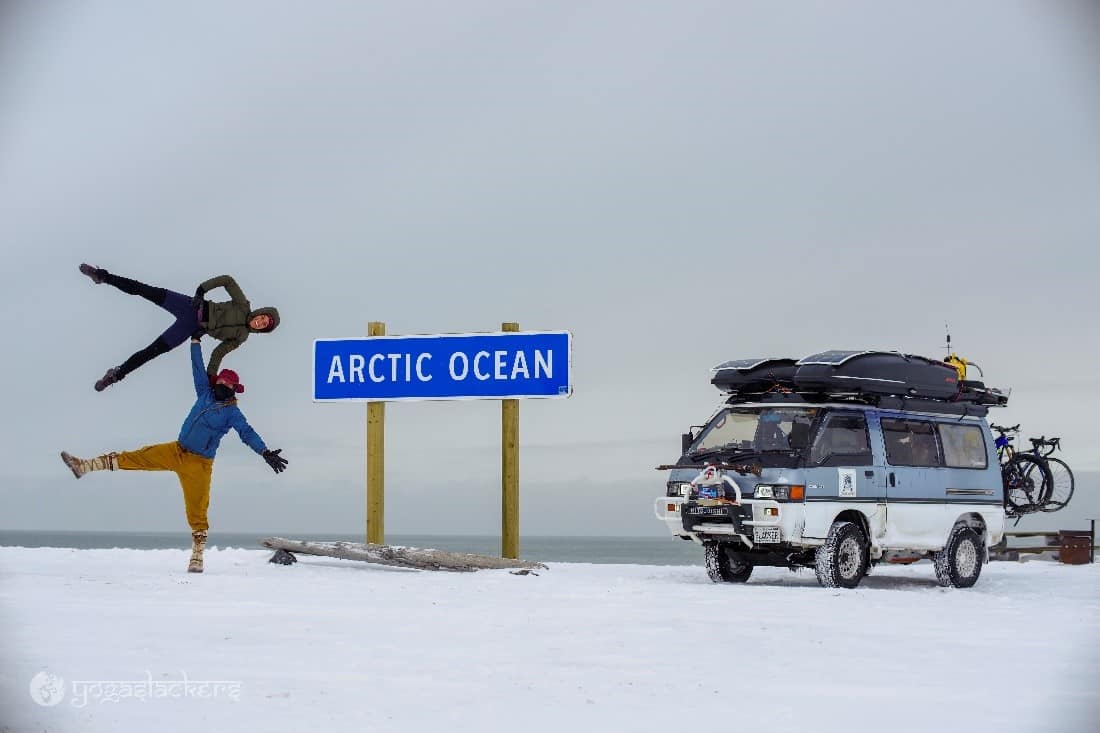 Sam and Raquel spent the past year piloting their SlackerVan to the Arctic Ocean, a journey powered by Battle Born Batteries…and lots of coffee.
They didn't plan too much for the trip, but instead mapped out a route and made sure to balance adventuring with the number of miles they wanted to drive in a day. Taking the trip during the off season in late October, they hardly saw any tourists and found great places to mountain bike and explore.
"It can be an overused phrase, but it was all about the journey to the Arctic, not the destination," said Sam. "We set a slackline, did some handstands and acro [acrobatic yoga]. We touched the frigid waters and took some pictures before we went on."
Some of the best parts of their trip included feeling the comforts of home, no matter where they were in the country.
"It's so nice to have reliable power regardless of what the backyard looks like," Sam said. "From the Arctic Ocean to mountain passes, we were able to enjoy the comforts of home after we returned from pushing our limits on the great outdoors."
"I have now slacklined as far south as King George Island in Antarctica and now Tuktoyaktuk on the shore of the Arctic Ocean," he said. Slacklining, which they pay homage to in their brand and their van's moniker, is the art of balancing on and walking across a suspended rope.
Their journey wasn't always a smooth ride. The 130-amp alternator to battery setup overheated, so Sam and Raquel added two pieces of flexible drainpipe to create added airflow past the charger. Their solar panels broke after remounting them, so they opted to replace the broken panels with Merlin's semi-flexible solar panels, which are designed to handle cell breakage and partial shade.
The duo also experienced two consecutive flat tires during a storm with frozen roads. Even with winter tire chains they, experienced some "exciting times" while sliding on the ice.
"One of the advantages of having everything you own in your vehicle is that we don't really need to plan much," Sam said. "If it is nice and sunny, we may go on a bike ride. If there's water around us, there's a paddleboard waiting to be inflated. In terms of adventure gear, we are pretty covered."
What's in the SlackerVan?
A journey as arduous as theirs needed to be powered by the best components to help them get out there and stay out there. The "SLACKERvan" runs on:
4x 100 watts semi flexible solar panels, mounted on 2x Yakima Rocket boxes
300 watts fanless Morningstar SureSineWave inverter
130-amp Sterling Alternator to battery charger
The YogaSlackers' power system worked with this setup, and Sam and Raquel were able to make coffee, cook hot meals and run an electric heater to warm up their sleeping area before crawling out of bed. Their previous rig was a 1988 Ford Festiva, which they took on a 48,000-mile, 8-month long tour of all 50 states in 2014. Their Peace Love Car, or the PLC, had 200 amp hours of our batteries in it. "We were so impressed by the massive amount of power available with 200ah we knew we could easily create a system in the slacker van to only use electricity for our life support systems," said Sam. This time, Sam and Raquel didn't need to tap the diesel tank to install a heater, but instead relied on heaters, radiant heat and wool insulation.
After the Arctic trip, the couple learned a lot and decided that upgrades would help them get out there and stay out there longer. Their panels, from Merlin, consist of two 220w semi-flexible solar with HIT cells, 160w ridged panels that slide out and cover the windshield and 160w fold out panels that can be positioned in the sun when they want to park in the shade.
They updated their Sterling alternator to battery charger to the 210a model, along with 4 75/15 Victron MPPTs,  a 100/50 MPPT and a Cerbo GX.
"The great thing with the Sterling unit is that it has a temp controlled switch that turns the unit off which still allows a 25 amp charge to reach the battery whenever the 130 Sterling A2B overheated," said Sam. "We now have not had any issues with overheating with the 210 amp charger and 130 amp alternator."
What's Next?
Now that the van is built out, Sam and Raquel plan to spend 2021 driving to Guatemala or Patagonia. They spent the past six months physically distancing in Puerto Rico and are itching to get back on the road again. You can follow the YogaSlackers on Instagram and Facebook and check out their website here!