If you feel those winds calling you to the water, your first stop should be the United States Sailboat Show. One of the nation's most anticipated boating shows, the 2022 event is now just weeks away. Here's a look at what you need to know to plan a trip to this one-of-a-kind show.
What Is the United States Sailboat Show?
This prestigious annual event allows sailboat owners and those interested in the industry to get up close and personal with the latest and greatest boats, boat technology, and other items of interest. Miles of dock-front exhibits as well as new boats and other demonstrations form the core of this highly-anticipated show.
It draws thousands from around the region and the world. Organizers have held this event since 1970, making for more than five decades of incredible exhibitions and great memories.
Where and When Is the United States Sailboat Show?
Mark your calendars! The United States Sailboat Show is set to begin on Thursday, Oct. 13, 2022. It will run through Monday, Oct. 17.
The show will take place in one of the cities most associated with sailing and the water, Annapolis, Md. The city, which is home to the U.S. Naval Academy, is a hub for the rich boating culture of the Chesapeake Bay. The show will take place at Annapolis' City Dock in the heart of downtown. This highly desirable location provides access to local waterways and Annapolis's extensive shopping and dining scene.
What Happens at the United States Sailboat Show?
The main focus of the United States Sailboat Show is giving boating enthusiasts a first-hand look at new boats, boating equipment, and sailboat technology. Hundreds of ships and other exhibits, along with diverse food and beverage options, are available to peruse. There are even educational opportunities for those who want to learn a new skill or improve an old one during their visit.
Beyond all these organized events, some of the most memorable moments can come from simply being able to network with fellow boating enthusiasts. The beautiful setting of downtown Annapolis helps set the scene. You may even find yourself a new sailing buddy! Don't miss out on chances to network and bond with others who share your passion.
How Much Does It Cost to Attend the United States Sailboat Show?
Depending on the age of those attending and how many days they plan to attend, visiting the United States Sailboat Show can cost as much as $118 or as little as nothing at all! A single-day, general admission adult ticket costs $22. You can purchase two-day passes for $39, a savings of $5 per person.
Those who want to attend the show's "Preview Day" on Thursday will need to buy a separate $40 ticket. Or they will need a $57 ticket that allows access to the Preview Day and an additional day of the show.
Children ages 7 to 12 will pay just $10 per day, while kids under seven are admitted free! The most an adult could pay would be $118. This consists of a $57 "Preview Day" plus a one-day ticket, along with a standard two-day pass and a single-day pass.
→ Thinking of living on a sailboat for a while? Find out the 10 Biggest Challenges of Living on a Sailboat before you take the plunge.
Which Exhibitors Are Participating in the Show?
The 2022 United States Sailboat show has some of the most exciting exhibitors and participants of any show to date! Quite literally, hundreds of companies from the boating world and those who supply items of interest to boaters will be in attendance.
Whatever you can dream of, there's likely a company there selling it. This includes navigational tools, plumbing, and electrical equipment suppliers, engine manufacturers, lifesaving equipment producers, communications equipment, and so much more.
Batteries and other power supply companies will also attend, including Battle Born, which sells lithium-ion batteries for boaters and others. At these cutting-edge exhibitors, you'll be able to learn everything you need to know about this new technology, including the numerous benefits of lithium over traditional lead acid. For example, lithium-ion batteries can handle a deeper discharge than lead acid. They're also lighter and longer lasting, two factors that are critical when you're on the water.
Outside of batteries, you can grab a new wardrobe for your next boating excursion from numerous boat wear companies. After all, who doesn't want to look good while they're on the water?
→ Check out our Event Calendar to see where else we're heading!
Best New Tech to Check Out at the 2022 U.S. Sailboat Show
New technology is always one of the top draws to these kinds of events, and the United States Sailboat Show is no different. One of the biggest features will be the ever-expanding world of lithium batteries and their associated devices.
While lead-acid batteries have traditionally dominated the sailboat world, this is rapidly changing. Lithium batteries have become more affordable and available, and owners are learning of their many advantages over traditional batteries. These range from a far lighter overall weight to increased versatility and longer life. Other companies will offer the best in power accessories to help keep your electrical system humming.
Find out the full story of why Lithium Batteries Dominate Liveaboard Sailboats.
You can also ensure you'll always know where you are with a trip to the GPS Store. It stocks a variety of cutting-edge autopilots, radars, radios, and antennae. In addition, Rainman Watermakers offers the best in water purifiers and filtration.
Numerous cooling and heating companies will also be in attendance to help keep your boat comfortable, from Mermaid Manufacturing to Titan Marine Air. Attendees can even stop by Nature's Head, which specializes in toilets that help you take care of business while out on the water.
You'll also be able to check out advancements in how to stay connected to the internet so you can work from paradise on your sailboat.
Is the United States Sailboat Show Worth Attending?
Sailboat shows aren't for everyone, especially those without boats or much of an interest in sailing. However, even those folks can have a great time at well-organized, beautifully located, cutting-edge events like the United States Sailboat Show. Most attendees have a great time exploring the various exhibits, checking out the boats, and enjoying everything scenic Annapolis has to offer.
Who knows? You may find the sailboat of your dreams just waiting at the dock for you!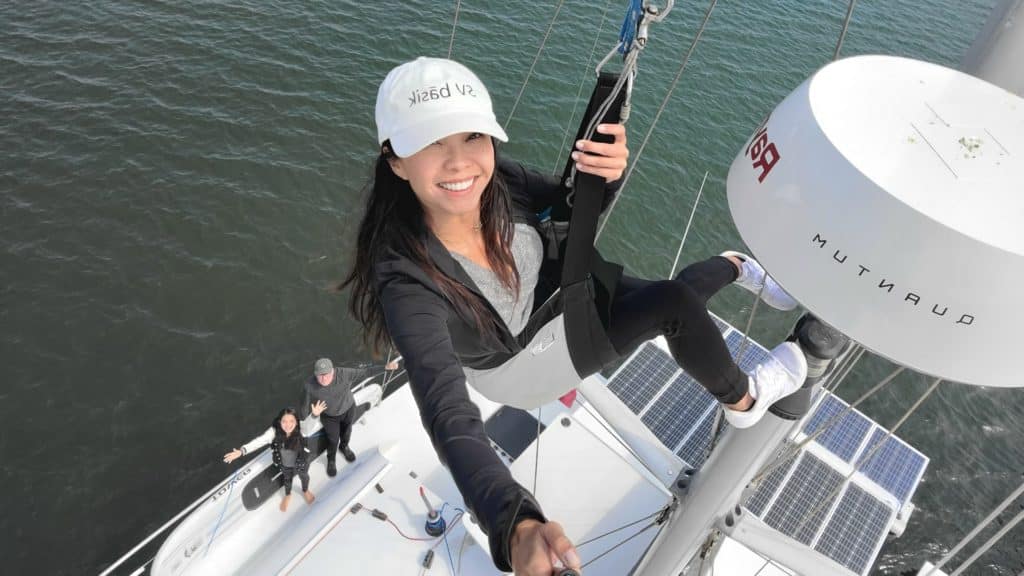 Want To Learn More About Electrical Systems and Lithium Batteries?
We know that building or upgrading an electrical system can be overwhelming, so we're here to help. Our Reno, Nevada-based sales and customer service team is standing by at (855) 292-2831 to take your questions!
Also, join us on Facebook, Instagram, and YouTube to learn more about how lithium battery systems can power your lifestyle, see how others have built their systems, and gain the confidence to get out there and stay out there.
Join Our Contact List
Sign up now for news and updates to your inbox.