Towable RVs are an excellent option for full-timers or those who like to partake in the occasional outdoor adventure. They are praised by the community for their ability to trek to some of the most breathtaking areas out in the boondocks that motorized RVs cannot make it to.
No matter where you plan on going for your next adventure, you'll want to make sure your Towable RV battery system is capable of supplying you with enough power when you are off the grid. And Battle Born Batteries is here to help you!
What is a Towable RV?
It shouldn't come as a surprise that a towable RV is a rig that you tow. It's a camper trailer that you pull behind your car, truck, or SUV.
It's important to note that a towable RV is one of the two main RV categories, the other being motorized RVs. You might also know these self-contained units as motorhomes.
However, not all towables are the same. Let's dive into the different types!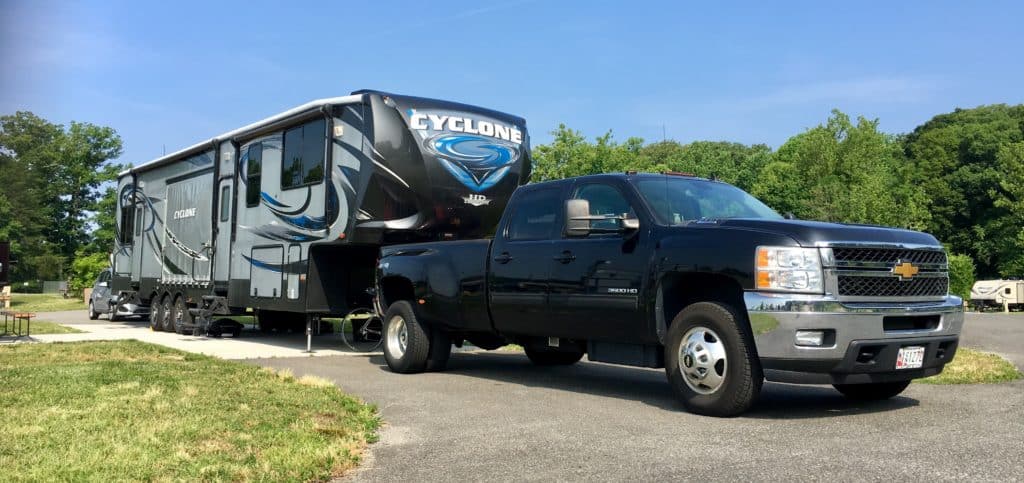 Types of Towable RVs
No matter which sub-category they fall into, all towable RVs have the same basic characteristics. But there are some differences, too, so we'll describe the four main classifications. They're all pretty common and you'll probably see some of each at any crowded campground.
Travel Trailers
When you think of a classic RV that a vehicle tows behind it, this is probably what you have in mind. Travel trailers are essentially a box on a frame, typically with sleeping quarters, a living/dining area, a kitchen, and a bathroom. They use a standard-style hitch and vary greatly in size and weight from small teardrop campers, to folding pop-up campers, to 30-foot pull-behinds.
→ Read: Will Lithium Batteries Work In My Travel Trailer RV?
Fifth Wheels
Fifth wheels are the biggest of all towables and get their name for the way they connect to the truck that tows them. A fifth wheel uses a special type of coupler that you install directly in the truck's bed. This way, the rear axle handles the bulk of the trailer's weight for better stability. Fifth wheels are usually larger than travel trailers and are often roomier. They usually contain sleeping quarters, a living and dining area, a kitchen, and a bathroom. Some have multiple beds and bathrooms. The raised section right above the hitch is usually a bedroom but is sometimes a living room. There's another class of the fifth wheel called a toy hauler. It's an extra-large fifth wheel with living quarters in the front and a "storage room" in the back for hauling ATVs and other outdoor "toys." The back door usually pulls down into a ramp so you can drive vehicles in and out.
→ Read: Will Lithium Batteries Work In My Fifth Wheel RV?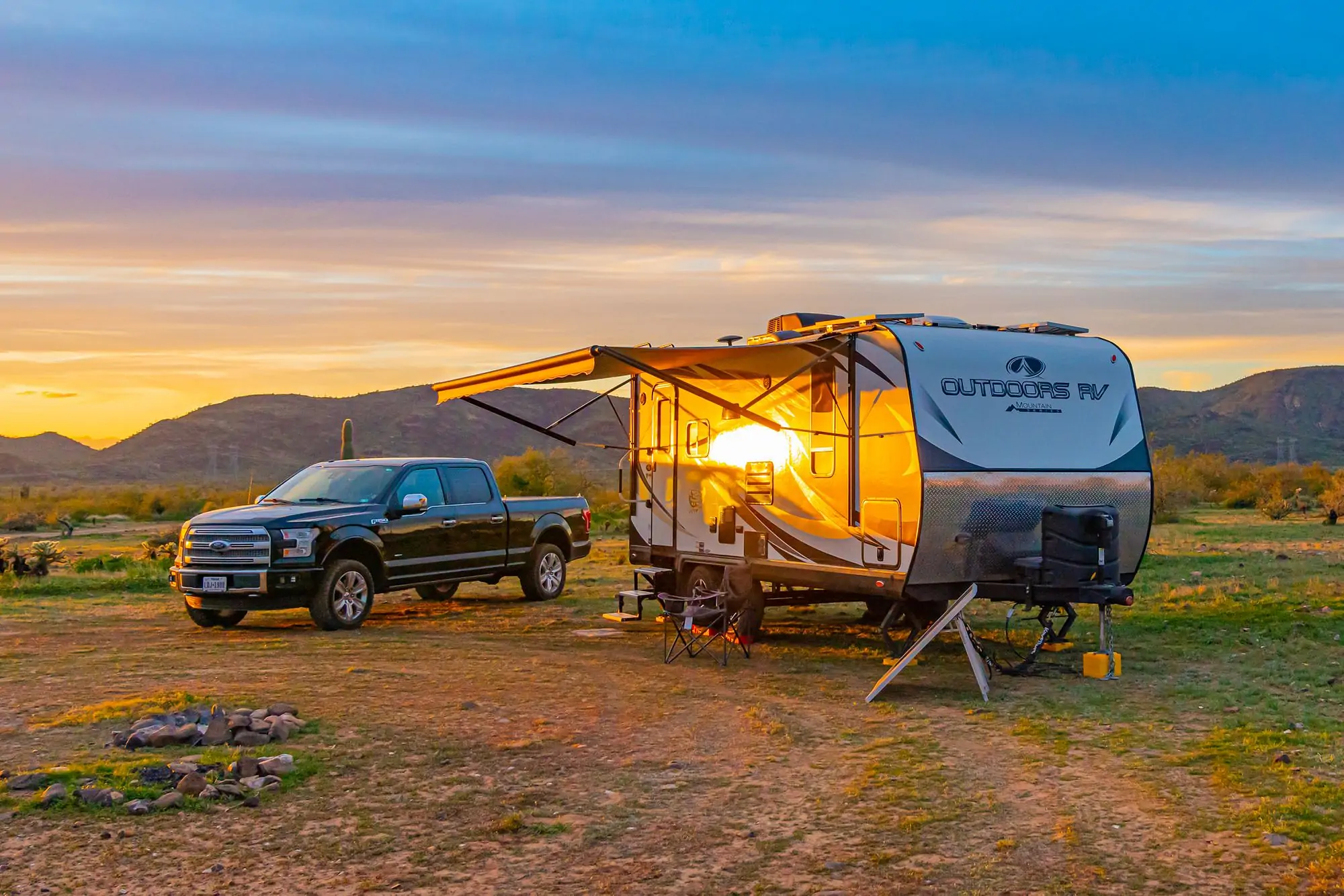 Advantages of Towable RVs
Towable RVs are so popular because they're practical, but they may not be for everybody.
Great for All Campers
There's a good reason the basic design of a towable RV hasn't changed for decades. We love travel trailers for helping get more people out adventuring and camping. They're affordable, first of all, especially if you already own a vehicle that will tow it. Some are tiny, but many provide plenty of space plus your basic conveniences. Depending on the model, a towable is usually perfectly suitable for weekenders as well as full-timers due to a large variety of sizes, shapes, and floorplans. Travel trailers range from 14ft up to 30ft. Teardrops are smaller and fifth wheels can be even bigger to accommodate a couple of people or a whole crew. Some have large residential-style kitchens or toy-hauler configurations to bring your adventure accessories like motorcycles and ATVs. Whether large or small, all of these campers can provide the comforts of home while exploring the great outdoors. With the right electrical systems, they can power everything from small electronics to TVs, microwaves, and even residential fridges.
No Second Engine to Maintain
When you have engine trouble with a drivable RV, your camping plans shut down instantly. With a towable, you can focus on keeping your tow vehicle in good shape. There's no motor in the RV, so that means one less thing to maintain.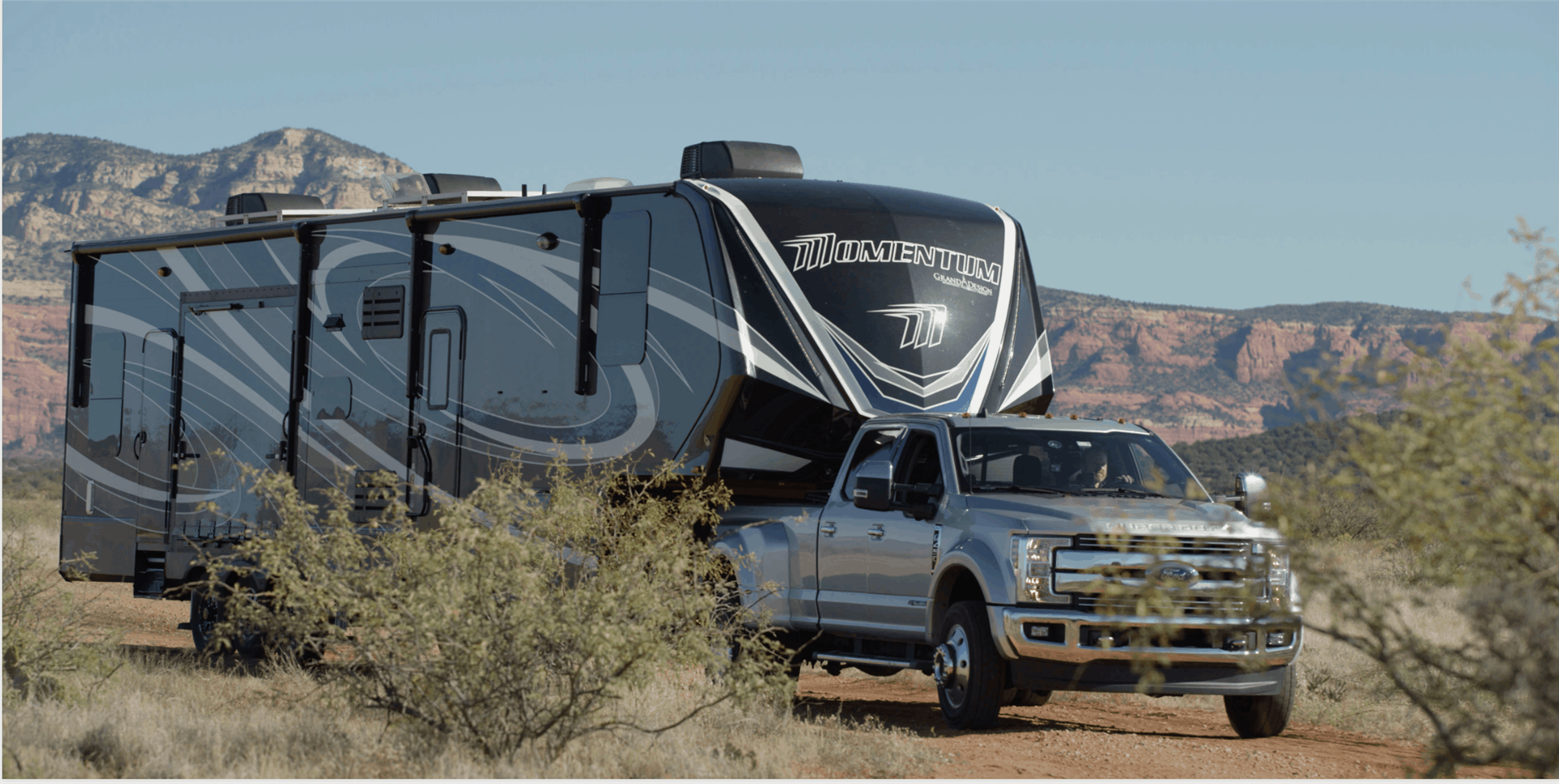 Drawbacks of Towable RVs
No type of RV is perfect for everyone, however, so towable RVs have their downsides, too. There are a few other things to consider, so we've put together a shortlist of other frustrations that owners of towable RVs experience.
Towing Experience Sensitive to Weight Distribution
It's a problem if you don't distribute weight properly. To avoid swaying or bucking, you want a relatively even distribution with a little more weight towards the front. Judging the weight is something you can only learn through experience, but there are some things you can do to help. Installing a weight-distribution hitch or a sway bar, for instance, can help to balance the load. You can also make the switch to a lithium Towable RV battery system. Since lithium batteries can be installed anywhere and don't require venting, they are great for adding to your travel trailer in the best spot for weight distribution. They also weigh half as much, so you'll be towing more safely overall.
May or May Not Have an On-Board Generator
While motorhomes all have built-in generators, they often aren't standard equipment on a towable. Adding a generator is not only an extra expense, but it means extra weight, too. It's something else to think about when calculating what you can afford – and what you can safely tow. Our lightweight Battle Born lithium batteries and their silent energy storage easily outperform the addition of a heavy, loud generator from the factory.
Why Towable RVs Work Great with Lithium Batteries
The standard lead-acid batteries that come with most Towable RV battery systems usually just don't have enough juice to power your camping trip. That's because you're asking a lot from the same battery. It has to power your appliances plus all the lights, inside and out. Fortunately, it's pretty easy to upgrade. In fact, it's common to replace conventional lead-acid batteries with lithium ones. Lithium batteries have considerable advantages for travel trailers. Battle Born Batteries can provide you with two to three times more power than a lead-acid battery which allows you to stay off the grid longer without having to hassle with a noisy generator. They weigh half as much as a lead-acid battery and last up to 10 years or more. Ours come with an industry-leading warranty so you don't have to worry about replacing it every couple of years as you do with a lead-acid battery.
Along with the longevity of your battery, you can count on more consistent power from 100% to 0%. Battle Born Batteries are also capable of being charged up to five times faster than a standard lead-acid battery. You can even fully discharge it without causing damage. So when we say our batteries will last 10 years, we mean it. Also, you can place the lithium batteries pretty much anywhere in the trailer, giving you more flexibility with weight distribution. For many towable RV owners, switching to lithium is the wisest choice. Now you can put your battery anxieties to rest and finally focus on your next RV adventure!