Marc and Tricia Leach of Keep Your Daydream recently started their 10th season on YouTube. Sharing their experiences as they travel the country and try out different rigs, the family encourages people to "start small, start now" to achieving their nomadic dreams. We caught up with Marc and Tricia and talked about what lessons they have learned after 5 years of living on the road. And they have plenty of experience. Though they initially thought they wanted to explore the world by sailing the oceans, the logistics of living on the sea soon bogged them down, and they were paralyzed by all the choices.
Catching up with Keep Your Daydream: 
Employing their "start small, start now" philosophy, they decided to jump into a 30-foot Pacific Coachworks Northland Travel trailer to start adventuring right away while giving themselves time to figure things out. However, they quickly fell in love with the RV life, so they decided to live on the road full time. You can read about that in our first spotlight on Keep Your Daydream.  
"We really don't want people to freeze and say, 'now is not the right time,' because you'll never push off," Tricia said. "So, that whole theme of 'starting small, starting now' isn't always literal. It doesn't always mean you have to have a tiny rig that doesn't fit your family. It just means whatever you can do and embrace it."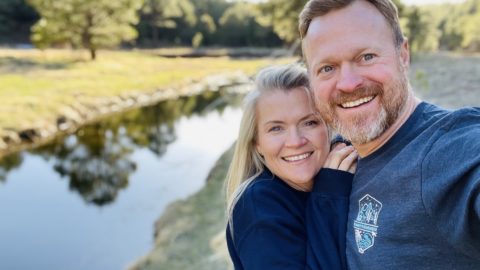 "You have to become your own Robin Hood. You have to steal the moments that are given to you, and you have to push to make things happen. Life isn't just going to unfold for you." 
Since starting their adventure, they have switched to a Grand Design and then an Airstream. In season 10, the couple climbed into a monstrous 43-foot, triple-axel diesel pusher and drove a class C RV, and took a trip in a van to share their experiences with the different vehicles. 
The Leaches couldn't pick a favorite rig they have had over their travels, just like they can't pick a favorite among their three kids: Caleb, Carson, and Tori. They felt like every rig was right for the mission they had at the moment. They said when people are thinking about buying a rig to travel in, they should be "mission-focused." RV buyers need to think about what they want their rig to do rather than think about who they are. 
"It doesn't necessarily have to do with how big your family is, if you're a couple, if you're full time, if you're not full time, people think that is how they should be choosing a rig," Marc said. "It has way more to do with how someone travels than who they are."  
Marc said people need to get some experience traveling in a setup they think they might like before deciding to invest in the lifestyle. With so much information on the internet, there is a temptation to overspeculate what you think you might want and then get entrenched in that decision.  
Marc said many people decide they want to have a van or boondock all the time without having that first-hand experience to see if they like it first. So, they spend $20-$30K on a solar kit or upgrading their rig. Then they might start dry camping and find out they would rather spend their time at an RV park with power and nice amenities. 
Marc said reality is always going to be different than what you have researched and imagined. Getting that real-world experience and making adjustments as you go will result in long-term satisfaction.   
"There is a tendency for people to want to get everything figured out," Marc said. "They want to have the rig figured out, the solar figured out, the batteries, because it can be overwhelming, and that is a way to feel in control."  
"That's fine, but then it might not happen if we wait to have everything figured out. Sometimes, you have to have a little faith that you will figure it out as you go."   
Figuring out your most significant limiting factor to what you want to do can also help you stay mission-focused. Tricia said sometimes you think you want to stay out boondocking for 10-14 days and buy a battery bank that will last that long. But if your water tank will only last 4 days, you will have to leave a lot early than you expected. 
That is why the Leaches like Battle Born Batteries because lead-acid batteries are no longer a limiting factor. As content creators, they constantly charge laptops, drones and need enough power to edit their videos. 
"Battle Born Batteries literally changed the way we were able to conduct our life," Tricia said. 
Before they had our batteries, they would have to plan their route by how long their lead-acid system would last. Back then, they would have to be conscientious about their course and make sure they were close to RV parks to plug into shore power. They would have to limit their time in national parks and dry camping to ensure they had enough energy to work.  
Now with their Battle Born Batteries, they have much more freedom to choose their route, untethered from needing to hook into shore power every few days.     
"The moment we started switching over to lithium, and we knew we had power, it gave us the freedom to choose the route that we wanted to choose, and stay where we wanted to stay, without being constrained by where we could charge," Marc said. "Lithium provides freedom in route planning, where you stay, and how long you stay, and that has been the biggest change." 
With Season 10 of Keep Your Daydream underway, Marc and Tricia are exploring the country like never before in a recently purchased 1984 Wanderlodge Bluebird Bus that they are calling "DayDream" for the official start of Season 10 so be sure to follow their adventures on their blog, Instagram and  YouTube channel.