The Leach family from "Keep Your Daydream" focuses on inspiring others to follow their dreams by documenting theirs. They live full-time on the road, make amazing memories and have quality family time. Here at Battle Born Batteries, we strive to help customers get out there and stay out there! Our LiFePO4 batteries have proven to be reliable and helpful when it comes to outdoor experiences. The memories you make on any trip will not be filled with battery anxiety. We hope that we can help you make your outdoor dreams a reality, whether its going off the grid, taking a trip, or just spending time with loved ones.
They have recently released a blog on their ultimate RV solar upgrade, which elaborates on all the changes made to Grand Ginger in order to gain more freedom and less fatigue.
Hitting The Road to Follow Their Dreams
Marc and Tricia Leach have three kids named, Caleb, Carson, and Tori. Together they travel across the country in their RV to seek out adventure and attain unique memories. They own a 2018 Grand Design Reflection Travel Trailer named "Grand Ginger", which they just acquired in February. Before that, they had a Pacific Coachwork's Northland named "Ginger." It'll be two years that they have been on the road this May, following their dreams and staying true to themselves.
Originally, they wanted to sail around the world, but had trouble figuring out how they could work out on the ocean. They decided they could RV while figuring out their sailing plans. However, they found out they love RVing so much that they would like to eventually do both.
Keep Your Daydream can be summarized as a family who turns something they want in the future to now. Their goal is to inspire people to follow their dreams because they followed theirs.
Marc and Tricia elaborated on their lives before they hit the road,
"There was a time when we were chasing the more traditional American Dream. Nothing seemed to be enough. After a while, it felt like we were spending every day managing our 'stuff'. The garage needed to be reorganized every other month and the kids always wanted the latest electronic or toy. From the outside, we had everything, but in reality, we were just distracting ourselves with the latest thing to create excitement."

Working Hard as a Family
They met on a blind date in college. Marc's high school friend was Tricia's roommate, they hit it off and now live as an entrepreneurial power couple. As for current jobs, Marc runs a virtual medical marketing business, while Tricia runs their travel podcast on iTunes.
Their podcast "Keep Your Daydream | Inspiring Stories of Travel and Adventure" was the cause of their epiphany and encouragement to follow their dreams. They interviewed guests who shared inspiring stories of leaving their "normal" lives to pursue their travel dreams. Each podcast brought the Leach family a different perspective and led them to realize they already had a truck, so all they needed was a trailer to make their dreams a reality.
Aside from the podcast, they also have a YouTube channel called Keep Your Daydream that currently has their primary focus. Marc let us know, "we constantly get emails, DMs, messages that people send us, thanking us for inspiring them to buy an RV, get their life on board, or just follow their dreams. Sometimes, when entering this lifestyle there is at least one person in the family who hesitates on this opportunity. But our channel really demonstrates what it's like to live this lifestyle and to get a glimpse of what we do".
RV Lifestyle
Many of their viewers wonder what this lifestyle is really like, and when we ask them what the hardest part about living together is, they told us, "it really isn't hard at all. There's not really a big difference problem wise, there are still the same problems as any home. The only difference is that everything is amplified because you are living in a smaller space. However, the problems get fixed faster too. Another small issue we also had was the winter season because there was no outside time, so it was a challenge to adjust to this new level of space."
Of course, living this lifestyle comes with perks. Marc really elaborated on the appreciation he has for the community. Their viewers inspire them and allow them to continue on with their content. Marc wants to let people know that he loves making content because he can focus on being in the moment and allow other people to enjoy these experiences as well. As for Tricia, she wanted people to know the advantage of access without the expense, "We don't have to spend so much money on trips because we have our home with us, it substitutes for a hotel and restaurant. We don't have to go out and eat junk food, so we spend more money doing activities we enjoy as a family."
Other projects that give them income include Patreon. The Leaches also have a course people can sign up for that provides users with a step-by-step guide on how to create a successful YouTube channel.
Why Keep Your Daydream Chose Lithium Batteries?
As for why they decided to get LiFePO4 batteries, Marc explained, "I want there to be no difference being in various locations. Whether it's at an RV park or Walmart, we just want our lifestyle to remain consistent. Having no power does change how a person lives and we want that ease in mind. If you can't turn on your TV or coffee maker, it gets irritating."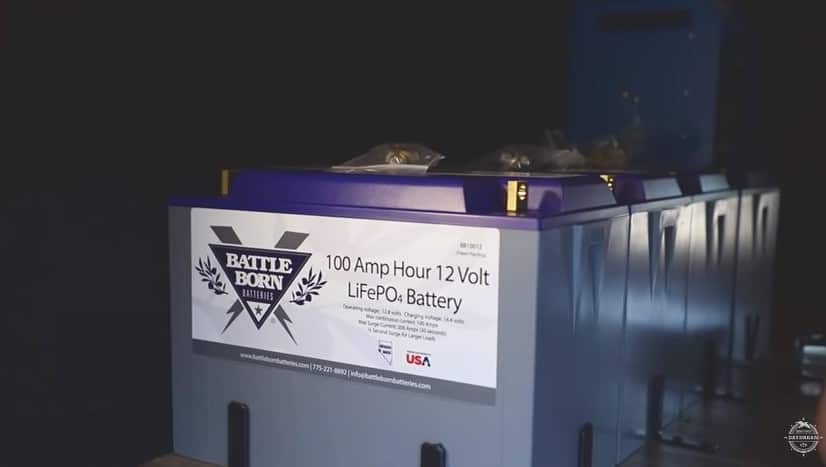 Marc also wants something that will be low maintenance. He has a lot of projects going on that at times he doesn't feel like he has the time to maintain the system as well as he should. Going lithium has not only eased his mind but give him the energy needed to maintain 'normal' living. Thanks to Zamp Solar's recommendations, the Leach family now has Battle Born Batteries.
The Leach family elaborates more on their decision to go lithium in a video, which we encourage you to check out below!
Also, a huge thanks to Jared Gillis for helping Marc and Tricia with their install, check out his video on the install here.
Keep Your Daydream Lithium Battery Kit and Setup
We have restructured our bundles to better reflect the rigs that people can utilize our batteries in, and we recommend checking out the Battle Born Energy Towable 30A 400Ah kit! 
If you not find what you need on the site, please contact us at (855) 292-2831 or at [email protected].
We also offer Keep Your Daydream's individual RV setup components:
♦♦♦♦♦♦
Keep Your Daydream left us with words of advice for those wondering if they should start: "start as soon as you can because once you do, new doors will constantly keep opening but you won't know until you go through the first one." They also explain that if you're looking for something new and have an idea in the back of your head, you may have already discovered that it's not going to go away. "We can help you turn these ideas into a reality and share what we learned along the way," they concluded.
Right now they are wrapping up season four of their videos on YouTube in Sedona, Arizona. For season five they plan to go to Alaska.
Remember to check out  Leach's informative blog called "The Ultimate RV Solar Upgrade."
Follow the Leach's adventures by subscribing to their YouTube, Instagram, Facebook and Website.
Also, Check out Jared Gillis Channel All About RVs to learn more.
More information on our Battle Born LiFePO4 Batteries here.
Want To Learn More About Electrical Systems and Lithium Batteries?
We know that building or upgrading an electrical system can be overwhelming, so we're here to help. Our Reno, Nevada-based sales and customer service team is standing by at (855) 292-2831 to take your questions!
Also, join us on Facebook, Instagram, and YouTube to learn more about how lithium battery systems can power your lifestyle, see how others have built their systems, and gain the confidence to get out there and stay out there.
Join Our Contact List
Sign up now for news and updates to your inbox.