Solar energy powers our homes, businesses, and industries. Now, it's coming to revolutionize the music industry as well. A handful of major artists are taking steps to fight climate change, both in the studio and on the road — and not always in the ways you might expect. Read on as we take a closer look at this unexplored aspect of the environmental picture, including solar-powered concerts and recording studios.
Do Live Music Shows Affect Climate Change?
The answer is, unfortunately, yes. Millions of tons of greenhouse gas emissions go into the environment every year as a result of live shows. Some of this impact is direct, but some comes from indirect sources.
First, consider the likely fossil fuels used to power the band's tour bus, plane, or other transportation. Some acts may travel light, trekking from show to show in a van. However, others may take dozens of assistants, technicians, roadies, and other employees with them. And sometimes they travel across the ocean or around the world.
Then add in the carbon impact of all of the attendees getting to the venue. In some cases, they're also coming from across the country or around the world!
And we haven't even touched on the impact of the energy used by the sound systems and lighting. These can suck up tremendous amounts of juice.
Finally, you've got to feed all those hungry and thirsty music lovers. Most venues operate at least some food and beverage stands. These require significant amounts of energy for food storage and preparation.
How Are Concerts Becoming More Sustainable?
Lovers of both live music and life on Earth shouldn't despair, however. Many bands, venues, and promoters are taking steps to go greener when on stage and on the road.
Bands are encouraged to hit the road rather than fly to concerts when they can. Some have even invested in biofuel-powered touring rigs. You'll also find more recycled materials at venues in the food and beverage areas.
More traditional improvements include solar power installations. Rooftop solar has become significantly more popular in recent years as costs have come down, making solar power concerts and studios more feasible. Even everyday improvements like super-efficient LED lights decrease power usage. They also emit less heat, requiring less work from the venue's air conditioning or air treatment system.
You can even do your part! Take public transportation to venues when possible or organize a carpool with fellow fans. Eco-conscious bands are also being encouraged to book more of their shows at venues that are easy for fans to reach. This is better than massive concert venues only accessible via car.
How Do Solar-Powered Concert Stages Work?
Believe it or not, concert stages themselves are even running fully on solar power these days. And we're not talking about some dinky coffee-shop setup.
Solar stages these days can include 32-by-32-foot models with extensive battery storage that can power a dozen half-hour sets per charge. This is great for eliminating the carbon impact of live shows.
However, it also lets us hold concerts in places they may not have been previously due to a lack of power infrastructure. As solar technology improves, it's easy to see how a single solar-powered concert stage could evolve into an entire festival that generates all of its own power.
How Do Solar Power Studios Work?
Recording studios have many electronic components to them. These include computers, synthesizers, monitors, mixers, instruments, and amplifiers to name a few. To run off solar power, studios need to calculate how much solar power they need to power all of their equipment.
Additionally, they need to figure out where to store excess solar power to use during non-peak solar production times, like when it is cloudy or during the night. Many stationary solar power studios simply feed back into grid power to offset usage, then use the grid when solar production is low. However, completely off-grid recording studios will use solar batteries to store that power.
3 Popular Artists Performing and Recording With Renewable Solar Energy
Beyond all these industry-wide innovations, certain artists or bands are going further to power their touring and recording with sustainable, renewable solar energy. Here are a few of the biggest and how they're doing their part in the green energy music revolution.
#1 Coldplay
Rock band Coldplay is among those with the most significant commitment to cutting greenhouse gas emissions. They've pledged to reduce CO2 emissions on their 2022 tour by half.
Coldplay hopes to accomplish this not only with the help of traditional solar power at concerts and biofuel-powered transportation but also with more creative methods. For example, fans will stand on a "kinetic floor" during the show. This floor will create energy when they jump up and down, dance, and move around. You can even pedal an in-venue stationary bike to help generate even more energy to power the show.
The band has also opted to use 100% renewable grid energy when it's available. By staying on the cutting edge of technology, Coldplay is helping the environment and raising awareness of new strategies in the climate fight.
#2 Jack Johnson
Jack Johnson may project an ultra-relaxed vibe with his beachy, chill soft-rock. However, he's anything but laid back about fighting climate change.
Johnson's 2022 tour is taking a variety of "greening" steps. These include biofuel-powered transportation and matching donations to local environmental groups at each stop.
He's also encouraging venues to reduce or eliminate the use of disposable plastics and other materials. He's encouraging them to swap them out for recycled or reusable products. He'll use eco-friendly and sustainable materials for concert merchandise. Johnson's team works with venues to recycle and compost as much waste as possible.
This true all-of-the-above approach is one that other artists and communities can use as a positive model.
#3 Cake
The band Cake has been at the forefront of the solar-powered music industry for over a decade. As early as 2011, Cake was using solar panels to power their California recording studio. This came long before renewable energy was on the radar of most musicians.
It's just part of the band's unique environmental activism. This has also included giving out tree saplings for showgoers to grow at home. Cake has heavily supported reforestation efforts. At one point, they raised money to plant more than 24,000 trees in just 10 days. It's hard to think of any other musical act with this much of an impact on adding green back to our planet.
Music Artists Pairing Solar Panels and Lithium Batteries for Mobile Recording Studios
We love hearing stories about unique ways our customers are living their lives and powering their professions with solar power and our lithium batteries. For instance, Rehabit8's Mela and Don plan to live in their recently renovated 40-foot-long MCI coach bus which also doubles as a recording studio. It will be powered by solar panels and 3 270Ah 12V LiFePO4 Deep Cycle GC3 Batteries. Mela is a dancer and Pilates teacher while Don is a composer. Together, their goal is to inspire others to live a healthy, environmentally conscious lifestyle.
In another mobile studio build, full-time RVer and musician Joachim fully renovated a 2009 Fleetwood Terra into a recording studio. He used 3200 watts of monocrystalline solar panels on the RV roof, paired with two 24/3000/70 MultiPlus Inverters and 14 100Ah Battle Born LiFePO4 batteries.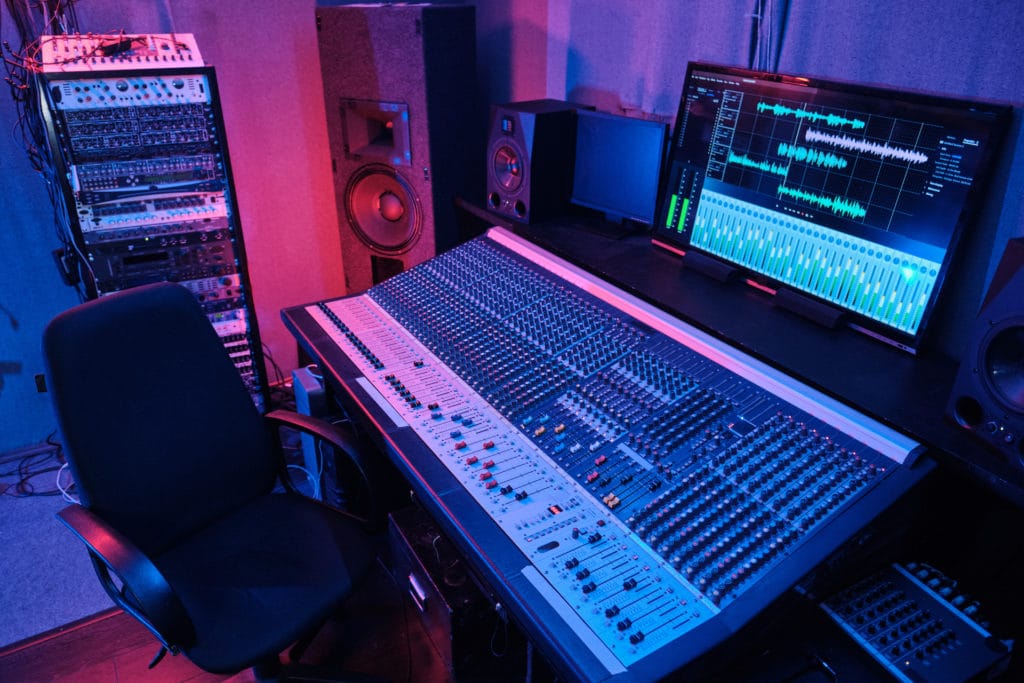 The Future of the Music Industry Will Be a Sustainable One
It should be no surprise to anyone paying attention to energy or the environment when we say that the future of the music industry is headed in a more environmentally-friendly direction. Artists and fans have realized they can significantly impact the fight against climate change. They can do this not only by eliminating the direct impact of live shows but also by making positive steps beyond that.
As society adopts more and more green and renewable technology, most of the music industry will naturally follow suit. But lovers of the environment and great tunes should remember these early pioneers who helped lead the way with solar power concerts and studios.
Want To Learn More About Electrical Systems and Lithium Batteries?
We know that building or upgrading an electrical system can be overwhelming, so we're here to help. Our Reno, Nevada-based sales and customer service team is standing by at (855) 292-2831 to take your questions!
Also, join us on Facebook, Instagram, and YouTube to learn more about how lithium battery systems can power your lifestyle, see how others have built their systems, and gain the confidence to get out there and stay out there.
Join Our Contact List
Sign up now for news and updates to your inbox.