Mela and Don, of Rehabit8, took a leap into full-time travel when they purchased a 1996 Coach Bus to convert into a tiny home on wheels. They gutted the bus and custom built every square inch of the bus to accommodate their specific lifestyle. As they finish their bus conversion, Mela, Don, and their two cats are ready to begin their travel adventure.
Meet Mela and Don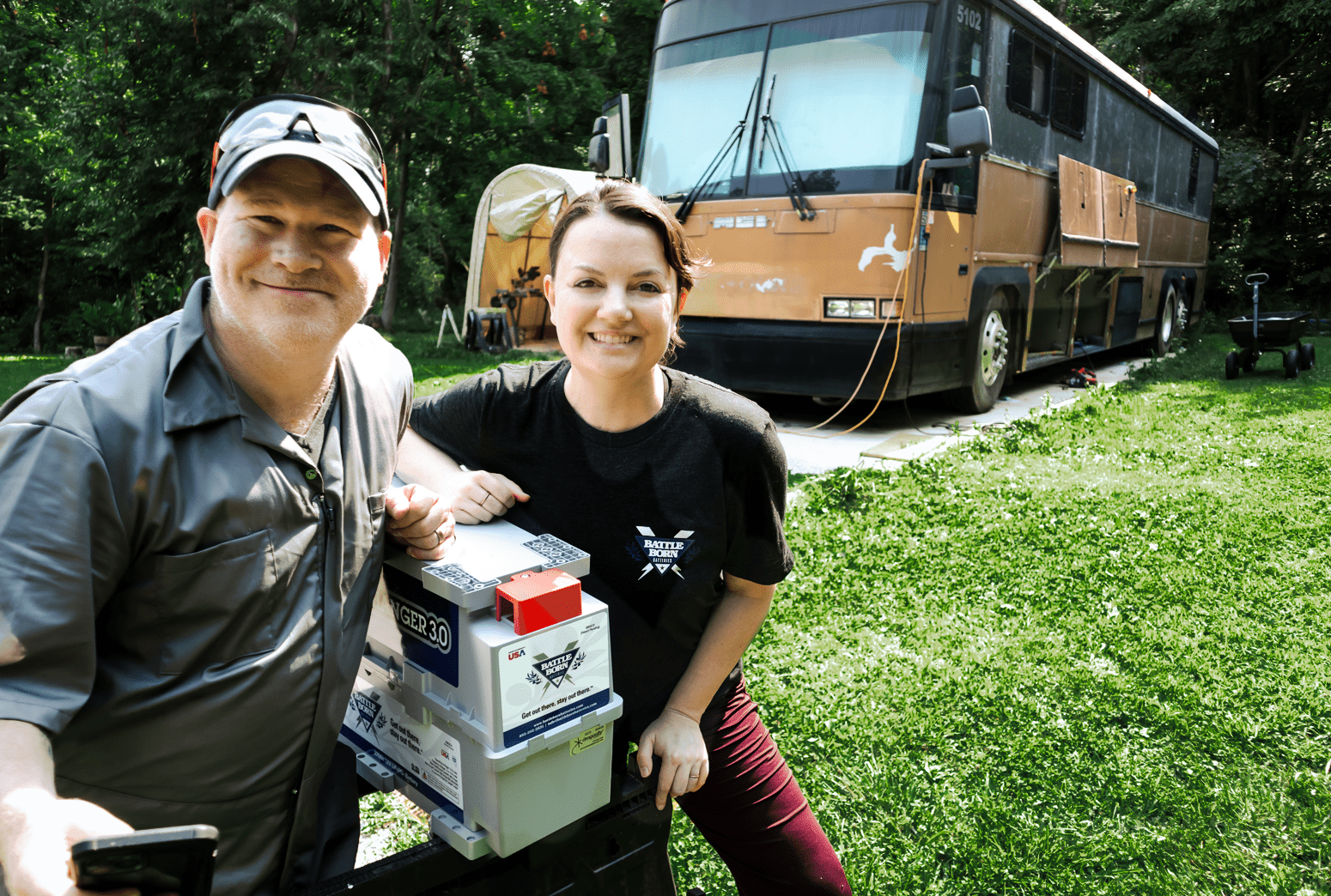 Mela and Don Bodin have been married for two years and together for eight. Both Mela and Don have a deep love for travel, especially internationally, exploring the countries of Greece, France, South Africa, and more. They love getting to explore diverse cultures, cuisines, and communities. 
Getting to explore nature in various climates, is another reason Mela and Don love traveling. Both are dedicated to being as eco-conscious as possible and the enjoy spending time "contemplating life in the depths of nature."  
One of Mela and Don's favorite travel memories was hiking the Crater Rim Dr at the Kilauea Volcano on Hawaii's big island. They describe it as one of the quietest places on earth–the sound of the birds slowly dies down to silence "where the road disappears and [you're] surrounded by lava fields with views of the violent bubbling core of the volcano." 
Custom Build Coach Bus to Tiny Home Transformation
In awe of all the world had to offer outside continental North America, Mela and Don decided they wanted to spend more time traveling through the continent they call home and see all it has to offer. Mela said that "about 3 years ago, I told Don that I wanted to feel like I am on vacation every day. Even on a workday." This motivated them to search for a lifestyle that would allow them to enjoy everyday and feel motivated and inspired. 
Mela and Don wanted to find a way to simplify their life, so they set out in search of a mobile home on wheels. Before purchasing a vehicle, they stayed in tiny homes and rented an RV to see if the new lifestyle would suit them. After traveling around in their rented RV, they didn't want to return it. They knew this was the life change they had been searching for. 
On April 19, 2019, Mela and Don purchased their new home, a 40ft 1996 MCI D3 coach bus. They completely gutted the interior and set out on their DIY bus conversion. The conversion began by installing new floors, walls, ceilings, windows, insulation, and a skylight. Then they painted, refinished the exterior, and began adding furniture. Recently, they completed their largest piece of furniture and custom built the countertops in their kitchen from a tree in their backyard. 
Their favorite part of the build? "Each time we complete a new room or project it becomes our favorite, but our smallest room, the bathroom, is like a little slice of heaven." Complete with faux marble walls, a skylight, and a water-saving rain shower, it feels like it should be in a luxurious spa. 
DIY Electrical System with Battle Born Batteries
In addition to custom building the interior of the bus, Mela and Don assembled their entire electrical system on their own. In order to power their tools, lights, mini-split, and any other electronic in their bus, Mela and Don installed an electrical system with solar panels, powered by Battle Born Batteries.  
Their system includes: 
Mela and Don's electrical system will give them reliable, renewable power anywhere they choose to park their tiny home. They're able to harness the power of sun to keep their Battle Born Batteries charged and running and instead of relying on shore power, Mela and Don are able to boondock anywhere without any battery anxiety. 
When it came to choosing the components of their electrical system, Mela and Don said that Battle Born Batteries was their "absolute top choice." They're confident in the safety and reliability of the battery management system (BMS) that monitors their batteries. "Battle Born Batteries will allow us to boondock and give us piece of mind that we can safely stay off grid for longer." 
Although Mela and Don aren't on the road yet, they have spent three weeks living in the bus full-time. With their electrical system, they have been able to run the air conditioner to keep cool at the end of summer and heat the bus as they've been working on it through the winter. 
Rehabit8 Bus Life
For Mela and Don, living ion their bus has been a dream come true. Despite it being the smallest space, they have ever lived in, it has everything that the need. Since they thought through each space in the bus, they were able to custom build it exactly to their liking. This has allowed the 280 square feet they live in to feel surprisingly spacious. 
Their tiny home in wheels is also home to their two cats, Pizzicato and Mr. Sweetface, siblings who were adopted together. The two were originally to be named after musical terms and Mr. Sweetface was supposed to be called Maestro, but shortly after their adoption, Mela couldn't get over his sweet face, and the name simply stuck. 
The cats love adventure just as much as Mela and Don. Pizzicato loves the snow and climbing trees, and Mr. Sweetface enjoys exploring and catching mice. Despite the cats' love for living on the bus and seeing new places, they are still afraid of the engine noise and will need to adjust to full-time travel. 
Mela and Don are excited for the opportunity to travel full time and without having to leave the cats at home. They're also looking forward to the "freedom to explore opportunities and connect with other like-minded nomads." 
What's Next for Rehabit8
As Mela and Don finish their build, the next major project is to complete the plumbing. Once their plumbing is complete, they plan to head west to chase warm weather and enjoy the vast array of boondocking options. With their completed plumbing and their Battle Born Battery electrical system, they plan to boondock for extended periods of time, whenever possible. 
In their first adventure in the completed bus conversion, Mela and Don hope to head to the California Coast and Big Sur. They love a combination of beaches and mountains and found that area have it all in one place.  
In addition to their upcoming travels, Mela and Don are working on an "Untitled Music Project". They love creating music together and are adding a recording studio to their bus, which will be powered by their Battle Born Batteries.  
To keep up with Mela and Don's build, upcoming travels, and future music projects, check out their Instagram, Facebook, YouTube, and website.