Here, at Battle Born Batteries, we offer a lot of products from Victron. They make high quality products and most of their components are configurable to work with our lithium deep cycle batteries.  In this guide we wanted to show all of you how to program a Victron SmartSolar controller.   
What you will need to complete this programming –
At least one 12 volt Battle Born Lithium Deep Cycle Battery or any 12 volt battery
Small Set of Wiring, one for the positive and negative connection
Victron Smart Solar 100/30 Solar Charge Controller
Victron Connect App for Android or Apple
Steps:
1. Download the VictronConnect app onto your phone.
2. Connect the SmartSolar charge controller to the 12-volt battery.
3. Next, search for the controller on the phone app, here is a screen shot to show you what it looks like on an LG G6 Android phone.
4. After you've connected to your SmartSolar charge controller, you may get a notification that the firmware needs to be updated. You will need a pin code, the default pin is "000000."  
5. Now you can select the unit and move to the next screen, which is where they ask you to update the firmware, mine asked twice (see below).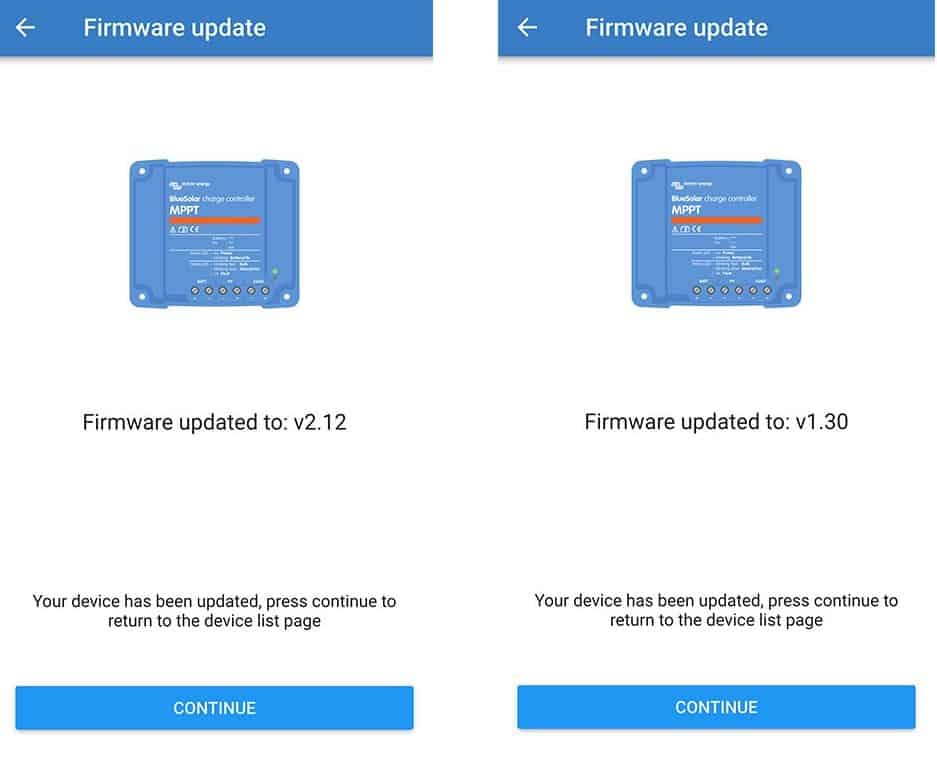 6. Moving on, you will now see the main screen. At the blue screen on the top right corner, there is a gear icon for the settings, when you click it you will come to this screen. Then, click the battery menu.
7. Once you come to this main screen, select the battery preset menu and choose "User Defined."

8. Lastly, inside the User Defined settings menu you need to make these changes: 
Absorption voltage: 14.6 volts (acceptable range is 14.4 to 14.6 volts)

 

Absorption Time: The recommended settings for our lithium batteries is half an hour per 100ah of LiFePO4 battery (for example if you have 2 -100ah batteries select 1 hour).

 

Float Voltage:  13.5 volts (13.6 volts or lower is acceptable for LiFePO4 batteries)

 

Equalization voltage: 14.4 volts (you do not need to equalize Lithium ion, you will have equalize turned off, but incase it ever runs a cycle the batteries will be fine at this voltage)

 

Temperature Compensation:  should be disabled on Lithium Deep Cycle batteries because they do not need to be compensated, leave this off.

 

Low Temperature cut-off: Our Battle Born Batteries have low temperature charging protection built into the battery, it's monitored by our Battery Management system which is also built in.  You can leave this off too, some other brands do not protect your battery against damage from low temp charging, we do, we have got you covered.

 
♦♦♦♦♦
After following all of these steps, your new SmartSolar charge controller should be all set up now! Once done, go back to the main screen and click on the floppy disc icon on the top right. It'll be the first icon on the toolbar. This icon will save your settings, you can name it whatever you'd like, we usually go with "CS1" (Custom Setting 1). Once saved, you can back out of the unit and go back in to make sure the new correct settings have saved properly.   
If you have any questions about this Victron Solar Charger controller or any other charge controller, please send us an email [email protected] or give us a call (855) 292-2831.  We are more than happy to help you, here at Battle Born Batteries!