Recently, Battle Born Batteries met a hard-working couple that are a perfect fit for our products. Nathan and Stephanie Yarbrough from EXPLORIST.life, previously known as "Adventure In a Backpack," have implemented a 600-amp 12 v lithium ion, deep-cycle battery bank to their Sprinter van. According to the couple, one of the benefits Battle Born Batteries provides them with is the weight reduction to their set up, which helps them immensely. They have also converted a new truck cab-over to a Battle Born Battery bank, which belongs to Nathan's Mom. Both of their setups are built to fit all their needs and create the ability for the whole family to get out there and stay out there!
Battle Born Batteries and EXPLORIST.life
Nathan and Stephanie Yarbrough are high school sweethearts that have known each other since the 5th grade. They lived an ordinary life that was based on the "American Dream," where Nate worked as a firefighter and Stephanie as a financial officer.
Currently, they travel full time in their converted Sprinter van while creating content for EXPLORIST.life through their YouTube channel and blogs for their website. Along with that, Stephanie is a consultant for a virtual accounting firm she owns. While Nate is a videographer for other people as well as their own channel. They also offer eBooks and extensive DIY info for van building and mobile solar setups. Click this link to receive your own copy of their newest eBook!
 The beginning of a new chapter
Steph and Nate told us the beginning of their journey. They remember when Nathan's father passed away due to health problems, which was the moment they both realized that they were saving for something eventual but not living for the present. Ultimately, they decided it was time to follow their dreams and live the way they have always wanted to. In November 2015 through January 2016 they made the decision to move into a 2008 Golf Stream Crescendo RV and start traveling across the country full-time. By July 2017 they moved into a 2007 Mercedes Sprinter van with a 170-inch wheelbase.
Their current Sprinter van took an initial research time of around 3 months due to aspects they wanted to make sure were designed correctly.  Nate and Steph drew up whiteboard sketches, took ideas from other IG accounts, looked in forums, and decided which aspects were non-negotiable. They explained that the hardest part of the build was sifting through the information available online and separating good, helpful information from the things that were not so helpful, "There are a lot of opinions out there on how to 'best' build a campervan. Each person has different needs and there's no standardized way of building a campervan."
They have traveled across the country ranging from Michigan (to visit the Great Lakes), all the way to San Diego for the ocean views. So far, their favorite place has been Southern Utah and Alaska because of the breathtaking views. Furthermore, they plan on staying on the western part of the United States for the rest of the 2018 year. Their stops include Portland, Seattle, Denver and many more.
Van Life
Nate and Steph have been together 14 years and their relationship has worked for so long because they have always had great communication. Therefore, living together in their Sprinter van all the time doesn't take a toll on them. Nate and Steph made it through college and life because of the patience they took to develop and understand each other. As for what is the most enjoyable part about living on the road, Steph and Nate really enjoy the flexibility.
"Having the flexibility to stop and take little detours along our route is by far the most enjoyable part about living on the road. If we were more pressed for time to be in certain places or be back to an office after vacation, we would miss out on some of the more sporadic stops that we've discovered randomly," explains Stephanie.
For those considering this lifestyle, they want them to remember that it is a huge change. Van life must be supported with a 100% mindset and one must be 'prepared to jump.' "A lot of people don't realize that being on the road you must be flexible with everything you do. People may see the perfection on IG ad YouTube, but it isn't always. Hence, there's always going to be struggles to find solutions in normal problems of life," they noted.
Rebranding
As mentioned before, the name "Adventure in a Backpack" is no more. The Yarbroughs have decided to change their name to EXPLORIST.life for a few reasons, but mainly due to issues with their original brand name. "When we chose the name Adventure in a Backpack, we knew NOTHING of branding.  We knew we just wanted a blog and somewhat used the first thing we thought of," Nate explained. As time progressed, it was apparent that people didn't understand the name "Adventure in a Backpack" because they didn't sell backpacks, nor were they backpackers.
When they chose the name "EXPLORIST.life," it better defined what they did. Yes, sometimes they do go backpacking but they also ski, paddle board, rock climb, mountain bike, scuba dive, and enjoy pretty much every other active outdoor adventure they can find! "A lot of people were trying to corner us into the #Vanlife niche with Adventure in a Backpack.  With the EXPLORIST.life rebrand, we made it VERY clear that we weren't 'Vanlifers,' but Explorists.  We may not always live in a van.  We may hostel hop.  We may buy a boat to live on.  We may move back into a normal house and take shorter, yet even more epic trips," they explained.
Even more than all of that,  changing to the brand EXPLORIST.life, gave them the flexibility to open up the brand to help other people be explorists.  There is a lot in the pipeline, Steph is developing a course that will teach people how to start a business without being bound to a physical location.  Since she owns her own firm as a business financial strategist where she helps businesses grow, her opening up a course that includes a 101 level "How To Start a Business" component  makes perfect sense.
The couple let us know that EXPLORIST.life is going to involve a lot more educational content to look forward to.
Battle Born Lithium Ion Power
For years the couple researched about lithium batteries as a replacement for their lead acid. It wasn't until Battle Born Batteries that they could find lithium batteries that were affordable are also easy drop-in replacements. Together they explained the benefits of Lithium batteries from Battle Born Batteries,
"The biggest benefit is that it provides us with less weight and more amp hours for the same footprint of our current lead acid battery setup. Weight is always a huge factor in a camper van and being able to cut down on the weight for batteries gives us more weight capacity for the important stuff – adventure gear!"
Recently, they made a video on their YouTube channel called "Lithium VS AGM." It discusses the total costs and lifespan benefit lithium buyers receive.
EXPLORIST.life Lithium Battery Kits
Here at Battle Born Batteries, we really want people to gain the benefits on their systems as well, which is why our new bundle system is restructured to fit the needs of your rig. Check out our Battle Born Energy 600Ah van bundle, which is similar to Nate and Steph's setup!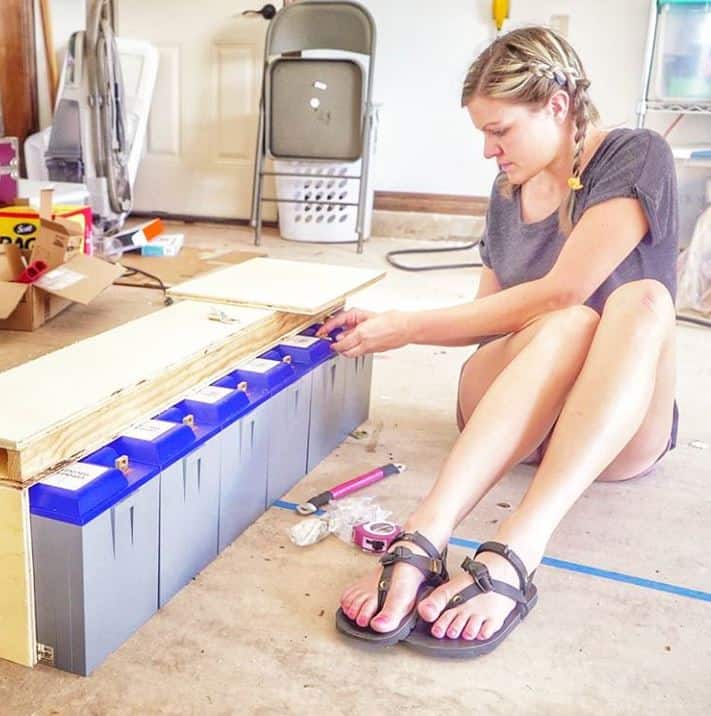 Individually Nate and Steph's current setup consists of:
AIMS Power 2000 Watt Inverter Charger
Nathan's mother also just decided to live on the road full-time and wanted to be powered by Battle Born Batteries as well, However her system is much smaller. To learn more about that set up you can watch their very educational video here.
Nathan's mom has a truck camper whose system consists of:

♦♦♦♦
We would like to thank Nathan and Stephanie of EXPLORIST.life for wanting to take this leap by converting over to Battle Born Batteries.
If you would like to stay up to date with all their adventures (like we do) on their Website, YouTube,  Facebook, and Instagram go ahead and follow these links to their platforms!
Make sure you like, comment, and subscribe! Don't forget their Monday night live chats!