Full-time travelers Mike and Debby Lee, of Ironhorse Overland,  have a unique overland rig composed of a 2015 Toyota 4Runner SR5, pulling a 2020 Patriot Camper X1H. Eager to take their off-the-grid lifestyle to the next level, they made the jump to renewable energy and left lead acid behind. Mike and Deb replaced their old AGM Batteries with 3, 100 Ah Battle Born Heated Lithium-Ion Batteries. 
Meet Ironhorse Overland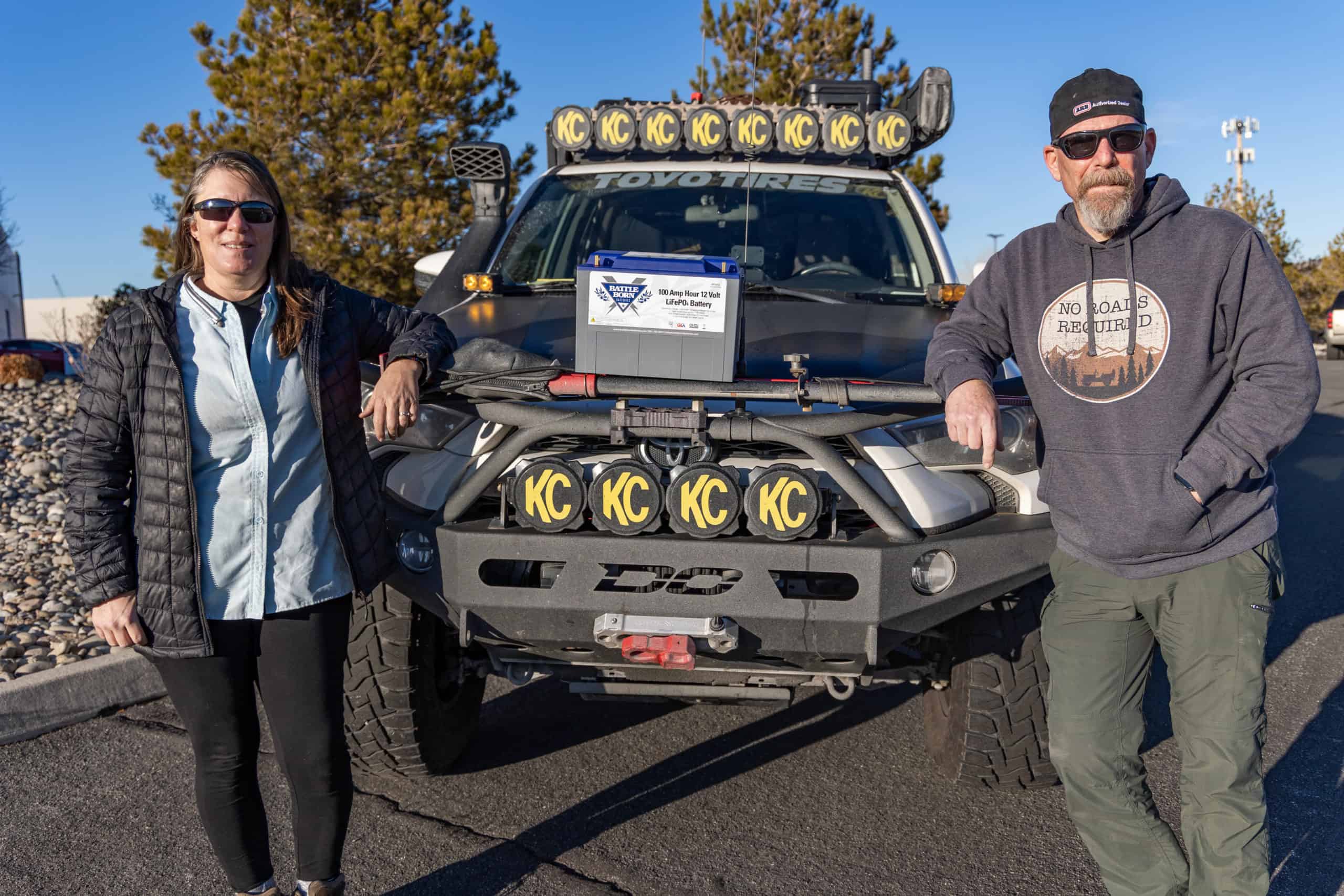 Mike and Deb Lee are the couple behind Ironhorse Overland. They are originally from Placer County, California and they've been together for 15 years. Mike and Deb are proud parents and grandparents and are constantly visiting their family while on the road full-time. 
Both military veterans and dedicating their careers to serve their community, Mike was a law enforcement deputy for 22 years and Debbie was a firefighter and paramedic for 32 years.  
The Ironhorse crew love all things outdoors. Any excuse to get outside is gladly taken, and they love spending their time outdoors together and with their dog Gunner. Gunner joins them on all their adventures and loves sleeping with his head on the center consul during travel days. (Does life on the road get any cuter than that?) 
The Road to Full-Time Travel
A love for travel and the outdoors inspired Mike and Deb's dreams of full-time travel. While this wasn't possible during their careers, their plan for retirement was centered around being able to get on the road and go whenever and wherever they wanted.  
Initially, Mike and Deb planned on retiring to an RV for full-time travel, but ultimately an RV didn't match the travel lifestyle they desired. They quickly realized they wanted to "get further off the beaten path then an RV would allow." Overland it was. An overland rig would allow them to be off-the-grid in nature and remain completely self-contained as far out as they possibly wanted. 
When asked about their favorite part of the overlanding lifestyle, Mike and Deb said, "Hands down, it's freedom." They love having the ability to go anywhere they want, whenever they want, and stay however long they want to. Mike and Deb also enjoy a "freedom from the material things that clutter [their] lives." Living out of their rig full-time has encouraged them to downsize their belongings to only the essentials. 
Now both retired, they began their full-time travel adventures in July of 2021. Before they were able to begin their travels, they set out to build the perfect overland rig to suit their specific lifestyle. 
The Ironhorse Overland Rig
The Ironhorse Overland Rig began with a 2015 Toyota 4Runner SR5 that Mike and Deb initially bought as a work vehicle for Mike. When they began looking into overlanding, they figured the 4-Runner would be perfect due to its capabilities off-road. They eventually named her Serenity after the surreal peace they felt when they were able to venture off-the grid and into nature. 
As Mike and Deb were setting out to begin their build, having emergency communication devices was essential to them. As a former deputy and firefighter/paramedic, Mike and Deb know that "when you are going off grid, it is a safety essential to be able to call for help if something goes terribly wrong." They were sure to have reliable communication devices and a good first aid kit. 
Then, Mike and Deb made some initial upgrades to Serenity. They added "a small lift, lockers, upgraded suspension, bigger tires, and armor." Then they put a floor and drawer system where the rear seats used to be, upgraded the front and rear bumpers, and added lights, a roof rack, and a fridge. The initial plan included a roof-top tent for their sleeping arrangements, but after using this for initial overland expeditions, they decided it wasn't a permanent option and worried that "someday one of us was going to fall off the roof and break a hip." 
They quickly began researching trailer options and came across the 2020 Patriot Camper X1H. Mike and Deb decided this would be the perfect addition to their overland lifestyle. With their new trailer added, the Ironhorse Overland rig was officially complete. While Mike and Deb love the functionality of their set-up, their favorite part is the fact that their trailer/rig combination allows them to go way off the beaten path and still live comfortably. 
Transitioning the Ironhorse Overland Rig from AGM to Battle Born Batteries
After spending time out on the road, Mike and Deb noted that "it became very apparent that our 55amp/hr AGM 4-Runner house battery and the Patriots 2-150 amp/hr AGM batteries were not going to do what we needed them to do." They began looking into alternatives and started doing research on lithium, searching for the right lithium system for them. After doing their research, they said that "Battle Born was at the top of the list for many, many reasons." 
Mike and Deb picked up their Battle Born Batteries last month and recently got them installed. With the help of their full-time travel friends, BYOEOverland, they did the entire installation in two camp spots in the desert. Mike and Deb have replaced their old AGM batteries with 1 Battle Born 100Ah 12V LiFePO4 Heated Battery in the 4-Runner and 2 Battle Born 100Ah 12V LiFePO4 Heated Batteries in the Patriot Camper. 
In comparison to their old, "ultra-heavy" AGM batteries, Mike and Deb loved how much lighter their Battle Born Batteries were and how much easier they were to install. They are looking forward to their upcoming travels and having "more options, less restrictions, and a lot less worry" with the new lithium system. Mike and Deb are confident in their batteries to provide them with the power they need and allow them to get out there and stay out there longer. 
Where is Ironhorse Overland Headed Next?
Since beginning full-time travel, the Ironhorse Overland rig has been across the US, from California to Texas, South Dakota to Florida, and everywhere in between. Mike and Deb have been teaching at various Overland Expos and visiting family as they traverse the country.  
So far, their favorite part of their travels was "sitting in [their] first official full-time campsite, watching the sunset and realizing this is truly [their] new life." Looking forward to their upcoming travels, Mike and Deb are excited to spend time together, sightsee, relax, and take lots of photos. 
Currently, the Ironhorse couple is outside of the US on a 5-week adventure down the Baja Peninsula. Following this adventure, they plan to travel up to northern California to visit family and then travel to Arizona and New Mexico for the Overland Expo West. From there they plan to head north to Tuktoyaktuk, Canada and then west into Alaska. 
To learn more about Ironhorse Overland and to keep up with Mike and Deb's upcoming adventures, check them out on Instagram and Facebook.