Upgrading your RV to harness power from the sun can unlock a whole new camping experience. However, you don't want to entrust just anyone to install your RV's solar system. Searching "RV solar installation near me" will likely provide you with a list of qualified and non-qualified companies and individuals who claim to know their stuff. 
We want to give you some ideas to sort through them and pick the best installer for you. 
Who Should You Call to Install RV Solar Panels?
If you're hiring someone to install RV solar panels, it probably means they'll be drilling into the roof of your RV. This isn't a task you want to entrust to just any random person who claims to be an expert. Doing your due diligence here will save you significant time, money, and stress. 
As we mentioned earlier, searching "RV solar installation near me" will likely bring up many results, so start filtering through them. As you read reviews or request references, you'll begin to get a sense of those who know how to do the job well. 
You could also find a handy person who knows how to install panels, but be careful. It's harder to gather references and reviews for individuals. 
→ Find out How Much Solar Do I Need? before you call an RV solar installer to help with getting an accurate quote.
RV Solar Installers We Recommend
Here at Battle Born Batteries, we speak to dozens of people daily looking for help installing their electrical and solar systems. Here are some installers we recommend:
Off Grid Solar Specialists in Colorado Springs, CO
Website: https://www.rvoffgridsolar.com/
Phone: (719) 271-9957
Sin City Overland in Las Vegas, NV
Website: https://sincityoverland.com/
Phone: (702) 580-2349
Southwest RV in Glendale, AZ
Website: https://www.southwest-rv.com/
Phone: (623) 486-3452
AM Solar in Springfield, OR
Website: https://amsolar.com/
Phone: (541) 726-1091
Inverter Service Center in White House, TN
Website: https://inverterservicecenter.com/
Phone: (615) 285-0611
Auer's RV in Georgetown, TX
Website: https://auersrv.com/
Phone: (512) 863-2030
The Dry Campers (Leanna and Mike Purdue)
Website: https://thedrycampers.com/
View Availability: View Calendar
Off The Grid Camper (Cameron Belscher)
Website: https://www.offthegridcamper.com/
Get In Touch: View Schedule and Contact
Panels Up Solar in Laurel, MS (Justin Ford)
Website: https://panelsupsolar.com/
Phone: 228-363-9121
How to Find RV Solar Installation Near You
One of the best ways to find an RV solar installation near you is to search online. Some companies who specialize in residential installs will do your RV solar install. Reaching out to these companies can be a great way to find the best RV solar installation near you.
You may also find a few RV solar Facebook groups and see if anyone has used installers in your area. You can see unbiased feedback from other RVers to help decide on an installer. Even if you know nothing about installing a solar system in an RV, seeing pictures of a clean install can be a good sign that the installer knows what they're doing. If you see a rat's nest of wiring, it's worth moving on to the next installer.
Certain apps like Thumbtack, Angi (formerly Angie's List), Pro Referral, and HomeAdvisor powered by Angi can also connect you with professionals in your area. Again, do your due diligence to avoid hiring a dud. 
Is RV Solar Installation Expensive?
Depending on the size of your RV solar installation, the costs can vary greatly. Installers typically charge $100 to $150 per hour. If you're installing a small system, it may only take a few hours to do the job. However, installing a more extensive system can easily take 10-15 hours or more.
Please note that installing an RV solar system involves more than just putting a panel or two on the roof and connecting some wires. You'll likely need a solar charge controller, inverter, and considerable upgrades to the wiring running to and from the various components. Despite the expenses, RV solar is an excellent upgrade for many RVers.
→ Learn the Major Components of an Off-Grid Solar System so you don't miss anything!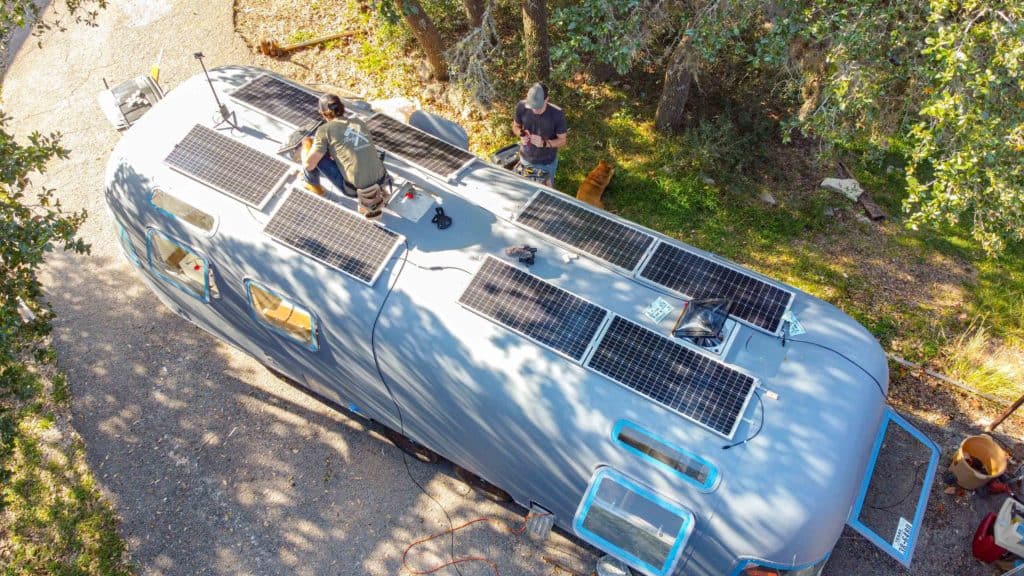 Is Mobile RV Solar Installation an Option?
If you can't find an RV solar installer near you, some professionals will come to you for a fee. Just make sure you get the hosts' permission to work on your RV if you're in a campground or RV park.
There are professional mobile RV solar installers that travel the country in their RV doing solar installs. Many have credentials through the NRVTA, so you know they know their stuff.
A disadvantage to choosing a mobile RV installer is that it may be difficult to fix issues after the install. You could be on one side of the country, and they're on the other, and you end up playing phone tag or feeling ghosted when you need them most.
Can You Install RV Solar Panels By Yourself?
There are plenty of RVers who have installed solar panels by themselves. It's a possibility, but you want to do your research. Selecting the right panels, where to place them, and how they're connected is essential to ensuring an efficient, correctly working setup.
→ We invite you to check out our line of high-quality Battle Born Solar Panels for your project.
Research every detail of the process. Failing to buy the right components, improperly wiring your system, or making other mistakes can be costly mistakes. You might end up spending more on fixing your errors than you would have by hiring a professional at the start. Plus, using the wrong fuses or failing to take safety measures puts you at risk.
Is Having Your RV Solar Professionally Installed Worth It?
Having your RV solar professionally installed can be worth it if you aren't familiar or comfortable with electrical components. Don't try it yourself unless you're confident in your abilities. 
Anytime you're making changes or modifications to your electrical system, it's imperative that it's done right. Electrical fires are all too common in improvement projects gone wrong. You don't want to risk damaging your RV or hurting yourself by incorrectly installing your system. 
Professionals who have installed many systems will be much more familiar and capable of installing your system correctly and promptly.
If you choose to go this route, finding the best RV solar installer helps ensure you have a good install experience and that your system works when you need it to. If you choose the right installer for your system, you'll be enjoying the benefits that come with keeping your batteries charged from the sun. 
Would you install an RV solar system yourself? If you've used a professional solar installer near you, do you have any recommendations?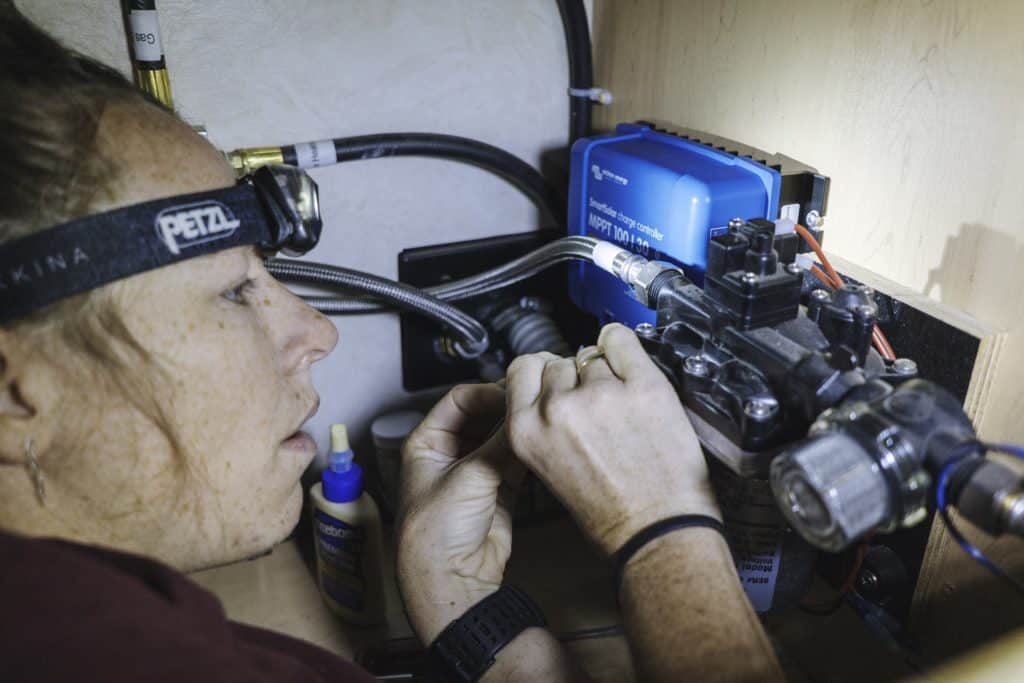 Want To Learn More About Electrical Systems and Lithium Batteries?
We know that building or upgrading an electrical system can be overwhelming, so we're here to help. Our Reno, Nevada-based sales and customer service team is standing by at (855) 292-2831 to take your questions!
Also, join us on Facebook, Instagram, and YouTube to learn more about how lithium battery systems can power your lifestyle, see how others have built their systems, and gain the confidence to get out there and stay out there.