Dan and Lisa Brown have supported Battle Born Batteries since the beginning, as long-time advocates they know we're there to help power them in any adventure. Dan and Lisa use their channel, Always On Liberty, as a resource for anyone trying to get involved with the RVing community. Check out our previous blog post about their first upgrade to lithium from two and a half years ago! Battle Born Batteries is proud to help power their system!
About Dan and Lisa of Always On Liberty:
Dan and Lisa Brown have been traveling the United States with their two cats and living full–time in RVs since 2014. The name "Always on Liberty" is special to them, as they both were stationed in Boston as members of the Coast Guard. The two met while serving on the Coast Guard High Endurance Marine Law Enforcement Cutter USCGC Chase and have been married since 1983. The term "always on liberty" is slang in the military for vacation or time off, which is very fitting for the couple and their lifestyle! 
One of their favorite hobbies included motorcycle trips, but they noticed that the adventures never seemed long enough! They discussed the idea of selling their home in Kentucky and purchasing an RV and eventually followed through.  
Always On Liberty's nomadic journey began in a 2014 Heartland Cyclone 4100 5th wheel toy hauler before upgrading to a 2016 Heartland Landmark 365 Ashland 5th wheeler. Currently, in a Class C 2019, Winnebago View 24D nicknamed the "Mini MoHo" or Mini Motorhome, they are proud to be active members of the full-time RV community. They've networked with fellow Battle Born brand partners such as Gary Quimby of Pau Hana Travels and Justin Ford of Opting Out of Normal.  
One of Dan and Lisa's favorite opportunities on the road is mentoring newer RVers who are just starting out on their own adventures. They currently cover the entire scope of RV life, so if you're looking to learn more about rig care or the best places to park and camp, Dan and Lisa have written about it all! With LiFePO4 technology in their rig, they can get out there and stay out there and teach others how to do the same.  
Where Are They Going? 
Recently, Always on Liberty has faced challenges while traveling in the time of COVID. Earlier this year they planned to journey to New England for 9 months and were staying in White Sands National Park in New Mexico when the shutdown occurred. Dan and Lisa plan to resume the trip to New England in mid-spring and boondock for three–quarters of it.  
For their "Southeast to Downeast" adventure, they'd like to crawl up the coast to visit several cities and towns from their time in the Coast Guard, such as Newport, Rhode Island, Portland and Rockland, Maine, and Boston.  
"We are really hoping that 2021 will be in our favor as we had to cancel so many plans, reservations, reunions, and adventures in 2020," said Lisa. The couple looks forward to being in Boston for the 4th of July, listening to the Boston Pops during the fireworks, and hopefully finding time to walk the Freedom Trail as well!  
Always on Liberty's plans don't stop there: with visits to seafood festivals, Acadia National Park, and West Quoddy Head Lighthouse also on the itinerary, the Browns have a lot to see and do! Dan and Lisa hope to view the fall foliage in New Hampshire, Vermont, and New York before returning to the South.  
"It's been a struggle being a full-time RVer because so many state and private parks have been shut down," Lisa said.  "But we did our part by staying safe and hooked up in San Antonio for two months [at the beginning of the shutdown]." 
Despite these uncertain times, they enjoyed partaking in programs such as Harvest Hosts and Boondockers Welcome, two programs that provide unique camping opportunities for full–time RVers.  
What's

in the Always on Liberty

r

ig?
Always on Liberty believes in the superiority of lithium battery technology over lead–acid. We're glad they've done their research over the years!  
Currently, the Mini MoHo runs on: 
600 watts of 

Renogy

 solar panels

 
"We chose Battle Born because they are the industry leader in lithium-ion technology and have unparalleled performance in the field," said Lisa. "We also love seeing how curious people get about the bright blue batteries in the rig!"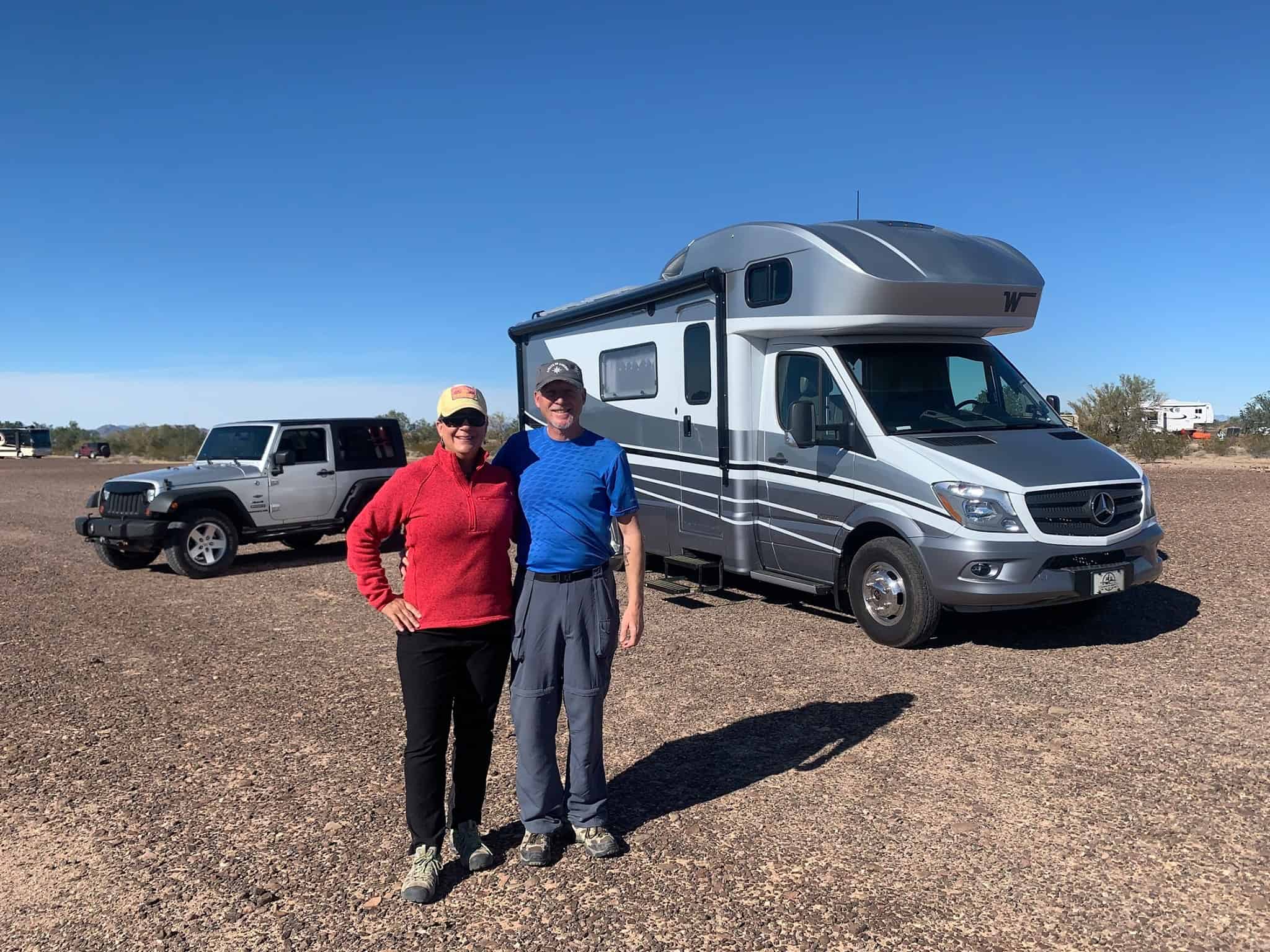 One of their favorite perks of this smaller-sized rig is how it can easily boondock, which came in handy as they socially distanced at less populated places in the Midwest region. As members of the Thousand Trails camping program, they proved they could see sights not typically on their travel radar and made the most of their time.  
When it comes to advice, Always on Liberty advises part and full-time travelers alike to maximize the option to go outdoors whenever that situation is possible. They really enjoy their alone time and taking time to recharge, especially while traveling.  Keeping a positive attitude, being in nature, and knowing that nothing is forever helps with difficult situations on the road and especially during the pandemic. 
Always on Liberty also knows that reliable internet is necessary, especially as active bloggers and content creators. Lastly, they suggest that making the most of the space you're traveling in is crucial, so always considering what's necessary on the road is important.
What's Next for Always on Liberty?
Dan and Lisa have considered buying land to establish a home base while living on the road. They really like the sense of freedom and going to different places, but also want to be close to family and have easy access to things like medicine and groceries. They believe that a tiny home could be a great option for them! 
"We already know how to live small, so we're ahead of the game," said Lisa.  
They plan to spend some time in South Carolina to be closer to their son and grandson during the winter season.  
Dan and Lisa also have a lot of readers asking about living in small spaces, so their blog will be experiencing more of a shift to those topics in the coming weeks!  
Want to keep up with Dan and Lisa's exciting adventures? Check out Always on Liberty's blog, YouTube channel, and Instagram! 
Want To Learn More About Electrical Systems and Lithium Batteries?
We know that building or upgrading an electrical system can be overwhelming, so we're here to help. Our Reno, Nevada-based sales and customer service team is standing by at (855) 292-2831 to take your questions!
Also, join us on Facebook, Instagram, and YouTube to learn more about how lithium battery systems can power your lifestyle, see how others have built their systems, and gain the confidence to get out there and stay out there.
Join Our Contact List
Sign up now for news and updates to your inbox.