Hershey's America's Largest RV Show® is right around the corner! To make the most of your visit, proper planning is the key. With a massive collection of 1,500 RVs spanning various models, makes, and types, conducting research before attending the event is crucial. Along with the space to view a wide range of RVs, there is an opportunity to take advantage of hourly educational sessions throughout the show. 
Prepare for an unforgettable "America's Largest RV Show" visit, and check out our condensed guide below! For even more detailed information, head right to their website. 
What is Hershey America's Largest RV Show?
In 2005, the Pennsylvania Recreation Vehicle and Camping Association (PRVCA) started to showcase their RV show to The Giant Center in Hershey, Pennsylvania. This venue provides an expansive space spanning 943,000 square feet to accommodate the event. Over the years, the show has experienced tremendous growth and has overcome many obstacles. 
To truly grasp the magnitude of "America's Largest RV Show," you must experience it firsthand. Thousands of attendees can connect with knowledgeable staff, gain insight into the RV world and living, and connect with other like-minded people. The sheer scale of the event is incredible. The event encompasses an area equivalent to 33 football fields. The size is awe-inspiring, providing a vast landscape for exhibitors, enthusiasts, and industry professionals to connect and discover the latest innovations in the RV world.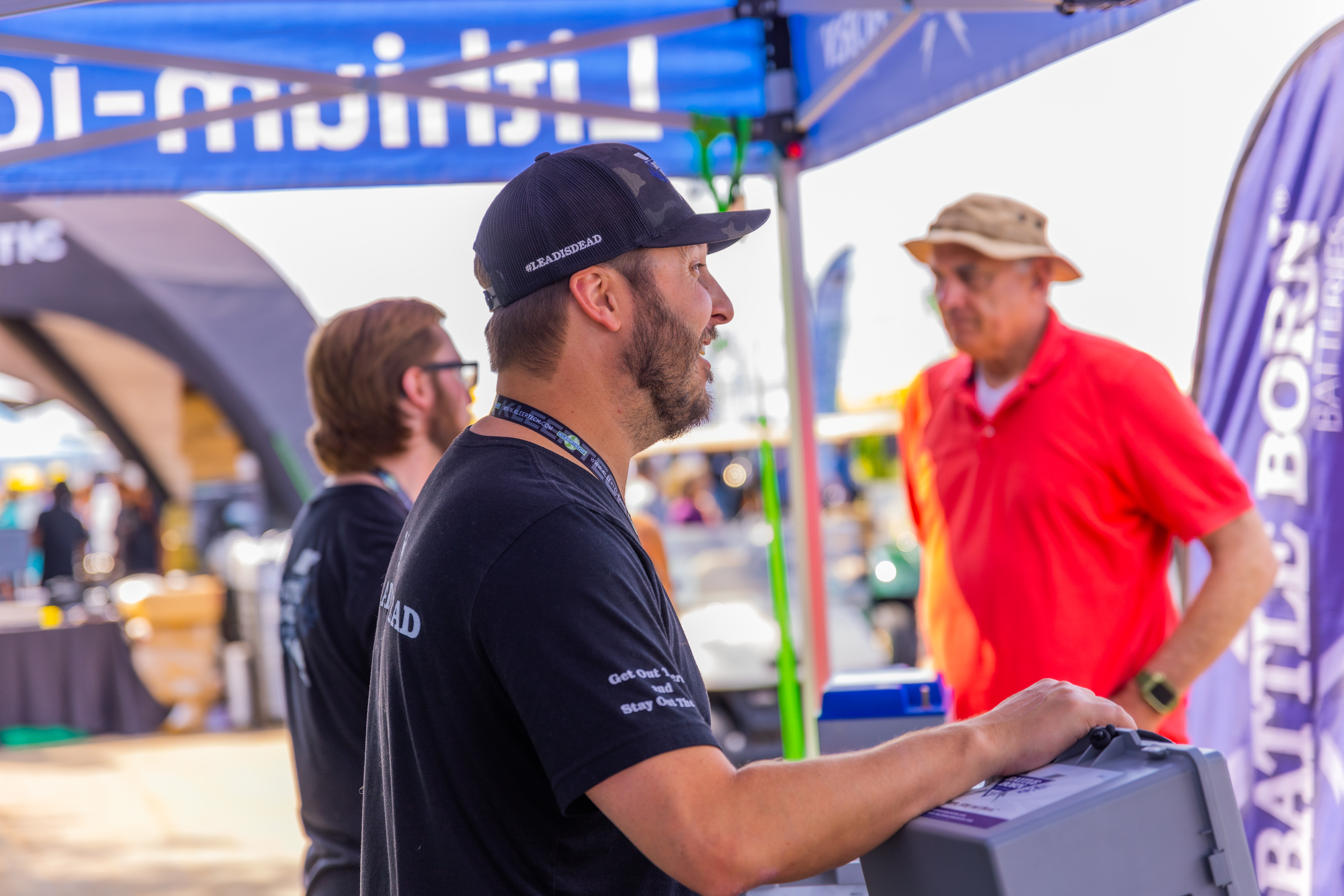 When and Where | The Hershey RV Show
America's Largest RV Show will showcase September 17-23, 2023. The event takes place at the Giant Center in Hershey, Pennsylvania. 
Hershey's RV show is the ideal place to immerse yourself in the vast world of RVs. Spend the week gaining knowledge from the educational sessions and new friends, talk with knowledgeable RV salespeople, and embark on a journey to enrich your RV lifestyle! 
Wednesday, September 13: 9 am – 8 pm

Thursday, September 14: 9 am – 8 pm

Friday, September 15: 9 am – 8 pm

Saturday, September 16: 9 am – 8 pm

Sunday, September 17: 9 am – 5 pm
The Battle Born Batteries Booth & Seminar Schedule
Battle Born Batteries is excited to be at the Hershey RV show this year! We will be there all week at outside booth 539-540. 
We will present "Advantages & Breakdown of Lithium Power Systems" from Wednesday, September 13 to Saturday, September 16, from 10 am – 11 am in the Press Room on the Rink level. 
How to Register for Tickets to the Hershey RV Show
"America Largest RV Show" is excited to welcome dealers and industry members warmly. 
PRVCA Members 
PRVCA Members can attend the show and educational sessions for free. You should've received an email and access code. If you didn't receive an email or need a new one, go to the PRVCA website to have the email resent. 
Non-Members
For non-members and industry members, tickets can be purchased here. Head to their website to register for the show, educational sessions, and the industry dinner party. Take advantage of this excellent opportunity to connect, learn, and celebrate the thriving RV community! 
Hershey RV Show Seminars 2023
Hershey RV show is proud to offer a series of informative, educational seminars that will cover various aspects of the RV lifestyle and RV maintenance. Your ticket purchase includes free access to these valuable seminars.
The seminars are scheduled hourly, with a thirty-minute break in between sessions. They have a diverse range of topics to indulge your interests! Check their website regularly for the most up-to-date information for your visit to America's Largest RV Show!
The Hershey RV Show Mobile App for Android and iOS
One of the best ways to navigate America's Largest RV Show is via their FREE App for Android and IOS. The app will be available on the App Store and Google Play store. With the app, you will conveniently have all the show information on your phone. 
The app provides a seamless platform to secure your tickets effortlessly, navigate the shows with interactive floor maps, share your videos and photos, and connect with others via social media. 
One of the app's coolest features is the ability to create a personalized "To Do" list for the show. The largest RV show is JAM PACKED, with education sessions, speakers, and boots. The "To Do" list on the app gives you the perfect organizational power to browse through all the information and highlight the ones you want to attend. 
Buying an RV at America's Largest RV Show
America's Largest RV Show® allows RV enthusiasts and potential buyers to gather and view the latest models, compare features, and make informed, practical decisions about their RV purchase. Every year, the show does a fantastic job of organizing a wide range of manufacturers. If you are in the market, you will find precisely what you want! Check out the list of manufacturers at the 2023 show. 
If you are looking for an RV, purchasing one at the show gives you thousands of options! Every RV at the front is brand new, allowing you to explore the latest models and designs in the market. Many dealers and manufacturers offer special pricing exclusively for the show, so take advantage of discounted prices and save thousands. 
You also have the opportunity to save on transportation costs when purchasing an RV at the show. Instead of having the RV delivered to you for a price, you can drive it home directly from the show! There is also the opportunity for RV trades. If you already own an RV and are looking for an upgrade, dealers at the show accept RV trades. 
Some Extra RV Show Tips!
If you are apprehensive about which RV drives best, rest assured because some exhibitors offer the opportunity to test drive RVs you are interested in! Stop by your favorite RV dealer to check in. 
Financing options will be available at the show, making it convenient for you to explore different payment plans. This allows you to purchase an RV that suits your budget and needs. 
Along with everything RV, there will also be information beyond the recreational vehicle market. The Hershey RV show will feature information on campgrounds, vacation destinations, RV parts, products, and camping supplies –all the information you need to enhance your RV experience and lifestyle! 
By keeping these points in mind, you'll be well-prepared to make the most of your visit to the RV show and find the perfect RV to fit your needs. Get out there and have fun! 
2022 | Show Review
Last year was Battle Born's first time at the Hershey RV Show, and we had an absolute blast! We loved visiting Hershey, PA. The town welcomed the RV industry with open arms, and it was an overall great experience. We are so excited to be giving seminars every day this year!