Kyle and Olivia Brady started their YouTube channel, Drivin' and Vibin', in January 2016. The Bradys hit the road full-time in 2015 in a vintage Fiber Stream camper that they renovated themselves. Later, they purchased, gutted, and completely renovated a vintage Airstream from the ground up. Shortly after the arrival of their daughter, Nora, they realized they needed more space!
Now, the Bradys have a new 42' fifth wheel Alliance RV and travel part-time while raising their daughter. They came off the road during the start of the pandemic and love the change of pace, but they still like to hit the road every chance they get.
What Kind of RV Do You Have?
"Our RV is a brand new Alliance Paradigm 390MP and we absolutely love it.
This is our biggest RV by far at 42 feet long, and it's also our first new RV. After living and traveling in two different self-renovated vintage trailers, the Alliance was a huge (but awesome) change."
"The MP in the model name stands for "multi-purpose" because this rig has a multi-purpose room in the center of the RV that we love to use as an office or a playroom for our daughter. This rig has plenty of room for our family to grow and we know that the folks at Alliance RV have our best interests in mind!
Almost as soon as we got this rig, we installed our off-grid system with the help of our friend Tom Morton of Mortons on the Move."
What Inspired You to Start The Drivin' and Vibin' Brand?
"We started the Drivin' and Vibin' brand and YouTube channel because we wanted to help fellow RVers see how RVing doesn't have to be expensive.
The RV lifestyle is great because it truly can be done on any budget. We started out with a small Fiber Stream camper that we renovated ourselves and towed with a Ford Ranger. As we traveled, we were intentional about seeking out free campsites. The major benefit of finding free campsites was to be able to visit epic places while saving as much money as possible, but when we learned how incredible free camping really is we wanted to share it with RVers everywhere. You can have a literal million-dollar view for free and have it all to yourself! That's truly something worth sharing.
We began by sharing the free campsites we camped at with video reviews and we also shared our monthly budgets. RVing doesn't have to be a super expensive lifestyle or method of travel – it really can be a lot cheaper than living in a sticks-and-bricks home if you do it right.
As the years and our brand progressed, it became educational in other ways, too, but we still put a lot of focus into sharing the best free camping across the United States."
What Type of Off Grid System Does Drivin' and Vibin' Have?
"Our off-grid setup consists of three Battle Born GameChanger 3.0 GC3 batteries that have 270AH each. With all three, we have just over 800 amp hours of battery power.
Our inverter is a Victron Quattro 5000 watt inverter. This massive setup gives us the ability to run both air conditioning units in our 42' fifth wheel with no problem. With full sun, we can run a single air conditioner indefinitely without depleting the power.
Our system has three Victron charge controllers and eight 230 watt Battle Born solar panels for just over 1800 watts of solar power."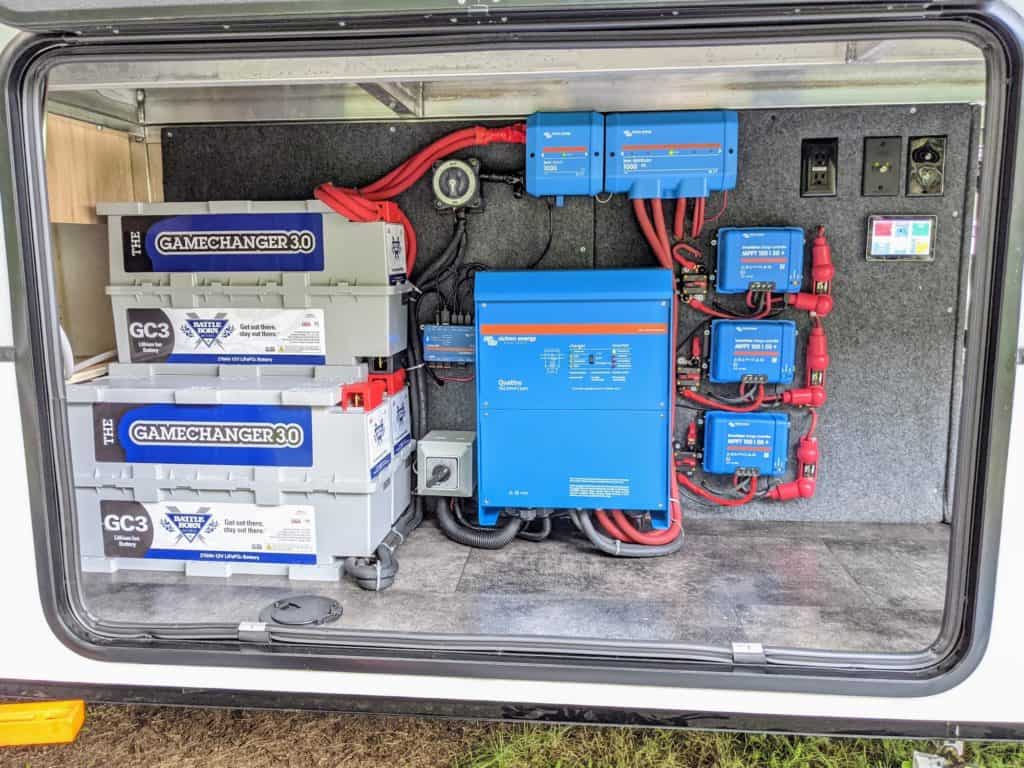 How Has Your System Improved the RV Lifestyle?
"With our massive off-grid solar and battery system, we're able to do pretty much anything that we want to do at any time. We don't ever have to stay at an RV park or campground just for electricity, because our system makes all the electricity we'll ever need.
Additionally, we have the ability to run both air conditioners at once if we wanted to. We can also use high-power draw appliances like the instant pot or microwave and the system handles it flawlessly. Our setup is a true off-grid system that enables us to go anywhere we want to for as long as we want to with no power interruptions at all."
→ Learn more about running your AC unit on lithium battery power.
Advantages and Disadvantages of Living on the Road
"Living on the road is amazing. You can save money and check off bucket list travel destinations all at the same time and that's a pretty epic way to live!
The main disadvantages of living on the road are making sure you have an adequate cell signal (if you rely on the internet to work) and generally getting used to living in a smaller space."
Do You Have Any Advice for Anyone Looking to Get Into the Nomadic Lifestyle?
"Our best advice for anyone considering living on the road is to just do your research. Most importantly, plan out your budget ahead of time!
Living on the road really can be done with any type of budget, but it takes planning and preparation to make it work. Take advantage of free campsites. Not only will they help you stay on your budget, but boondocking really is the most incredible way to camp! And invest in a great off-grid solar and battery setup – it will save you tons in the long run."
Keep in Touch With Drivin' & Vibin':
To keep in touch with Kyle and Olivia of Drivin' and Vibin', you can visit their website (we recommend signing up for their newsletter), subscribe to their YouTube channel, and follow them on Instagram.
Want To Learn More About Electrical Systems and Lithium Batteries?
We know that building or upgrading an electrical system can be overwhelming, so we're here to help. Our Reno, Nevada-based sales and customer service team is standing by at (855) 292-2831 to take your questions!
Also, join us on Facebook, Instagram, and YouTube to learn more about how lithium battery systems can power your lifestyle, see how others have built their systems, and gain the confidence to get out there and stay out there.
Join Our Contact List
Sign up now for news and updates to your inbox.