At Battle Born Batteries, we value the RV lifestyle and the nomads in these communities.  These are our people!  We are here to support you all in making the on the road experience that much better.  Here is a story about two of our favorite people.  Dan and Lisa Brown, also known as "Always on Liberty" reached out to us and asked us to help them build a 12-volt lithium ion battery system for their Heartland Trailer, so they could get out there and stay out there. 
Recently, the Browns have published a blog on their website called, "Battery and Energy Management Upgrade – Part 1," which elaborates on their decision to go lithium.  Check it out to see what their upgrades consist of and featured bundles that offer a similar install!
Meet the Crew: Always On Liberty   

Lisa and Dan Brown are also known as Always On Liberty. Together, they travel across the country in their RV with their two Maine Coon cats, Kandi and Krissie. They chose the name "Always On Liberty" because of its correlation to the military, where they spent most of their time before going on the road.  
Dan and Lisa were both stationed on the Coast Guard High Endurance Marine Law Enforcement Cutter, which was home-ported in Boston, Massachusetts. Two years after meeting and becoming good friends, they married in 1983 in a small Boston town. A year later, they became parents to their son, Dana. After Lisa's first enlistment was completed, she re-enlisted in the Coast Guard Reserves, serving a combined total of nine years. They decided to keep one parent at home, thus, Lisa decided to leave after her successful Reserve duty. They've been stationed for the majority of their military tenures in New England. 
Full-Time On the Road
In their spare time they really enjoyed going on trips while riding their motorcycles. By the end of the trips, they would catch themselves longing for longer travels. This lead to Lisa and Dan discussing the idea of selling their home in Kentucky and buying an RV.  
This would eventually lead them to pack their belongings, take their cats, and go traveling full time to explore parts of the country they haven't before. 
While the idea was still roaming in the air, their son, Dana had told them about a man who sent them some words of advice. He had said, "Tell your mom and dad that all challenges will come within the first year." When they finally started going on the road they had determined that what the man said was true. However, now that they have been living out of their RV for three years, they have noticed that they started to develop patterns, began memorizing campgrounds, and get to network with amazing people.  
Experiencing the RV Lifestyle
Before they began chasing their dreams of traveling full time, they didn't think that they would ever be living this lifestyle. When their son was a child, they did minimal camping, but what really triggered the inspiration for this lifestyle was their motorcycle trips.  
One of their favorite stories was meeting a couple that would give them advice every night at campfire. They would discuss the pros and cons of the lifestyle and tips to make their pvera;; experience better. Now, they like to give other people advice as well to keep the cycle going.
As of right now, their main source of income comes from their military pension. Not only that but Lisa is a blogger for Heartland RVs, and Lisa really admires the audience that writing reaches and enjoys sharing their experiences.  
Their home sweet home
Dan and Lisa's home is a 2016 Heartland Landmark 365 "Ashland" named Liberty. Some of the amenities included are one large bedroom with a king-sized bed, a corner vanity with sink, an ample sized nightstand, and a closet with lots of storage. They have a large kitchen with a Furrion gas cooktop, a Furrion convection microwave, a residential full-size refrigerator and a full kitchen island with farmer's sink. It also came equipped with two large recliners, dining table with chairs, and a large sleeper sofa. "We remodeled the inside with a 'Key West' themed makeover which included removing the sleeper sofa and replacing it with a 7′ table/desk with two chairs that completes our remote workspace," they explained. 
The duo also gave us a bit of background on their home, "we purchased our Heartland Landmark luxury 5th wheel measuring total 41′ 6″ in December of 2015. The '365' indicates that the Landmark is a full timer's coach. Liberty was an 'all-electric' coach, however, since owning her, we've added and modified her to enable us to enjoy boondocking and living off the grid. (i.e. gas cooktop, 990 watts solar package, etc.)." 
Liberty is pulled by their 2014 Ram Cummins Diesel Dually, who they named Captain America, "We chose Captain America because he's strong, sturdy and is our superhero on the road. His towing capacity rates at 30,000 pounds.  He's equipped with a 24,000-pound CURT Q24 hitch system. Captain America has also a self-installed 35-gallon auxiliary diesel fuel tank in the truck bed."
Now that they have replaced their lead acid batteries with Battle Born Batteries, they plan to extend their boondocking time. They will also be able to utilize more of their 120-volt circuits in the RV with the lithium ion battery system.
 12-volt lithium ion battery system
 Their current lithium deep cycle battery power system consists of: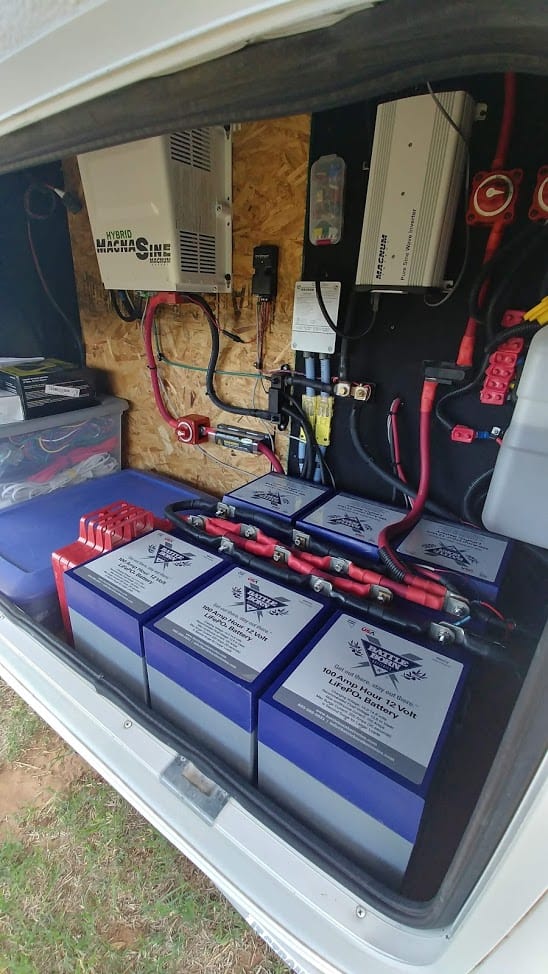 Always on Liberty System Kits
If you are interested in a similar setup, check out our application based Battle Born Energy bundles. Our Battle Born Energy Motorized 30A 600Ah GC2 kit is a popular one!
Why a 12-volt lithium ion battery system for Always On Liberty?
As for why they decided to go lithium, they told us, "the decision to install lithium was based on the ability to discharge the lithium batteries to a lower state of charge versus lead acid. The recharge time for lithium is also approximately half the recharge time of our lead acid batteries. We will enjoy the lower weight with increased amp hours of the lithium. We chose Battle Born Batteries because they are the industry leader in lithium ion technology and have unparalleled performance in the field. The company has a sterling reputation for quality products." Beforehand they had done extensive research about the pros and cons of lithium versus lead acid batteries and believe LiFePO4 batteries are the way of the future.  
What does the future hold? 
 The Always On Liberty gang enjoys spending their time visiting monuments and hiking. When visiting cities, they really enjoy taking in the history and learning things you may not read about in textbooks. Recently, they were in Wellington, Texas for the filming of a documentary they are starring in called 'Open Road: RV Nomads.' In October, they are going to the Nomad Festival for the premiere of the film, and shortly after Dan and Lisa plan on heading west to spend their winter in the desert where they'll meet up with friends from last winter.  
They plan to travel to other countries and do plenty of boondocking and off grid with their new RV battery set up. They truly enjoy the elements, and nothing beats being able to stay out there and embracing nature as a family. Dan and Lisa want others to know that they love this lifestyle and feel absolutely blessed! 
 ♦♦♦♦♦
If you want to know more about Always On Liberty's journey, follow their Instagram, Website and Facebook. Here at Battle Born Batteries, we are excited to be able to share this experience with them and will continue to share Dan and Lisa's life. 
More information on our Battle Born Batteries here.