Even people who have no plans of hitting the road love a good van conversion. It's fun to see what creativity can yield inside an ordinary van. These boxes-on-wheels can turn into incredible tiny houses with the right tools and ingenuity. Are you interested in seeing some of our favorites? Come along for a tour of six amazing camper van conversions!
Everyone Loves a Camper Van Conversion
There's a reason why camper van conversions are so popular, and it can be summed up in one word: possibilities. Vans provide a blank slate for anyone who dreams of seeing the world. And not only does the idea of converting a van into a camper seem much more attainable than shelling out for a fancy Class B, but you can also customize your van any way you want.
It's no wonder that the hashtag #Vanlife has grown exponentially in the past decade or so. DIY conversions make nomadic living much more feasible regardless of your budget. And lucky for us, the online space is now brimming with countless inspiring campervan conversions.
6 Camper Van Tours You Need to See
Below are seven of the most amazing camper van conversions on the internet. The owners built these vans with creativity, love, and the spirit of adventure. Let's take a closer look at what makes these conversions so special.
1. Vanwives — Sprinter Van Conversion
Meet Jaz and Crystal, also known as the Vanwives. They've been traveling around the world for over two years in their off-grid Sprinter van with their two dogs, Bella and Izzy. As they say in their intro, their dream is to drive around the world. To make this happen, they've chosen to live tiny. Let's take a look at their amazing build.
About the Build:
Jaz and Crystal have a 2006 Sprinter Van with a 158" wheelbase and a high roof. They have a fully functioning wet bath with a Nature's Head composting toilet and a hot water shower. There's also a kitchen with a two-burner propane cooktop, an 11-lb propane tank, and even a 42-gallon freshwater tank. On top of that, they have 400 amp hours of lithium Battle Born batteries, 300 watts of solar, an MPPT SmartSolar charge controller, and a 2,000-watt Victron inverter.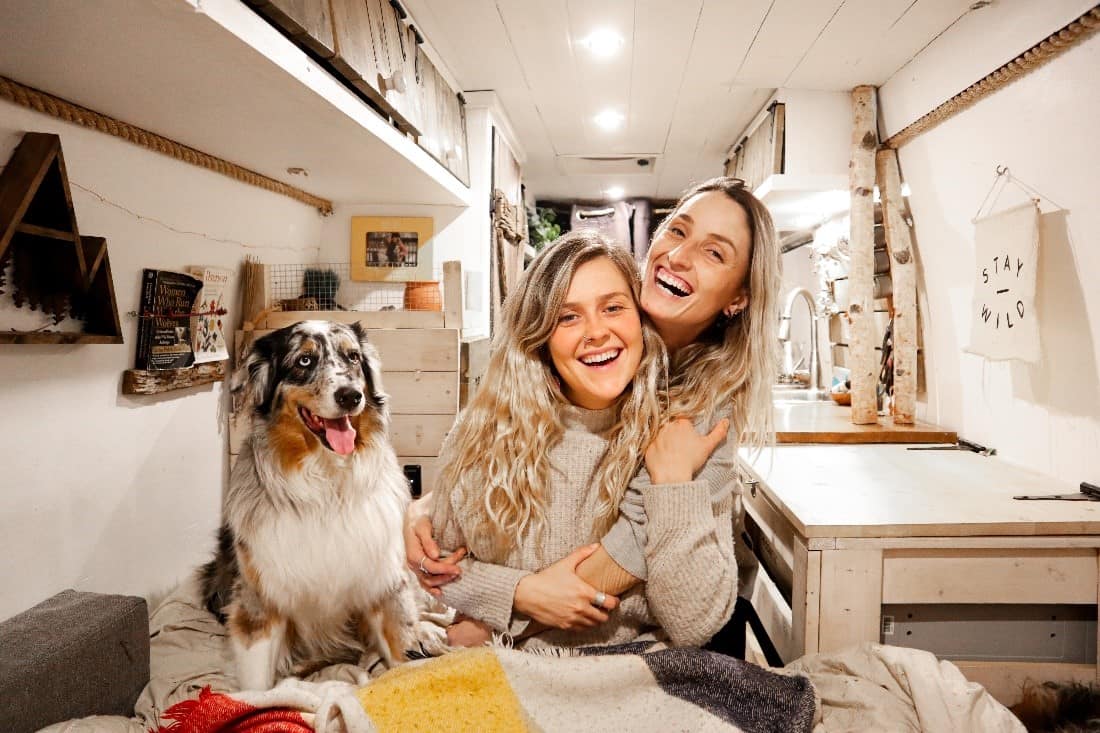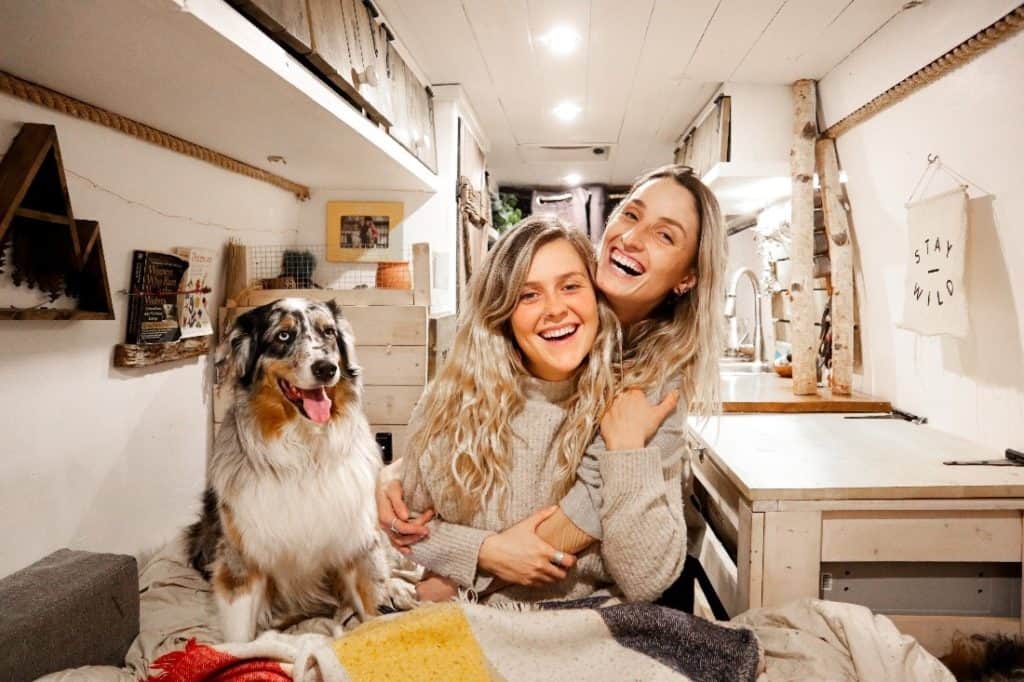 Our Favorite Feature:
This was a hard decision, but our favorite feature is their indoor bathroom. Anyone who has experienced van life knows that indoor bathrooms are rare. There's simply not enough room. But somehow, Jaz and Crystal have managed to fit a spacious shower and a toilet with plenty of privacy.
2. Levi Allen — Sprinter Van
Levi Allen is an adventurous traveler and YouTuber living in his van full-time. His camper van conversion is clearly made for epic off-grid adventures in all weather, as you'll see in this video. Let's take a look at his awesome home on wheels.
About the Build:
Levi lives in a 4×4 Mercedes-Benz Sprinter van outfitted for just about anything. He has two swivel seats, a bench seat, and a Lagun swivel table system that helps to make excellent use of the customizable seating area.
He also has a fully functional kitchen with a refrigerator, a hidden Nature's Head toilet, and plenty of storage for his camera gear, clothes, canned goods, and anything else he might need. His van runs entirely off Battle Born lithium batteries.
Our Favorite Feature:
Our favorite feature of Levi's build is the cedar interior and the cozy vibe it gives the van. Not only does it look amazing, but we can only imagine how fresh it makes the van smell as well.
3. Vanlife Sagas — Promaster
Dom and Marie of Vanlife Sagas are a French Canadian couple who've been traveling around North America for the last two years. In 2020, they sold their original Promaster 136" van named Vanessa and started a new build in a bigger van named Vanessanessa.
Now, they've hit the road in their new and improved camper van and are ready to show their home on wheels to the world.
About the Build:
For power, they have a 3,000-watt Victron Energy inverter/charger, a Victron BMV-712 Battery Monitor, a Victron SmartSolar MPPT Solar Charge Controller, and a 600-amp-hour lithium Battle Born battery setup.
Our Favorite Feature:
The spaciousness! It's clear that Dom and Marie strived to create an open living space, and they've definitely succeeded. Between the swivel seats, removable table, and fold-away bench seat, they have a tiny home on wheels that is anything but claustrophobic.
4. Sara & Alex James of Custom Crafted Vans —Sprinter Van Conversion
Sara and Alex James are the owners of Custom Crafted Vans and have turned their passion into a thriving business doing camper van conversions. After converting two vans for their own travels, they settled down and opened their own van conversion business. The van featured in this video was made for the Battle Born Batteries crew! Let's take a look at what makes it so amazing.
About the Build:
This van build is on a 2019 4×4 Mercedes-Benz Sprinter with a 170" wheelbase. It has four seats, including two swivel seats and two that fold flat to create an additional sleeping space. There's also a fully functioning kitchen with an 80-liter 12V Dometic fridge, a dinette in the back that converts to a comfortable bed, and a stunning poplar ceiling contrasted by white walls and cabinetry.
It also has a Dometic 12V A/C unit, meaning you don't have to be plugged into shore power or have a massive battery bank to stay cool in hot weather. To power this van build, they've installed two 270-amp-hour Gamechanger Lithium Battle Born batteries (510 amp hours total), a 3,000-watt Victron inverter, two DC to DC Victon charging units, and 200 watts of solar.
Our Favorite Feature:
Our favorite feature has to be the Dometic 12V A/C unit. It's one of the first of its kind and a dream for van lifers everywhere. No need to sacrifice comfort for freedom anymore. You can stay cool wherever you go.
5. Sara & Alex James of Custom Crafted Vans — Sprinter For Solo Female
This is another fantastic van build by Sara and Alex James of Custom Crafted Vans. They built this tiny home on wheels for a solo female traveler and her two dogs to go on part-time adventures with. As Sara says in the video, this just might be their favorite build yet!
About the Build:
This custom camper van is built on a 2019 170" extended cab 4×4 3500 Mercedes Sprinter van. Amazingly, it has an extremely spacious wet bath, a kitchen with a gorgeous farmhouse sink, room for an induction cooktop, and a U-shaped dinette with a Lagun swivel table. The dinette area can be converted into a massive bed as well.
Five hundred amp hour lithium Battle Born batteries power the van. It also has a 3,000-watt Victron inverter/charger and 400 watts of solar. Couple that with an 80-liter fridge, 12V radiant floor heating, and a 12V A/C unit, and this traveler won't be lacking anything regardless of where she goes.
Our Favorite Feature:
Without a doubt, it's the 12V radiant heating. Who knew that you could live in a van and have heated floors at the same time? Not only that, but it completely runs off of the epic lithium battery setup.
6. Chris and Sara — Sprinter Van
Chris and Sara are an adventurous married couple who are currently on their second van build. In June of 2020, they bought a 2019 144" 4×4 Mercedes-Benz Sprinter van. Fast forward 15 months, and they're ready to show off their amazing home on wheels.
About the Build:
"Sunny" is a 144" Sprinter, meaning it's the smallest of these camper van conversions so far. This doesn't mean that Sunny is any less amazing, though. Chris and Sara have managed to fit an indoor shower and toilet, a queen-sized bed, a kitchen with a sink, an Isotherm 115 fridge, and a 20-gallon freshwater tank into their tiny home on wheels.
They also have a massive battery bank with 800 amp hours of Battle Born lithium batteries. There's a Victon monitor control panel, a 100-watt Zamp Solar kit, a Victron Energy 3,000-watt 12V Pure Sine Wave inverter and 120-amp battery charger, and a Victron Energy SmartSolar MPPT Charge Controller.
Our Favorite Feature:
Our favorite feature from Chris and Sara's off-grid van build is their Flarespace bed kit. It allows them to maximize the interior space in their van and sleep sideways by extending their head and feet room. The Flarespace kit also has four USB ports, two touch lights, a fabric liner, and a bed platform.
Inspire Yourself With YouTube Camper Van Conversions
Even after watching just one of these van conversions, it's easy to start dreaming about your own van life. Whether you're already living in a van and want to make some upgrades or planning your nomadic future, it's helpful to find inspiration and guidance from other like-minded travelers.
After all, many of these YouTubers have already experienced years of van life. They've gone through the hard stuff and found out what works and what doesn't. And now they're sharing what they've learned.
What was your favorite van build?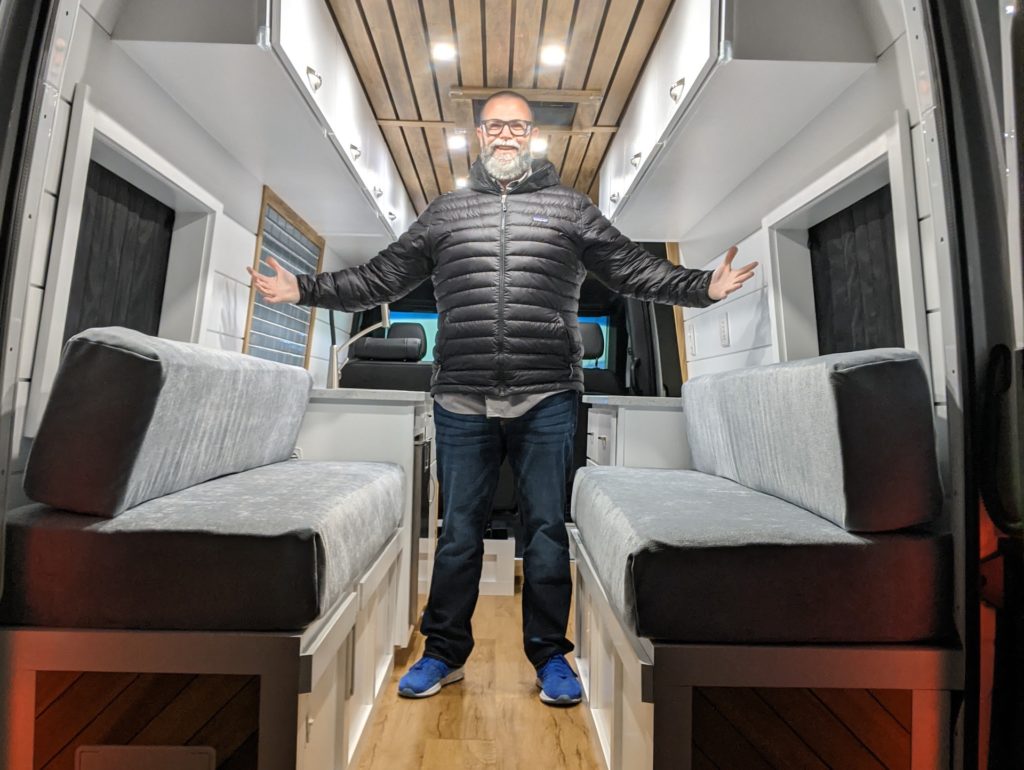 Want To Learn More About Electrical Systems and Lithium Batteries?
We know that building or upgrading an electrical system can be overwhelming, so we're here to help. Our Reno, Nevada-based sales and customer service team is standing by at (855) 292-2831 to take your questions!
Also, join us on Facebook, Instagram, and YouTube to learn more about how lithium battery systems can power your lifestyle, see how others have built their systems, and gain the confidence to get out there and stay out there.
Join Our Contact List
Sign up now for news and updates to your inbox.