Jazmyn and Crystal have been on the road for two years now and are loving every minute of van life. Their Sprinter van is powered by Battle Born Batteries and together they feel unstoppable when traveling in Canada. They've got grand plans to do some cross-continental travel and now have more power in the rig to do so. 
Meet the Vanwives

 and their Sprinter Van: 
Jazmyn and Crystal first met while working together and their adventurous spirit led them to take plenty of trips in their Honda Civic. They'd often bring their dogs along and whether it was a river view or the parking lot of a store, the two were ready for changing up the view.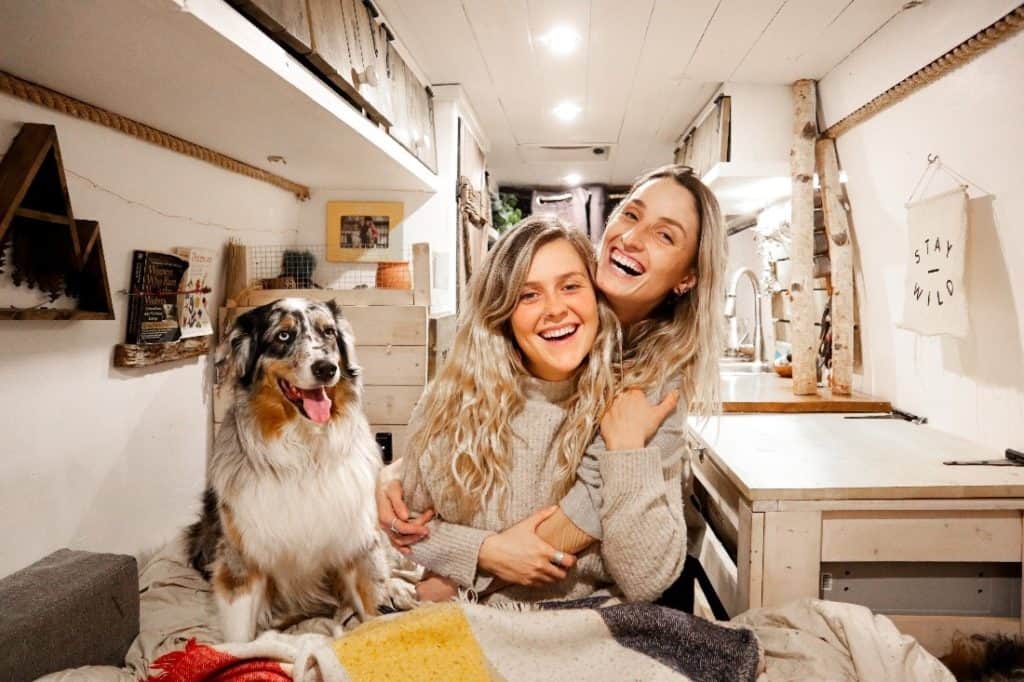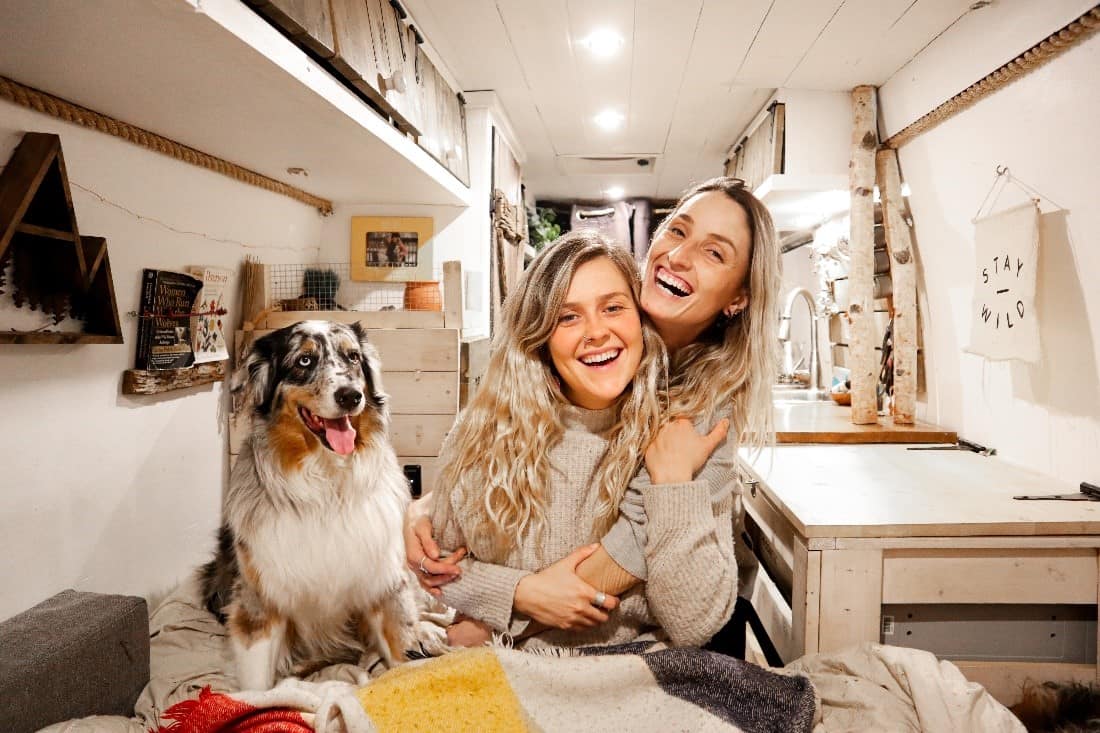 Their first build of the van allowed them to travel to other places in Canada, the United States, and Argentina. They enjoyed the research aspect of van renovation and admit to having zero knowledge or prior experience when it comes to builds.  
"Customizing it was the best part of it all because then we were able to do an open layout, have fun, make mistakes and learn from them," said Jazmyn.  
The best part of the build was by far the electrical system, of course! Here's what's in Jazmyn and Crystal's 2006 Mercedes Sprinter Van: 
-1 BMV 712  
-1 12v Multiplus 2000W Inverter Charger 
-1 Battery Isolation Manager (for alternator charging) 
-1 Victron SmartSolar MPPT Solar Charge Controller 100/50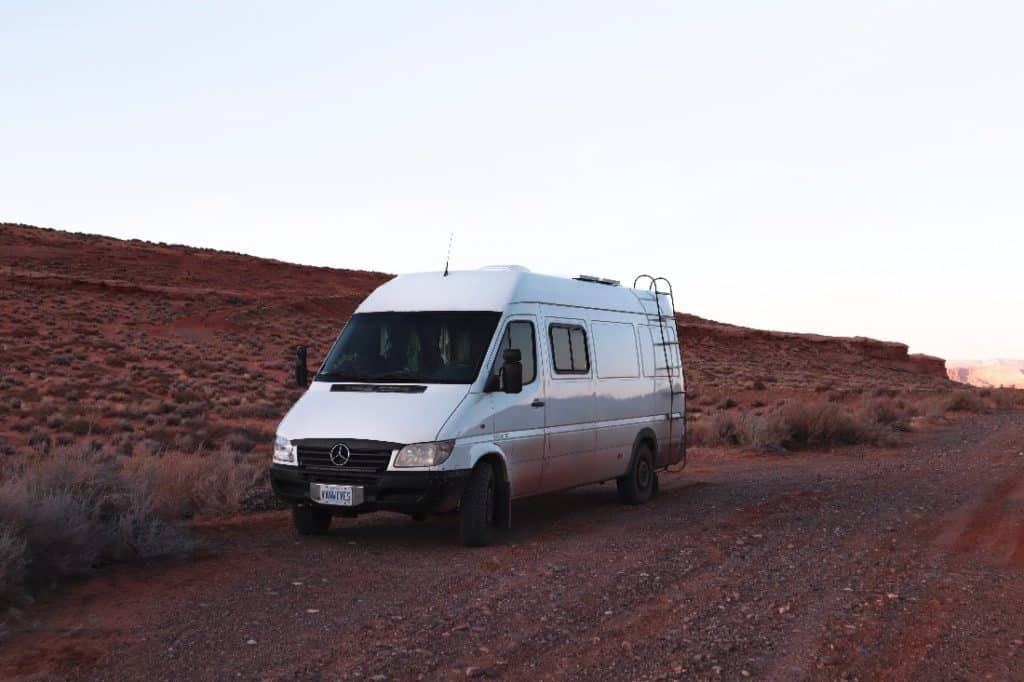 Jazmyn said that they loved celebrating the small wins and understanding their electrical system is important. Learning how to connect batteries in parallel felt like a big accomplishment and adding power to their system was also a nice bonus. When finished, they asked an electrician to take a second look: while it cost $400, they got two thumbs up from him! Check out their installation video here as they highlight what really goes into a Sprinter van rebuild. 
When it comes to DIY builds, Crystal and Jazmyn say when things break, you need to be prepared to repair, fix, or diagnose anything at any given time. While some aspects of the installation were intimidating, such as working with the inverter, they were thankful for resources such as Battle Born's sales and tech team.  
They now can run all kinds of appliances and are grateful to have "stepped up their van life game." Having a toaster, a BlendTec blender and a hot water heater allows them to make cashew cheese and take warm showers. It's those little luxuries that make a van on the road feel as comfy as a home.   
Once travel restrictions have loosened up in Canada, the couple would love head back to Guatemala and begin their trip again. Along the way, they have plans to mentor youth and hang out at LGBT centers. Jazmyn and Crystal said it really puts things in perspective and can help normalize outreach programs while spreading awareness. 
Thanks to the cold Canadian winters, they're excited at the prospect of snow camping. It can be much more of a challenge to find a winter camping spot, but the couple appreciates  the chance to  truly get out there and stay out there.  
"There's no such thing as bad weather, just bad gear!" said Crystal. "Also, the only downside for winter camping is that you can't open the doors of the van, which is what we really love to do."  
Advice from the Vanwives
The Vanwives advise anyone looking to get into a nomadic lifestyle to go for it, and if there's any hesitation, renting a van is always an option. It's also important for them to get time to themselves in the van, maintain their own individual spaces and get out in nature to walk the dogs. They suggest starting off with the basics and looking into the layout as an important place to start.  
As for traveling, they suggest learning the road and different cities to visit. There's definitely ups and downs to living on the road, despite how glamorous it may seem on social media and beyond. Jazmyn and Crystal believe that, overall, comfort is key, but people get acclimated to life on the road at different rates. For them, it took about two weeks to get used to their new space and lifestyle.  
"It's perfectly normal to be fearful at the start of it," said Jazmyn. "But just know you've got that bravery inside of you and there's an enormous van life community for additional support." 
As for getting onto YouTube, the couple had no prior experience with filming, but read a book called "How to Shoot a Video that Doesn't Suck!" When it comes to their videography style, they also get inspiration from other YouTubers and television shows. The channel is also a safe space for LGBT viewers and subscribers and their viewership has grown so much since first establishing it a year ago.  
"We had a comment from an 80-year-old man who finally realized that love is love and was finally supportive of the LGBT community," said Crystal. "We also get a lot of questions from people who are asking how to be supportive family members when their child comes out. We try our best to give advice, but every situation is definitely different."  
"You figure out the learning curve and learn to love it after a while," said Jazmyn. "There's not a lot of LGBT presence on YouTube but so many young people use it to kind of understand what it's like to come out and how that process goes. It's really a good way for them to look up to someone." 
With their latest video, Jazmyn and Crystal announce that they have officially wrapped up every project and are able to move back into the Sprinter van. We're excited to see where they travel next!