Battle Born Batteries  appreciates the Nomad community and aims to provide them and others the value they need in their travels. This blog is about two people who cheer us on continuously. Sam and Raquel have been traveling across the Americas in their SLACKERvan with 4 12 volt lithium ion Battle Born Batteries. This iconic duo has a large following on platforms that allow viewers to see the experiences they are going through.
 Battle Born Batteries is honored to have people like the YogaSlackers and so many more a part of the Battle Born family!
Extreme Living with YogaSlackers 
What Would Sam Salwei Do? That is the hashtag Sam Salwei's friends use when they need help solving a problem out since they know he always "figures things out." Sam and his partner, Raquel, have been living on the road for around five years as a couple, and Sam for a decade now. The best part about living in a van with each other is that they can be at home wherever they are. Sam Salwei, originally from Crystal, North Dakota, co-founded the group YogaSlackers in 2005 with his friend Jason Magness, based on activities that define their lifestyle. Sam explains, "the stories behind the formation of our practice, family, and the business of YogaSlackers are humorous and full of serendipity. It seems that we were often just in the right place at the right time."
YogaSlackers specializes in gently nudging their students far outside the comfort zone and into the realm of ultimate growth. Through traditional yoga, as well as various yogic based practices such as climbing, slacklining, and acrobatics, they have become known worldwide for their teaching abilities.
YogaSlacking Passion
With a roster including 138 teachers throughout the United States, Puerto Rico, Canada, and France, YogaSlackers all over the world have a widespread appeal and a lot to share. Over the years slacklining has been taught to over 30,000 people and at hundreds of festivals worldwide. Sam and Jason's unique practices have been featured in Yoga Journal, Climbing Magazine, and the Wall Street Journal – to name a few, with their students saying they 'help them reach their potential' and 'are super fun to be around!' Their ultimate goal is to create awareness for extreme living.
Sam's passion for slacklining and YogaSlackers has changed the lives of many people, and it helped Sam and Raquel find each other. They met slacklining at one of the YogaSlackers trainings and instantly fell in love.  
The PeaceLoveCar 
Together they have traveled many places in their original home: a 1988 Ford Festiva called the PeaceLoveCar. Primarily, neither of them intended to move into a car, it just happened. "I guess for both of us, we wanted to travel and explore the world and realized that we could travel and explore more if we didn't have to spend time coming back to the same place. Returning home now is not a 10-hour drive, it's however long it takes us to get to the parking lot," explains Sam.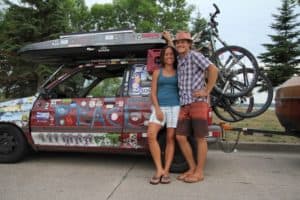 Recently, they have made an upgrade from the Peace Love Car onto a van called "The SLACKERvan." It's a 1988 Mitsubishi Delica from Japan that they bought through Craigslist. In comparison to the PeaceLoveCar, the Delica is 1 foot longer and 1 foot wider and allows them about 34.5 more sq ft of living space.  Regardless, Sam had been searching for an economical mobile power solution upgrade since 2008. Sam stated that early on there were a handful of companies offering the YogaSlackers $3000 80 Ah LiFepo4 batteries, which required an additional and complicated BMS. These systems were too complex for their intended use. "Power in the 21st century should be competitively priced, reliable and easy to install. After living with lead acid batteries for 10 years, I was tired of constantly worrying about my system," he says.  
Getting in touch with Battle Born Batteries 
In 2016 they were preparing the www.PeaceLoveCar.com for another season of summer travel. However, they did not want to start without any air-conditioning. Because of the state of the PLC, adding an engine-driven AC was not an option. With a 28-cu ft space, they were hoping to be able to cool their space with a military surplus solid-state Air-conditioner, which had a pretty large AH draw. Essentially, Sam reopened their search for quality affordable power. After three short conversations with Sean (COO of Battle Born Batteries) an order of 2 100 Ah 12 volt batteries was placed. "I was installing them in the PLC at a friend's house. By the time I had one battery in he had already bought the other battery off me and ordered another for his Trimaran," Sam tells us. 
Switching to lithium batteries was something Sam has been wanting to do for over 10 years. However, the price was always a huge hurdle to overcome. "It wasn't until Battle Born Batteries appeared with a simple, reliable and affordable battery that we were able to make the switch."
Yogaslackers Upgrade the PeaceLoveCar to 12 volt Lithium Ion
Sam and Raquel have upgraded their system from one 70 lbs lead acid battery (replaced 3 times in 6 years) to two Battle Born 100 Ah LiFePO4 batteries, going from 54 Ah to 198 Ah. "This was a life changing experience. With the ability to keep the battery bank charged with the amount of driving we do weekly at night meant that most of the day we lived off the solar and we could stay parked almost indefinitely, with the fridge, lights, computers, and cell phones charged whenever we needed them. Not having to worry about power just puts your mind at ease… There are so many added challenges to living in a 30-year-old vehicle with a salvaged title. Having consistent reliable power has been amazing!"   
Sam explains that they chose Battle Born Batteries because they are lighter, provide 100% more power for their size, they last 4 to 6 times longer, they charge 5 times faster, and they give them the freedom to focus on what is important to them. 
Admittedly, they do not have the same goals as most, because they are not looking for the easiest route. They are using the Battle Born Batteries to test systems for complete sustainable electric living.
Sam and Raquel's Current Battle Born Battery Setup  
4 100 watts semi flexible solar panels, mounted on our 2x Yakima Rocket boxes

 

300 watts fan less Morningstar SureSine Wave inverter 115VAC (SKU: S1-300-115V-UL)
130-amp Sterling Alternator to battery charger (BB1230)
As for Watts plugged in: 
20 120-volt outlets

 

24 4.2-amp USB outlets

 

12-volt/120-volt 60 qt Engel Fridge/Freezer (Model: MT60F-U1-C)
100 watts of Led Strip lights on 5 separate zones (cockpit, Kitchen, bedroom, Outside and under cabinet) These can be dimmed so they only use 10 watts.

 

WeBoost 65 decibel gain 4g signal booster

 

Dehumidifier with hemostat switch

 

Engel MD-14F 12/24 Volt Fridge Freezer (SKU: MD-14F)
True Induction Single Burner Counter Inset Energy Efficient Induction Cooktop (Model:TI-1B)
 ♦♦♦♦♦
Their next big adventure will be to drive to the Arctic Ocean. A road to the ocean was opened in November 2017, and this trip will definitely allow them to test their "SLACKERvan!" After that, they plan to travel coast to coast at least three times during the year and spend 3 to 4 months abroad exploring new countries.  
To find out more about Sam and Raquel's adventures, follow their Instagram, Facebook, YouTube and Website. Continue getting inspired by reading more stories on the impact Battle Born Batteries has made! 
More information on our Battle Born Batteries here.