As one of Battle Born Batteries' newer brand partners, woodworker Andy Rawls has been hard at work renovating a 1976 Argosy Airstream trailer from the ground up. Wanting an extra set of hands, Andy collaborated with our longtime friend and partner, Nate Yarbrough of Explorist.Life, to showcase our batteries in action!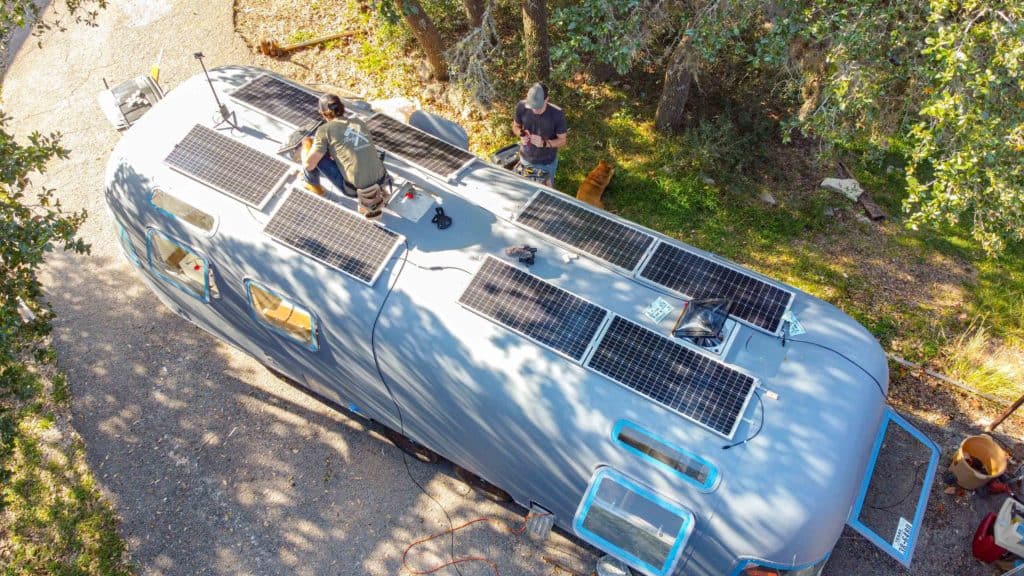 As the owner of his own woodworking business, Andy Rawls has experience working on projects big and small. He was certainly ready for a challenge when he decided to document and restore the 1976 Argosy Airstream trailer from the ground up!
Andy began woodworking in high school and made small projects in his dad's shop. In college he studied film and video production while taking classes at a nearby woodworking school. He said this was the catalyst in helping him decide that he really loved the field of woodworking. He gained more experience working in different door shops and was able to take an apprenticeship in Kentucky, studying with mentors such as Paul Sellers and Brian Boggs.
"They're both super talented furniture makers, and Paul definitely inspired me when I first started out. Brian was always ready to help me when I was just learning in my twenties, and he was always a phone call away," he said. "It's always cool to go into someone's business and have them take the time to mentor you and eventually support you when you go and open your own business."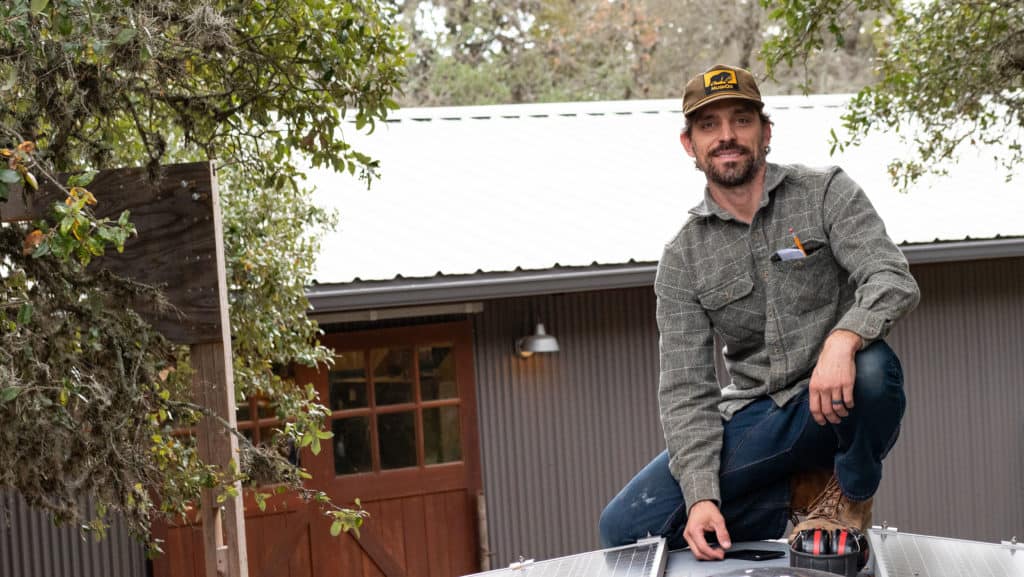 Andy opened the doors to his own shop in 2012 as a one-man show. His YouTube channel didn't start too long after that, and a video from a client project about making a hand-carved spoon for a client's order went viral. It still occasionally trends on YouTube, and Andy jokes that he's got the platform's algorithm figured out!
His favorite projects that he has done for clients include more traditional pieces, such as a four-dresser chest that used a classic woodworking technique known as dovetailing. He also really enjoyed creating a custom photo booth for a photographer that incorporated hidden components for the camera, lights, frames and more!
Andy previously worked to rebuild the cabinetry in a 1956 Flying Cloud Airstream trailer for a client. He used hickory and live oak for the table, cutting the wood from an old tree on the client's property! A considerably smaller build than his current Argosy, Andy notes that the Flying Cloud was unfortunately totaled several weeks after the build was completed.
The primary reason for Andy getting the 1976 Argosy trailer was because he loved its wraparound windows on the front and back of the trailer.  A fan of working on "old-school projects," he began researching how to best wire the trailer when he stumbled upon the diagrams on Nate's website, EXPLORIST.life. He liked how well-organized the resources and reached out to Nate to see if he would be open to a collaboration.
What's in the trailer?
In Andy's system, he currently has installed:
–4 BB10012 Battle Born Batteries
-1 Victron SmartSolar MPPT 150/70 TR Charge Controller with Bluetooth
-1 BMV-712 Battery Monitor with Bluetooth
-1 Victron 12V Multiplus Inverter Charger 3000w
Andy has 800 watts of solar panels up on the trailer's roof as well.
"The biggest advantage to renovating a trailer from the ground up is that you learn, inside and out, literally every square inch of the rig," Andy said. "You also are able to fix things yourself and make sure they're properly taken care of."
During the installation process, he and Nate worked extra hard to stay safe and take precautions. They initially planned on collaborating in May but pushed back the timeline of the project back a few months so Nate could safely travel out to visit Andy and his family.
"I am so thankful for Nate for coming down here and helping out! I could have never done this all on my own," Andy said.
The most exciting part of the build so far for Andy was the ability to walk up to the trailer and see all the lights on inside.
"It's always neat to be able to provide guidance on a project, but I knew that an in-person collaboration would not only leave him with a stellar electrical setup but would also allow me to widen my audience," said Nate. "I'm able to reach even more people how to design and install an off-grid ready camper electrical system and empower them to do it themselves."
Nate's got a resourceful blog post about the build that he frequently updates as progress is made, and you can check it out on his website. You can also find Andy's and Nate's videos about the collaboration on their YouTube channels!
What's Next?
Andy's dream trip in the trailer is to head with his family to Yellowstone National Park for his 40th birthday in September of next year, noting that since he worked there in college, he hasn't been back to the park in more than a decade.
His next big project (at his wife's suggestion!) is to work on a wooden fence around the pool or a new deck with a goal of "designing it in an interesting way."
When it comes to advice, Andy suggests to people interested in woodworking that they should try and be willing to pay their dues and really consider taking on an apprenticeship role.
"There's a lot of faulty perceptions [about the industry] where you can watch a few videos and figure it out to start your own business," said Andy. "That's great if you're a hobbyist but if you want to do it for a living you should just be willing to work hard and get guidance under someone. There's a lot of good resources for classes for woodworking."
As for the Airstream renovation project, Andy says that you should be prepared to put in six times the work than you expect and be determined to get things done. To mark this exciting project, Andy is having all of his collaborators sign a piece of aluminum and plans to frame it and put it in the finished trailer!
Interested in learning more about what Andy and Nate do? You can check out Nate's Instagram and YouTube for helpful tips on solar and DIY campers, and Andy's Instagram and YouTube for his in-depth woodworking videos and the full Argosy restoration series.