Lance and Flo Wende, of Wheelin' with the Wendes, are full-time travelers with a passion for boondocking. Three years ago, they took their work on the road to be able to experience the life they dreamed of without having to wait for retirement. Together, the Wendes traverse across the U.S. in search of remote locations where they can experience the peace and serenity of being in nature. 
Meet the Wendes
Lance and Flo Wende are from Baltimore, Maryland and have been married for 28 years. They have a son named Kyle and love doing anything outdoors. Whether they're out hiking, overlanding in their Jeep Rubicon, or cruising on their motorcycle, they genuinely enjoy being fully present in nature.  
No More Waiting for Retirement
Born and raised in Baltimore, Maryland, Lance and Flo had spent very little time outside the area. Lance was the first to venture out when he set off on a cross country road trip with two of his friends, as he was excited check out what the rest of the U.S. had to offer.  
Upon arriving across the country in California, Lance received the heartbreaking news that his father had passed away. His father was 72 years old and was still working to save for his retirement that he was never able to experience. It was at that very moment that Lance decided he wasn't going to wait for his retirement, and Lance and Flo officially began making plans to downsize and take on full-time travel.  
In 2018, the two were both turning 50 and were celebrating their 25th wedding anniversary together. As a present to themselves, they decided to make the leap into full-time travel. They chose a Grand Design Momentum 376 TH (Toy Hauler) that would be pulled by their Ram 3500 truck. This rig was perfect for their lifestyle as it included a garage for their motorcycle, and, of course, they couldn't leave home without their Jeep Rubicon, affectionately known as Ruby. 
Battle Born Powered Boondocking
Since taking the leap into full-time travel in 2018, the Wendes have been on the road for 3 years. As they traveled across the US in search of breathtaking views, adventure, and experiences of a lifetime, Lance and Flo developed a love for boondocking. 
Boondocking is a term that essentially boils down to camping outside of a campground. This means that those who choose to boondock are without water and electrical hookups and are left to survive solely on what they can bring with them. For many, boondocking is only possible for short trips, due to limited resources. 
The Wendes were determined to create the perfect rig for their dream, boondocking lifestyle. Over the course of the last 3 years, Lance and Flo have been continuously upgrading various parts of their RV to fit their exact needs. This has included adding extra lighting, a remote to turn appliances on and off for energy conservation, and a 60-gallon fresh water blatter that will last them 2-3 weeks and is easy to refill. 
Their next major upgrade was to their electrical system. The Wende's battery bank includes 10 100 Ah 12V LiFePO4 Deep Cycle Battle Born Batteries and 12 200W rooftop-mounted solar panels. With 1,000 Ah of batteries and 2400 Watts of solar power, they have renewable energy with enough power to run their lights, Wi-Fi, various kitchen appliances, full-size fridge, and air conditioner. Both Lance and Flo can work remote full-time and "park anywhere with cell signal and live as normally as anyone else, with no battery anxiety to worry about." 
The Joys of Full-Time Travel
In addition to the practical benefits of their electrical system, which include saving money when parked in places that charge for electricity, they also get to experience the joys of full-time travel. Lance and Flo love the simplicity of their life and the sense of peace and purpose it has given them. They said that their only regret is not doing it sooner. 
When mapping out their travel destinations, they plan with their three favorite activities in mind: "Jeeping, hiking, and motorcycling." Lance and Flo customized their Jeep Rubicon for rock crawling and tougher terrain, and Moab is one of their favorite places for this. They also loved hiking through Arches and Zion National Parks and riding their motorcycle down roads like the Million Dollar Highway in Colorado.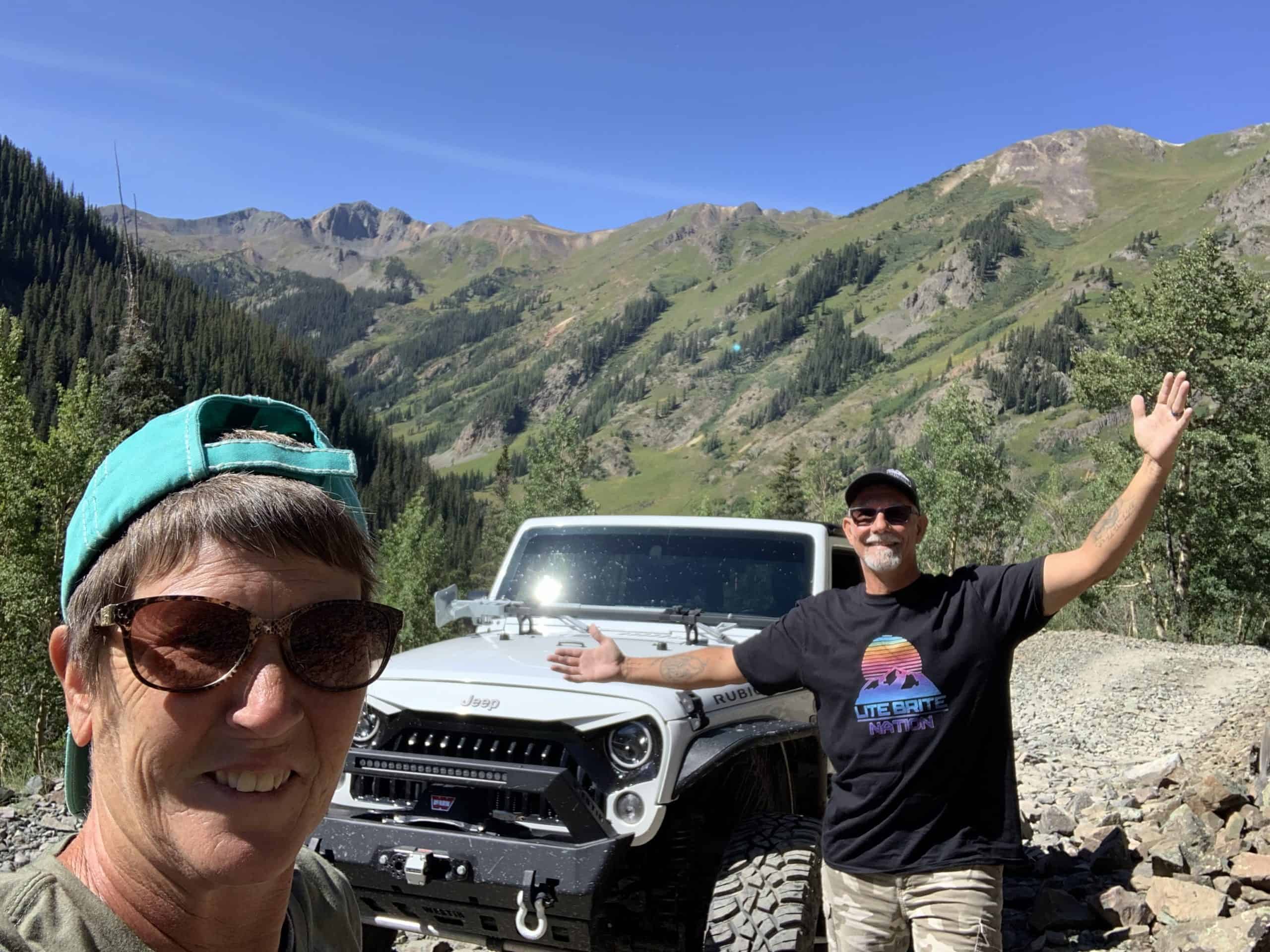 In addition to these activities, the Wendes love sharing their photos of the breathtaking sunsets and sunrises from the remote places they travel to. The unbeatable mountain views of Colorado and unwinding in the desert surrounded by mountains is another that tops their list of favorites 
Full-time travel is all about meeting other like-minded individuals living a similar nomadic lifestyle. Lance and Flo plan their next destination around meeting up with others who live full-time in RVs, attend Xscaper events, and enjoy Jeep rallies just like themselves. 
When asked about their favorite part of full-time travel, the Wendes said that "every step of the way becomes a new favorite. Just when we think we've seen it all and things become "business as usual," we're surprised yet again with a new, amazing experience, topping the last." The friends they've made and the experiences they've had are priceless. 
What's up Next for the Wendes?
This year, Lance and Flo are planning on a smaller travel loop than usual. Their next stop is heading to Nevada. They recently purchased an RV slot with a casita at an RV site in Pahrump, Nevada, and have made Pahrump a homestead, if needed, and a central place to take care of their yearly doctor's visits.  
Following their stay in Nevada, Lance and flow will head to Utah and Colorado and then to New Mexico for the Albuquerque Balloon Fiesta in early October. After 3 years of plans to visit the Fiesta being thwarted by conflicting plans and the event being cancelled, the Wende's are looking forward to finally checking it off their bucket list. Their loop will conclude with boondocking in Southern Arizona for the winter. 
In the near future, Lance and Flo are planning to set out on another build. Their goal is getting a trailer that their Jeep Rubicon can pull and adding a smaller Battle Born powered solar system to it. This would allow them to go to more remote locations that their "beast of a rig" can't get to.  
To keep up with the Wende's upcoming travels and future build, check out their Instagram, Facebook, and YouTube Channel.